Description
Another version
Jetson NANO Transbot ROS Robot
Transbot is a crawler educational robot developed based on the ROS(robot operating system). It uses Python 3 as the programming language. And comes with high-performance hardware configurations such as Raspberry Pi 4B board, lidar, high-definition camera/depth camera, etc., which can realize robot motion control, remote communication, mapping navigation, following, avoiding, autopilot, robotic arm Movelt simulation, multi-robot queue, multi-robot navigation and so on. We will provide many ROS courses and teaching video to help user get started with ROS easily.
Features:
Intimate design and service: The chassis has been assembled before shipment. The TF card comes with Transbot dedicated system files. Only need to assemble the Raspberry Pi, camera and other parts, and you can quickly enjoy it.
Professional technical support and after-sales service.
Stable hardware configuration realizes interesting functions:  
Based on lidar: Obstacle avoidance, following, 2D mapping navigation, multi-robot navigation, etc.
Based on depth camera: 3D mapping, point cloud image processing, KCF target visual following, etc.
Based on a HD camera: High-brightness searchlight, 2 DOF PTZ flexible rotation.
ROS operating system: Based on the ROS robot operating system, we cleverly use Rviz, Movelt, and Qt toolboxes to realize the joint control of the robot arm Movelt simulation and the real machine.
Cross-platform interconnection control: It support a variety of different control methods, AI-enabled APP, FPV real-view visual handle remote control, JupyterLab online programming, and robot operating system control.
Detailed video courses: We provide 64-hours video tutorials and detailed documents. Whether you are a beginner or an experienced ROS player, you can easily use Transbot robot.
Details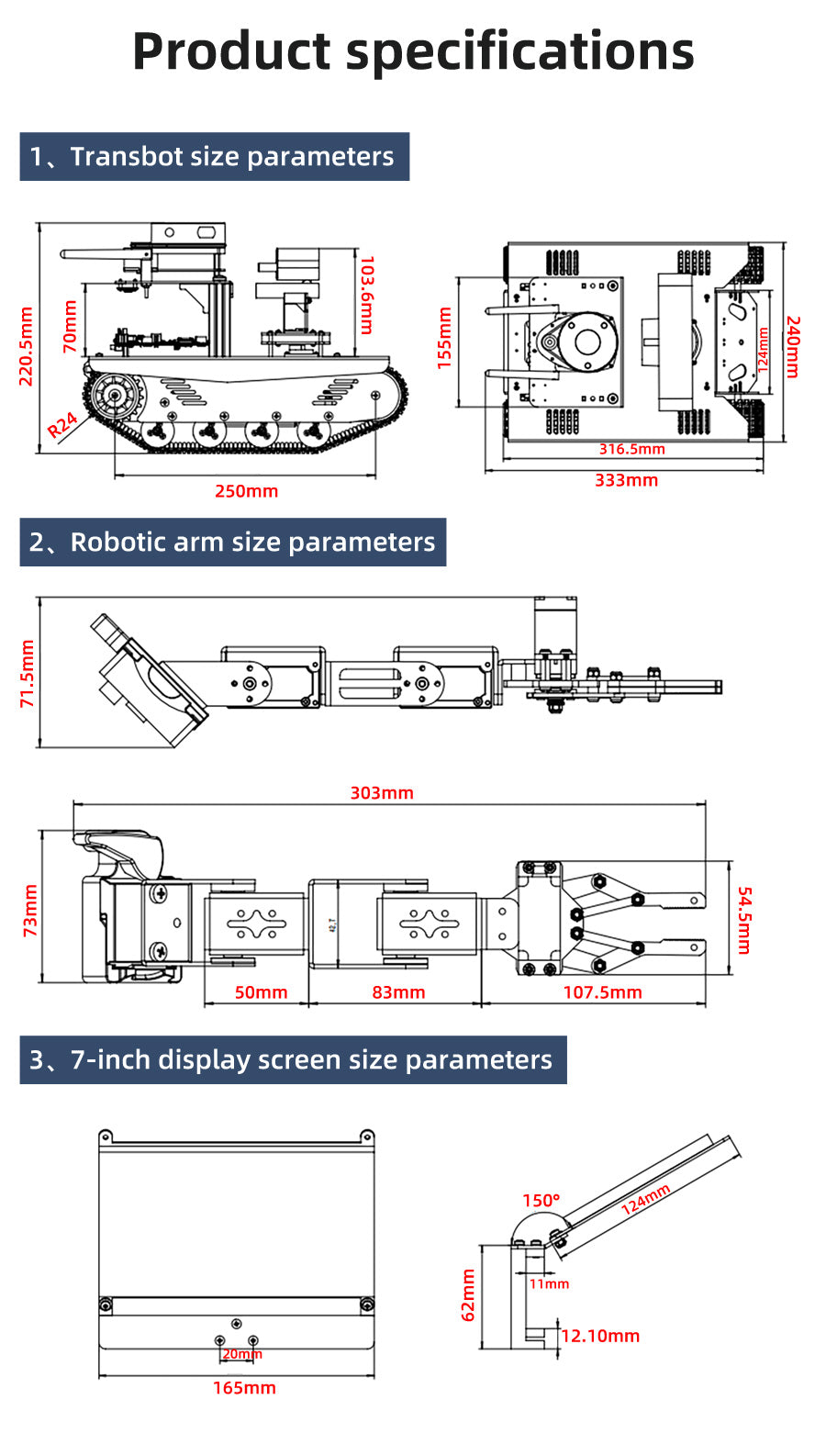 Packing list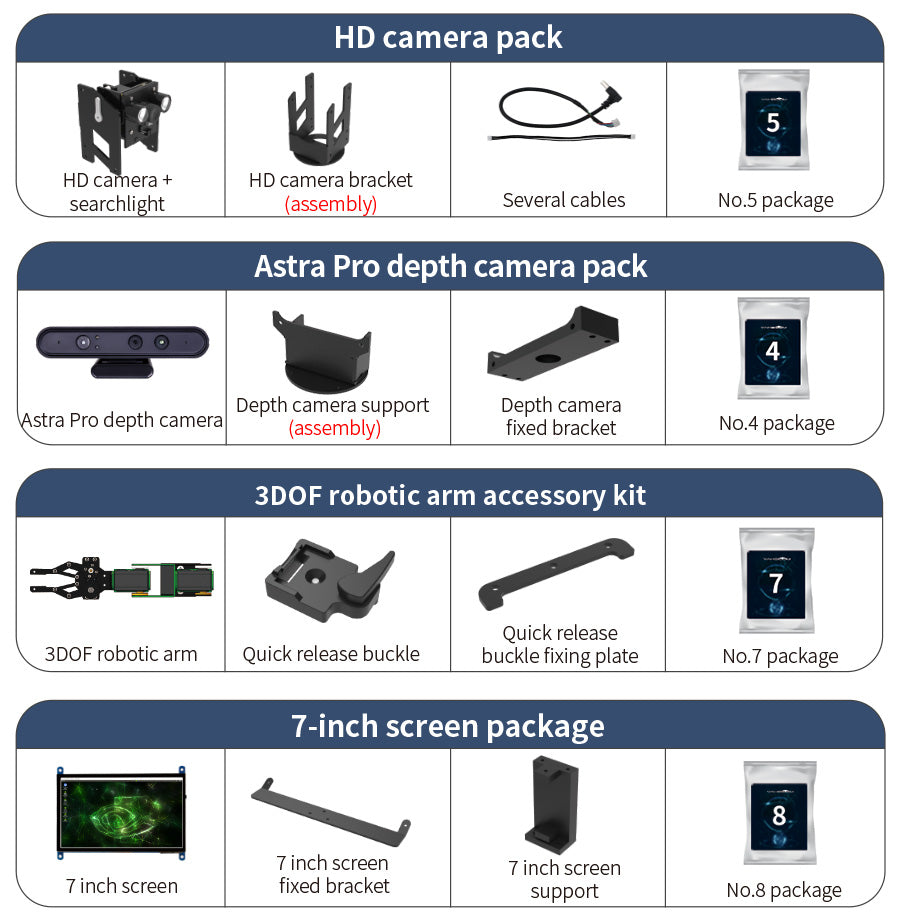 Tutorial link
Yahboom Raspberry Pi Transbot Robot
Shipping and delivery Information
Free Shipping Policy
Start Date - All Time
End Date - All Time
Order less $50 - You have to pay shipping fee, $10 by default (small package Air), or $20 by DHL.
Order over $50, less $150 - Your order could enjoy free shipping by small package Air, or $15 by DHL.
Orders over $150 - Your order will enjoy free shipping via DHL. In most cases, it takes 3-5 working days to arrive.
Exceptions - Orders from countries in Zone 9 are over $300 for free DHL shipping. To see a full list of countries in zone 9, click here.
Order less $100 - Shipping fee is $45 by DHL.
Order over $100, less $200 - Shipping fee is $35 by DHL
Order over $200, less $300 - Shipping fee is $25 by DHL
Orders over $300 - Free shipping by DHL
Some of our products come with battery and motor. If DHL is not available to your country, we will change DHL to UPS, Fedex, or special line, depending on your country.
Distributors are not eligible for free shipping.
Shipping Method
| | | | |
| --- | --- | --- | --- |
| Shipping Method | Delivery Time(business day) | Tracking No | Weight Limit |
| DHL | 5-7 | YES | No |
| UPS | 5-7 | YES | No |
| Fedex | 7-10 | YES | No |
| Special line | 10-15 | YES | No |
| Small Packets Air | 15-30 | YES | No |
After your package is sent out, you can see your tracking number on our website. We will also inform you via email about your tracking number and tracking link.
Customs, Duties and Taxes
Our term is FOB Shenzhen which doesn't include custom fee. You should expect to pay any amount charged by the government in your respective country. This includes, and is not limited to, duties, taxes and any extra fees charged by the courier company.
Payment & Security
Payment
PayPal
The main Payment method is Paypal. If you have paypal, that is great. You can simply place order and check out with few steps. If you don't have Paypal account, you can register it and pay by Credit or Debit Card.
Pay with Paypal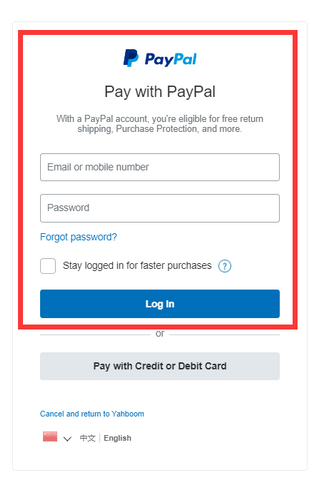 Pay with Credit or Debit Card
Your payment information is processed securely. We do not store credit card details nor have access to your credit card information.
After waiting for a week, I finally received the package. From the appearance, all parts are brand new and undamaged.
I'm going to travel with my friends tomorrow, and I'll go home next month to test it. Any question, I will submit a new comment.
sn't a frustrating kit.
This kit may be a little intimidating for beginners at the level, but it is so well designed, built and documented that I would unconditionally recommend it to anyone interested in learning how to build, program and control a modern autonomous robot.
It runs on an 18650 battery pack (the battery is already included in the kit) and requires a Jetson NANO or Raspberry Pi as the controlling SBC (Single Board Computer).
Yahboom provides great personalized online help, even when you get stuck.
So trust me, this isn't a frustrating kit.
Thanks for your review.
If you have any questions during the follow-up use, please feel free to contact us, we will provide professional technical support and after-sales service.
By the way. If you want to buy any Yahboom product, please let me know, I will apply an exclusive discount coupon for you.
high quality advanced ROS AI robot (품질이 좋은 advanced ros AI robot!) (优质ROS AI机器人)
The case is no joke, It is wrapped really well.
and all parts were used as fairly solid and high quality products.
software on offer shows a lot of effort.
the products made by robot fanatics in Shenzhen, China, the holy land of information technology.
케이스가 장난이 아닙니다, 포장이 굉장히 잘 되어 있습니다.
모든 부품은 상당히 견고하고 품질이 좋은 제품으로 사용이 되어졌다.
제공되는 소프트웨어는 많은 노력을 보여준다.
정보기술의 성지인 중국심천에서 로봇 덕후들이 약빨고 만든 제품.
箱子不是开玩笑的,包装很好。
所有零件都相当坚固,质量上乘。
提供的软件显示了很多努力。
信息技术圣地中国深圳,机器人爱好者打造的产品。
A big but not clumsy guy.
At first I bought him to participate in the robotics competition held by the school in January. Although I didn't win a prize in this competition, I fell in love with this robot.
I now explore it every weekend with my classmates.
A well designed advanced Robot
This is an advanced AI robot that is usable to the noobie as well as educational and challenging for the novice and advanced learning. Although, presently it is very expensive for none but the serious learning. I am pleased with Yahboom's decision to pre-assemble the complete robot chassis saving at a minimum of an hour for the intermediate learner. It has many options that add to cost and value but each are a quality addition. with over 60 training courses available "spoken in chinese with english subtitles" as well as written online documents , all advance learning features can be tested and hopefully utilized. I have not begun these advance ROS courses but have viewed all 60 courses; but did not complehend. Hopefully the chinese videos coincide with english courseware. So far my expectations have been met and I feel challenged to learn more utilizing the videos and courseware. Tech support is available and have answered most of my questions within 24 hours or next business day, due to timezone issues.