Description
Another version
Jetson NANO Transbot ROS Robot
Transbot is a crawler educational robot developed based on the ROS(robot operating system). It uses Python 3 as the programming language. And comes with high-performance hardware configurations such as Raspberry Pi 4B board, lidar, high-definition camera/depth camera, etc., which can realize robot motion control, remote communication, mapping navigation, following, avoiding, autopilot, robotic arm Movelt simulation, multi-robot queue, multi-robot navigation and so on. We will provide many ROS courses and teaching video to help user get started with ROS easily.
Features:
Intimate design and service: The chassis has been assembled before shipment. The TF card comes with Transbot dedicated system files. Only need to assemble the Raspberry Pi, camera and other parts, and you can quickly enjoy it.
Professional technical support and after-sales service.
Stable hardware configuration realizes interesting functions:  
Based on lidar: Obstacle avoidance, following, 2D mapping navigation, multi-robot navigation, etc.
Based on depth camera: 3D mapping, point cloud image processing, KCF target visual following, etc.
Based on a HD camera: High-brightness searchlight, 2 DOF PTZ flexible rotation.
ROS operating system: Based on the ROS robot operating system, we cleverly use Rviz, Movelt, and Qt toolboxes to realize the joint control of the robot arm Movelt simulation and the real machine.
Cross-platform interconnection control: It support a variety of different control methods, AI-enabled APP, FPV real-view visual handle remote control, JupyterLab online programming, and robot operating system control.
Detailed video courses: We provide 64-hours video tutorials and detailed documents. Whether you are a beginner or an experienced ROS player, you can easily use Transbot robot.
Details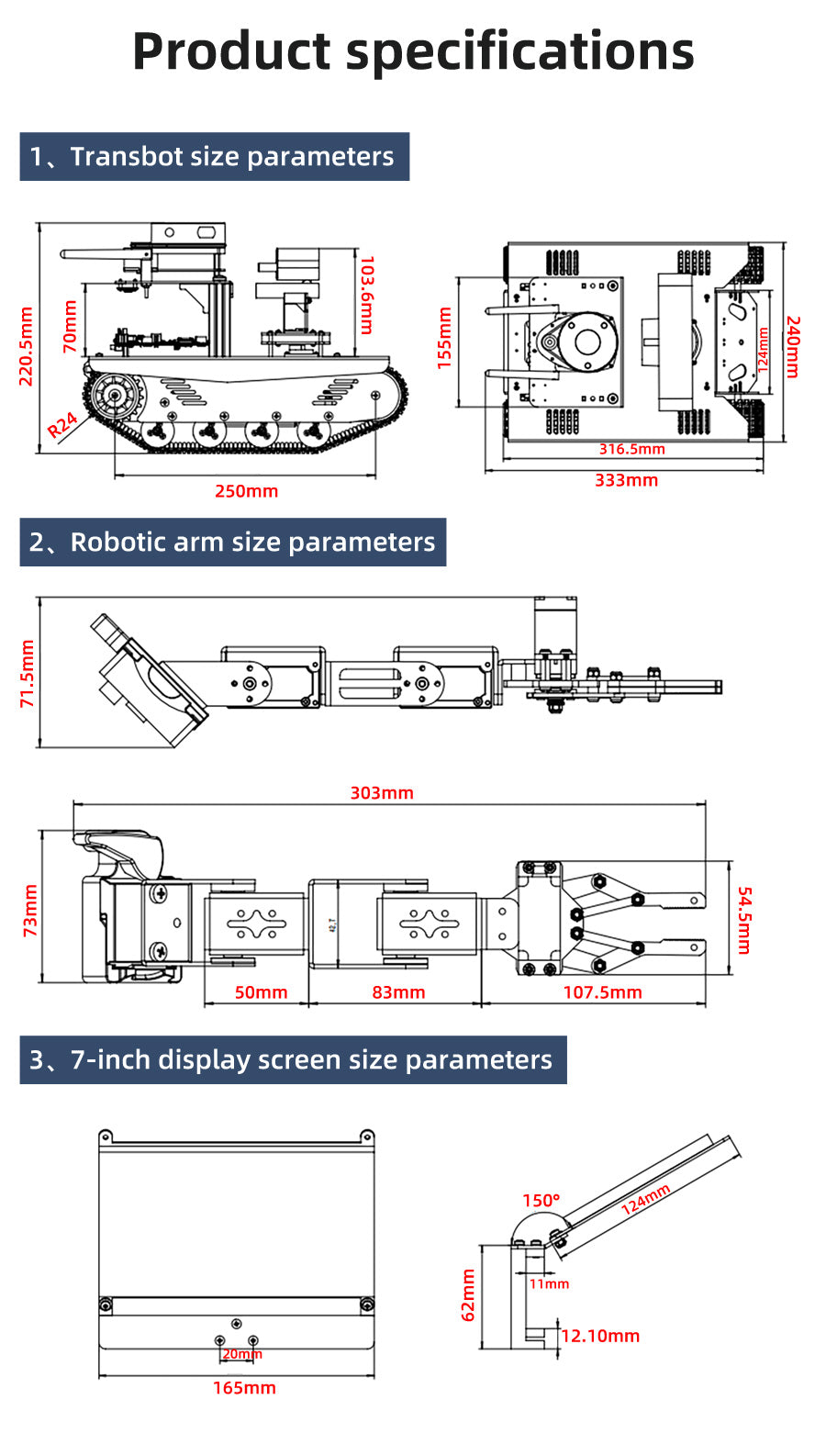 Packing list
Tutorial link
Shipping and delivery Information
Free Shipping Policy
Start Date - All Time
End Date - All Time
Order less $50 - You have to pay shipping fee, $10 by default (small package Air), or $20 by DHL.
Order over $50, less $150 - Your order could enjoy free shipping by small package Air, or $15 by DHL.
Orders over $150 - Your order will enjoy free shipping via DHL. In most cases, it takes 3-5 working days to arrive.
Exceptions - Orders from countries in Zone 9 are over $300 for free DHL shipping. To see a full list of countries in zone 9, click here.
Order less $100 - Shipping fee is $45 by DHL.
Order over $100, less $200 - Shipping fee is $35 by DHL
Order over $200, less $300 - Shipping fee is $25 by DHL
Orders over $300 - Free shipping by DHL
Some of our products come with battery and motor. If DHL is not available to your country, we will change DHL to UPS, Fedex, or special line, depending on your country.
Distributors are not eligible for free shipping.
Shipping Method
| | | | |
| --- | --- | --- | --- |
| Shipping Method | Delivery Time(business day) | Tracking No | Weight Limit |
| DHL | 5-7 | YES | No |
| UPS | 5-7 | YES | No |
| Fedex | 7-10 | YES | No |
| Special line | 10-15 | YES | No |
| Small Packets Air | 15-30 | YES | No |
After your package is sent out, you can see your tracking number on our website. We will also inform you via email about your tracking number and tracking link.
Customs, Duties and Taxes
Our term is FOB Shenzhen which doesn't include custom fee. You should expect to pay any amount charged by the government in your respective country. This includes, and is not limited to, duties, taxes and any extra fees charged by the courier company.
Payment & Security
Payment
PayPal
The main Payment method is Paypal. If you have paypal, that is great. You can simply place order and check out with few steps. If you don't have Paypal account, you can register it and pay by Credit or Debit Card.
Pay with Paypal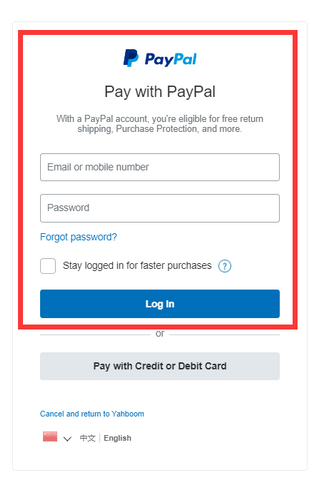 Pay with Credit or Debit Card
Your payment information is processed securely. We do not store credit card details nor have access to your credit card information.
I was really impressed with this Raspberry Pi Tracked Transbot Car. First, its structural design and build quality are excellent. The trolley is made of strong and durable materials, ensuring its stability and durability.
Secondly, I am very satisfied with the control and programming flexibility of it. With Raspberry Pi, we can customize and optimize the behavior of the car. It allows us to write our own code to implement various functions such as automatic navigation, path planning, etc.
In the end, the performance and responsiveness of the little car is excellent. It responds quickly to commands and moves with just the right speed. This makes controlling and operating the trolley smoother and easier.
But it may have some room for improvement. Sometimes, in complex environments, the radar may be interfered, resulting in inaccurate obstacle avoidance. Also, the battery life of the car may need to be improved for longer runs
Overall, it is acceptable
Last week, I purchased this Raspberry Pi Transbot car from this website and I am generally satisfied with my purchase. Shipping list inlcude all the necessary parts and tools for assembly, which was straightforward.
The AI capabilities are impressive and the car is able to detect and avoid obstacles with relative ease. However, the programming was a bit more challenging than I anticipated and I had to do some research and troubleshooting to get it working properly.
Additionally, the seller's customer service could have been more responsive to my inquiries.
As an experienced programmer, I was looking for a challenge and this programming car delivered. The open-source platform allowed me to customize the code to my liking and the car's functionality is impressive. It's fast, responsive and the sensors work flawlessly.
Thanks for fast and safe logistics from Yahboom!
After waiting for a week, I finally received the package. From the appearance, all parts are brand new and undamaged.
I'm going to travel with my friends tomorrow, and I'll go home next month to test it. Any question, I will submit a new comment.
sn't a frustrating kit.
This kit may be a little intimidating for beginners at the level, but it is so well designed, built and documented that I would unconditionally recommend it to anyone interested in learning how to build, program and control a modern autonomous robot.
It runs on an 18650 battery pack (the battery is already included in the kit) and requires a Jetson NANO or Raspberry Pi as the controlling SBC (Single Board Computer).
Yahboom provides great personalized online help, even when you get stuck.
So trust me, this isn't a frustrating kit.
Thanks for your review.
If you have any questions during the follow-up use, please feel free to contact us, we will provide professional technical support and after-sales service.
By the way. If you want to buy any Yahboom product, please let me know, I will apply an exclusive discount coupon for you.
QUESTIONS & ANSWERS
I bought the Yahboom ROS Transbot Robot with Lidar Depth camera support Python programming MoveIt 3D mapping for Raspberry Pi, if in the future I want to switch to Jetson NANO 4GB(B01/SUB) version, can I do it? if so what do i need to buy, and do? Regards and thanks

Hello friend,
If you want to use Jetson NANO version. You just need purchase, Jetson NANO board, U disk(With Transbot system file), Jetson nano installstion package.
If you need, contact me by E-mail: market@yahboom.com
I will I will draft an order and send it to you.

I bought it, but I have an error with the astra camera launching , also the frame rate is very low ( 1 fps), is there a method to modify this?

Hello friend,
Sorry for lata reply. Could you send your question to this E-mail:support@yahboom.com
Our Technical Support will reply you ASAP.

Can this recognize other things ( not faces). For example, a date bunch?

Hello friend,
Thanks for your message. 
This is a programmable product, and we currently only provide routines to recognize a person's face.
If you need to identify a group of people, you can do that by modifying the code.

If I formatted the memory by wrong, how could I restore the files again? Can I get another memory card?

Hi friend,
Could you contact our technical support is via email or WhatsAPP. He will provide professional services to help you solve the problem ASAP.
E-mail: support@yahboom.com   WhatsAPP: +86 18682378128