Yahboom programmable Spider:bit based on Micro:bit V2 compatible with LEGO
Description
Super:bit expansion board with 142 blocks and 2 building blocks motors, can be built into the shape of a spider. It can make spiders live with a mobile phone remote control APP. You can control the spider to move forward and backward, turn left and right, tweet, RGB color change, etc. Super:bit building blocks with micro:bit board also has a variety of programming methods, support for simple and fun makecode Editor graphical or Python programming. In addition to the standard shape Super:bit building block spiders, you can also use the built-in building blocks to build more interesting shapes, such as "building blocks swimming machine". You can let the "swim machine" keep moving after starting the circuit.
Feature
Designed for micro:bit
Equipped with a powerful Super:bit expansion board
Combination of building blocks and circuits
Mobile APP control
Graphical programming and Python programming






Detail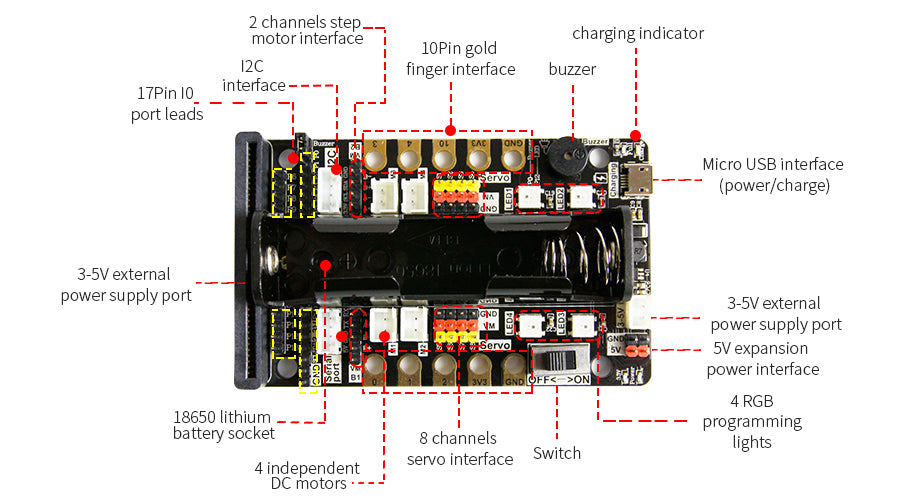 Package list
Spider building block pack
Recommended reason: suitable for users who already have micro:bit and Super:bit expansion board
Building Blocks *142  
Spider building block pack+Super:bit
Recommended reason: suitable for users who already have micro:bit
Building Blocks *142
USB Cable *1
Lithium Battery *1
Spider:bit package(With micro:bit)
Recommended reason: complete configuration to use directly
Building Blocks*142 B
USB Cable *1
Lithium Battery *1

Documents
QUESTIONS & ANSWERS
Have a Question?
Be the first to ask a question about this.
Ask a Question
Lovely building block spider
Thanks for the technical support for replying to my question. And treach my son how to write hex file into BBC Micro:bit, now 6-year-old boy totally fell in love with this spider.
interesting and educational
Spider:bit is a very interesting and educational material, fully compatible with Lego. In addition, the complementary web material is of excellent quality.
Spider:Bit is great, just remember the battery
My son (8 years) and I enjoyed building the Spider:Bit. He's an experienced Lego builder so the actual construction wasn't a problem, though he did find it a bit tricky when the instructions only have diagrams for one set of legs. Getting him to build the mirror image was a good challenge, slowed him down a bit and got him thinking. The programming so far has been straight forward, though we've only done "advance" at this stage.
The main thing to remember is to ensure you order a battery for the Super:Bit expansion board. We missed this option in the drop down list and I wrongly assumed it was just a standard AA battery that was needed. We have powered Spider:bit through the USB cable, but that defeats the purpose of the robot. A battery is on the way from a supplier in the UK.
We're already looking at the next project to order. Great fun whilst in lock-down!
Cost performance is good, but ...
I think it is a good product.
However, I feel that the instructions are not good.
1) There was only one leg explanation in LEGO production, and the production of the other leg was puzzled even for adults.
2) The connection of the motor was loose, and when asked, I was informed that there was another socket. I think it should be explained from the beginning.
* Inquiries were very quick, so this point is highly evaluated.
The delivery time was speedy. The product was exactly what we were looking to use for our High School Event. Thank you.