BBC official micro:bit board
Description
Micro:bit board is designed by BBC which aims to help children at or above 7 grade to learn programming better. Micro:bit board has abundant board resources, including a 5*5 LED metric dot array, 2 programmable buttons, Compass, USB ports, Bluetooth module etc.. It is only pocket size but very powerful. You can program, customize or control it as well. It only has plastic packaging bags without external packaging boxes, but we will present a transparent acrylic shell is tailor-designed for Micro:bit.
Feature
A variety of on-board modules
Expandable for additional sensors
Graphical programming and Python programming
Easy and smooth program uploading
Bluetooth wireless programming uploading
Bluetooth Wireless communication
Detail
Package list
Micro:bit board 
Basic USB package
Basic case package
Basic battery package
Basic:bit package
Super:bit package
Music package
LED package
Watch package

 Smart car package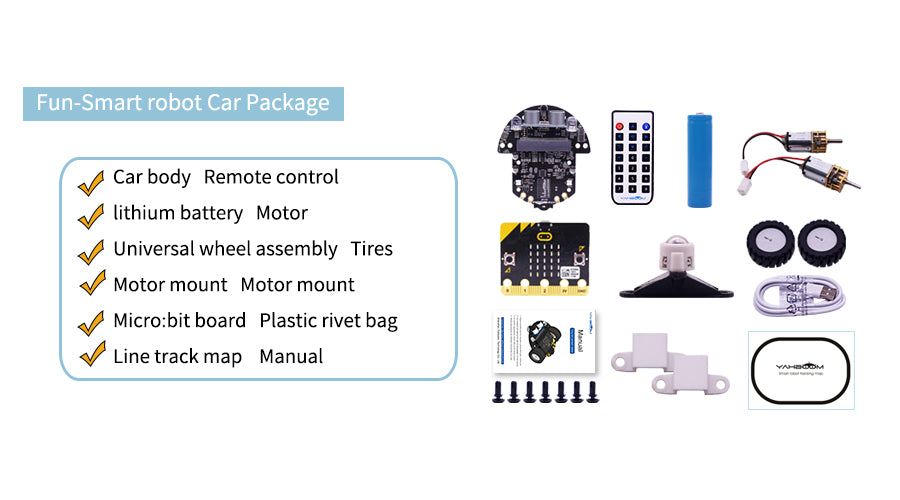 Documents
Yahboom Micro:bit board
Yahboom Basic:bit expansion board
Yahboom Super:bit expansion board
Yahboom Music expansion board
Yahboom RGB expansion board
Yahboom Watch expansion board
Yahboom Tiny:bit robot car
Good quality and price, fast delivery. Thanks!
J'aimerais choisir la couleur, pour pouvoir l'identifier plus facilement
Is This review request for #1173
Is This review request for #1173?
Then micro:bit was OK but Tiny:bit smart robot car for micro:bit has such trouble as backword run fail to turn to clockwise after 70cm back straight run.
Waiting reply via other transaction.