Yahboom Super:bit expansion board for micro:bit
Description
It be designed with bilateral symmetry, onboard micro:bit board socket, 18650 battery socket, USB power supply interface, 3-5v external power interface, 4 programmable RGB lights, buzzer, I2C interface , WIFI camera serial port, all kinds of motor interfaces and so on, which is an expansion board designed for micro:bit. It also can be connected with 2 channel stepper motors, 4 channel DC motors, 8 channel servos, coupled with stable power supply scheme and various protection circuits, this expansion board has a powerful ability to drive motor. We expand 17 pin header IO ports and 10 alligator clip interfaces to support our sensor modules. The WIFI camera serial interface, IIC interface and LEGO holes make it possible for users to expand into more interesting projects. You can build your own shape with the LEGO bricks, connect some electronic devices, and control it by micro:bit programming.  It is an excellent choice for your robotic projects based on Micro:bit!
Feature
Central axis design, bilateral symmetry.
Onboard content is rich, micro:bit socket, programmable RGB lights, buzzer, and support IIC, serial communication.
Power ability to drive DC motors, stepper motors, servos, onboard buzzer and programmable RGB lights.
17 effective micro:bit IO ports, 10 alligator clip interfaces are reserved, and some Yahboom sensor modules can be connected.
Three power supply method: micro USB power supply, 18650 lithium battery power supply, 3-5v external battery box power supply.
6. Compatible with LEGO bricks, can build a variety of creative shapes, such as building blocks robots, windmills, cars and so on.
7. It means the BBC micro:bit can very easily become the core of a whole variety of robotics projects.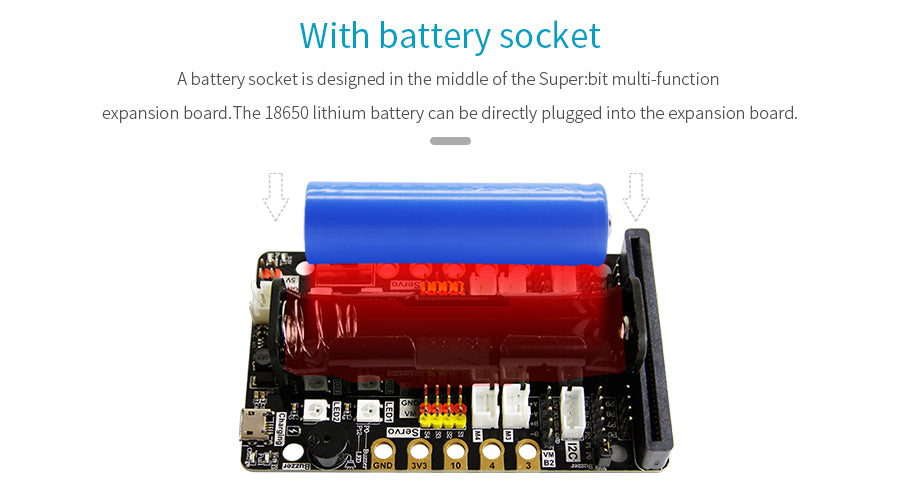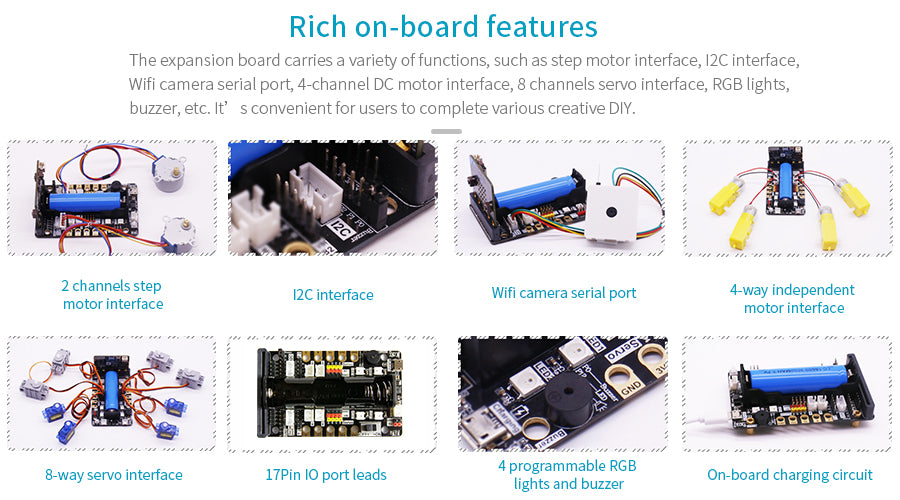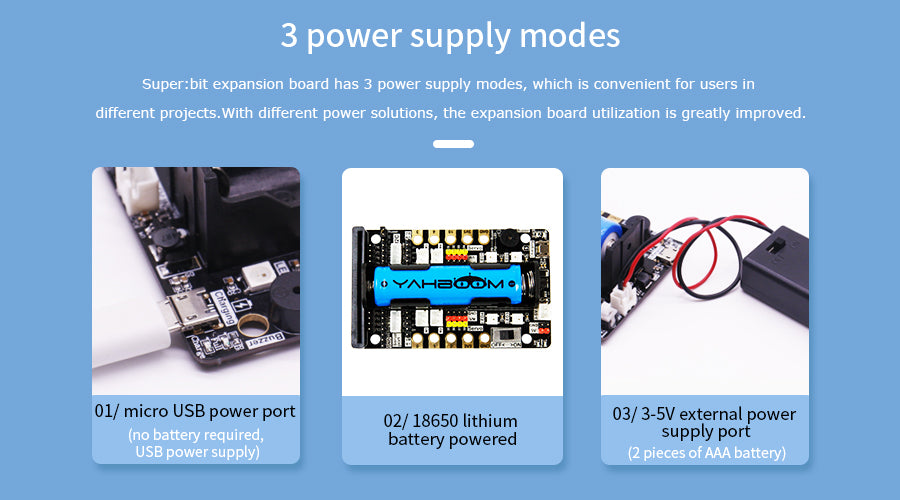 Detail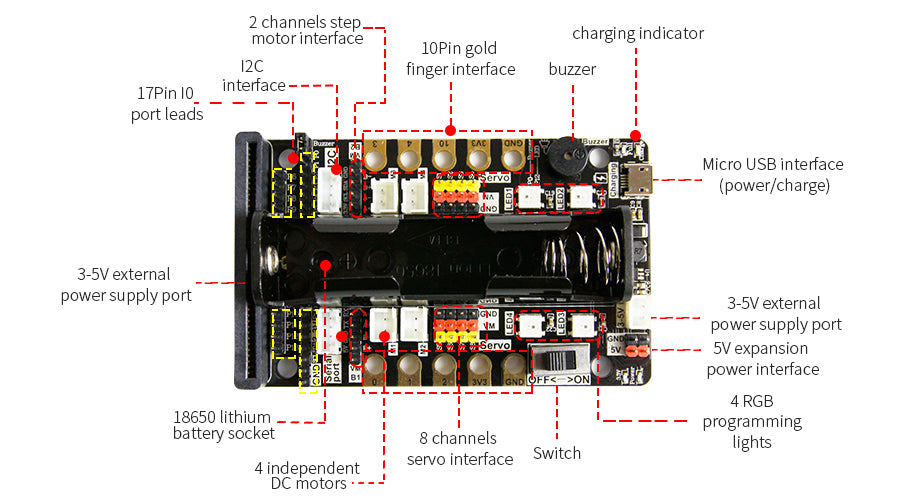 Package list
Separate expansion board
Super:bit expansion board*1

Basic package
Super:bit expansion board*1
18650 battery *1
USB cable*1

Basic package with building block pack
Super:bit expansion board*1
18650 battery *1
USB cable*1
Building block support package*1

Advanced package
Super:bit expansion board*1
18650 battery *1
USB cable*1
Building block servo package*1
Grey servo*1
Red motor*1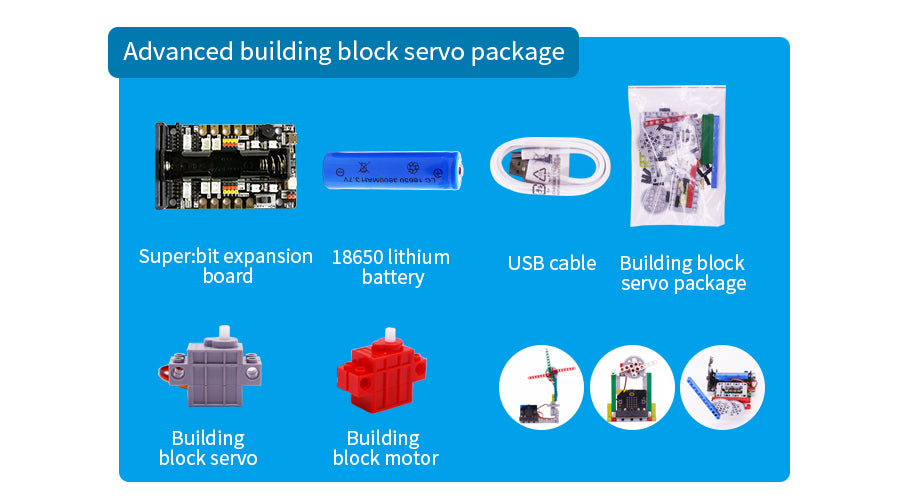 Documents
QUESTIONS & ANSWERS
Have a Question?
Be the first to ask a question about this.
Ask a Question
Fun assembly but part missing
I received the box in good shape and enjoyed assembling the Lego. I discovered yesterday when I attached the control board to the Lego frame that the upright board on the micro:bit controller was missing. I assume it was supposed to be in the box. I will contact customer support to see if can get the part. So far so good, looking to working with the programming.
Great device for microbit robot building
I ordered the Super:bit expansion board to replace an old raspberry pi expansion board that had failed. So far this new board plus a micro:bit have worked perfectly - servos and DC motors plugged in without any modification. And there are plenty of expansion opportunities, so I think I will hit the limits of the micro:bit before I hit the limits of this board!
Très bien pour construire son propre robot
Très bien pour construire son propre robot, connexions multiples
please update extension library for 270 geek servo
please update extension library for 270 geek servo. the center of servo is not 315 degree, it is 140 degree :) thankyou