Description
Note: 
The Micro:bit V2.0 board currently on sale in our store are V2.2 versions updated by BBC in 2022. The overall functions of the V2.2 board and the V2.0 board are the same, only little details are optimized and adjusted.
If you purchase this kit with Micro:bit V2.0, we will ship the V2.2 board by default.
This Arm:bit is made up of 537 blocks and 4 durable building blocks motor. The user can control it to complete the 4 degrees of freedom operation and pick up the items by the Android/iOS mobile APP. Its biggest feature is that the base of Arm:bit adopts anti-wrap design, which does not affect the wiring of the servo during rotation; the control board is located in the middle of the Arm:bit, which is beautiful and convenient to use; the unique electric push rod design improve the flexibility of it. Equipped with a multi-function super:bit expansion board tailored for micro:bit, so we can use Graphical programming and Python programming to control the Arm:bit and other functions of the super:bit expansion board, such as playing music, breathing lights, etc.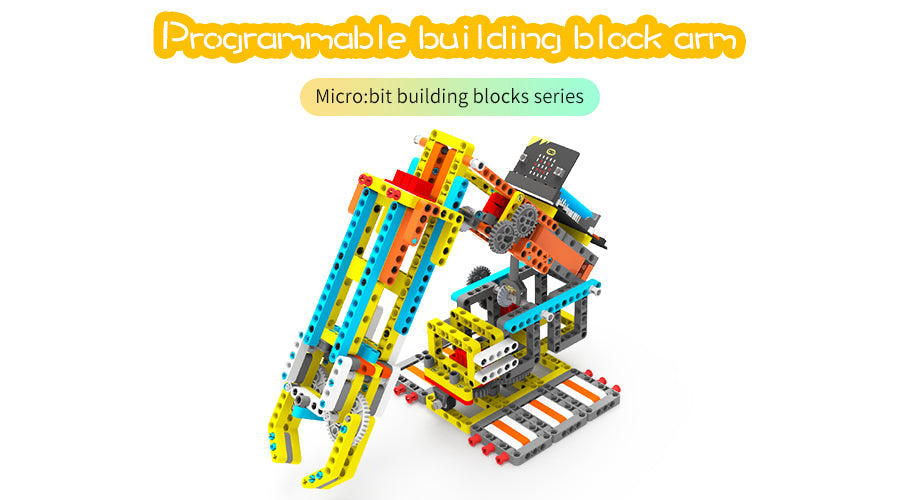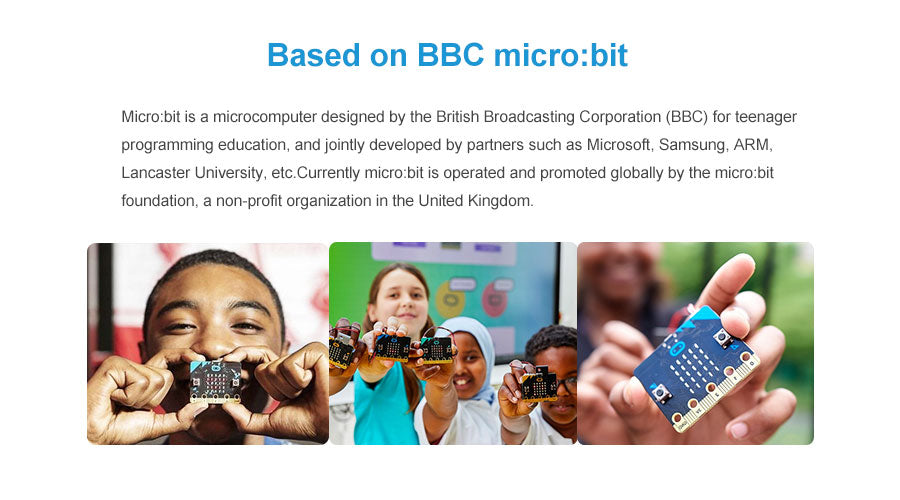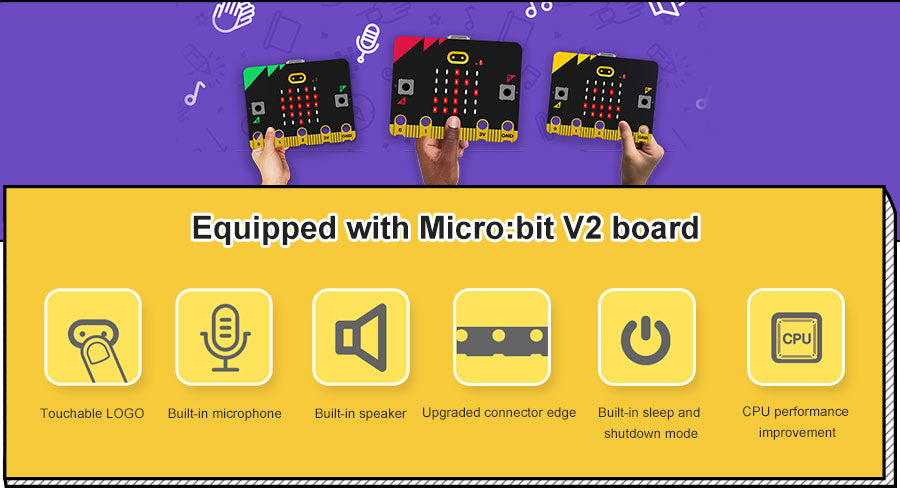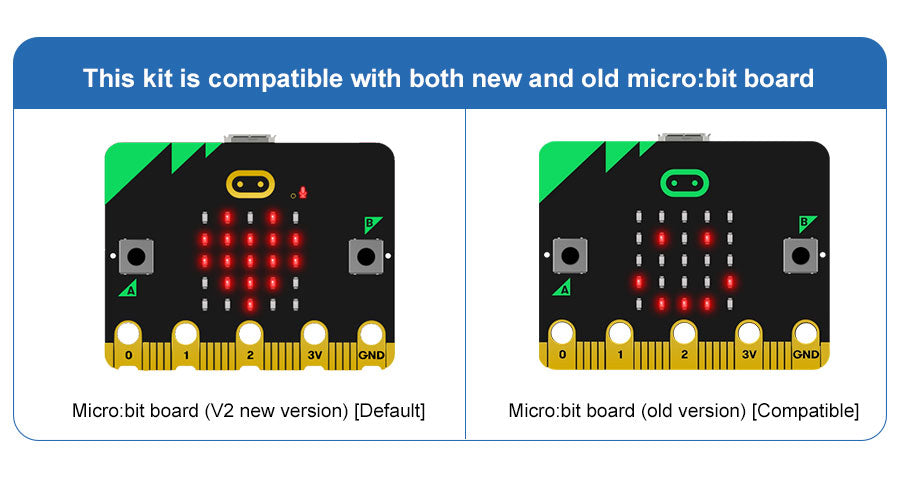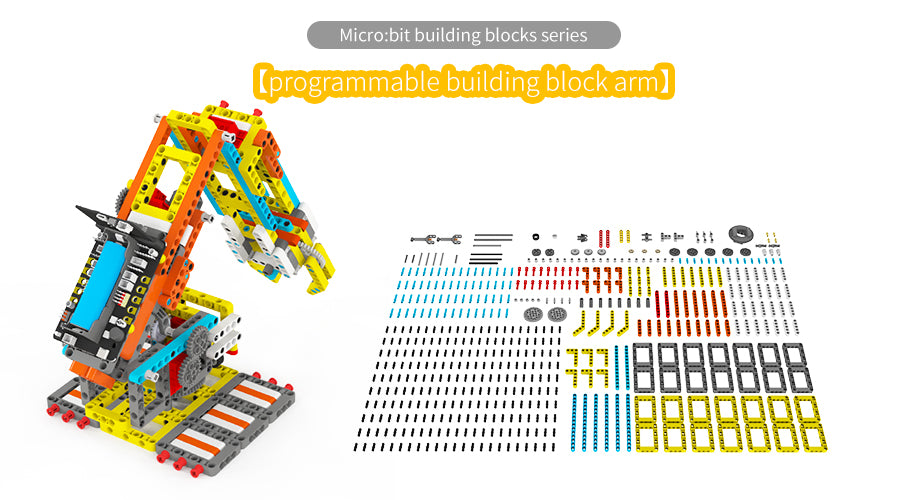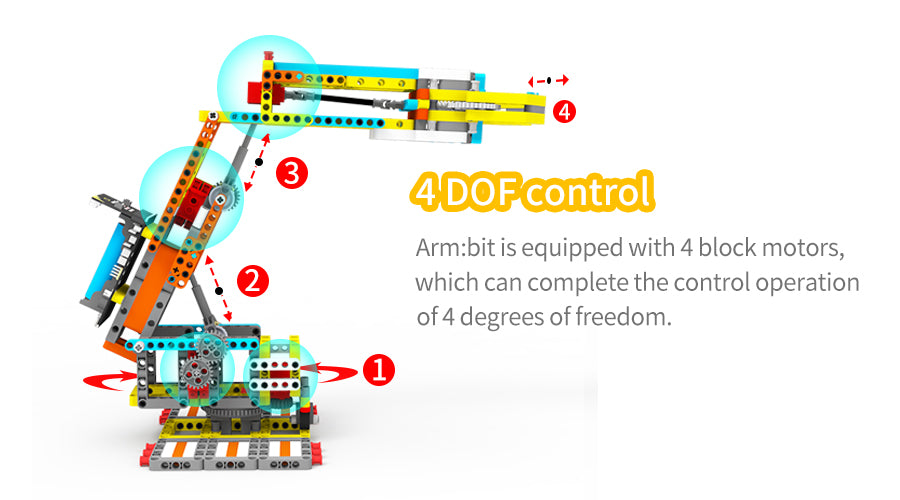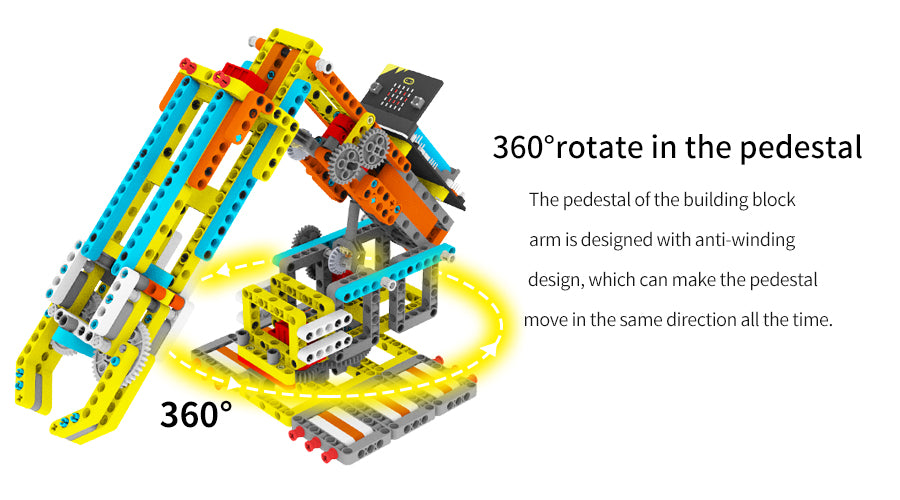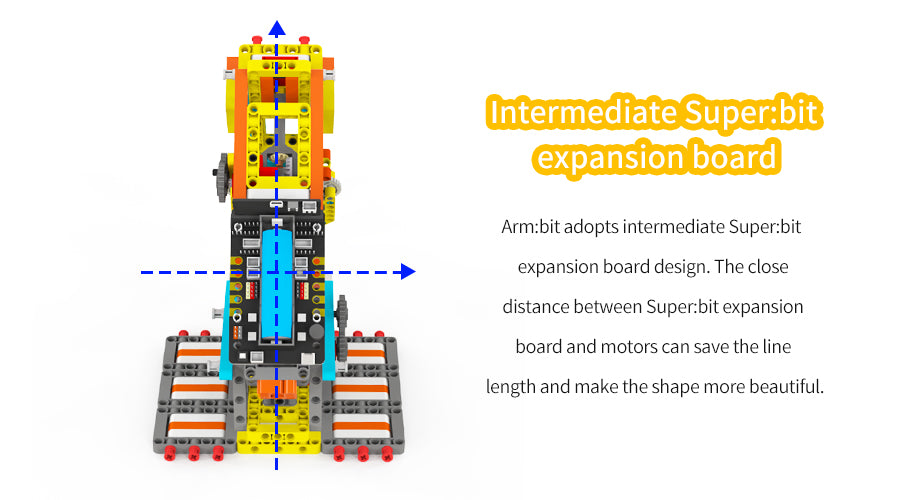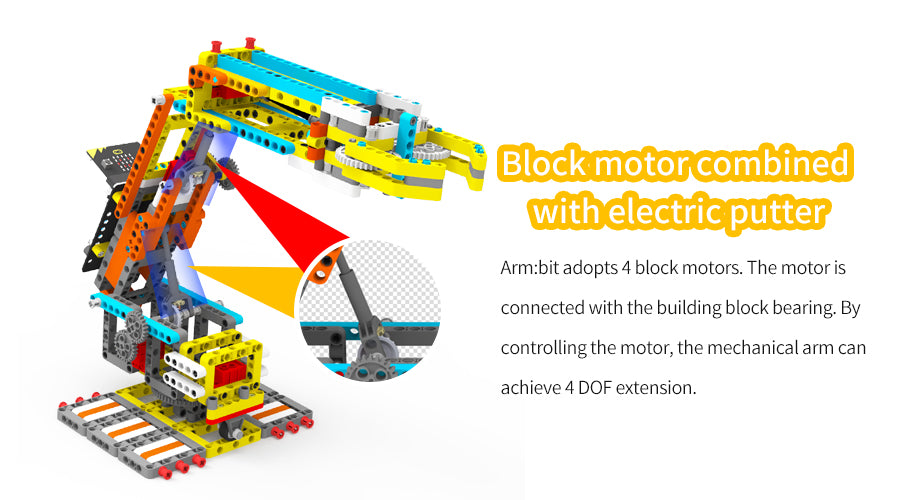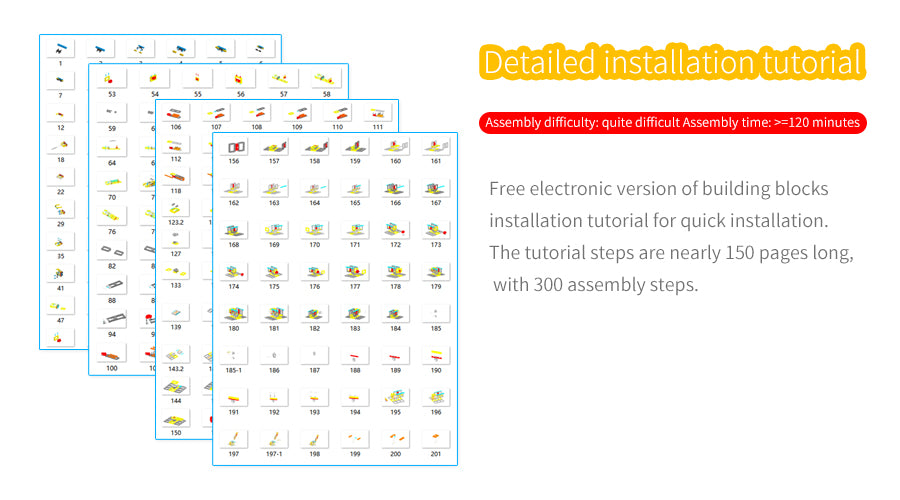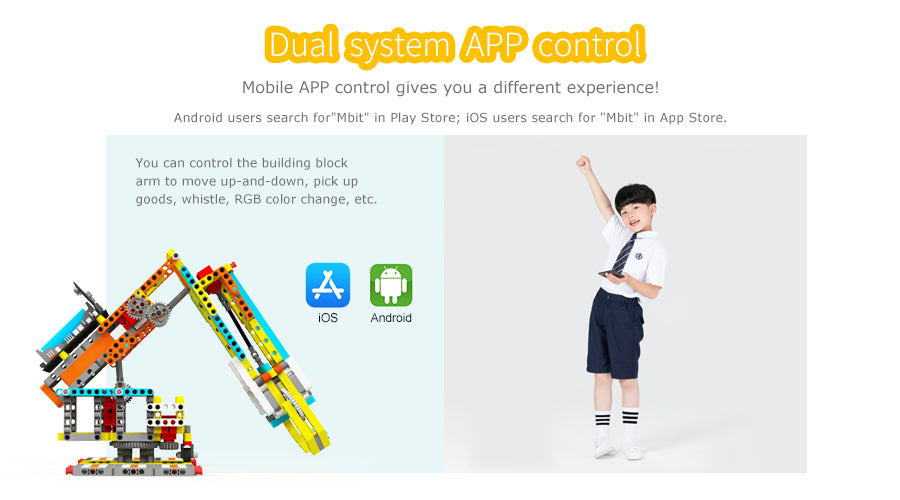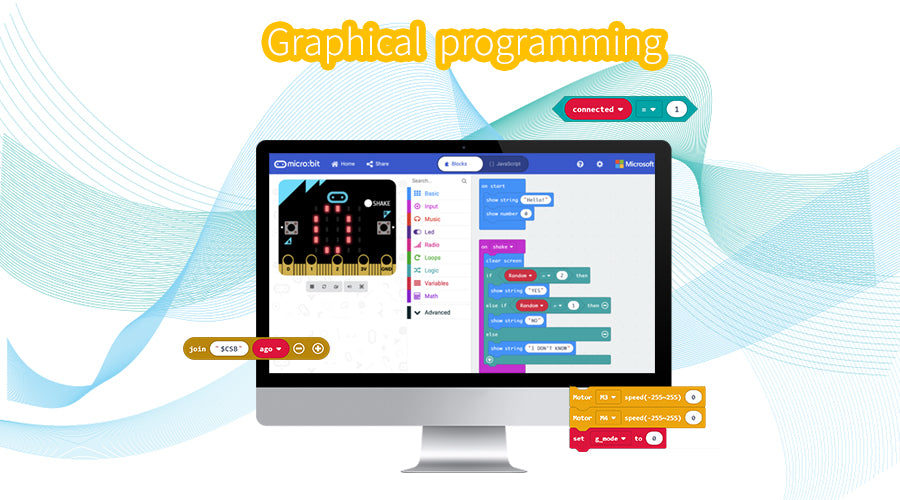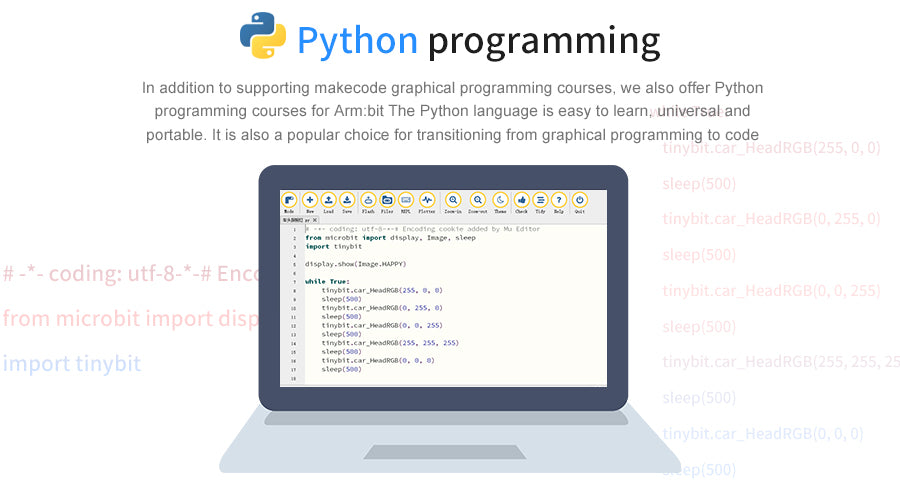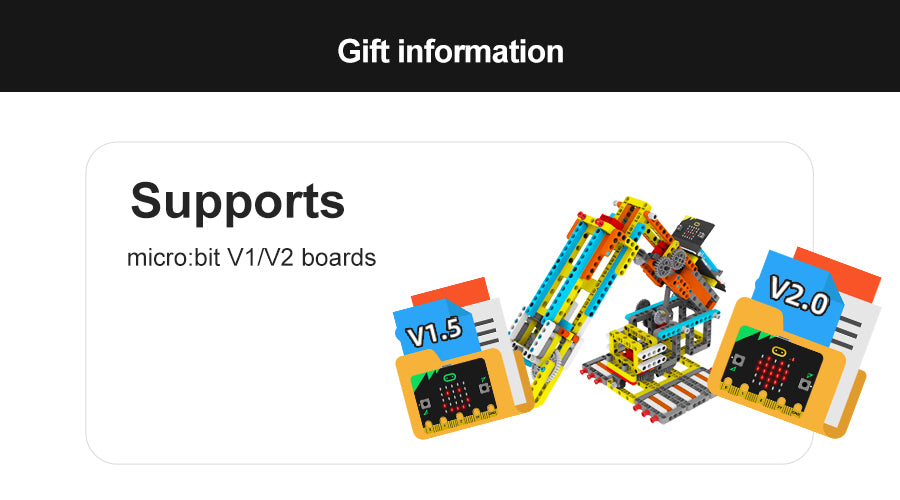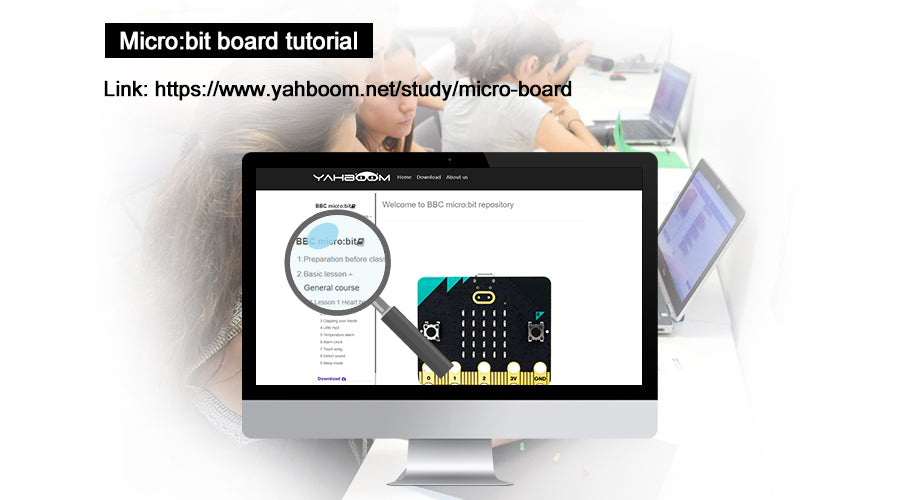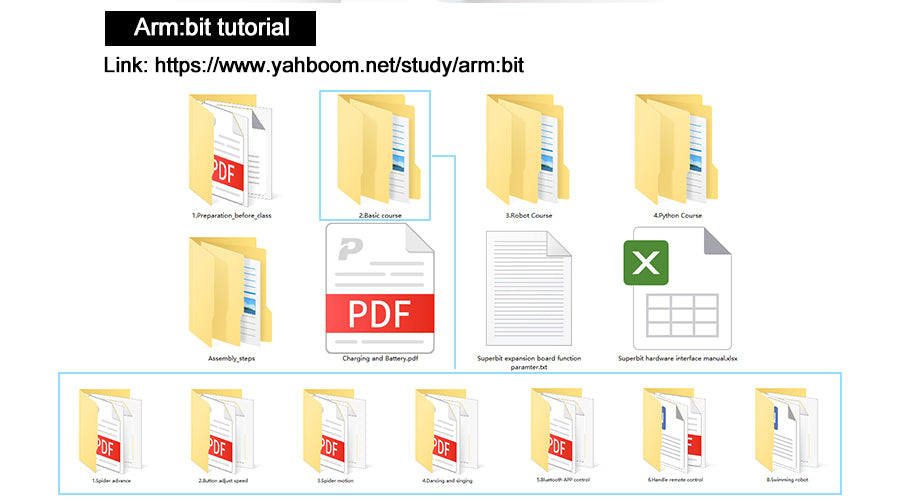 Detail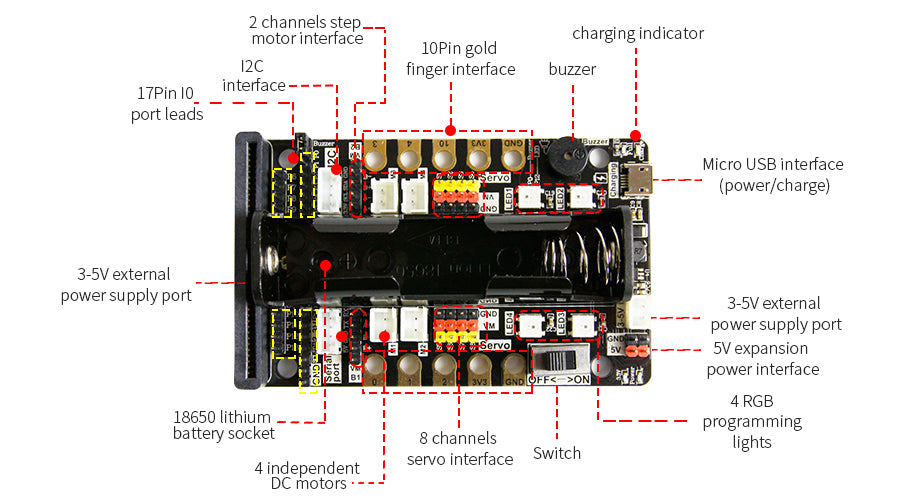 Package list
Arm building block pack
Recommended reason: suitable for users who already have micro:bit and Super:bit expansion board
Building Blocks*537     
Arm building block pack+super:bit
Recommended reason: suitable for users who already have micro:bit
Building Blocks*537     
USB Cable *1
Lithium Battery *1
Arm:bit package (with micro:bit)
Recommended reason: complete configuration to use directly
Building Blocks*537     
USB Cable *1
Lithium Battery *1

Tutorial
Shipping and delivery Information
Free Shipping Policy
Start Date - All Time
End Date - All Time
Order less $50 - You have to pay shipping fee, $10 by default (small package Air), or $20 by DHL.
Order over $50, less $150 - Your order could enjoy free shipping by small package Air, or $15 by DHL.
Orders over $150 - Your order will enjoy free shipping via DHL. In most cases, it takes 3-5 working days to arrive.
Exceptions - Orders from countries in Zone 9 are over $300 for free DHL shipping. To see a full list of countries in zone 9, click here.
Order less $100 - Shipping fee is $45 by DHL.
Order over $100, less $200 - Shipping fee is $35 by DHL
Order over $200, less $300 - Shipping fee is $25 by DHL
Orders over $300 - Free shipping by DHL
Some of our products come with battery and motor. If DHL is not available to your country, we will change DHL to UPS, Fedex, or special line, depending on your country.
Distributors are not eligible for free shipping.
Shipping Method
| | | | |
| --- | --- | --- | --- |
| Shipping Method | Delivery Time(business day) | Tracking No | Weight Limit |
| DHL | 5-7 | YES | No |
| UPS | 5-7 | YES | No |
| Fedex | 7-10 | YES | No |
| Special line | 10-15 | YES | No |
| Small Packets Air | 15-30 | YES | No |
After your package is sent out, you can see your tracking number on our website. We will also inform you via email about your tracking number and tracking link.
Customs, Duties and Taxes
Our term is FOB Shenzhen which doesn't include custom fee. You should expect to pay any amount charged by the government in your respective country. This includes, and is not limited to, duties, taxes and any extra fees charged by the courier company.
Payment & Security
Payment
PayPal
The main Payment method is Paypal. If you have paypal, that is great. You can simply place order and check out with few steps. If you don't have Paypal account, you can register it and pay by Credit or Debit Card.
Pay with Paypal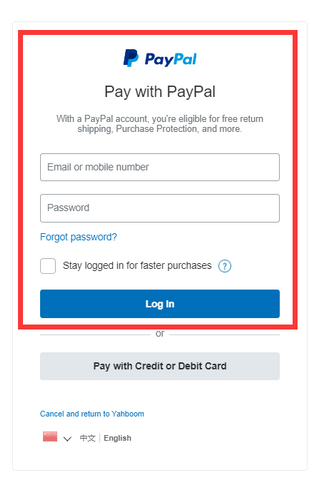 Pay with Credit or Debit Card
Your payment information is processed securely. We do not store credit card details nor have access to your credit card information.
Waiting for 7 days, I received my package. The kit is great!
I am a retired engineer and I really like the special structure design. When I saw it in a Facebook post for the first time, I decided to buy it. I spent an hour to complete the assembly and it is now standing in In my cupboard.
I plan to buy more building blocks to make this robotic arm longer.
Its appearance prompted me to take it to my home, Lol
This is Toby. I am a LEGO EV3 enthusiast.
This is my largest programmable building block robotic arm that I have seen so far. I have to say that its designer is really great!!! The seller provided detailed assembly steps. It took me an entire hour to complete the assembly. I encountered some problems during the assembly process and consulted the technical support. Yahboom quickly replied to me via email (Good service)
But I think Yahboom needs to prepare an installation video for users who are not good at Lego to assemble. (I gave a 4 star review)
The APP remote control function is very stable, and i can control the robotic arm to move some items. I plan to buy some Yahboom building block motors and add them to the bottom of the robotic arm to make a movable robotic arm and turn it into a real porter. I can't wait to start acting......
Works well
The building blocks are complete, and we quickly assembled the robotic arm according to the assembly steps provided on the website. And use the APP to remotely control it, everything is OK.
I have to remind: Before using the APP, you need to download the Bluetooth program to the Micro:bit motherboard, otherwise your Bluetooth will never be able to connect.
Kit is Good Quality, Good Value, and Engaging for Mechanically Minded Children
This kit is Good Quality, Good Value, and Engaging for Mechanically Minded Children. We have bought a number of these sets. Children ages 8-11 may need substantial adult help..Ages 12-16 would be more independent with these activities. There are many very small pieces, hard to maneuver with small fingers, and instructions for assembly are not the easiest.
Reasonable product
Thank you for your quick delivery.
The product was as expected. There was something unclear in the assembly instructions, but it took about 2 hours to assemble.
The length of my Super: bit is longer than that of the instruction sheet, so the mounting position had to be changed.
I think it is necessary to improve the method of fixing the gears of the No. 2 and No. 3 motors.
Low-priced robot arms that use servomotors tend to be unstable, but this is stable. Instead, functions such as positioning require the addition of sensors.
QUESTIONS & ANSWERS
Can you share with me the electronic version of the instruction manual? Thanks,

Thanks for your support to Yahboom products.
You can enter this tutorial link to get instruction manual. Link: http://www.yahboom.net/study/arm:bit

Can I order arm without Bbc microbit?

Hello, 
Thanks for your question.
Yes, you can choose the version 【Arm building block pack+super:bit】, which means didn't include BBC micro:bit board.
Purchase link: https://category.yahboom.net/products/arm-bit