Description
Yahboom Raspberry Pi Tank Robot uses the latest Raspberry Pi 4B development board as the core controller. The vehicle adopts blue aluminum chassis, high-quality track, high-power 370 motor, and metal coupling. When the motor drives the wheel of the car to rotate rapidly, it can achieve the function of climbing up to 60 degrees under the condition of sufficient friction. For this Raspberry Pi tank, real-time video transmission is indispensable. We use a 2DOF camera pan/tilt, a HD USB camera, and the 5G WIFI network that comes with the Raspberry Pi to ensure that high-quality video can be transmitted in real time on mobile APP or PC. It can also complete some AI recognition functions through the camera. Both expansion board and frame we are providing the corresponding extended interface, users can expand and use it according to the information provided by us, so for the tank, educators, learners, and raspberry lovers will be the most suitable owners.

Feature
Compatible with the latest version of Raspberry Pi 4B board.
The entire vehicle adopts 2mm blue thickened aluminum alloy frame, installation is simple and firm.
BST-4WD multi-functional expansion board, it is equipped with some interfaces of various sensors and communication modules, and it is compatible with four core controllers: Arduino UNO, 51 microcontroller, STM32, and Raspberry Pi.
It supports multiple basic functions: high angle climbing, tracking, overing the obstacle, etc.
It supports multiple AI functions: face detection, color tracking, object/gesture/QR code recognition etc.
Users can use C language and Python programming.
The car and camera platform can be controlled by Bluetooth APP by

Android/iOS 

mobile; HD video real-time transmission can be realized by Raspberry Pi coming with 5G WIFI.
The vast amount of data and sample program for reference.
Product parameter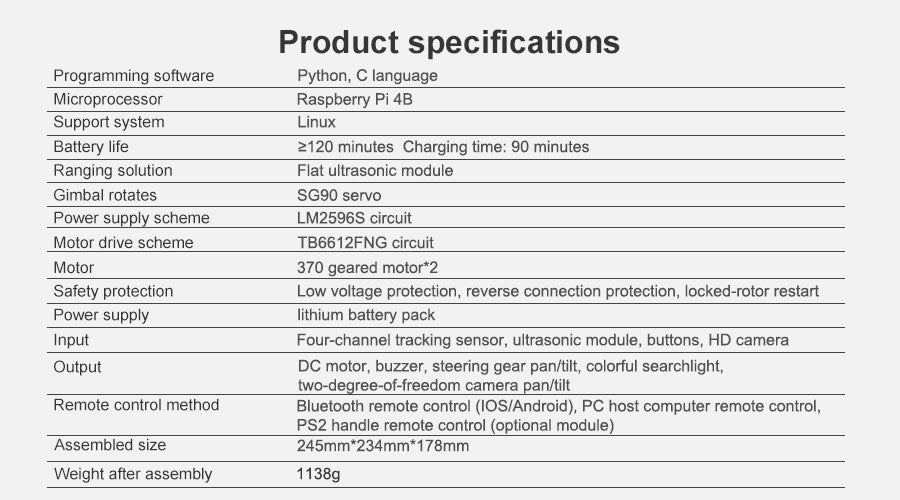 Package list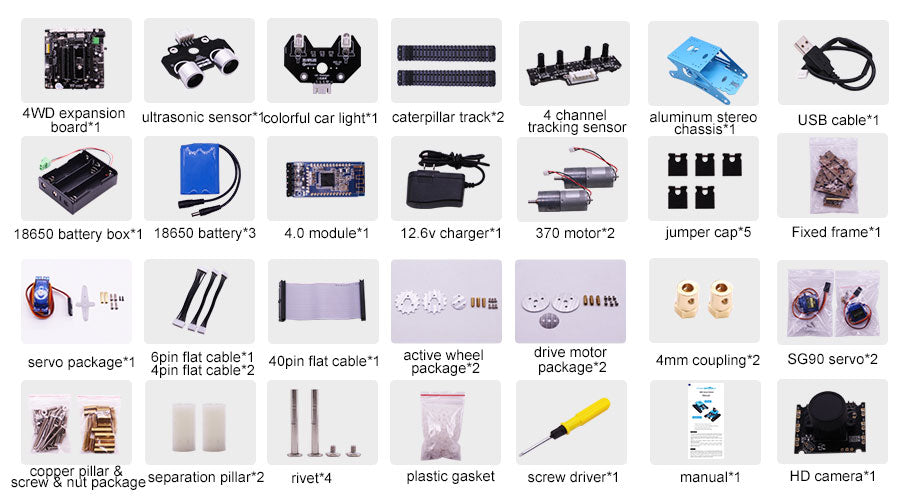 If you choose G1 tank with Raspberry Pi 4B, below are included.
1 x Raspberry Pi 4B board
1 x 16G TF card
1 x heatsink
Another version:
Documents
Shipping and delivery Information
Free Shipping Policy
Start Date - All Time
End Date - All Time
Order less $50 - You have to pay shipping fee, $10 by default (small package Air), or $20 by DHL.
Order over $50, less $150 - Your order could enjoy free shipping by small package Air, or $15 by DHL.
Orders over $150 - Your order will enjoy free shipping via DHL. In most cases, it takes 3-5 working days to arrive.
Exceptions - Orders from countries in Zone 9 are over $300 for free DHL shipping. To see a full list of countries in zone 9, click here.
Order less $100 - Shipping fee is $45 by DHL.
Order over $100, less $200 - Shipping fee is $35 by DHL
Order over $200, less $300 - Shipping fee is $25 by DHL
Orders over $300 - Free shipping by DHL
Some of our products come with battery and motor. If DHL is not available to your country, we will change DHL to UPS, Fedex, or special line, depending on your country.
Distributors are not eligible for free shipping.
Shipping Method
| | | | |
| --- | --- | --- | --- |
| Shipping Method | Delivery Time(business day) | Tracking No | Weight Limit |
| DHL | 5-7 | YES | No |
| UPS | 5-7 | YES | No |
| Fedex | 7-10 | YES | No |
| Special line | 10-15 | YES | No |
| Small Packets Air | 15-30 | YES | No |
After your package is sent out, you can see your tracking number on our website. We will also inform you via email about your tracking number and tracking link.
Customs, Duties and Taxes
Our term is FOB Shenzhen which doesn't include custom fee. You should expect to pay any amount charged by the government in your respective country. This includes, and is not limited to, duties, taxes and any extra fees charged by the courier company.
Payment & Security
Payment
PayPal
The main Payment method is Paypal. If you have paypal, that is great. You can simply place order and check out with few steps. If you don't have Paypal account, you can register it and pay by Credit or Debit Card.
Pay with Paypal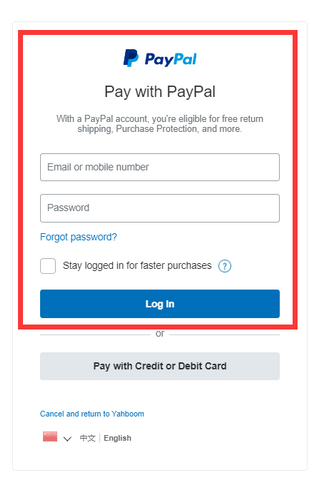 Pay with Credit or Debit Card
Your payment information is processed securely. We do not store credit card details nor have access to your credit card information.
Got this when my kids came back. The camera acrylic was damaged directly due to shipping. Try contacting via support email.
Customer support replied and let me fix the problem.
A replacement part will be awaited:
Update to this:
Thanks to the great work of the support team, I found the problem. Get replacements in the mail (free).
Everything is working fine now and my kids are happy.
Would be a 5 star review not a flawed part. But overall, very satisfied with the customer service and support.
A New Year's gift for my friend Tom, looks very good.
Tom was very happy after receiving it.
Blue appearance attracted me, the track is not made of aluminum alloy
The programmable tank car for less than $150 is very cost-effective.
got it and assembled it (G1 Tank RPi4)
i will upgrade my rating (3* for now) if i get all needed help.
First:
- SD CARD didnt work, i thought it is a problem on my side but no, faulty SD card. I plugged it in RPi and system didn't want to boot, stopped at same line during boot every time. Tried to fill it with downloaded img file but wasnt even able to format it. Then i went to store and bought new SD card, paid 15€, and with new SD card all went fine. Formatted, filled with img file with balena etcher, system booted - all good. I tried to rescue original SD card from Yahboom but nope, it is defected. So i throw it in garbage. Lost 2 days with that.
Second:
4WD control board didn't work (i have lost 3 days troubleshooting what i did wrong - figured i am doing all good) - there was faulty SWITCH (ON/OFF) on the back next to Bluetooth connector. When i finally figured that out and replace it with similar - then i was able (finally) to control movement.
Now i am trying to figure out how to enable this "AI vision" from the robot full name "Yahboom G1 AI vision smart tank robot kit with WiFi video camera for Raspberry Pi 4B",
And i'd like to put better camera module instead this USB camera that came with robot kit. Is it possible? i have day/night infrared camera (flat cable connection) i'd like to use.
Sorry for these problem.
Could you can contact us by email or WhatsAPP, we will provide you with professional technical support and after-sales service. Don't worry, if your TF card cannot work normally due to some problems, we will reissue a new TF card for free.
E-mail: support@yahboom.com
WhatsAPP: +86 18682378128
Definitely worth it!
I used to be an electronic engineer and I am now retired. When I saw this blue Tank on Facebook, I liked it. The appearance was so great. I bought it after only two days. I received the package after about 7 days (the logistics is faster than I thought).
The kit contains a screwdriver and detailed instructions for installation, but it is a bit difficult for me to assemble. It took me an hour to complete the assembly, especially the track part, which is a bit difficult for me (if it can be assembled and sold, I think more people will like it).
Fortunately, all the functions that I have tested can work normally, and I have not tested the rest of the functions. Once there are any questions, I will contact technical support.
QUESTIONS & ANSWERS
1 - can it be upgraded with extra sensors and functions? 2 - does it have a mode to follow person?

Thanks for your question.
1. Yes, you can add extra sensors.
2. Currently we have not developed a function to follow person for this robot car. If you want to follow person, you can check this robot car, link: https://category.yahboom.net/products/jetbot

Hi, My pi only boots once as soon I have it installed on the tank. What could be the problem for this? After flashing the card it works again (once).

Thanks for your support to Yahboom products.
If you have any problems when using, contact us bu E-mail:suppprt@yahboom.com.
We will provide professional technical support and after-sales service.

Could it be compatible with Raspberry Pi 2 model B? I'm interested only in line tracking and movement, I may replace the camera with a go pro attached to the arm.

Sorry, we have not tested it on Raspberry Pi 2 at present.

We are developing based on Raspberry Pi 3B/3B+/4B

Hi! I lost the charger for the batteries what V & A charger should I be looking for? Thank you

The charger parameters used in our car are as follows:
OUTPUT: 8.4V 1A

HI again! I just want to know how far can it go before losing connection with the phone controller? Thanks!

I am sorry for my misunderstanding.
The APP remote control car is through Bluetooth. The effective transmission distance of Bluetooth is 5m.
The real-time video transmission is through WiFi. Wherever WiFi can cover, it can transmit video in real time.

Hi! What is the range of this tank?

There is no launch function on our tank. If you need the launch (throwing) function, you can add it by yourself.

can they send it to Mexico?

Yes, we can send the package to Mexico.