Yahboom Jetbot AI robot with HD camera coding with Python compatible with NVIDIA Jetson NANO 4GB(A02/B01)
Description
Jetbot is a multi-functional AI smart robot car based on NVIDIA JETSON NANO 4GB(A02/B01) that responds quickly to a variety of Al visual gameplay. The vehicle is made of green aluminum alloy, coupled with a unique mechanical structure that makes it different in appearance from other cars. Equipped with 3-degrees of freedom lifting platform and 8 million HD camera, which can real-time view surrounding scenes. And it can accomplish Automatic Avoiding, Object Tracking, Color Recognition / Tracking, detecting desktop edge to anti-drop, etc. You can also train a variety of different runway models and control JetBot to complete the autopilot function. Programmable RGB strips are also designed on both sides to light up high-brightness colorful light in dark environments. Users can remotely control it by APP or Handle, and we will provide a lot of reference tutorials for users.
Feature
Based on NVIDIA JETSON NANO 4GB(A02/B01), learning AI Smart Technology in deep.
A technological outlook and unique mechanical structure that can be easily assembled.
3-degrees of freedom lifting platform and 8 million HD camera, real-time video transmission.
It can realize functions such as Autopilot, Object Tracking, Face Recognition, Color Tracking, Edge Detection and Automatic Avoiding.
High-brightness RGB light strips.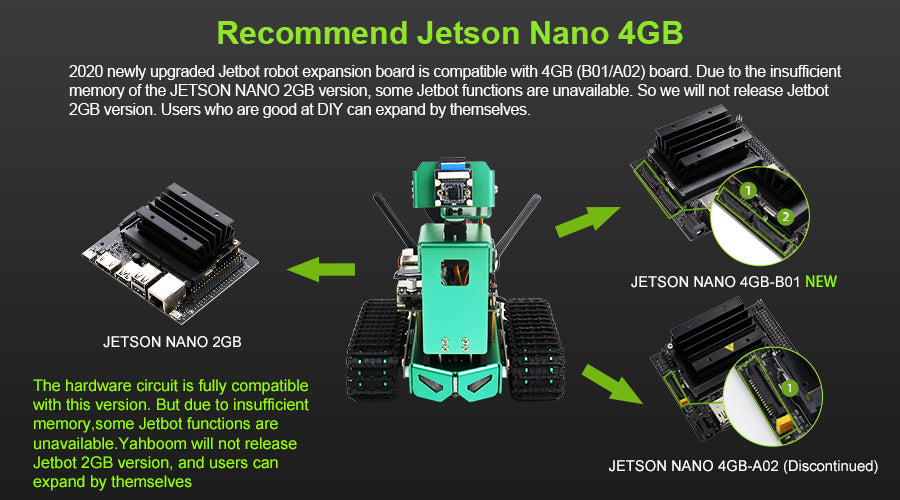 Package list
64G SD card*1
Car expansion board *1
Cooling fan*1
370 high power motor *1
Charger (12.6v)*1
Servo*2
Camera mount *1
Camera*1
Camera cable*1
Car chassis*1
Servo holder *1
Track *2
OLED display*1
RGB strip *2
RGB strip connection line *2
Wireless network card*1
Copper column screw package + screwdriver
Car track gear pack
Battery pack*1
Remote control handle*1
Packing box *1
Instruction manual *1
【Advanced version】Accessories
【Advanced version】Motor package
【Advanced version】Column *1
【Standard version】Accessories
【Standard version】Column *1
Document
Yahboom Jetbot AI robot car
How can I stop the live camera feed in Jupyter Lab from freezing?

About this problem. We can provide following suggestion.
1. Before your run camera code, you need to close other process, avoid multiple processes occupying the camera module at the same time.
2. The real-time video transmission is through the wireless network, ensure that you have a stable and fast network environment.

Why do you use a track wheel instead of regular wheel?

Thanks for your question.

Hi. I wanted to use the app and i typed the wlan code to the app and after i clicked kn the connect button i dont see the robots camera picture. What is the problem?

Hello Sir/madam,
Thanks for your question, could you contact our Technical Support by E-mail? support@yahboom.com

If there are multiple people in front of Jetbot, which one will it choose to follow?

Jetbot will automatically select the closest person and follow him.

Can I use 2GB on JETBOT?

No, after our many tests, the CPU performance of the 2GB development board is limited and cannot handle a series of algorithms, image processing and other functions required by Jetbot.
Except that the assembly is a bit complicated, everything else is good
Shipping:
Yahboom sent my package via DHL. After 5 days, i received my package, and all the parts were placed in a black sponge protective box. Even if they were transported remotely, they did not suffer any damage.
Assembly:
If you are not good at structure, then you may need to spend some time to assemble this car. The structural design is very good, but this also means that the assembly is more complicated.
Precautions:
You need to make sure that you are in a networked environment. Ensure that the camera wiring is correct, otherwise your APP will not be able to see the camera screen. Even if you can control the movement of the car, you cannot control the movement of the camera.
Of course, you can intuitively get the current IP address of the car on the OLED display. Then, connect the mobile phone and the car for control.
Tip: You need to wait for the video screen to appear on the APP interface, and then control the car.
Overall it's pretty good, but......
It took me half an hour to download the image file from Google Drive and an hour to assembly the car. Fortunately, it works as shown in the video.
But I am a demanding person, so I gave 4-star.
Yahboom can do better. If you use a CD to provide a stable image, then I won't have a lot of time to download.
Nice service and great technical support, birthday present for my son
My son who is in college needs to be interested in AI programming robots recently. I bought this Jetbot robot as a graduation gift for him.
Five days later, he received the package at school.
"Dad, I like this jetbot, this is the birthday present that surprises me."---He said. Lol....
You need to be patient to complete the assembly
Its function is as good as shown in the video, but the assembly is a bit complicated.
Even comparing with the video provided by Yahboom, it took me about an hour and 20 minutes to complete the assembly.
Works as advertised, perfect after-sales service.
When I was assembling, I lost a motor for the camera PTZ and gave me a motor with red and black wires for free with my new order.
I did contact the support email and they replied within a business day. An offer was made to send me a replacement motor mount plate, which i declined. Very good support team.