Description
Another version
Jetson NANO DOFBOT AI Vision Robotic Arm 
This Raspberry Pi robotic arm is mainly composed of an aluminum alloy bracket, a sturdy chassis, a multi-function expansion board, 6 bus servos and a 300,000 pixel camera. We built an operating system specifically for it based on Ubuntu20.04/ROD noetic, using Open Source CV and Python3 programming to create a series of AI vision functions. It can be controlled by APP, PC software, handle, JupyterLab. We provide detailed tutorials, open source codes and technical support services for Raspberry Pi players and AI beginners.
Features
Rich list of materials
Assembled Robotic arm.
Matching color-printed map and 4 different colors blocks.
PS2 gamepad.
32G TF card with image system.
Yahboom special cooling HAT to help heat dissipation.
User-friendly detailed design
Users can connect network by the mobile APP QR code on APP to get started quickly.
OLED displays IP address and Raspberry Pi CPU related information in real time.
12V 5A power adapter power supply, no battery life limit.
The chassis with suction cups is more stable and can be stably placed in any experimental environment at any time.
Exciting AI features
It can be controlled by Android/iOS APP, PC upper computer, handle, Jupyter Lab webpage online programming.
DOFBOT can realize Gesture recognition, color recognition, visual positioning, garbage classification, catch game, face tracking, building blocks stacking and other AI games.
User can make it learn to customize action groups, and complete the synchronous action of the dual robotic arm.
Excellent extensibility
The expansion board is compatible with Jetson NANO, Raspberry Pi, Arduino, Micro:bit four development boards.
Aluminum alloy structure is detachable, users can extend or shorten the length of the robotic arm.
We reserve 6 bus servo (DOBFOT only uses one) + 6 PWM servo, wireless controller receiver, WiFi/Bluetooth module, I2C and ultrasonic module interfaces.
Detail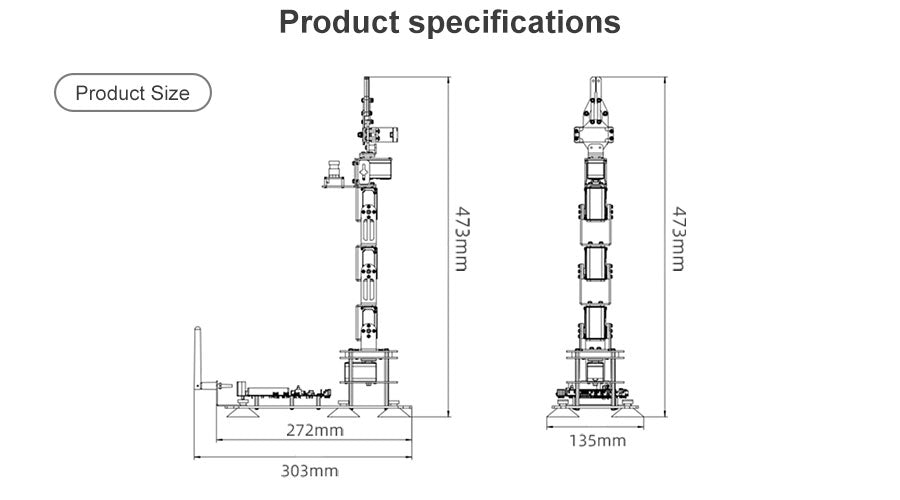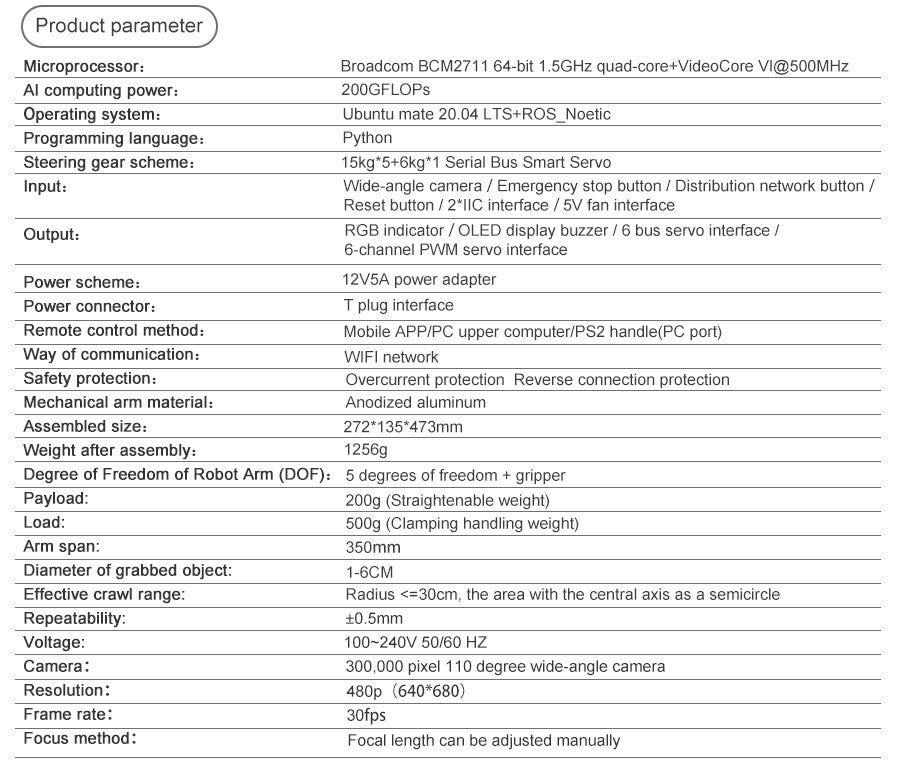 Package list
 Tutorial
Yahboom Raspberry Pi DOFBOT AI Vision Robotic Arm
Shipping and delivery Information
Free Shipping Policy
Start Date - All Time
End Date - All Time
Order less $50 - You have to pay shipping fee, $10 by default (small package Air), or $20 by DHL.
Order over $50, less $150 - Your order could enjoy free shipping by small package Air, or $15 by DHL.
Orders over $150 - Your order will enjoy free shipping via DHL. In most cases, it takes 3-5 working days to arrive.
Exceptions - Orders from countries in Zone 9 are over $300 for free DHL shipping. To see a full list of countries in zone 9, click here.
Order less $100 - Shipping fee is $45 by DHL.
Order over $100, less $200 - Shipping fee is $35 by DHL
Order over $200, less $300 - Shipping fee is $25 by DHL
Orders over $300 - Free shipping by DHL
Some of our products come with battery and motor. If DHL is not available to your country, we will change DHL to UPS, Fedex, or special line, depending on your country.
Distributors are not eligible for free shipping.
Shipping Method
| | | | |
| --- | --- | --- | --- |
| Shipping Method | Delivery Time(business day) | Tracking No | Weight Limit |
| DHL | 5-7 | YES | No |
| UPS | 5-7 | YES | No |
| Fedex | 7-10 | YES | No |
| Special line | 10-15 | YES | No |
| Small Packets Air | 15-30 | YES | No |
After your package is sent out, you can see your tracking number on our website. We will also inform you via email about your tracking number and tracking link.
Customs, Duties and Taxes
Our term is FOB Shenzhen which doesn't include custom fee. You should expect to pay any amount charged by the government in your respective country. This includes, and is not limited to, duties, taxes and any extra fees charged by the courier company.
Payment & Security
Payment
PayPal
The main Payment method is Paypal. If you have paypal, that is great. You can simply place order and check out with few steps. If you don't have Paypal account, you can register it and pay by Credit or Debit Card.
Pay with Paypal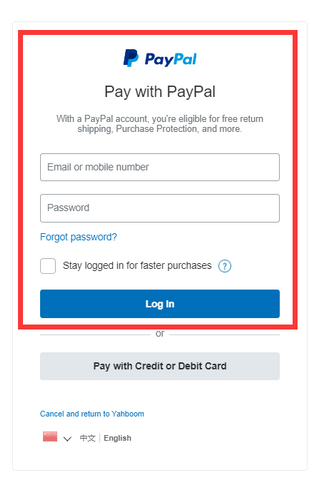 Pay with Credit or Debit Card
Your payment information is processed securely. We do not store credit card details nor have access to your credit card information.
The accuracy and stability of this robotic arm are not very high. If you need to complete high-precision and high stability tasks, you may need to consider other better robotic arm products.
Before each use, I need to debug the clamp, otherwise I will not be able to accurately grip the building blocks in the kit. And when I received it, one of the servo motors couldn't rotate properly. Technical support told us that we needed to rewrite the ID using software, as shown in Figure-1.
But this software only supports the Windows system, and I had to borrow his computer from my friend. With the help of technical support, I was able to get the No. 3 servo back to work.
In short, apart from timely and professional technical support, the experience with this product is not very good.
I recently bought this Raspberry Pi robotic arm kit. I was impressed by its functionality and ease of use. The kit is easy to assemble, and the accompanying software and tutorials make it easy to program and control the motion of the robotic arm.
The construction quality is very good, and the arm can perform various tasks in an accurate and accurate manner. The only disadvantage is that the kit has no battery. If you want to use it outdoors, you need to prepare the battery yourself.
In general, I strongly recommend this Raspberry Pi robot arm kit, which is suitable for anyone who wants to use high-quality and multi-functional robot arms on independent websites. This is a very good investment that will provide hours of fun and productivity.
Congratulations! The green 6DOF arm successfully settled into my lab
I bought a Jetbot from Yahboom before, I converted it into a lawn mower, this time I bought a DOFBOT robotic arm again, and I will continue to retrofit it. Wish me all the best.
By the way, I'll probably be constantly bothering tech support, HAHAHA....
DOFBOT Kit
I am a seasoned roboticist with extended experience in building robots from commercial kits as well as my creations. 
Searching for an inexpensive micro controller for my students, I stumbled on a cute and inexpensive robot called Tinybit by Yahboom, based on the BBC MicroBit. 
I then realized that this company offered other, more sophisticated robots based on Jetson nano and Raspberry Pi at a very competitive price. 
I tried a few and the last I built is the robptic arm for which I'm writing this review. 
This Kit is one of the best I have ever built. 
It consist of 6 servos, a Camera, an expansion board, sturdy laser cut body parts, all the necessary cables, connectors and accessories plus a well-designed PCB that connects everything together. 
In addition, Yahboom also provides a lot of source code and tutorial materials, as well as technical support, as a user you can enjoy professional services.
Adelbert Storm
100 % Recommend. I love it!
- We got our kit on time and well packaged
- The instructions/manual provided were so easy to follow. So assembling took less than an hour.
- GREAT CUSTOMER SUPPORT!!! I can't stress this enough. At some point, I ran into a few roadblocks where I couldn't properly have the robotic arm connect to the WiFi. And the camera stopped working to due to a mistake of mine. For multiple days, the support team has been patiently guiding me through every step until I had everything working again.
- Their documentation is also detailed and provide all you need. The support team is so fast at responding to your inquiries and are so willing to help if you need further assistance.
I am enjoying this kit so far and I am considering buying another one (probably the Jetson one) for future projects.
Thank you YAHBOOM, you are the best!
QUESTIONS & ANSWERS
What kind of controller is used for the Dofbot? Do we have access to low level control parameters? can we implement a low-level velocity controller by ourselves? Also in some of the videos, I saw that there is minor backlash when the motion stops, any suggestion on how to avoid it or compensate for it? Thank you.

Hello friend,
Thanks for your question.
1. DOFBOT can use Raspebrry Pi and Jetson NANO.
2. Yes. You can access to low level control parameters. You can control the speed of the servo.
3. The slight rebound is due to the force on the arm. You can solve this problem by changing the speed of the servo or increasing the force on the base of the robotic arm.

I would like to know if there is any possibility of increasing the payload capacity of Dofbot by using a different powerful servo? If such a modification is possible, then what others change are needed to be done, to keep the precision of robot motion and control.

Hello friend,
Thanks for your question.
If you can recruit a suitable servo, the load capacity of DOFBOT can be increased.
But you need to consider whether your new servo can be installed on the aluminum alloy structure of the robotic arm, the current size of our servo is: 44.37*23.06"35.12mm

So I would like to purchase the Dofbot Pi version. However i would like to know if there is a possibility for extension, 1. Do you supply any vehicle on which the Dofbot can be mounted 2. Does Yahboom provides different varieties of grippers? 3. Does Yahboom provides and if Dofbot-Pi supports other sensors like LidaR, ultrasonic, etc. ? Thank you.

DOFBOT We do not currently reserve these features you described.
According to your description, the Transbot car is more suitable for you. You can check it: https://category.yahboom.net/products/transbot-pi

I have unboxed the unit. And when I try to calibrate the servos in the app.. I only get a green circle around Servo 1. And nothing else turns green.. what could be the issue ?

Hello Friend.
Thanks for your support to Yahboom products.
Could you contact us by E-mail, WhatsAPP or skype? We will provide you with professional technical support and after-sales service.
E-mail: support@yahboom.com
WhatsAPP: +86 18682378128
Skype: support@yahboom.com

In case of DOFBOT without Raspberry PI version , do you provide the microSD card with OS and Spftware that can be directly used if Raspberry PI is prepared ? Or should I prepare the microSD card and install the Linux OS and Software for the DOFBOT ? I wish you provide us with ready installed microSD card for the DOFBOT system.

Hi Friend, sorry for late reply.  There are some time difference, so i didn't reply you on time.
The SD card that has been written into the OS system and software file is the standard configuration of this robotic arm kit. Regardless of whether you purchase a package containing the Raspberry Pi board, you will get a SD card that has been written into the OS and software file. You can use it directly.
Sorry again for late reply.

Is there a detailed description of the expansion board? I have only seen the top level image of the board showing a list of 12 or so components.

Thanks for your question.
You can check this link to get Hardware Interface Manual. Link: http://www.yahboom.net/study/Dofbot-Pi

If I buy the configuration without the Raspberry Pi (I already own one) would it be possible to connect it to the robotic arm? Also where can I find a guide on how to do it

Hello friend,
If you have Raspberry Pi board, you just need choose with Raspberry Pi version. The kit will contain all the accessories you need, except the Raspberry Pi.
Any other question, you can contact me by WhatsAPP or E-mail.
WhatsAPP: +86 18682378128
E-mail: market@yahboom.com