Yahboom DOFBOT AI Vision Robotic Arm with ROS Python programming for Jetson NANO 4GB B01
Description
DOFBOT is the best partner for AI beginners, programming enthusiasts and Jetson nano fans. It is designed based on Jetson NANO and contains 6 HQ servos, a HD camera and a multi-function expansion board. The whole body is made of green oxidized aluminum alloy, which is beautiful and durable. Through the ROS robot system, we simplify the motion control of serial bus servo. We adopt Open Source CV as the image processing library and Python3 programming language to create a series of AI visual game play. For example, color tracking, color interaction, garbage classification, gesture recognition, face tracking, etc. And it can be controlled by Android/iOS mobile APP, PC computer and game handle. In addition, we will provide some tutorials for reference. 
Features
Reasonable and convenient first trial
Assembled before shipping, users didn't need to assemble.
TF card with factory image file, plug and play without complex operation.
Scanning the QR code on the mobile APP through the camera to quickly configure the network and start up DOFBOT.
Each function possess tutorials and codes in detail.
Excellent structural design
All aluminum alloy bracket with 2mm thickness.
The chassis with suction cups is more stable and can be stably placed in any experimental environment at any time.
Camera and robot arm 2 in 1.
Flexible 6 DOF vision robotic arm.
Top hardware Configuration
Multifunctional expansion board, compatible with Jetson NANO, Raspberry Pi, Arduino, Micro:bit board.
5*15KG bus servo+1*6KG bus servo.
PS2 handle receiver, WiFi/Bluetooth module interface, I2C port are reserved for users.
Fantastic AI function
Support Android/iOS APP, PC computer, Game handle, Jupyter Lab webpage online programming remote control.
Can study and storage custom fixed action groups.
Simultaneous movement of dual robotic arms.
Gesture recognition, color interaction, visual positioning, garbage sorting, catch game, face tracking, and blocks stack and others AI vision game play.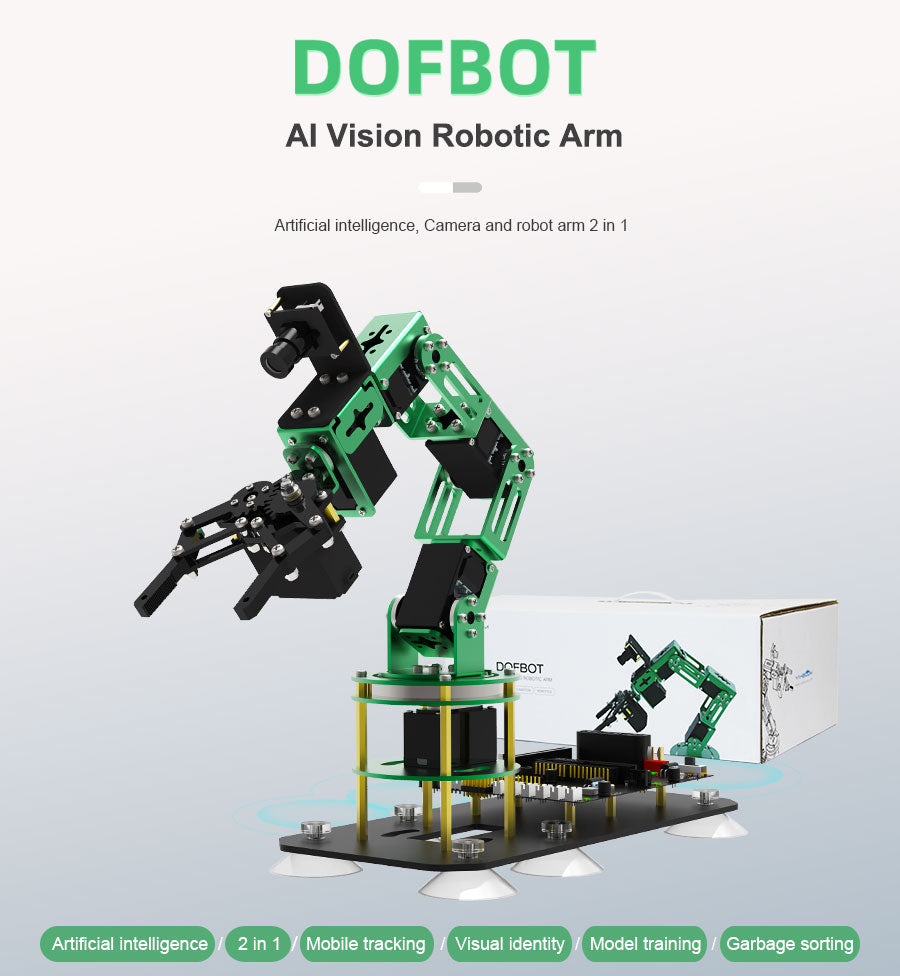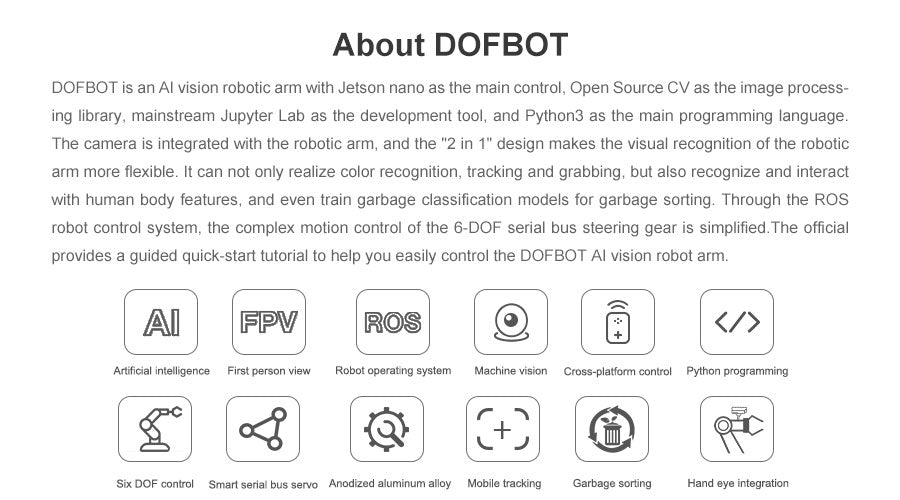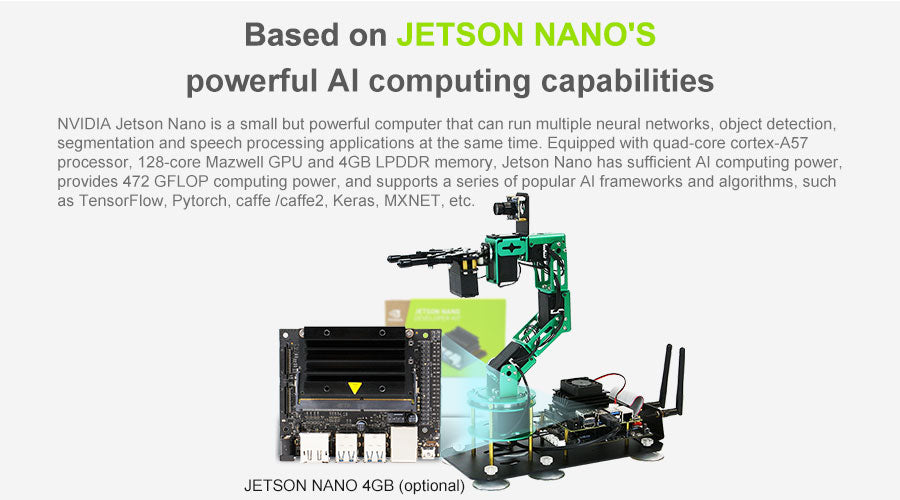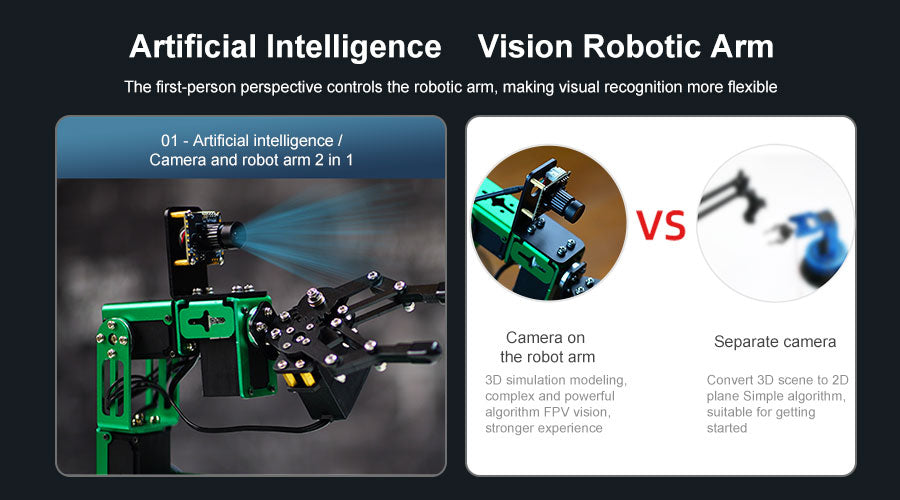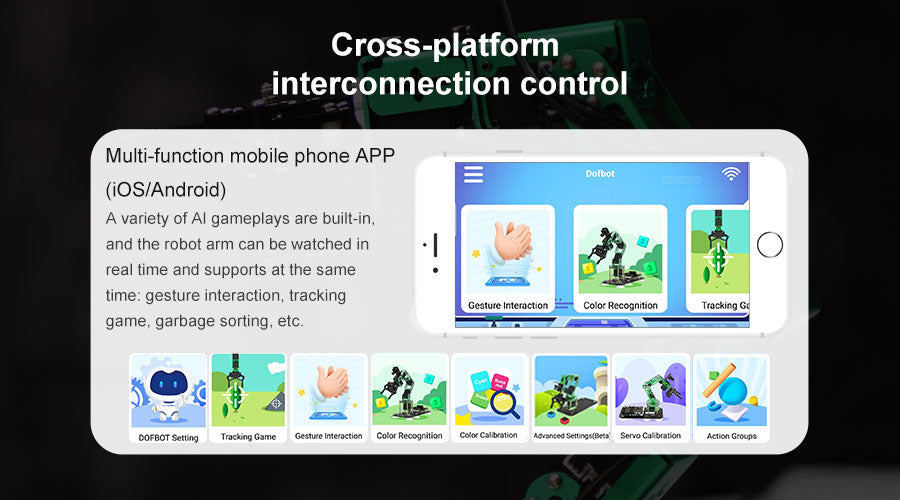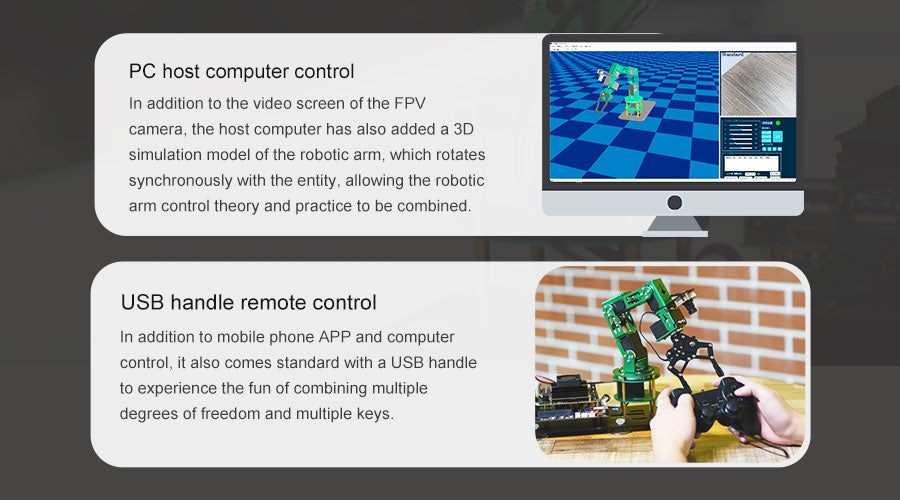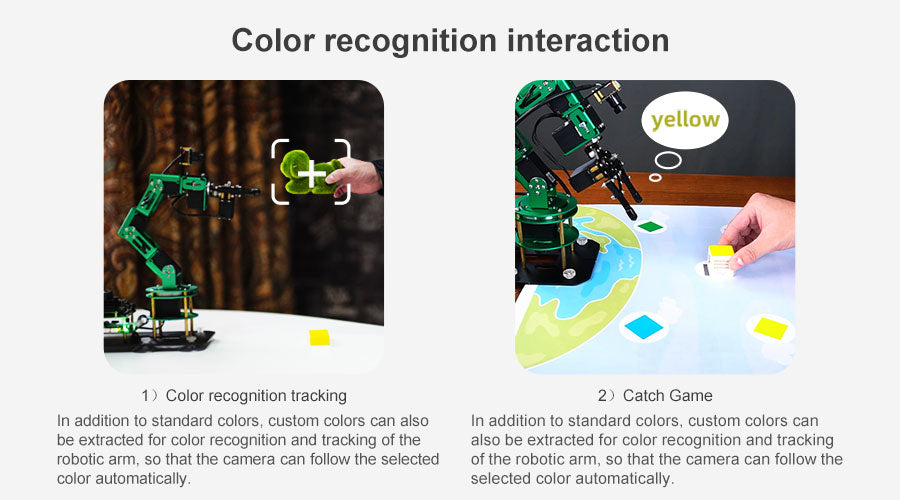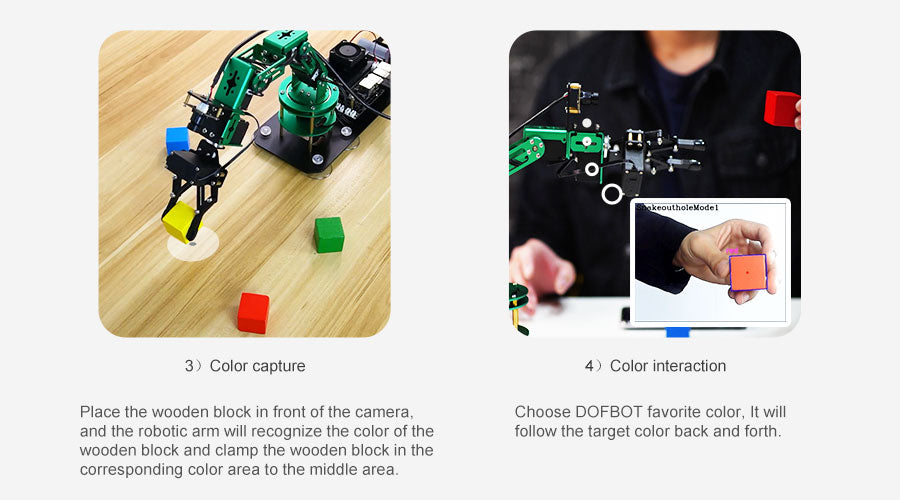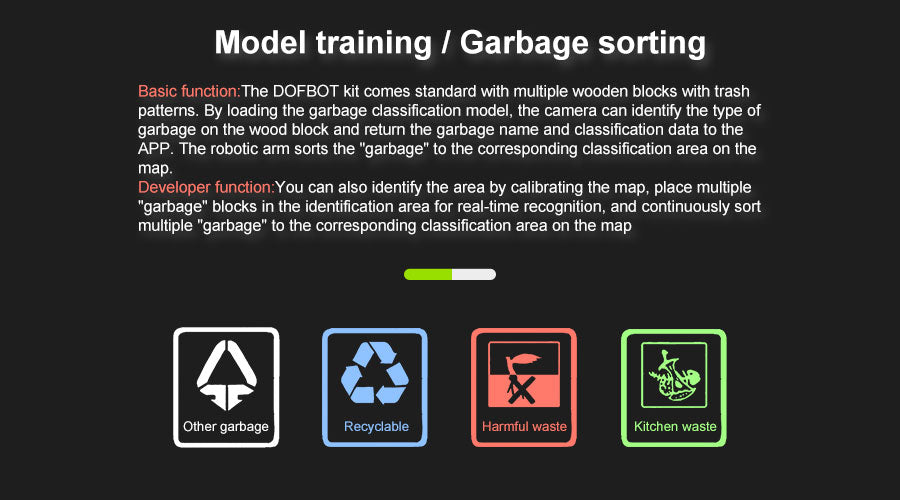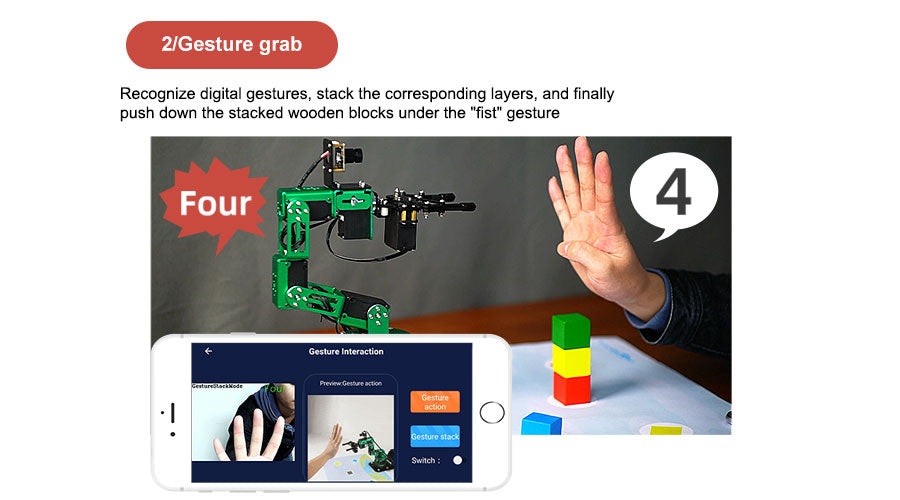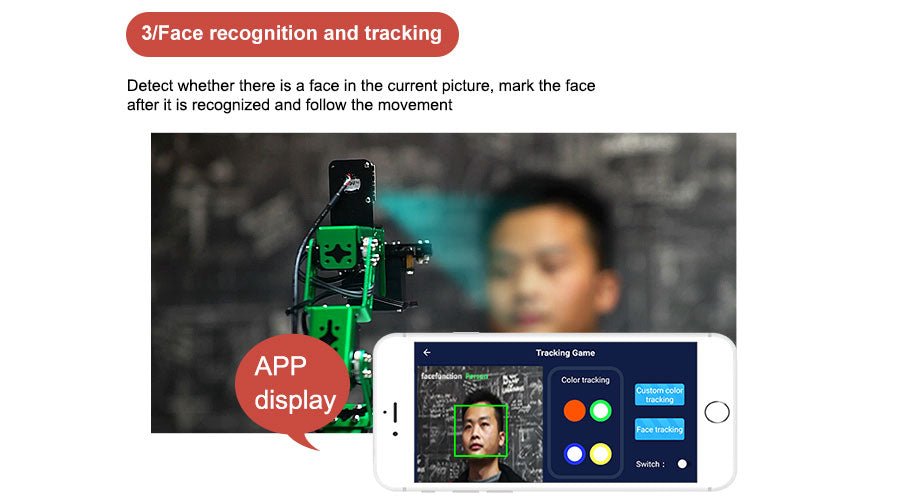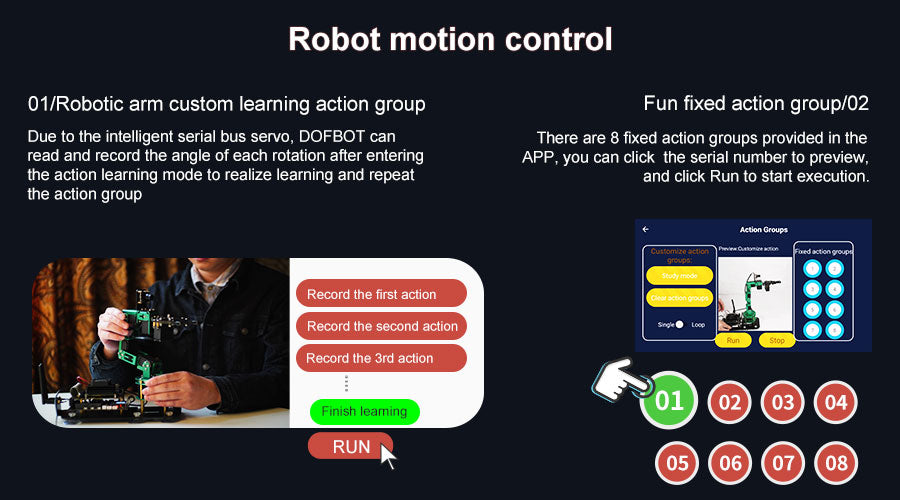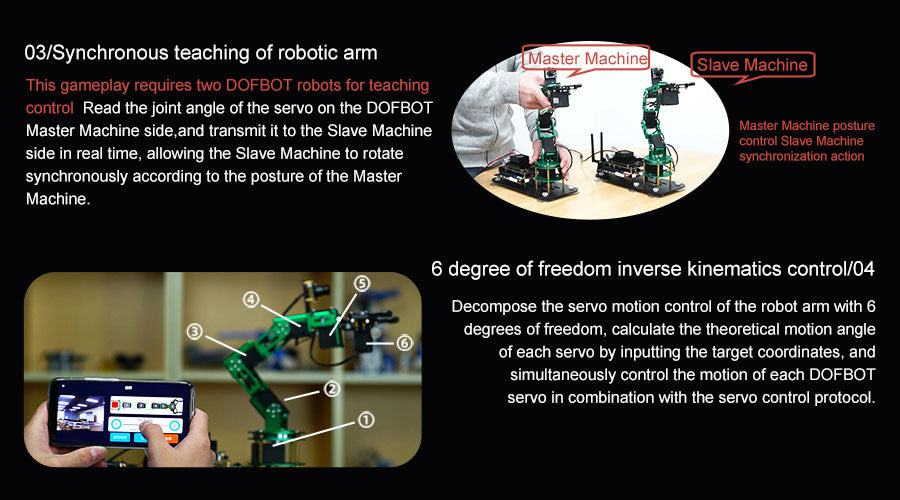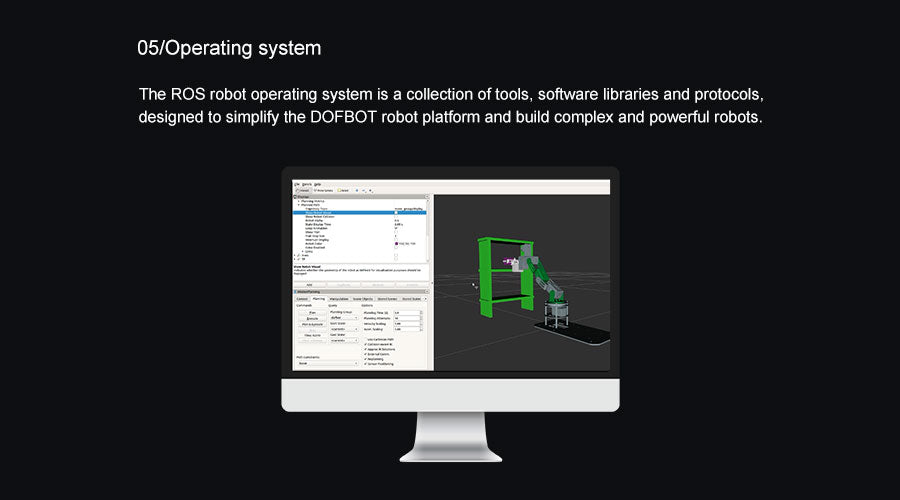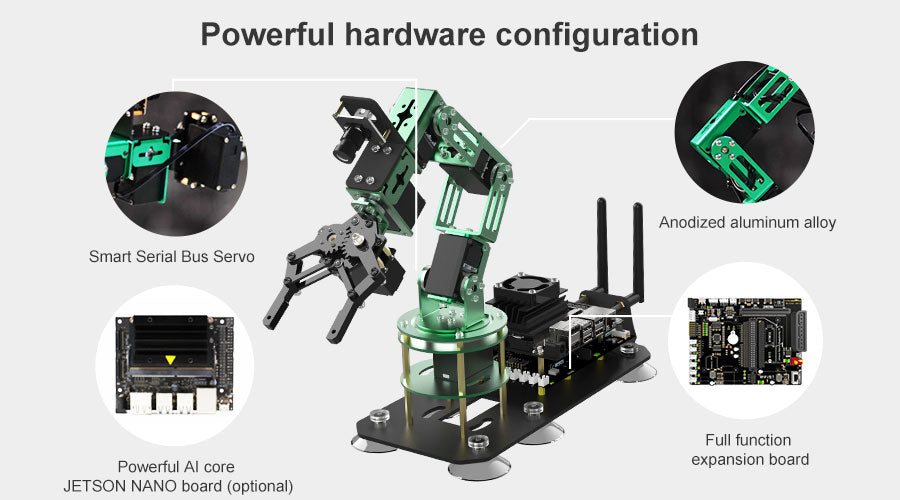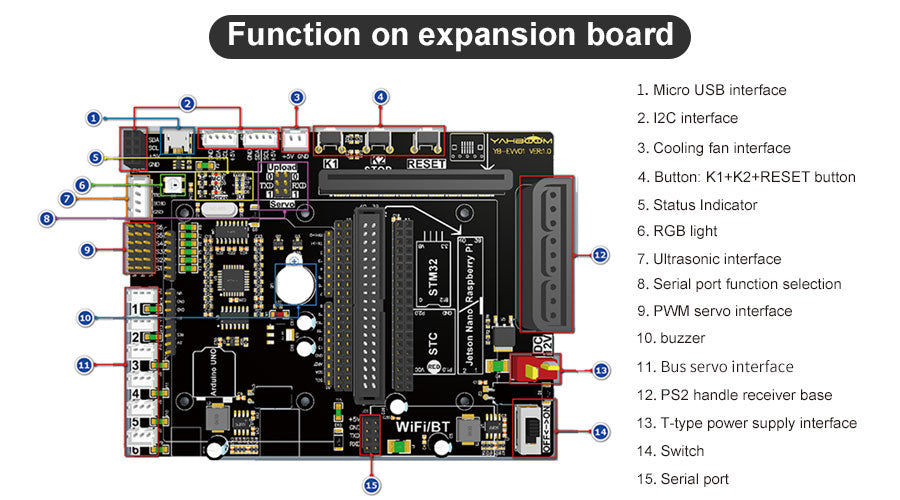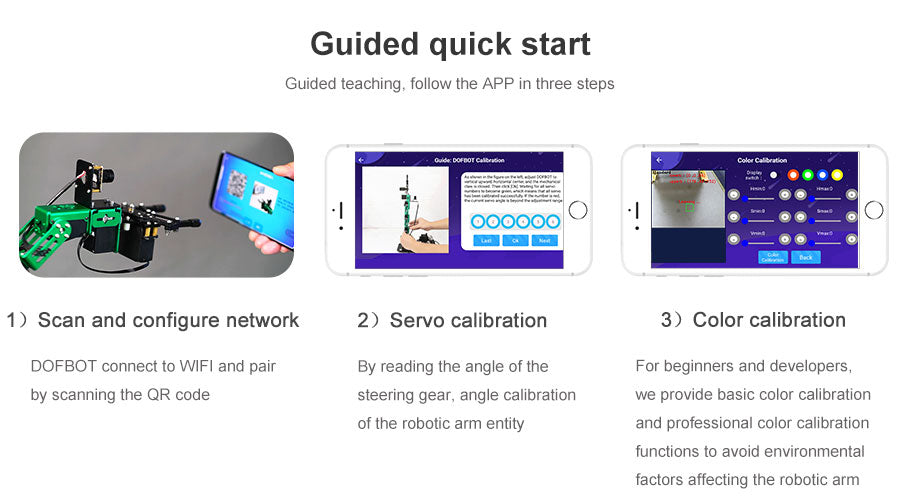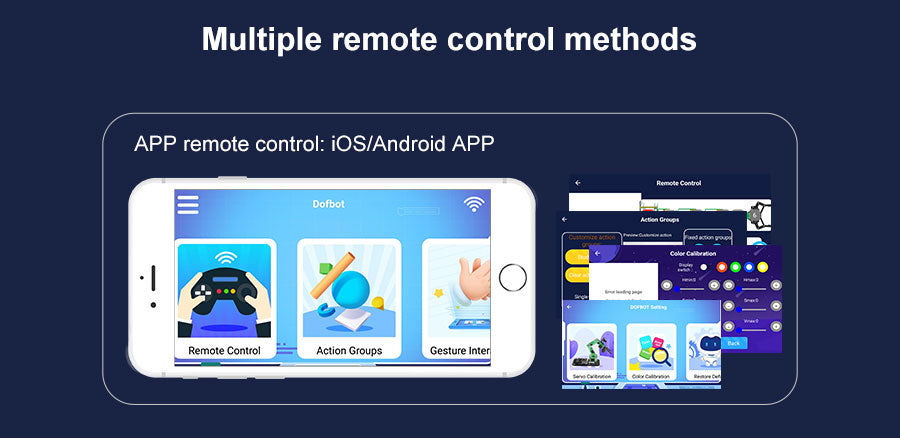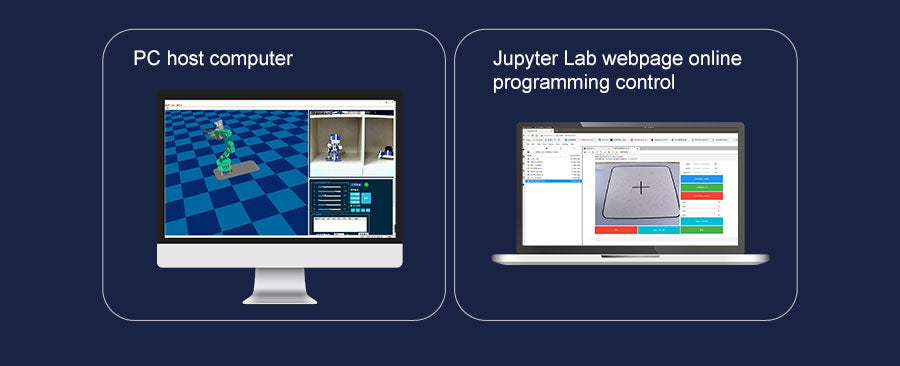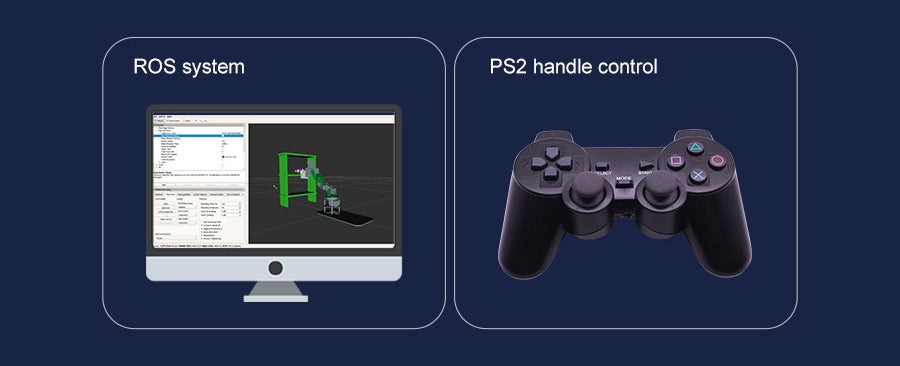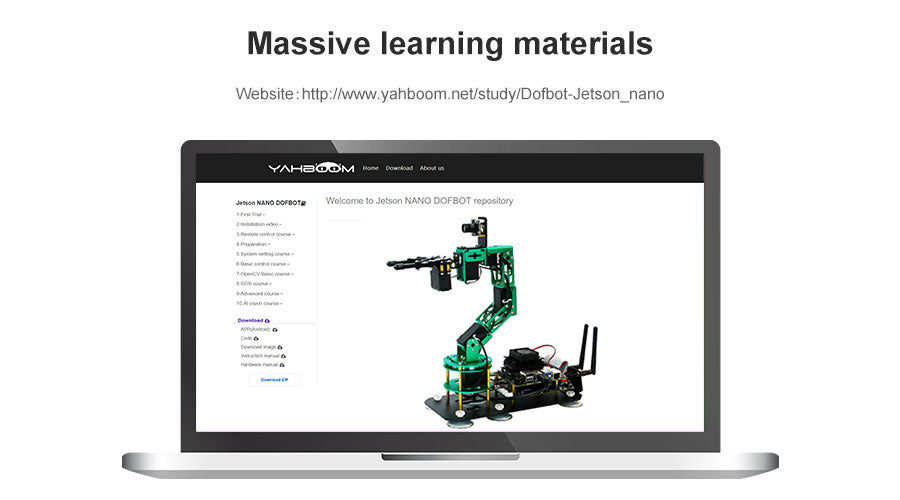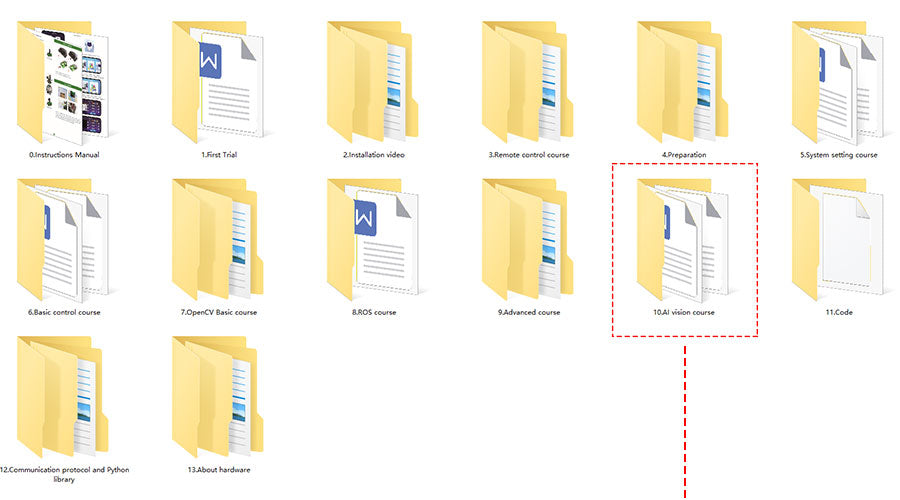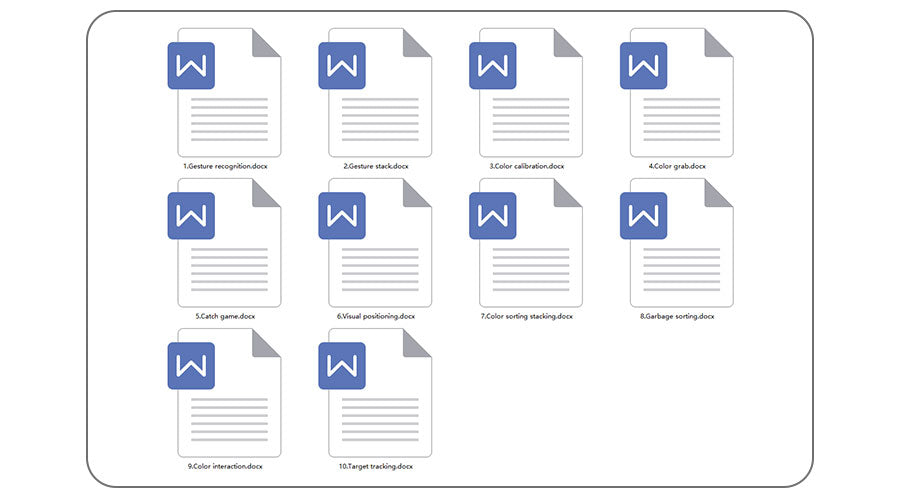 Detail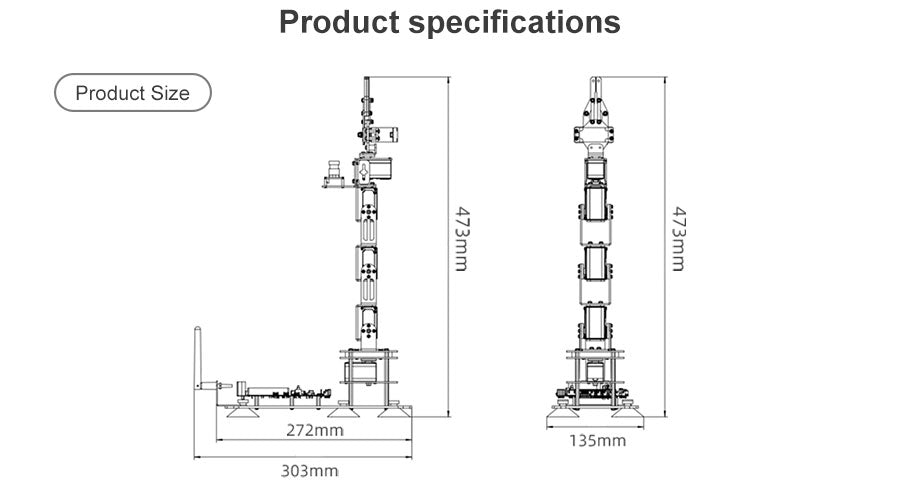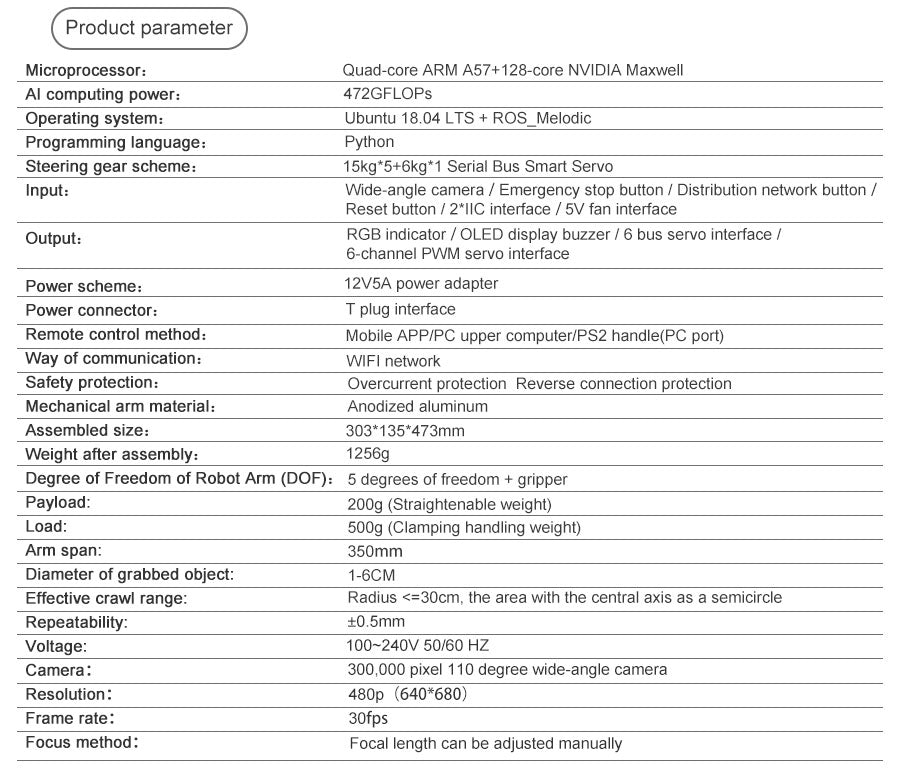 Package list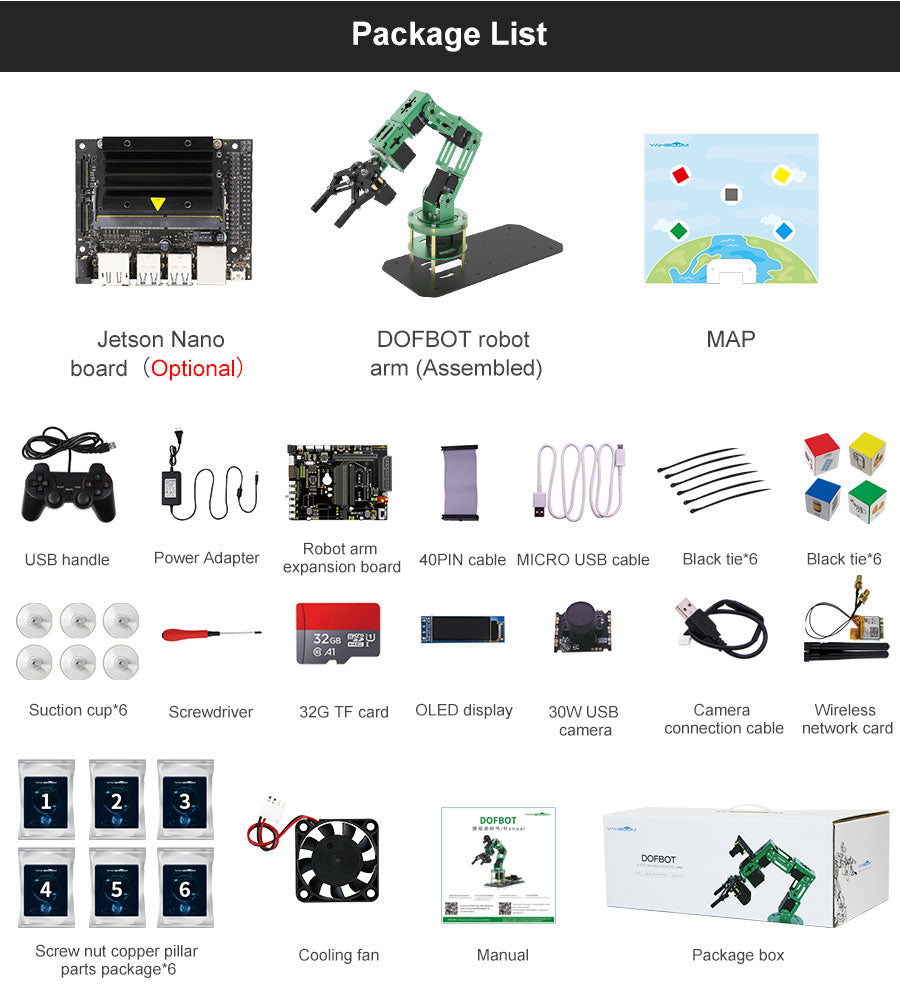 Another version
Raspberry Pi DOFBOT AI Vision Robotic Arm
Tutorial
Yahboom DOFBOT AI Vision Robotic Arm
Simple to assemble - very expandable - use of Jetson NANO makes it really great for learning
At this price range I think this is a wonderful robotic arm.
A robotic arm very suitable for AI explorers and intimate after-sales service
This is the third time I have purchased robots on Yahboom's website, and I have always received great services from them. I received my package on the 6th day after I placed the order, everything is fine.
The structure of this robotic arm is very stable, and its appearance looks very cool. It has been praised by many friends.
The APP provided by Yabo has very rich functions. I tried every function and it can be implemented normally, except for the catch game, i tried many times but failed. Then, i consulted technical support, they quickly replied to me, telling me that before performing this experiment, i need to perform professional color calibration on the building blocks. Finally, i realized this function with the help of technical support.
But my goal is not just these functions. I am studying how to install this "guy" on my robot car. Once i realize that, I will be very excited.
The robotic arm is very flexible and with many functions
Hahaha,The metal texture of this guy directly attracted me.
Yahboom provides some AI vision and robotic arm movement tutorials. I am studying hard.
And they gave me very good technical support, which surprised me.
For AI enthusiasts, this is the best robotic arm I have ever bought.
When receiving the goods, the robotic arm is fully assembled, and the Jeston NANO board needs to be installed by yourself. The fine workmanship is very worth the price. I am a player who likes to buy robotic arms. There are many robotic arms stored in my home. When they are put together, Yahboom's robotic arm is still outstanding.
Review of the robotic arm from Luna
About structure: The green aluminum alloy is my favorite. The six servos seem high quality, and I think their service life should be very long. The angle of rotation is very precise. I plan to buy some more such servos to make my robotic arm longer.
About hardware: The expansion board has interfaces for JetsonNANO, Raspberry Pi, Arduino and Micro:bit. That's a surprise for me. Even if only one controller can be used at the same time, I think this is amazing.
About AI technology: The APP includes all the functions and it runs smoothly. Although I had some problems in the steps of the servo calibration, the technical support staff helped me solve that. Yahbooom has strong product development capabilities and after-sales service is also very nice.