Yahboom G1 AI vision smart tank robot kit with WiFi video camera for Raspberry Pi 4B
Description
Yahboom Raspberry Pi Tank Robot uses the latest Raspberry Pi 4B development board as the core controller. The vehicle adopts blue aluminum chassis, high-quality track, high-power 370 motor, and metal coupling. When the motor drives the wheel of the car to rotate rapidly, it can achieve the function of climbing up to 60 degrees under the condition of sufficient friction. For this Raspberry Pi tank, real-time video transmission is indispensable. We use a 2DOF camera pan/tilt, a HD USB camera, and the 5G WIFI network that comes with the Raspberry Pi to ensure that high-quality video can be transmitted in real time on mobile APP or PC. It can also complete some AI recognition functions through the camera. Both expansion board and frame we are providing the corresponding extended interface, users can expand and use it according to the information provided by us, so for the tank, educators, learners, and raspberry lovers will be the most suitable owners.
Feature
Compatible with the latest version of Raspberry Pi 4B board.
The entire vehicle adopts 2mm blue thickened aluminum alloy frame, installation is simple and firm.
BST-4WD multi-functional expansion board, it is equipped with some interfaces of various sensors and communication modules, and it is compatible with four core controllers: Arduino UNO, 51 microcontroller, STM32, and Raspberry Pi.
It supports multiple basic functions: high angle climbing, tracking, overing the obstacle, etc.
It supports multiple AI functions: face detection, color tracking, object/gesture/QR code recognition etc.
Users can use C language and Python programming.
The car and camera platform can be controlled by Bluetooth APP by

Android/iOS 

mobile; HD video real-time transmission can be realized by Raspberry Pi coming with 5G WIFI.
The vast amount of data and sample program for reference.
Product parameter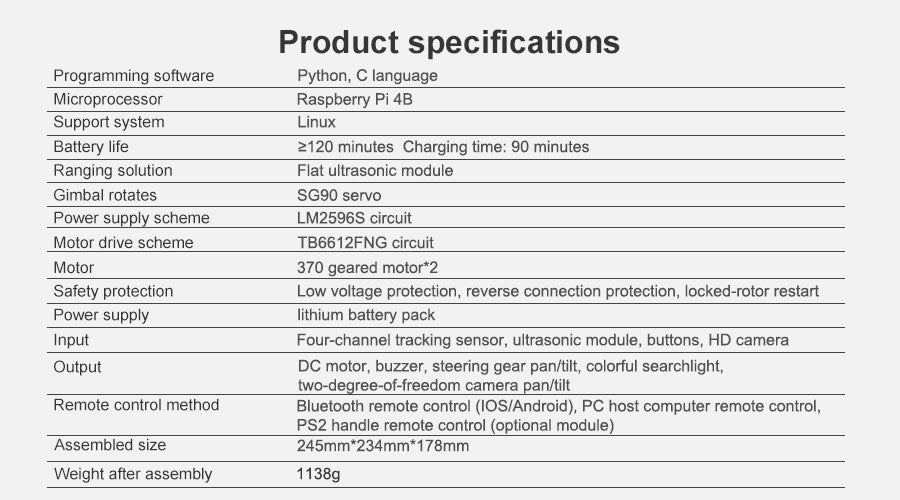 Package list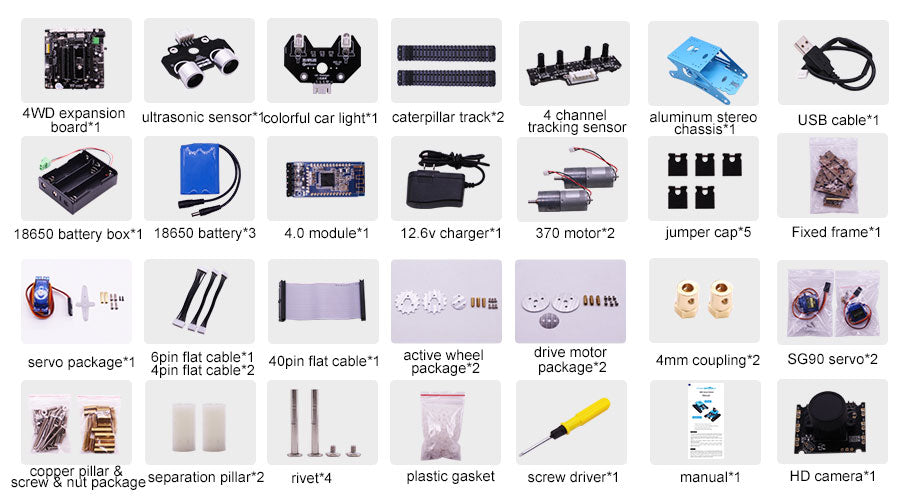 If you choose G1 tank with Raspberry Pi 4B, below are included.
1 x Raspberry Pi 4B board
1 x 16G TF card
1 x heatsink
Another version:
Documents
can they send it to Mexico?

Yes, we can send the package to Mexico.
First time user
This is the first time I bought a robotics kit and I don't have much prior experience in the field, having said that I am really enjoying using this kit. The instructions are pretty straightforward and if I encountered any problem the support team was more than happy to help me. Although there were some issues in the initial setup but if you have some IT background( like in my case I'm a CS student) it shouldn't be that big of a problem. Also the parts seem really good quality. But I'm only in the intial phase of the robot programming as this is more of a hobby and can give a more detailed review later on once I get to explore it a little more.
Great project, NOT for beginners - customers support is great!
Quality:
- The quality of the product is good.
- Pieces go together well.
- All parts are in-place.
- All electronic pieces are working well.
Shipping:
- Shipping was quick and packaging was good.
Handling:
This is NOT a project for beginner or a child. This car is not to be played in the manner kids expect to play with
remote control cars. This is NOT remote control car. Don't get me wrong, this car is controlled, by you from your APP or computer because it is a full blown computer on wheels so it is connected to your WiFi.
Kids should not drag this car around by hands or bump it in any way - car is bare naked computer with unprocessed fancy sensors attached to it. So should be handled with care.
My brother likes this Tank car.
I bought this tank car as a Christmas gift to my brother who is going to college. He likes this car very much.
The following is my brother's evaluation of this car:
1. Its appearance is very attractive, the blue aluminum alloy and track look very cool.
2. The AI function is very good, but because I am using a Raspberry Pi 2G motherboard, the computing power is too small, resulting in some complicated AI functions that cannot be implemented smoothly. I plan to purchase an 8G Raspberry Pi motherboard to ensure that these functions are better realized. I also plan to modify the height of the camera to realize the automatic driving function through PID algorithm.
3. APP remote control is really cool.
4. The tutorials are very graceful, with both Python tutorials and C language tutorials.
My new "partner"
This car comes with various sensors such as ultrasonic, infrared avoid, seek-light, tracking.....
and can realize AI recognition function. That's cool.
Yahboom G1 smart tank robot kit with AI vision features for Raspberry Pi 4B