Yahboom G1 smart tank robot kit with AI vision features for Raspberry Pi 4B/3B+
Yahboom Raspberry Pi Tank Robot uses the latest Raspberry Pi 4B/3B+ development board as the core controller. The vehicle adopts blue aluminum chassis, high-quality track, high-power 370 motor, and metal coupling. When the motor drives the wheel of the car to rotate rapidly, it can achieve the function of climbing up to 60 degrees under the condition of sufficient friction. For this Raspberry Pi tank, real-time video transmission is indispensable. Here we use a camera that can manually adjust the focal length two degrees of freedom, and control the rotation of the camera head through the Android/iOS phone Bluetooth app. At the same time, the tank could achieve the transmission of the high-definition video stream through the 5G WIFI network of the Raspberry Pi 4B/3B+. We will also provide some code and corresponding information of some components as a reference. Both expansion board and frame we are providing the corresponding extended interface, users can expand and use it according to the information provided by us, So for the tank, educators, learners, and raspberry lovers will be the most suitable owners.
Feature
Compatible with the latest version of Raspberry Pi 4B/3B+ board
The entire vehicle adopts 2mm blue thickened aluminum alloy frame, installation is simple and firm.
BST-4WD multi-functional expansion board, it is equipped with some interfaces of various sensors and communication modules, and it is compatible with four core controllers: Arduino UNO, 51 microcontroller, STM32, and Raspberry Pi.
It supports multiple functions: High angle climbing; Tracking; Ultrasonic obstacle avoidance; Overing the obstacle, etc.
Users can use C language programming and Python programming.
The car and Camera cloud platform can be controlled by Bluetooth App remote control by

Android/iOS 

mobile; HD video real-time transmission can be realized by Raspberry Pi coming with WIFI.
The vast amount of data and sample program for reference
Product parameter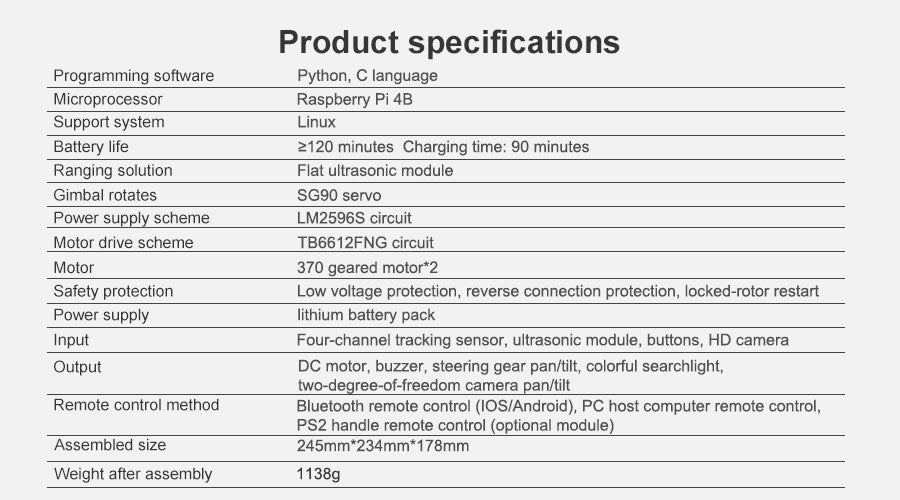 Package list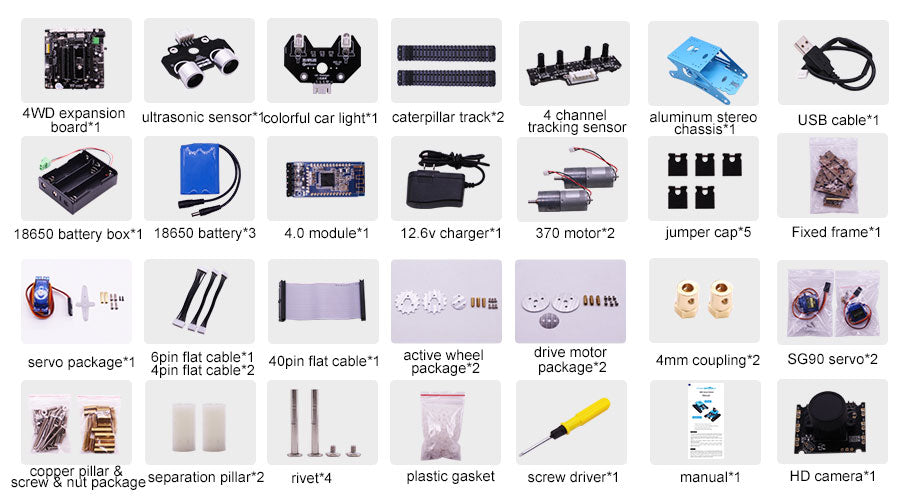 If you choose G1 tank with Raspberry Pi 4B, below are included.
1 x Raspberry Pi 4B board
1 x 16G TF card
1 x heatsink
Another version:
Documents
3 Trys
First one I ordered was a lemon sent it back and another one was sent
Replacement that was sent was also buggy
Worked with the support email and they sent me another to use the parts from to get it work.
That one worked and it has been ok so far.
didn't receive it yet
Sadly, it appears that the yahboom G1smart tank is still in China.
Works as mentioned...
Update: after successful communications with the seller, all the problems were able to be resolved. The robot works just fine and the missing parts were delivered very quickly.
Thank you.
great practice robotic building kit for kids
Bought this for my son for Birthday .He's learning programming and loves robots. The first problem he had was the camera will not run at all. He consulted Yahboom's technical service team and quickly solved the problem.
My son took the robot to school to expand the robot project, which was praised by teachers and classmates.
It is big challenge for 10-year-old child.
Very satisfied, my brother and I felt very nice, we spent an hour assembling it. The matching parts are very complete, and they provide very detailed information on Google Drive, which is very helpful for our study.
My brother thinks that the automatic obstacle avoidance function is very cool. There are many boxes in the house as obstacles, and the tank cars are avoided. And I am more interested in Bluetooth remote control, unfortunately only use Android phone for remote control, if you support Apple/Android dual-system remote control is more perfect.
I want to share an interesting thing. When I was doing the Color_LED experiment, when I enter: gpio readall, the system displayed an error: Oops - unable to determine board type... model:13. Fortunately, I solved With this problem, I found the wiringPi-8d188fa.tar.gz file, remotely transferred to the Raspberry Pi image by SSH, and decompressed it, and finally installed it into the Raspberry Pi image using the command: ./build.
After the above steps, when I enter: gpio readall again, I can see the status of all the pins of the Raspberry Pi.
As for why this problem occurs, I don't know if it is because of my Raspberry Pi board, but fortunately it was solved by me.