Description
Another version
Raspberry Pi DOFBOT AI Vision Robotic Arm
DOFBOT is the best partner for AI beginners, programming enthusiasts and Jetson nano fans. It is designed based on Jetson NANO and contains 6 HQ servos, a HD camera and a multi-function expansion board. The whole body is made of green oxidized aluminum alloy, which is beautiful and durable. Through the ROS robot system, we simplify the motion control of serial bus servo. We adopt Open Source CV as the image processing library and Python3 programming language to create a series of AI visual game play. For example, color tracking, color interaction, garbage classification, gesture recognition, face tracking, etc. And it can be controlled by Android/iOS mobile APP, PC computer and game handle. In addition, we will provide some tutorials for reference. 
Features
Reasonable and convenient first trial
Assembled before shipping, users didn't need to assemble.
TF card with factory image file, plug and play without complex operation.
Scanning the QR code on the mobile APP through the camera to quickly configure the network and start up DOFBOT.
Each function possess tutorials and codes in detail.
Excellent structural design
All aluminum alloy bracket with 2mm thickness.
The chassis with suction cups is more stable and can be stably placed in any experimental environment at any time.
Camera and robot arm 2 in 1.
Flexible 6 DOF vision robotic arm.
Top hardware Configuration
Multifunctional expansion board, compatible with Jetson NANO, Raspberry Pi, Arduino, Micro:bit board.
5*15KG bus servo+1*6KG bus servo.
PS2 handle receiver, WiFi/Bluetooth module interface, I2C port are reserved for users.
Fantastic AI function
Support Android/iOS APP, PC computer, Game handle, Jupyter Lab webpage online programming remote control.
Can study and storage custom fixed action groups.
Simultaneous movement of dual robotic arms.
Gesture recognition, color interaction, visual positioning, garbage sorting, catch game, face tracking, and blocks stack and others AI vision game play.
 Detail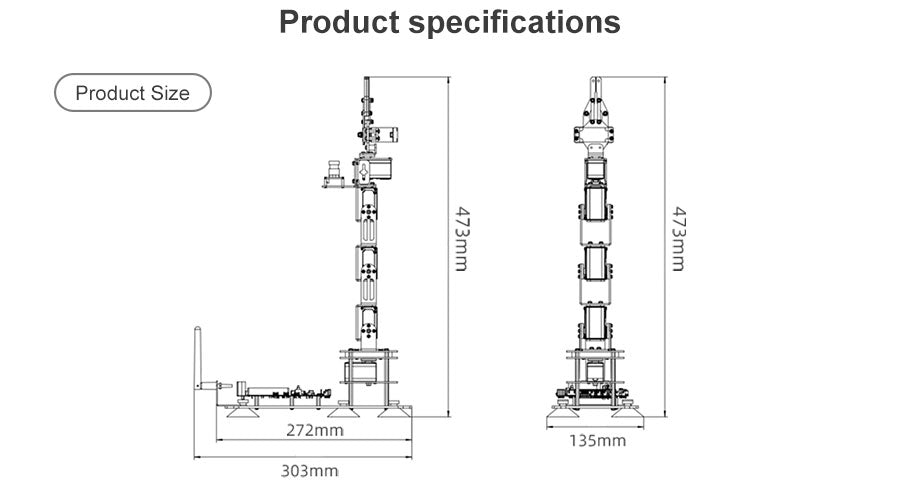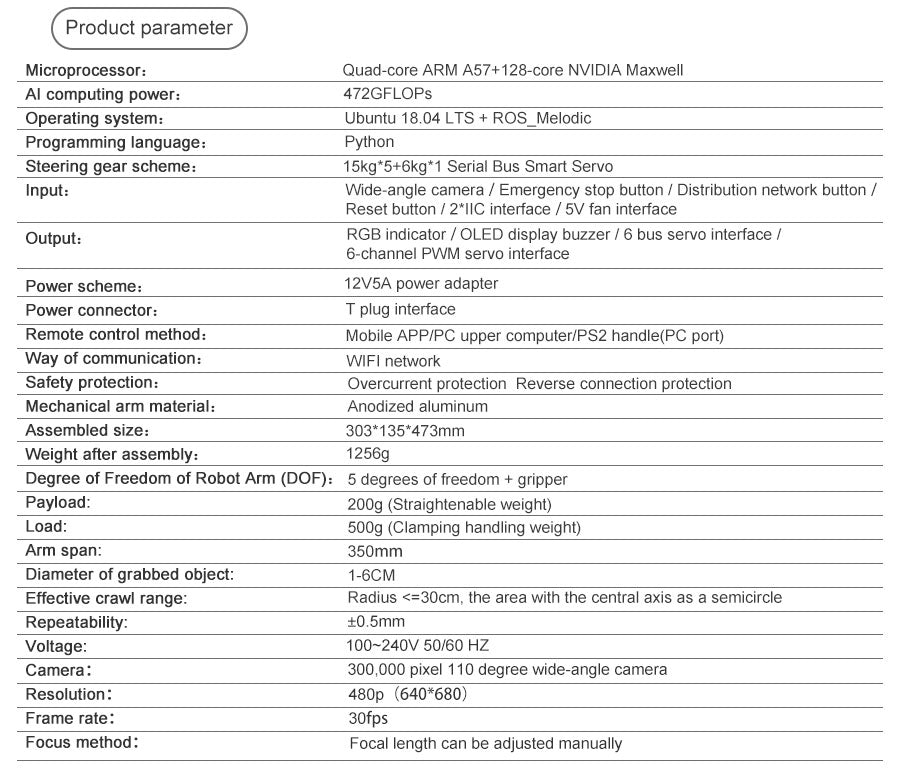 Package list
Tutorial
Yahboom DOFBOT AI Vision Robotic Arm
Shipping and delivery Information
Free Shipping Policy
Start Date - All Time
End Date - All Time
Order less $50 - You have to pay shipping fee, $10 by default (small package Air), or $20 by DHL.
Order over $50, less $150 - Your order could enjoy free shipping by small package Air, or $15 by DHL.
Orders over $150 - Your order will enjoy free shipping via DHL. In most cases, it takes 3-5 working days to arrive.
Exceptions - Orders from countries in Zone 9 are over $300 for free DHL shipping. To see a full list of countries in zone 9, click here.
Order less $100 - Shipping fee is $45 by DHL.
Order over $100, less $200 - Shipping fee is $35 by DHL
Order over $200, less $300 - Shipping fee is $25 by DHL
Orders over $300 - Free shipping by DHL
Some of our products come with battery and motor. If DHL is not available to your country, we will change DHL to UPS, Fedex, or special line, depending on your country.
Distributors are not eligible for free shipping.
Shipping Method
| | | | |
| --- | --- | --- | --- |
| Shipping Method | Delivery Time(business day) | Tracking No | Weight Limit |
| DHL | 5-7 | YES | No |
| UPS | 5-7 | YES | No |
| Fedex | 7-10 | YES | No |
| Special line | 10-15 | YES | No |
| Small Packets Air | 15-30 | YES | No |
After your package is sent out, you can see your tracking number on our website. We will also inform you via email about your tracking number and tracking link.
Payment & Security
Payment
PayPal
The main Payment method is Paypal. If you have paypal, that is great. You can simply place order and check out with few steps. If you don't have Paypal account, you can register it and pay by Credit or Debit Card.
Pay with Paypal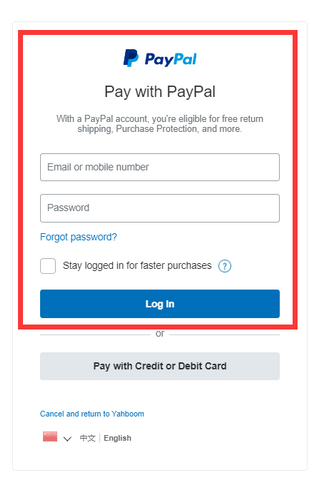 Pay with Credit or Debit Card
Your payment information is processed securely. We do not store credit card details nor have access to your credit card information.
It's the best robot arm product for education
It is a good product
because it has basic robot arm operation and camera vision function.
f you study robot arms, it can be used as a good practical teaching tool.
They are very kind and active in helping in the A/S part.
I highly recommend it.
Positive and bad points
Positive points:
- We have received the complete product.
- Very good delivery time.
- Good manufacturing materials.
Bad points:
- The manuals (printed and online) do not have enough information to solve problems.
- It does not calibrate well.
- It does not stabilize the HSV indicators (it was waited more than two hours)
- We have not found the manual to enable the wired handle (control knob).
- We have not located online help.
- We wish to have more complete technical manuals for the expansion board, detailing all the expansion possibilities for device control.
Hi Rafael,
Thanks for your support to Yahboom product.
Our technical support will contact you by email to provide you with more help.
Fast logistics
I just received the package yesterday and I haven't started using it yet. On the surface, everything looks fine, and I look forward to it when I open it. I have my own blog account, I will let this robotic arm fill my blog conten in the future.
I like this green guy, but a bit expensive
I like it very much, but the price is a bit expensive. However, Yahboom after-sales service and technical support are really considerate and timely.
For technical support and service, I give a 5-star review, and I am willing to give a high review for the product, but I think the price is a bit expensive.
From Bauer Sebastian(Mumbai, India)
Get started for AI learning with this Jeston robotic arm
I bought this robotic arm to learn Python programming, and obviously this robotic arm is very suitable. According to the instructions, I can complete all the functions on the APP normally, including garbage identification, color tracking, and learning action group. But with regard to the catch game, I always can't do it well, it seems that it requires some know-how. Hahaha~ I don't want to be bitten by a snake.
I'm about to start learning every Python course next week. I borrowed a display mouse and keyboard from my uncle's house and connected it to the Jetson NANO board. It looks so cool.
Hope everything goes well.
QUESTIONS & ANSWERS
are there any programming tutorials to run custom python code or deploy own custom vision AI model to change gesture and how the robot behaves based on commands?

Thanks for your question.
Yes, We will provide tutorials in details, you can check this tutorials link: http://www.yahboom.net/study/Dofbot-Jetson_nano
And you will provide professional technical support and after-sales service.

Does it support ROS2, I see new changes in RoS1 and ROS2 library, is the robot arm able to upgrade to ROS2?

Thanks for your question.
I am sorry. Currently this robot does not support ROS2, once we have any updates, I will let you know by email.

is arm can control by pthon programming? i am not sure, have pthon lib ? thanks!

Yes. It can control by pthon programming.
We provide python library and python code.

I think my kids got the gear elements a bit twisted or something on the "pinchy bit". Right now it works _sometimes_ to open and close, but very often will lock up and click. When the power is off I can feel some tension while opening and closing the pincher manually, where that action was nice and smooth when it was new. Is it possible to buy a replacement for just that component, or is there any guidance on repair for this issue? Overall very satisfied with the unit, and this issue is related to severe abuse not to any defect :) Thanks!

Thanks for your support to Yahoom products.
Could you contact us by E-mail? support@yahboom.com
Our technical support will reply and help you solve the problem ASAP.

What is the maximum gripper stroke range? Can I increase it?

Thanks for your question.
You can buy following servo part to increase the length of the robotic arm and add one or two more servo (joints). If you add more, due to the torque problem, the lowermost servo may not have enough power to raise the entire robotic arm.
DOFBOT AI Robotic arm link: https://category.yahboom.net/products/dofbot-jetson_nano
Servo part link: https://category.yahboom.net/products/15kg-serial-bus-servo