For a programming enthusiast, creator of DIY project and maker, it is very important to find some suitable and high-quality accessories before creating your own project (programming robot, smart car, sensor kit).
Today, I will introduce some Yahboom latest accessories for programming robots.
Introduction
We have a total of 9 robot chassis for choice. They are made of green aluminum alloy, beautiful and durable. Equipped with 520 motor with encoder, which provides a strong power for the car. Each aluminum alloy accessory is designed with screw copper column holes with reasonable spacing. Users can install main control board, lidar, camera, display screen and other equipment by themselves. We provide 3D model files of each chassis for free, and users can use them for their own projects.
Feature
1) 9 kinds of chassis for choice
2) Mecanum wheel chassis: 65mm and 80mm Mecanum wheels are used respectively to achieve 360° omnidirectional movement.
3) Crawler chassis: Large size high-quality crawlers and motor with encoder(1:56) can be used to realize cross-country with complex terrain.
4) Pendulous suspension chassis: The exquisite pendulum suspension structure is adopted, so that the four wheels of the car can contact the ground regardless of any terrain, effectively preventing wheel slip, and can adapt to different terrain.
5) Chassis with robotic arm: Different degrees of freedom can be selected according to the demand, which can realize object clamping and handling.
Use Scenarios
1) lndoor robot mapping navigation
2) Robot car Autonomous driving 
3) Field grass obstacle course
4) Smart car competition
5) Training Laboratory
6) University teaching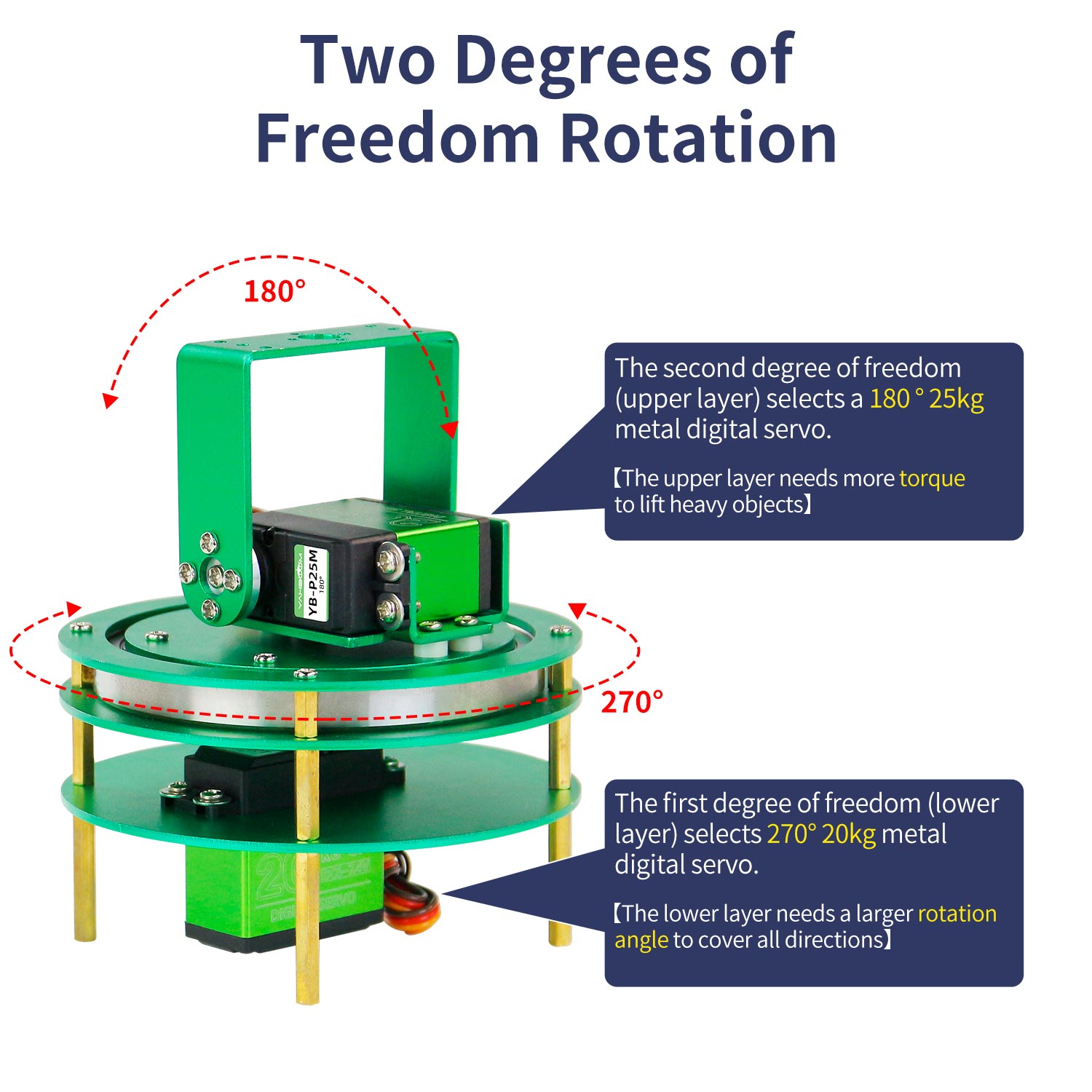 Introduction
This 2DOF servo PTZ consists of a 20KG 270° servo, a 25KG 180° servo and an aluminum alloy bracket. With industrial grade deep groove ball bearing, it can not only rotate smoothly, but also have better load capacity. It supports 270 ° rotation from left to right and 180 ° rotation from top to bottom. We have also designed many reasonable holes. Users can install various sensors and cameras, or install the PTZ on the robot car. 
Feature
1) High quality, large torque, metal digital servo.
2) Industrial grade manufacturing process and deep groove ball bearing are solid and durable.
3) It is attached with reasonable screw hole position, allowing users to install external equipment.
4) A variety of configurations are available for users.
Use Scenarios
1)Robotic arm
2)Educational robot
3)Camera PTZ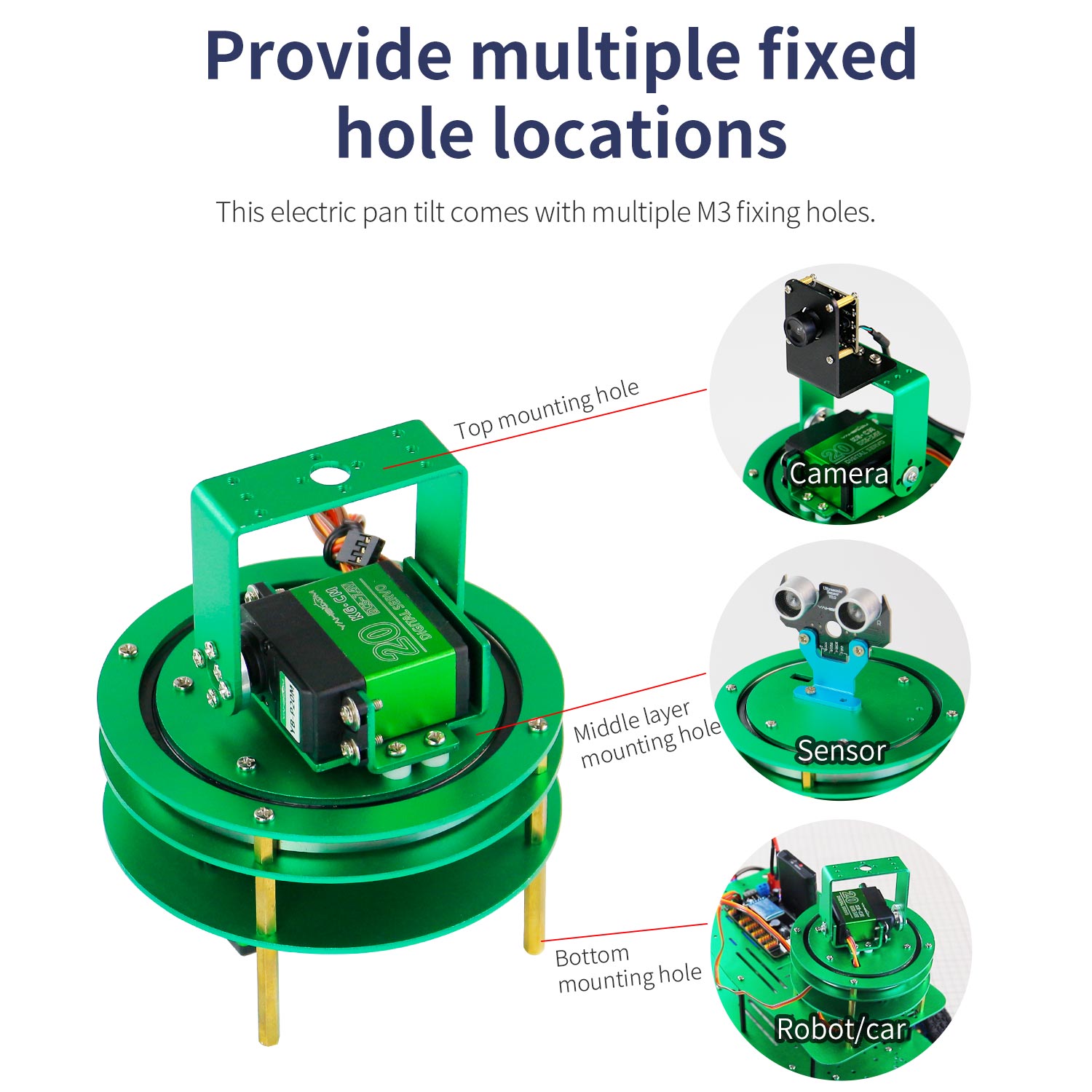 Introduction 
This servo debugging board is built with STM32F103RCT6 chip, with 24 channel PWM servo interface, which can connect 24PCS servo at the same time. It also possess Bluetooth 4.0, wireless handle and serial port interface, can realize mobile APP control, wireless handle control. By serial port, it can communicate with Raspberry Pi,It can communicate with raspberry pie or Jetson NANO Jetson NANO or other controller. We can insert 0.91-inch OLED display screen, and can realize current detection and battery power display through programming. 
Features
1) It can be connected to 24 channel servo, Bluetooth 4.0 interface, wireless handle and OLED display.
2) On board current detection and anti reverse connection circuit.
3) All codes will be provided for free.
4) It can be used for servo debugging, robotic arm, bionic robot and other DIY projects.
Use Scenarios
1)Servo debugging
2)Robotic arm control
3)Electric servo PTZ
4)Multi legged bionic robot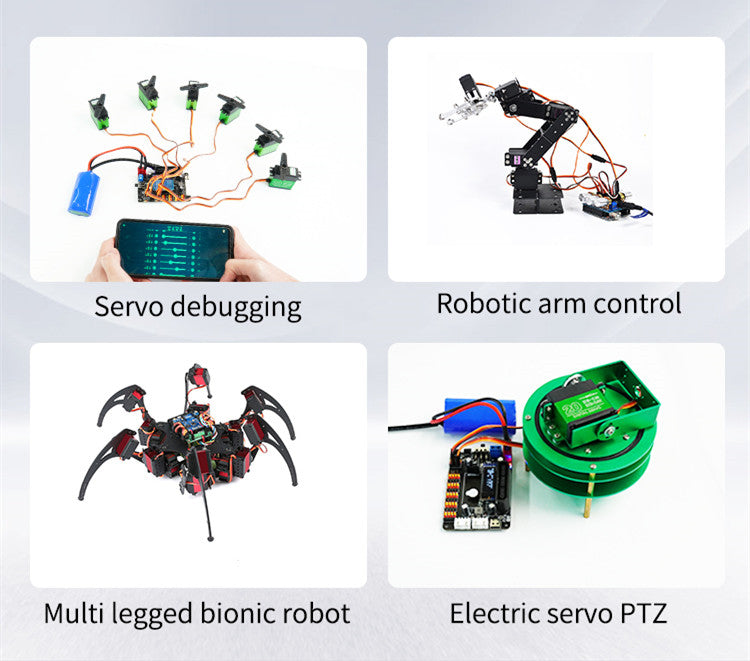 Introduction 
This high-quality map uses high-quality waterproof canvas and UV printing technology. Compared with other track maps, it has bright colors and is easy to recover after folding. The size is up to 3.2M*2.8M, which is suitable for professional robot car competitions, or daily automatic driving model training for programmable smart cars. In addition, we also provided traffic signs(height is 18cm) and traffic lights(height is 24cm), which can really simulate the traffic scene and allow the car to automatically drive while completing the identification of traffic lights and road signs.
Features
1) Parking lot, sidewalk, curve, T-junction, etc. are designed on the map to simulate the actual traffic scene.
2) Waterproof canvas and UV printing process, beautiful and durable.
3) Five double-sided traffic signs and one traffic light are provided for free.
4) It is applicable to teaching training, automatic driving competition, robot laboratory model training and other scenes.
Use Scenarios
1)School practice teaching
2)Autopilot race
3)Robot Lab

More professional and cost-effective accessories, click here