Yahboom Raspbot AI Vision Robot Car with FPV camera for Raspberry Pi 4B
Description
Raspbot is specially designed for AI beginners to learn AI at the lowest cost. It is suitable for Raspberry Pi 4B (2G/4G/8G) development board. With a multifunctional expansion board as the chassis, equipped with four TT motors, one high-definition camera, four-channel tracking, ultrasonic module and so on. It can be used as a remote control car or an AI learning kit. Like other smart cars on the market, it can perform ordinary tracking, ultrasonic and infrared avoid, whistle and other functions. The difference is that we create a series of AI vision function for Raspbot based on Open Source CV by Python3 programming. Users can control this robot car by APP, IR, Jupter Lab web, and enjoy FPV visual experience.
Feature
Simple structure, easy to assemble and quickly experience.
On board ultrasonic, infrared obstacle avoidance, buzzer, LED. And IIC, serial port, servo interface are reserved.
Funny AI visual gameplay: license plate recognition, mobile tracking, visual recognition, autopilot, gesture control, etc.
Brand new APP and cute IR remote controller and a lot of codes will be provided.
Learn AI at the lowest cost for AI beginners.
 Detail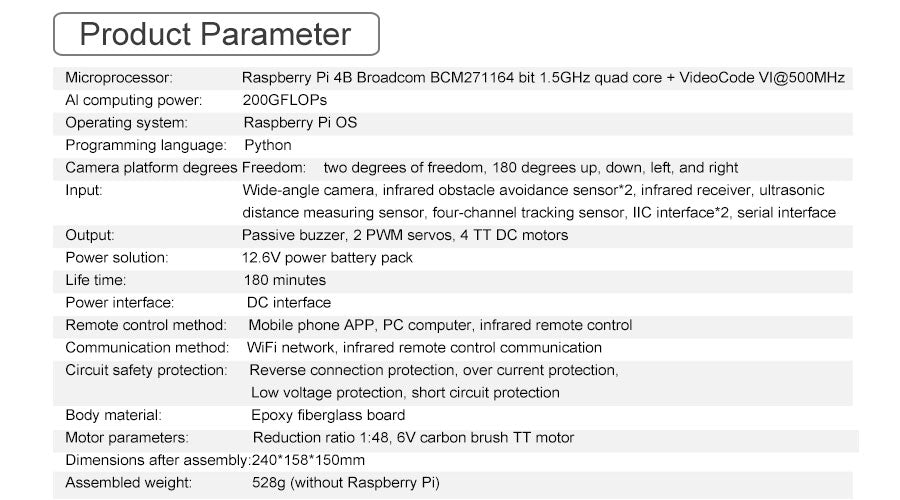 Package list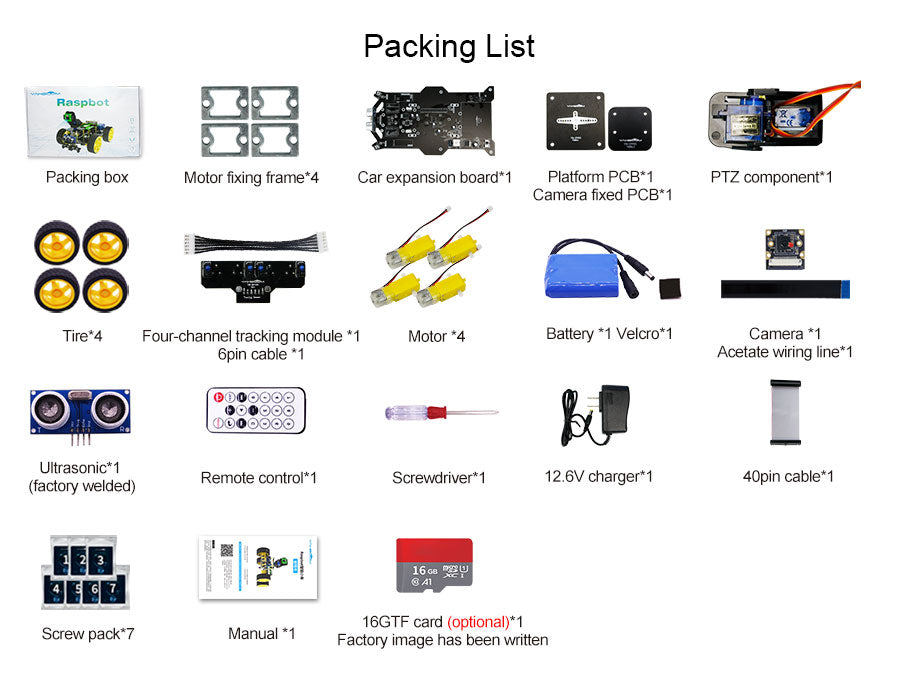 Tutorial
Yahboom Raspbot AI Vision Robot Car
QUESTIONS & ANSWERS
Have a Question?
Be the first to ask a question about this.
Ask a Question
Cool
Nice raspberry pi car, if you are a Raspberry Pi beginner like me, you can give it a try.
Some experience comes from a Raspberry Pi and programmer enthusiast
In general, I think this car is worth the price. Although I also encountered some problems, but luckily it took me a little time to finally solve them. In the process, i learned some new things. I think this is a good experience.
Here are some points that I think are good:
1) The packing box and internal parts are arranged neatly.
2) The function of following the color is great, he successfully followed my red block from the living room to the bedroom.
4) Yahboom's APP is very beautiful, and the tutorials on their website are very detailed. The premise is that you need to find the website according to the URL of the homepage of the manual.
The following are the difficulties I encountered and the areas that can be improved.
1) The servo needs to be calibrated during installation, otherwise your camera will always be crooked. That would be very uncomfortable.
2) After the battery is fully charged, it can be used for about 180 minutes. For me, it would be great if the battery lasted longer.
By the way, did you have any communities and forums that allow me to discuss more details about this car with others.
This is a cost-effective Raspberry Pi smart car
The packaging is tight and complete, with no missing parts, and the assembly is relatively simple. I put it on the black line on the white background for testing, the effect is good, all functions can be realized.