Yahboom micro:bit starter kit for beginner compatible with V1.5/ V2 board
Description
Yahboom micro:bit Starter Kit is tailor-designed for micro:bit experiment and programming beginners. With Micro:bit as the core controller, abundant electronic components in the kit, such as LED light, buzzers, servo, sensors, etc, are used to complete various types of experiments. We also offer 23 courses to enable beginners to master the electronic circuit, components and basic programming principles and learn Micro:bit step by step. The kit is rich in content. Each experiment has electronic documentation as a reference course. From theory to wiring to graphical programming, you will lay a good foundation for more complicated STEAM study.
Feature
This kit is suitable for Micro:bit V1.5/V2 board.
Micro:bit Starter Kit includes 22 kinds of electronic components and 6 types of sensors. It can be used for DIY expansion and experiment.
8 basic experiments, 8 sensor experiments and 7 extended creative experiments are included in 23 courses. These courses guide you to learn Micro:bit from simplest to more complex.
It supports multiple Micro:bit programming methods such as JavaScript graphical programming, Python programming.
Detail
Weight: 669g

Size: 20x20x7.5cm
Package list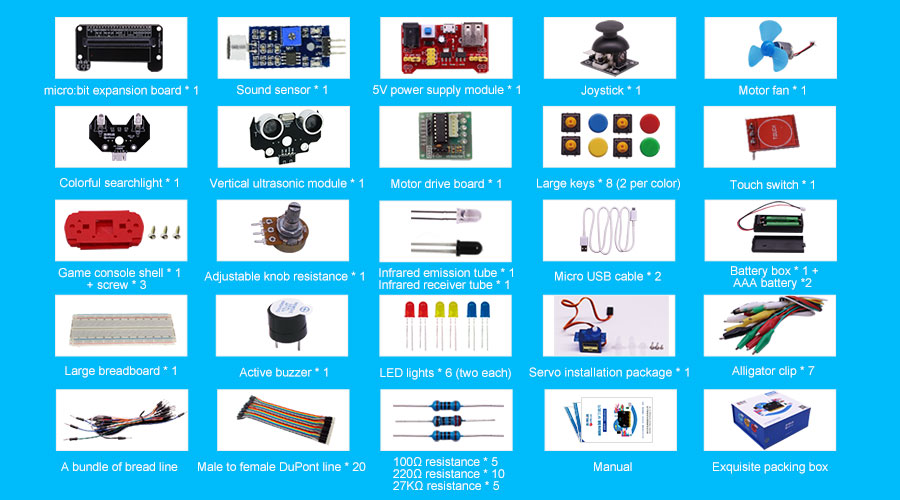 Documents
QUESTIONS & ANSWERS
Have a Question?
Be the first to ask a question about this.
Ask a Question
A kids must have
I hosted a free STEM Robotics workshop for kids and they loved these robots. The parents wanted to know where I purchased them from so they can buy one.
For STEM classrooms
I bought 20 sets of STEM classrooms in our school. The children are very used to this kit, and the sensors are very rich.
Fun little starter kit
This is a really fun kit to get kids interested in programming and electronics.
Excellent starter kit, has everything for Micro:bit
This kit comes with everything needed to get started with electronics engineering and programming in general, whether it be on the micro:bit or any other board. I was surprised at the sheer amount of items included. I specifically loved the little extras like alligator clip wires, they're much higher quality that the standard dupont style wires included in many beginner kits.
Great way to start with micro:bit
I bought the micro:bit starter kit because I want my son to be familiar with the micro:bit world. The possibilities are actually unlimited. With very little effort, you can implement seemingly impossible projects and run with a few lines of code. So you have more experimental opportunities.
The kit's equipment is extensive and good. But you need to order micro:bit, various sensors and electronic components, and breadboards for inserting circuits. So you can start right away. The software on the accompanying tutorial is suitable for beginners and beginners to get familiar with the basics. More complex projects can be found on the Internet. My suggestion: definitely recommended for beginners.