Yahboom micro:bit smart robot car bitbot with IR and APP for Micro:bit V2/V1.5
Description
Yahboom micro:bit smart robot is developed with the most popular Micro:bit board as the core controller. Using Micro:bit dot matrix screen as the body, the entire vehicle adopts elaborate metal motor, high-quality battery and firm bracket to create a compact and beautiful appearance. And it is controlled by Android mobile App remote controller connecting with Micro:bit onboard Bluetooth. We also offer three kinds of comprehensive courses: simple development board experiments, more complex expansion board experiments, and interesting smart robot experiments.It is the best choice for all makers, educators, and amateurs.
 Feature
The car is a collection of Micro:bit board, learning kits, and expansion boards, allowing you to learn Micro:bit from simplest to more complex.
The vehicle model is small and cute. Most of the parts are connected with screws and a few parts are designed with the anti-reverse socket, which makes installation simple and safe.
Multi-function expansion board with vertical slot structure as chassis of the vehicle, it is equipped with RGB lights, sensors, buzzers, various module interfaces and so on, Besides, it can drive 2 DC motors and 3 servos simultaneously.
It supports multiple functions: tracking, ultrasonic obstacle avoidance, following, light discoloration, singing, playing music, etc.
It can be controlled by an Infrared remote controller, and APP remote control by Android / iOS.
It supports JavaScript graphical programming, Python and other micro:bit programming methods
More than 30 kinds of experiment courses are provided.
Detail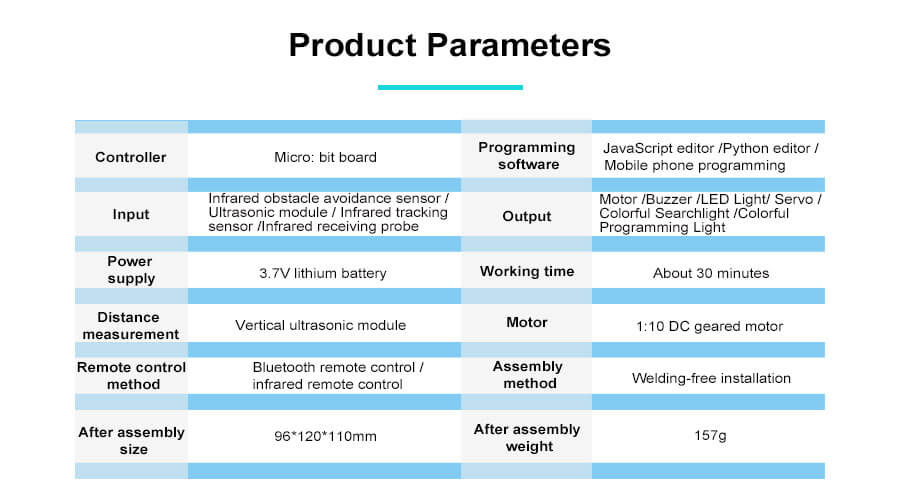 Package list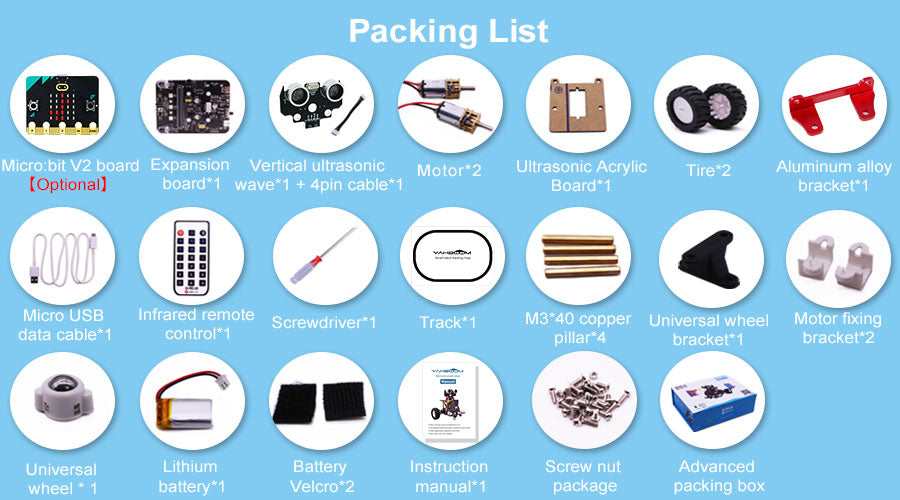 Option:
1 x micro:bit V2 board
Documents
Some screws got lost or are missing, can we order just the screws/bolt package for the smart car? Thanks!

Thanks for your questions. 
Please send the screw models and accessories pictures you need, and the delivery address to this email:support@yahboom.com.
We will tell you the specific freight and price.
It works!
I'm really pleased with this cute robot kit.
The quality is really good. It includes everything needed including batteries and charger and it has great software. Documentation is also really good. I was able to assemble it in about 20 minutes and it worked right away. I'm using this kit for a STEM class that I teach. I have no doubt that the kids will love building this robot and learning about how it works.
Great for hands-on STEM education
I bought this Microbit robot about one year ago. I found the kit to be designed to be easily assembled, sturdy construction, and great documentation. The software is ideal for teaching young students about robotics and developing basic programming skills. I bought two for my grandchildren and they enjoyed them.
It can play music. Lol
Although the structure is simple, it looks really cute from a distance. Do you agreen with me?
The searchlight directly in front is very bright, and I like to use it in a dark environment. The APP has a piano function. I use it to play an ODE. My daughter is very happy to hear that.
Micro:bit robot car
The assembly is simple, and it only took me five minutes to complete the assembly.
The Bluetooth APP has many remote control functions, including line patrol, obstacle avoidance, and following functions, and you can also play the piano.
The car is small and cute, and can be placed anywhere in the house.
I plan to give it as a gift to my 7-year-old nephew. Lol
Yahboom Microbit robot car
Well packaged, complete robot project kit. Big plus - no soldering or complex wiring required. From the instruction sheet, I was able to assemble the smart car in about 20 minutes. The URL provided on the box took me to the tutorials and sample files to download to the micro:bit. Using the infrared remote included, I was driving the robot car around the room right away! My tips: use the styrofoam from the box to hold all the small bolts and parts while putting things together. I adjusted the motor speeds in the sample program to make it a little easier to drive. A really fun kit!