Yahboom micro:bit smart robot car with IR and APP for Micro:bit V2/V1.5
Description
Yahboom micro:bit smart robot is developed with the most popular Micro:bit board as the core controller. Using Micro:bit dot matrix screen as the body, the entire vehicle adopts elaborate metal motor, high-quality battery and firm bracket to create a compact and beautiful appearance. And it is controlled by Android mobile App remote controller connecting with Micro:bit onboard Bluetooth. We also offer three kinds of comprehensive courses: simple development board experiments, more complex expansion board experiments, and interesting smart robot experiments.It is the best choice for all makers, educators, and amateurs.
 Feature
The car is a collection of Micro:bit board, learning kits, and expansion boards, allowing you to learn Micro:bit from simplest to more complex.
The vehicle model is small and cute. Most of the parts are connected with screws and a few parts are designed with the anti-reverse socket, which makes installation simple and safe.
Multi-function expansion board with vertical slot structure as chassis of the vehicle, it is equipped with RGB lights, sensors, buzzers, various module interfaces and so on, Besides, it can drive 2 DC motors and 3 servos simultaneously.
It supports multiple functions: tracking, ultrasonic obstacle avoidance, following, light discoloration, singing, playing music, etc.
It can be controlled by an Infrared remote controller, and APP remote control by Android / iOS.
It supports JavaScript graphical programming, Python and other micro:bit programming methods
More than 30 kinds of experiment courses are provided.
Detail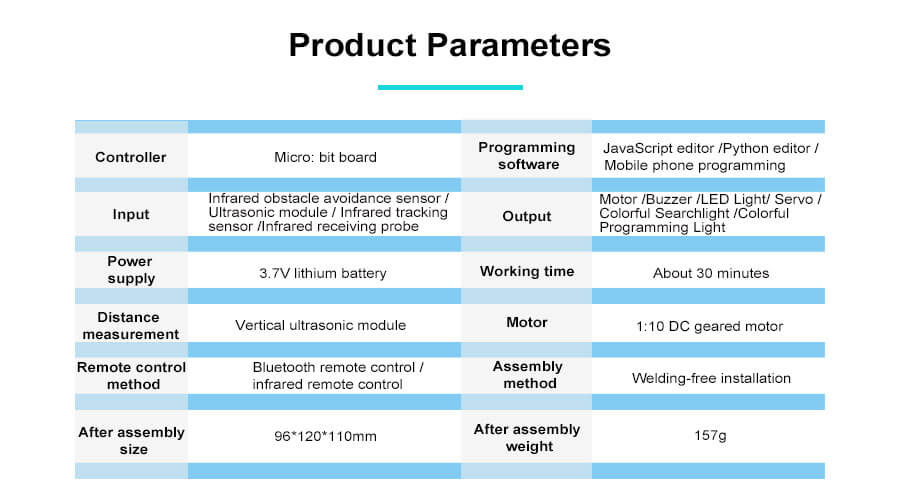 Package list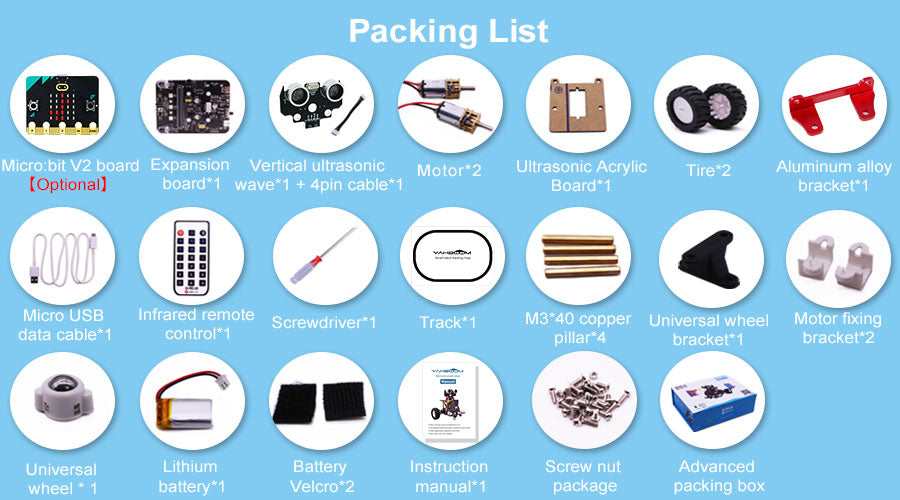 Option:
1 x micro:bit V2 board
Documents
Some screws got lost or are missing, can we order just the screws/bolt package for the smart car? Thanks!

Thanks for your questions. 
Please send the screw models and accessories pictures you need, and the delivery address to this email:support@yahboom.com.
We will tell you the specific freight and price.
Yahboom Microbit robot car
Well packaged, complete robot project kit. Big plus - no soldering or complex wiring required. From the instruction sheet, I was able to assemble the smart car in about 20 minutes. The URL provided on the box took me to the tutorials and sample files to download to the micro:bit. Using the infrared remote included, I was driving the robot car around the room right away! My tips: use the styrofoam from the box to hold all the small bolts and parts while putting things together. I adjusted the motor speeds in the sample program to make it a little easier to drive. A really fun kit!
My son like this smart car
My 7 years old son likes it very much, he has been playing it for three consecutive days.
Yahboom micro:bit smart robot car with IR and APP
Programmable Robot Car
I am an elementary technology teacher. The children love code and we have done a lot of computer based coding. Since STEM has become part of the curriculum, I decided to buy this robot as a beginners set.
I put the entire set together beforehand to make sure the children can handle it. It was very easy and I know they will be able to successfully put this together and program it.
After putting it together and programing the code, I was very impressed with the app, which is automatically detected via Bluetooth. It was fun to use; you can change the music and change all of the lights to any color as well as controlling the direction.
I am so excited to show this to the children! They will have fun while learning.
Good product support
Assembly instructions are not large enough to read with the naked eye. Use a magnifying glass Code instructions can be found on the web.