16 in 1 Building:bit Super kit Programmable building block kit compatible with V1.5/ V2 board
Description
16-in-1 superkit programmable building block kit is designed based on BBC Micro:bit, which is composed of Super:bit expansion board, building block servo, Building block motor, battery and 358 building block parts.
We combine building blocks with electronic devices to bring your building blocks to life, and it can also play music and realize colorful lights. On the one hand, it allows children to learn programming. On the other hand, it can also cultivate children's practical ability and stimulate creativity by assembling building blocks.
Features
Designed based on BBC Micro:bit, equipped with Super:bit professional expansion board.
          The most popular microcontrollers for children are suitable for STEAM education.
          Super:bit expansion board specially designed for Micro:bit can perfectly integrate with building blocks, build any shape, and drive building block servo, motor, RGB lights and other devices.
16 kinds of building block models + full color printing project instruction manual
         The building block parts of this kit are dominated by blue and white, the whole is full of science and technology,which can be assembled into N models.
         The manual include assembly steps of 16 kinds of model and basic instruction content for programming.
MakeCode programming + Python programming, suitable for users with different ages.
         MakeCode programming: Itcan effectively reduce learning threshold and improve children's interest in learning by by dragging and splicing colorful building blocks
         Python programming: A string of character commands control the building blocks, writing a wonderful chapter belonging to the Makers and building block enthusiasts.
Support APP/game handle remote control
         When using different equipment to interact with the building blocks, user can experience the fun brought by technology.
Compatible with Lego building block, various gameplays
         16 kinds of models with up to 80+ gameplays, such as spider walking, helicopter propeller rotation, car wriggling, cannonball shooting, etc.
         Users can also expand through more Lego bricks and build more interesting shapes.
 Detail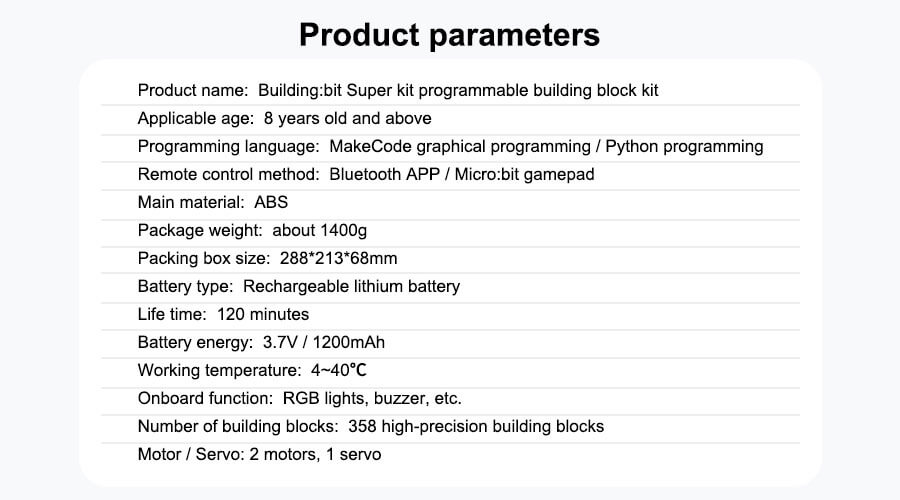 Tutorial
The kit is amazing and I will use it in little workshops with kids! A little note: the kit was delivered with a micro:bit V2, which is great, but the tutorial web page has pre compiled hex files for v1. Could you update with universal format files?

Thanks for you question.
The hex file provided on our website is compatible with Micro:bit V1/v2 boards.
I plan to give this kit as a brithday gift to my 8-year-old brother.
I used the super:kit 16-in-1 kit to build a Skip car, a lifting platform, a Auto-door and a Unicycle.
And use MakeCode/python programming to control them to achieve some functions, which is really funny.
I plan to give this kit as a brithday gift to my 8-year-old brother.
Building:bit Super kit Programmable building block kit compatible with V1.5/ V2 board
Cost-effective 16-in-1 kit
I found this robot very east to construct and to write some program code for it. It has a nice video to show instructions. I think it is a great way to let you children learn some programming concepts. Overall amazing experience!
Note: that this robot need the programmable micro:bit board which you would need to purchase too.
I like it.
Modeling:
It can create 16 shapes, and the airplane shape is my favorite. I have assembled 5 of them, and I am trying to assemble other shapes.
Tutorial and APP:
Yahboom provides many interesting programs, including APP remote control, handle remote control and so on. All functions can be perfectly realized.
Package:
The packaging box is beautiful and sturdy. This is the strongest programming robot packaging box I have ever bought.
Compra Super kit programable
Un buen producto y muy buena atención. Al llegar el paquete a España tuve un problema y la Sta. Dholpi estuvo muy atenta y pendiente del paquete en todo momento hasta que lo recibí. De momento no he utilizado el juego, pero aparentemente tiene buena calidad, viene muy bien embalado, y con un libro de instrucciones.
Ademàs me han incluido en un grupo de whatsapp, para en el caso de tener cualquier duda ponerme en contacto con ellos. De momento la atención perfecta.