16 in 1 Building:bit Super kit Programmable building block kit compatible with BBC Micro:bit V1.5/ V2 board
Description
16-in-1 superkit programmable building block kit is designed based on BBC Micro:bit, which is composed of Super:bit expansion board, building block servo, Building block motor, battery and 358 building block parts.
We combine building blocks with electronic devices to bring your building blocks to life, and it can also play music and realize colorful lights. On the one hand, it allows children to learn programming. On the other hand, it can also cultivate children's practical ability and stimulate creativity by assembling building blocks.
Features
Designed based on BBC Micro:bit, equipped with Super:bit professional expansion board.
          The most popular microcontrollers for children are suitable for STEAM education.
          Super:bit expansion board specially designed for Micro:bit can perfectly integrate with building blocks, build any shape, and drive building block servo, motor, RGB lights and other devices.
16 kinds of building block models + full color printing project instruction manual
         The building block parts of this kit are dominated by blue and white, the whole is full of science and technology,which can be assembled into N models.
         The manual include assembly steps of 16 kinds of model and basic instruction content for programming.
MakeCode programming + Python programming, suitable for users with different ages.
         MakeCode programming: Itcan effectively reduce learning threshold and improve children's interest in learning by by dragging and splicing colorful building blocks
         Python programming: A string of character commands control the building blocks, writing a wonderful chapter belonging to the Makers and building block enthusiasts.
Support APP/game handle remote control
         When using different equipment to interact with the building blocks, user can experience the fun brought by technology.
Compatible with Lego building block, various gameplays
         16 kinds of models with up to 80+ gameplays, such as spider walking, helicopter propeller rotation, car wriggling, cannonball shooting, etc.
         Users can also expand through more Lego bricks and build more interesting shapes.
 Detail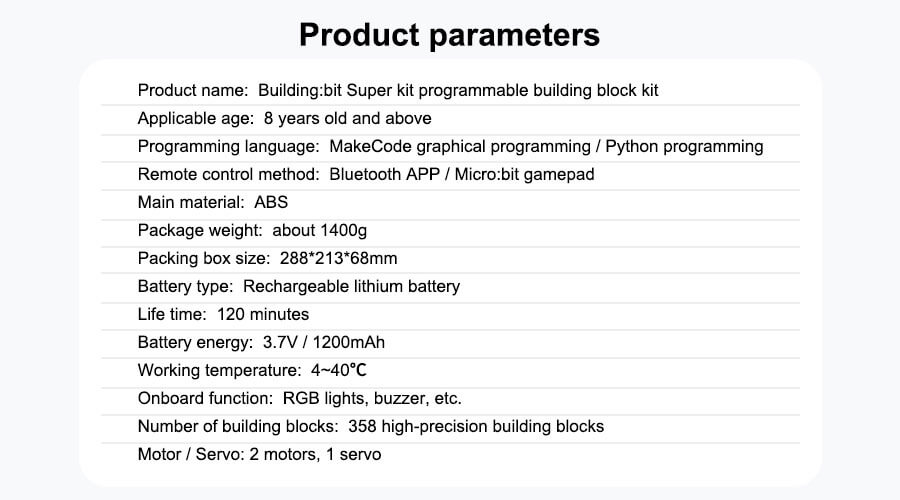 Tutorial
The kit is amazing and I will use it in little workshops with kids! A little note: the kit was delivered with a micro:bit V2, which is great, but the tutorial web page has pre compiled hex files for v1. Could you update with universal format files?

Thanks for you question.
The hex file provided on our website is compatible with Micro:bit V1/v2 boards.
Special toys for 8 year old boys
I purchased this kit on this website last month. It has a very sturdy outer packaging box, and the building blocks are separated into a number of building block bags and placed neatly in the packaging box. I also provided a book of building block assembly steps. My son was very excited to start his building block world. He chose the first to assemble a helicopter (even if it is a flightless helicopter). He said that he wanted to fly ro sky by this helicopter.
The 8-year-old kid also said that Microbit surprised him too much. A small board can actually achieve so many interesting things.
An exciting way to learn coding!!
My 10-year-old loves building and creating things, has always been in the gifted program, very smart, but this kid is extremely challenging for him, thankfully he loves a good challenge, but he's been working on this for a few days now and it still doesn't look like to me he's gotten very far. But he enjoys it so I guess it's a pretty good buy!
Very cool - makes an awesome robot!
This Yahboom Robot Toy Car will not work on its own, you will need to purchase Micro:bit board.
It's a programable robot car designed for kids age 8 and above, I must admit it's fun for adults too. Great way to challenge kids and their little heads and priceless learning experience. You control it via remote controller or through the Yahboom App. I searched their website and saw they have bigger and more complex robots and my husband really wants the big one. Again, I can't stress enough how clear and educational the instructions are. Amazing toy.
Great project, for beginners and micro:bit
Well packaged, complete robot project kit. Big plus - no soldering or complex wiring required. The URL provided on the manual took me to the tutorials and sample files to download to the micro:bit. Using the infrared remote included, I was driving the robot car around the room right away!
Best toy of my son now
My son very loves it. We have a good times when we play this togather. He knows more technoloies and have fun Cheers.