Yahboom micro:bit smart robot car with IR and APP for Micro:bit V2/V1.5
Description
Yahboom micro:bit smart robot is developed with the most popular Micro:bit board as the core controller. Using Micro:bit dot matrix screen as the body, the entire vehicle adopts elaborate metal motor, high-quality battery and firm bracket to create a compact and beautiful appearance. And it is controlled by Android mobile App remote controller connecting with Micro:bit onboard Bluetooth. We also offer three kinds of comprehensive courses: simple development board experiments, more complex expansion board experiments, and interesting smart robot experiments.It is the best choice for all makers, educators, and amateurs.
 Feature
The car is a collection of Micro:bit board, learning kits, and expansion boards, allowing you to learn Micro:bit from simplest to more complex.
The vehicle model is small and cute. Most of the parts are connected with screws and a few parts are designed with the anti-reverse socket, which makes installation simple and safe.
Multi-function expansion board with vertical slot structure as chassis of the vehicle, it is equipped with RGB lights, sensors, buzzers, various module interfaces and so on, Besides, it can drive 2 DC motors and 3 servos simultaneously.
It supports multiple functions: tracking, ultrasonic obstacle avoidance, following, light discoloration, singing, playing music, etc.
It can be controlled by an Infrared remote controller, and APP remote control by Android / iOS.
It supports JavaScript graphical programming, Python and other micro:bit programming methods
More than 30 kinds of experiment courses are provided.
Detail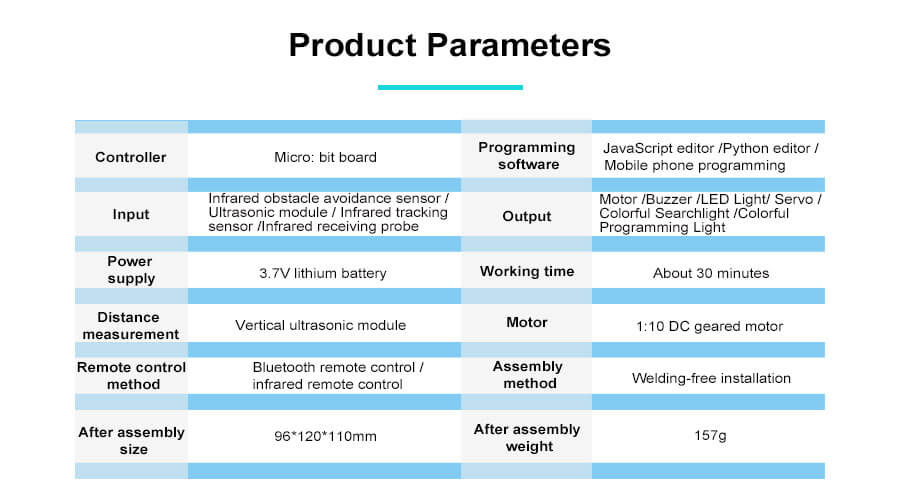 Package list
Option:
1 x micro:bit V2 board
Documents
Some screws got lost or are missing, can we order just the screws/bolt package for the smart car? Thanks!

Thanks for your questions. 
Please send the screw models and accessories pictures you need, and the delivery address to this email:support@yahboom.com.
We will tell you the specific freight and price.
My son like this smart car
My 7 years old son likes it very much, he has been playing it for three consecutive days.
Yahboom micro:bit smart robot car with IR and APP
Programmable Robot Car
I am an elementary technology teacher. The children love code and we have done a lot of computer based coding. Since STEM has become part of the curriculum, I decided to buy this robot as a beginners set.
I put the entire set together beforehand to make sure the children can handle it. It was very easy and I know they will be able to successfully put this together and program it.
After putting it together and programing the code, I was very impressed with the app, which is automatically detected via Bluetooth. It was fun to use; you can change the music and change all of the lights to any color as well as controlling the direction.
I am so excited to show this to the children! They will have fun while learning.
Good product support
Assembly instructions are not large enough to read with the naked eye. Use a magnifying glass Code instructions can be found on the web.
Excellent beginner's kit
I ordered this and it arrived promptly. The kit is easy to assemble although some of the bolts and nuts are small enough to require some manual dexterity. Everything fit together perfectly and it looks just as pictured. The tutorials are excellent and it's easy to get the program examples running - you do have to provide your own microbit since it's not included in this kit. I had a problem that one of the gearmotors was stripped - but I contacted Yahboom's Customer Service via email... and they resolved this in no time with a replacement... So I'm giving this 5 stars for the kit, the tutorials and the excellent customer service. I would definitely buy from Yahboom again.