Description
This expansion board be designed with bilateral symmetry, on board micro:bit board socket, 18650 battery socket, USB power supply interface, 3-5v external power interface, 4 programmable RGB lights, buzzer, I2C interface , WIFI camera serial port, all kinds of motor interfaces and so on, which is an expansion board designed for micro:bit. It also can be connected with 2 channel stepper motors, 4 channel DC motors, 8 channel servos, coupled with stable power supply scheme and various protection circuits, this expansion board has a powerful ability to drive motor.

We expand 17 pin header IO ports to support our sensor modules. The WIFI camera serial interface, IIC interface and LEGO holes make it possible for users to expand into more interesting projects. You can build your own shape with the LEGO bricks, connect some electronic devices, and control it by micro:bit programming.  It is an excellent choice for your robotic projects based on Micro:bit.

Feature
Central axis design, bilateral symmetry.
Onboard content is rich, micro:bit socket, programmable RGB lights, buzzer, and support IIC, serial communication.
Power ability to drive DC motors, stepper motors, servos, onboard buzzer and programmable RGB lights.
17 effective micro:bit IO ports are reserved, and some Yahboom sensor modules can be connected.
Three power supply method: micro USB power supply, 18650 lithium battery power supply, 3-5v external battery box power supply.
Compatible with LEGO bricks, can build a variety of creative shapes, such as building blocks robots, windmills, cars and so on.
It means the BBC micro:bit can very easily become the core of a whole variety of robotics projects.
Details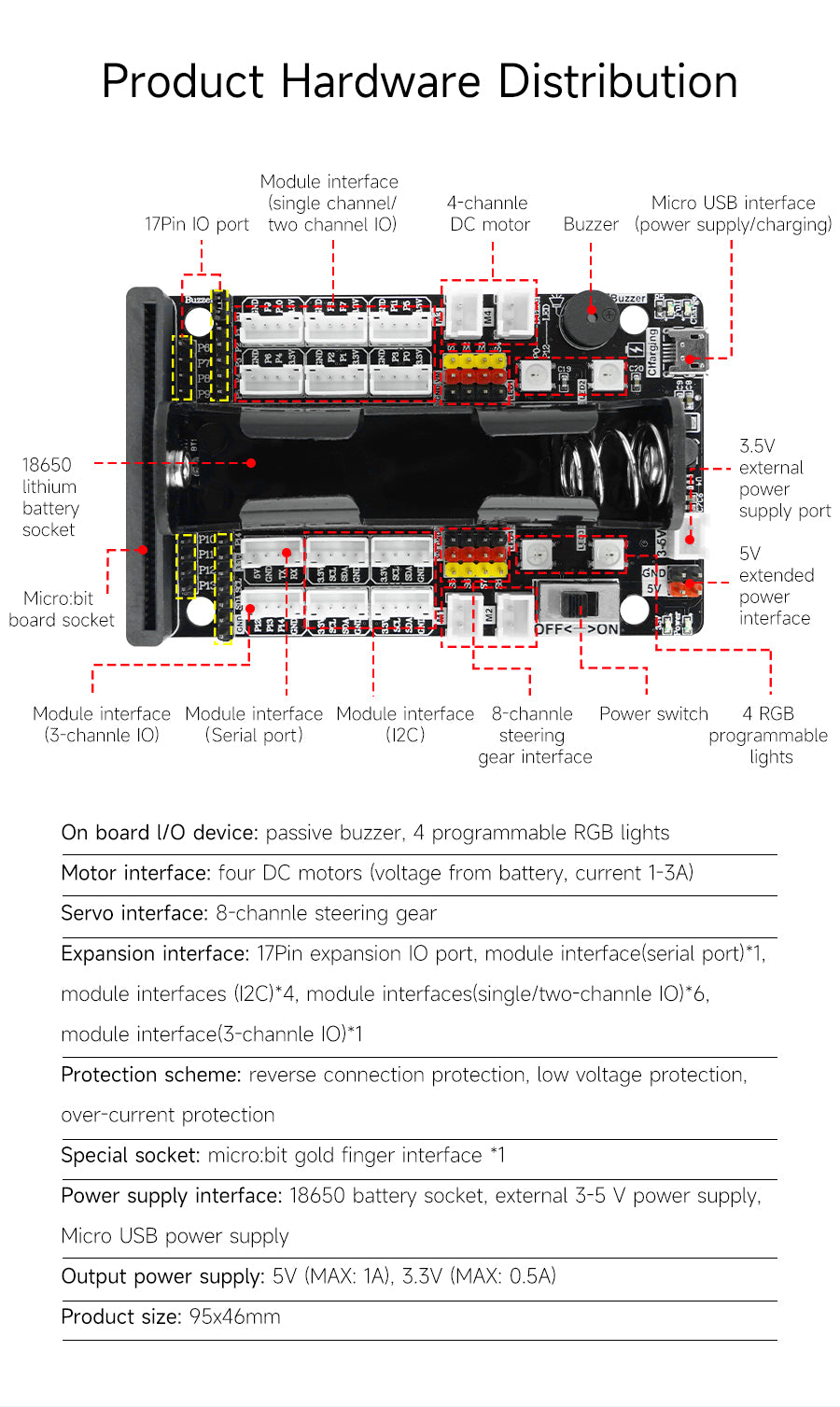 Power Connector 3-5V: XH2.54 
Motor Connectors M1-M4: XH2.54 
Sensor Port:  PH2.0
Package list
Separate expansion board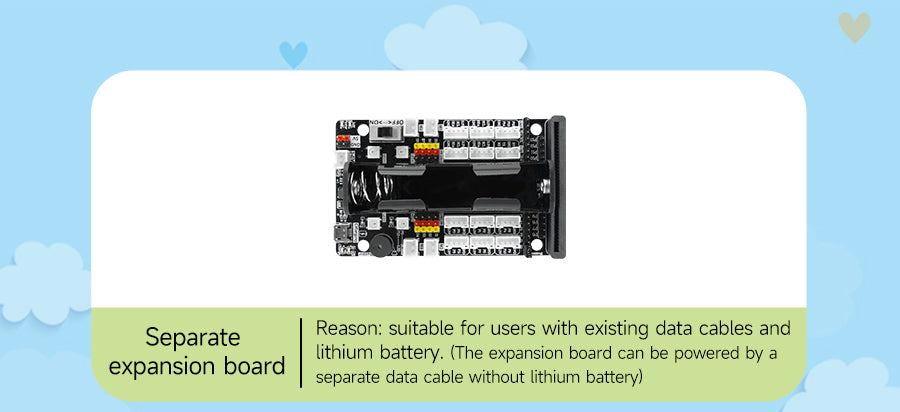 Basic Kit

Building Block Basic Kit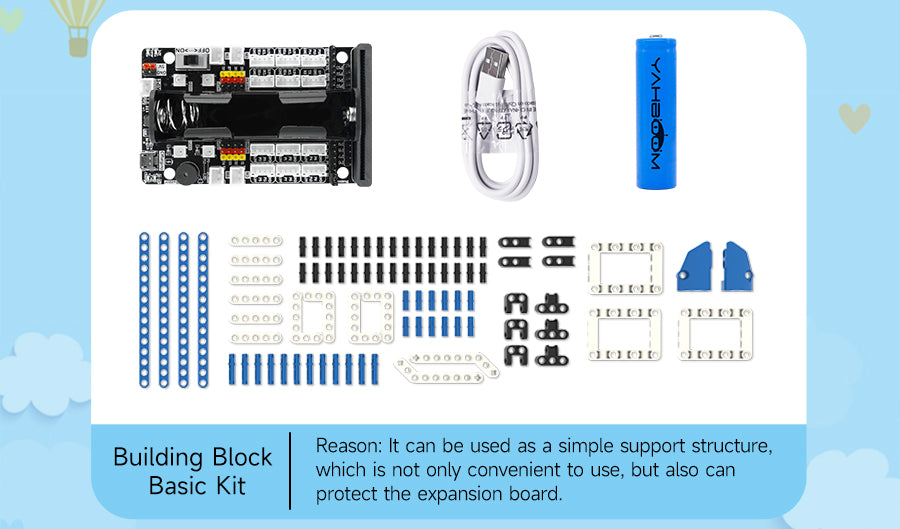 Building Block Advanced Kit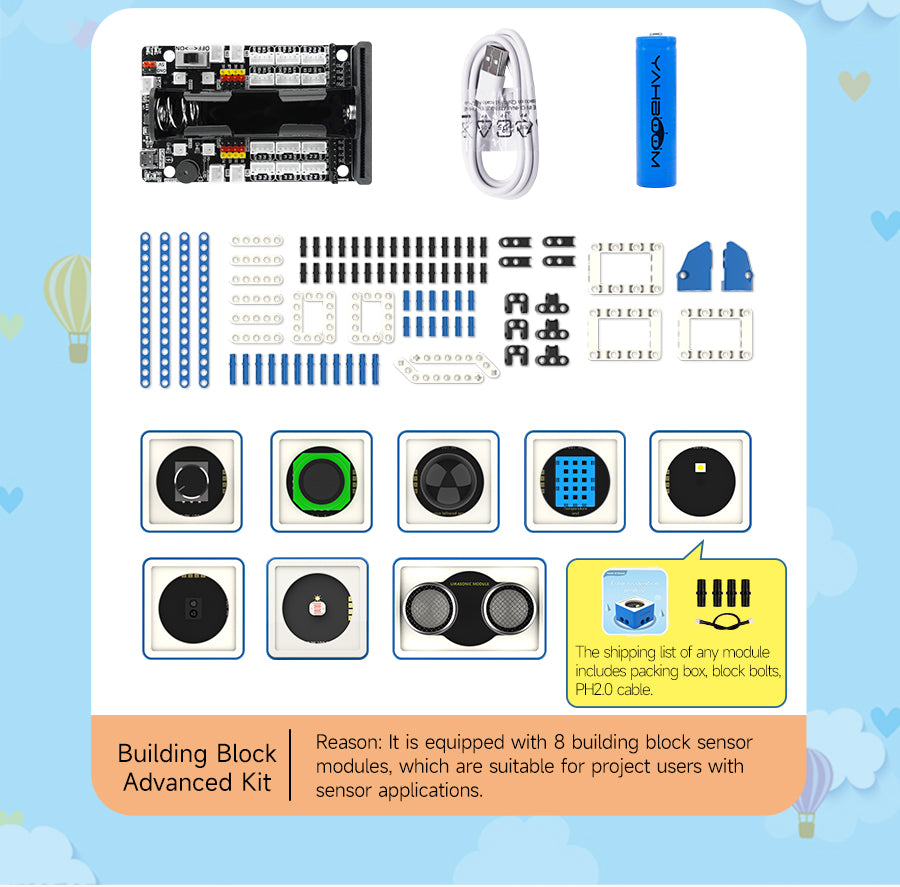 Tutorials
Shipping and delivery Information
Free Shipping Policy
Start Date - All Time
End Date - All Time
Order less $50 - You have to pay shipping fee, $10 by default (small package Air), or $20 by DHL.
Order over $50, less $150 - Your order could enjoy free shipping by small package Air, or $15 by DHL.
Orders over $150 - Your order will enjoy free shipping via DHL. In most cases, it takes 3-5 working days to arrive.
Exceptions - Orders from countries in Zone 9 are over $300 for free DHL shipping. To see a full list of countries in zone 9, click here.
Order less $100 - Shipping fee is $45 by DHL.
Order over $100, less $200 - Shipping fee is $35 by DHL
Order over $200, less $300 - Shipping fee is $25 by DHL
Orders over $300 - Free shipping by DHL
Some of our products come with battery and motor. If DHL is not available to your country, we will change DHL to UPS, Fedex, or special line, depending on your country.
Distributors are not eligible for free shipping.
Shipping Method
| | | | |
| --- | --- | --- | --- |
| Shipping Method | Delivery Time(business day) | Tracking No | Weight Limit |
| DHL | 5-7 | YES | No |
| UPS | 5-7 | YES | No |
| Fedex | 7-10 | YES | No |
| Special line | 10-15 | YES | No |
| Small Packets Air | 15-30 | YES | No |
After your package is sent out, you can see your tracking number on our website. We will also inform you via email about your tracking number and tracking link.
Customs, Duties and Taxes
Our term is FOB Shenzhen which doesn't include custom fee. You should expect to pay any amount charged by the government in your respective country. This includes, and is not limited to, duties, taxes and any extra fees charged by the courier company.
Payment & Security
Payment
PayPal
The main Payment method is Paypal. If you have paypal, that is great. You can simply place order and check out with few steps. If you don't have Paypal account, you can register it and pay by Credit or Debit Card.
Pay with Paypal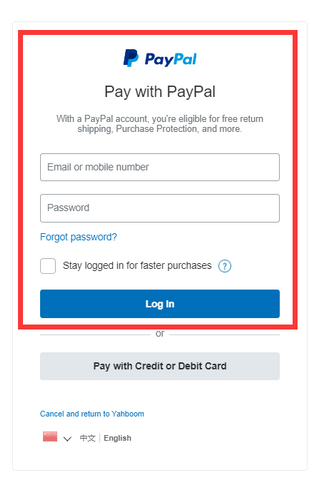 Pay with Credit or Debit Card
Your payment information is processed securely. We do not store credit card details nor have access to your credit card information.
It will be used for teaching programming
Bought 10 superbit expansion boards for our programming electronic classroom, received the package two months ago, put it into use today, all can work normally. But Yahboom provides some codes, I didn't find the instructions and where to download the codes.

Can anyone tell me where to get these?
Excellent product
I bought this product from a third-party seller but came here to praise it. It's very functional, easy to use and program. Plus, there is a complete documentation available online, which comes in an open source format.
It's a perfect product for beginners. I'll be building a RC car with my students with the super:bit.
I highly recommend.
I absolutely love this Microbit expansion board! It can connect a wide range of sensors and actuators that can be connected to it. The build quality is excellent, and the documentation provided is clear and concise. It's also very easy to program, even for beginners. It is good choice to anyone looking to expand their Microbit projects.
Product description is ok, but I didn't realize PRODUCT IS NOT COMPATIBLE with Arduino boards but requires Microbitboard.
5 stars for description but BAD PRODUCT FROM COMPATIBILITY POINT OF VIEW. RECONSIRER BUYING only if you want to purchase Microbit for this!!!!!!
QUESTIONS & ANSWERS
Can the battery be recharged directly from the shield? If not, what is the best way to recharge the battery?

Yes. It can be recharged directly from the shield by Micro USB cable.

I had some issues with a V2 microbit. The hex file for V2 in the github repo didn't work - but the file downloaded from this web page does. Since it has no version or data it's not obvious to see that they are different. Please update the repo

Please contact us by E-maill, support@yahboom.com

I have try to use 5 sensor line tracking sensor for this expansion board but not working fine. It's to delayed read sensor data to control line following robot. How I can solve this issue.

Hello Friend,
Thanks for your support to Yahboom product.
Could you contact us by E-mail support@yahboom.com
Our Technical Support will reply you ASAP.

I tried the Super:Bit expansion board. It was great. However, i tried the SCL and SDA (pins on the top left of Super:Bit) to the LCD 16X2 I2C module. And i connected to 5V and GND of Super:Bit at the bottom left of Super:Bit. I could not get the LCD to display "Hello World". Is there anything that i missed here?

Thanks for your question.
Could you contact our Technical Support by E-mail? support@yahboom.com
He will help you to solve the problem ASAP.

Hello, is there a way to get 5v output to motor drive on this board? I have the programmable building block Red Motor(A02) which can run 3-5v and I want higher power output from motor.

Yes, you can get 5v output to motor drive on this board.

Is there a lastest version of the super:bit hex file for micropython. I'm getting 529error on my microbit after flashing the hex file.

Hello, 
Thanks for your question.
The reason for this problem is that due to the upgrade of the Microbit V2 board, there are still some problems in IIC communication.
Now our Python library files are compatible with Microbit V2. 
Please download new Python file on our website. Link: http://www.yahboom.net/study/Super:bit



Superbit is compatible with K210 Visual module?

Hello friend, K210 Visual module use serial communication, and the superbit expansion board supports serial communication. In theory, they can be connected, but we do not provide relevant tutorials.

Can I use 5V sensors and can those be powered from 5V extended interface? Do I need to place logici level converter between data lines?

Hello friend,
Sorry for late reply. There was some time difference between us, so I didn't reply to you in time.
Yes, you can use 5V sensor.