Yahboom micro:bit smart robot car bitbot with IR and APP for Micro:bit V2/V1.5
Description
Yahboom micro:bit smart robot is developed with the most popular Micro:bit board as the core controller. Using Micro:bit dot matrix screen as the body, the entire vehicle adopts elaborate metal motor, high-quality battery and firm bracket to create a compact and beautiful appearance. And it is controlled by Android mobile App remote controller connecting with Micro:bit onboard Bluetooth. We also offer three kinds of comprehensive courses: simple development board experiments, more complex expansion board experiments, and interesting smart robot experiments.It is the best choice for all makers, educators, and amateurs.
 Feature
The car is a collection of Micro:bit board, learning kits, and expansion boards, allowing you to learn Micro:bit from simplest to more complex.
The vehicle model is small and cute. Most of the parts are connected with screws and a few parts are designed with the anti-reverse socket, which makes installation simple and safe.
Multi-function expansion board with vertical slot structure as chassis of the vehicle, it is equipped with RGB lights, sensors, buzzers, various module interfaces and so on, Besides, it can drive 2 DC motors and 3 servos simultaneously.
It supports multiple functions: tracking, ultrasonic obstacle avoidance, following, light discoloration, singing, playing music, etc.
It can be controlled by an Infrared remote controller, and APP remote control by Android / iOS.
It supports JavaScript graphical programming, Python and other micro:bit programming methods
More than 30 kinds of experiment courses are provided.
Detail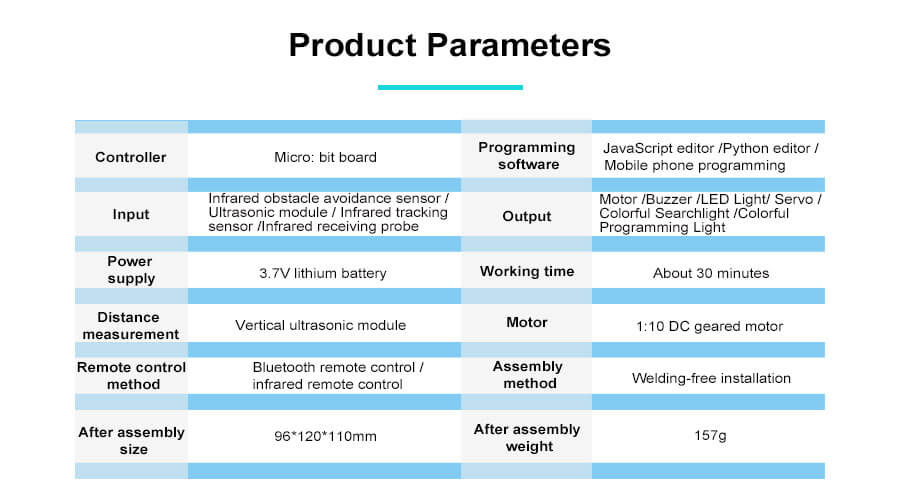 Package list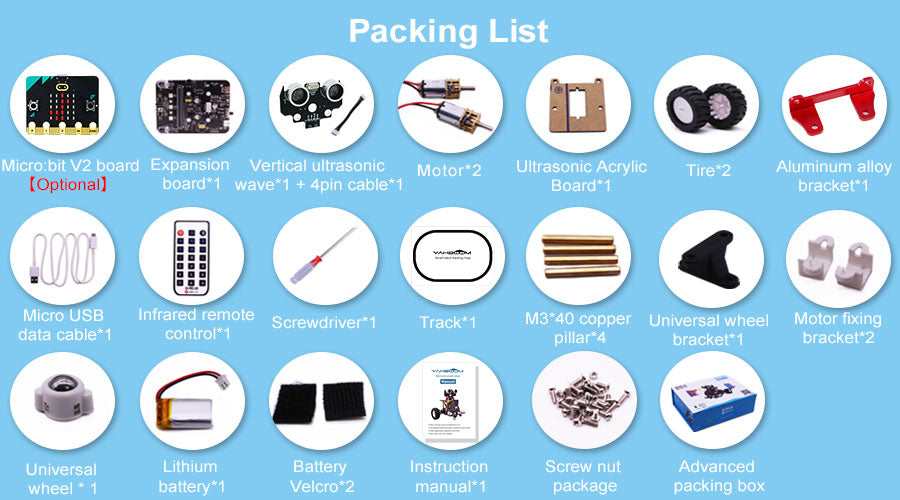 Option:
1 x micro:bit V2 board
Documents
Some screws got lost or are missing, can we order just the screws/bolt package for the smart car? Thanks!

Thanks for your questions. 
Please send the screw models and accessories pictures you need, and the delivery address to this email:support@yahboom.com.
We will tell you the specific freight and price.
If you want to learn coding ......
The kit comes in a sturdy box with everything in its own compartment. Everything is included except the BBC Micro itself (must be bought separately). All of the instructions are included in .pdf format on the included disc. Using the easy to follow instructions you are away right from the start. Just make sure that you select the correct module for each project.
When completed each project will have been assembled using block coding. If you wish to learn the meaning behind each block it is just a click away. This will present you with the lines of code used. Using both methods together provides a good basic step in learning coding and may encourage the user to experiment in writing their own project.
Each project comes with commercial examples of its usage. Be prepared to make a project, think 'I could use that for ...', and then go out and buy more BBC Micro's to use in your project whilst allowing you to continue to experiment with your original one.
A good kit which encouraged me to go out and buy 'A Dummies Guide to Coding'. The two work very well together using either block coding or lines of code.
My son first time using microbit
We used Yahboom Micro:bit stuff at our STEM camp in Alaska and I really liked it. I buy a good bit of microcontroller stuff from China and when I have the choice, I usually choose Yahboom stuff. The boards just seem to be a little higher quality and they tend to put more thought in the design, aesthetic, and documentation.
I am very disappointed that Bluetooth cannot remotely control the car
I have completed the assembly. I am using an iOS11 mobile phone, but it has been unable to connect to Bluetooth and use the APP to remotely control the car.
Because we are using the Bluetooth function that comes with the Microbit board.
Before using APP control, you need to download the Bluetooth_control.hex file we provided.
Otherwise, the Bluetooth function hosted by Microbit is turned off, so the phone cannot be connected.
Tutorial link: http://www.yahboom.net/study/Bitbot
Fun robot car kit for kids
This kit is the best kit I have ever come across. All the parts are very high quality and organized well within little bags and little boxes. Great instruction manual my 7 year old can understand. He wants to build it all by himself, so I am letting him. If you have a child who is technically inclined and are sick and tired of all the stem toys out there that are cheap plastic crap that do not hold up to constant rebuilds. ... Buy this and anything else this company makes. I'm stunned at the quality.
Good gift choice for kids to learn programming
The 8-year-old girl likes this "new friend" very much. Lol, she said that this is a lovely friend who came to New Zealand from China.