Description
This Raspberry Pi TrikeBot three-wheel robot is designed with a bionic shape. From the front, it looks like a robot driving a car on the road. The TrikeBot robot is made of 2mm thick aluminum alloy, with smooth blue oxide sandblasting on the surface. Some parts are made of 3D printing and environment-friendly materials. With independent steering function in front of the car, the robot car could change the direction at any time and finish tracking and obstacle avoidance easily. The front wheel of the independent steering system consists of a 9G metal digital servo, fish-eye pull rod, 3D printing fork, and pure rubber tire, making the car very flexible to rotate. In addition, the front wheel and the ground level are 70 degrees in the horizontal direction, so that the car has a higher sensitivity, effectively preventing sudden situations such as rollovers and falls. The overall shape of the car is unique and the layout is reasonable, which is a good choice for expansion and study.

Feature
Unique car shape, simple assembly, no welding
The newest Raspberry Pi 4B/3B+ board as the controller, supporting 5G WIFI network. Video image transmission is smooth and the usage effect is stable.
Equipped with some interfaces of various sensors and communication modules on BST-4WD multi-functional expansion board and it is compatible with four core controllers: Arduino UNO, 51 controllers, STM32 and Raspberry Pi.
Equipped with RGB colorful headlights in front of the robot car with high brightness and long exposure distance. It is very obvious at night and can produce a variety of color effects.
Equipped with a 4-channel tracking sensor module, which is combined with the official innovative algorithm program, so that the three-wheel car with independent steering can also achieve complicated tracking.
Powerful power supply system with sufficient power, up to 4200mAh, working for more than 5 hours.
Controlled by Bluetooth App by Android/iOS mobile phone, When the mobile phone turns on the Bluetooth and is close to the Bluetooth module, Bluetooth can automatically recognize and connect without entering a key.
Supporting C language programming and Python programming with some tutorials for reference.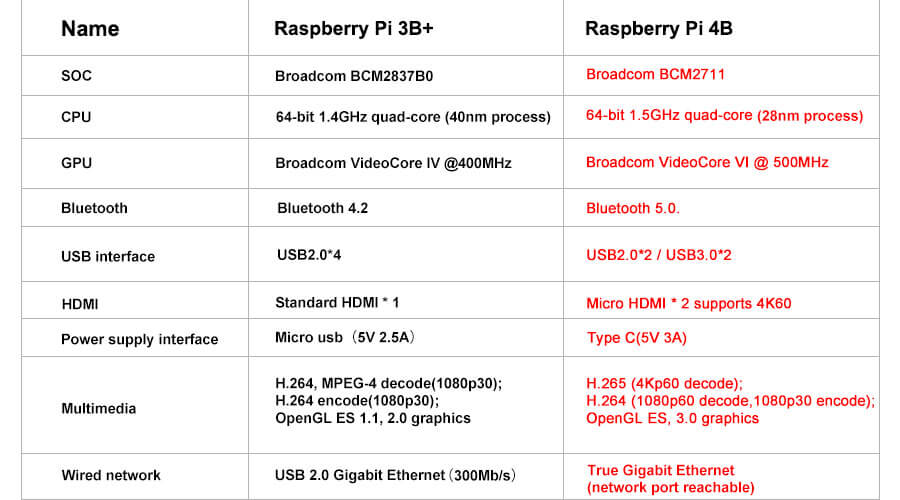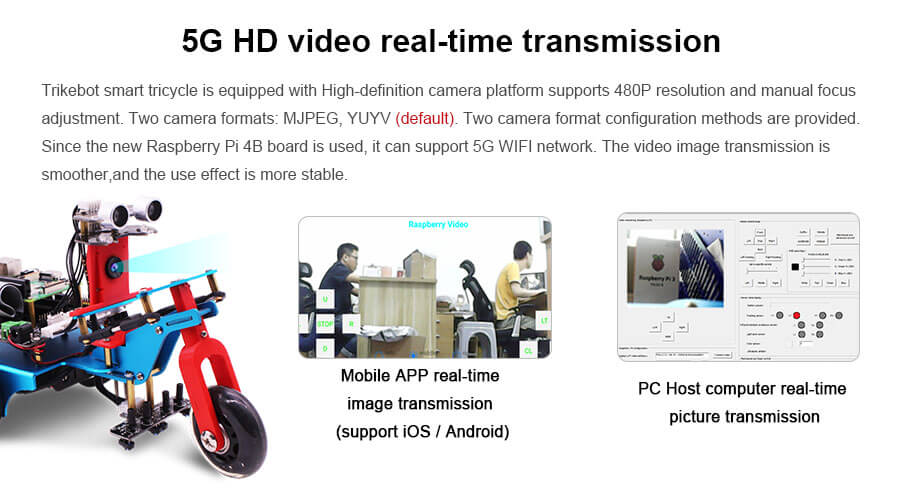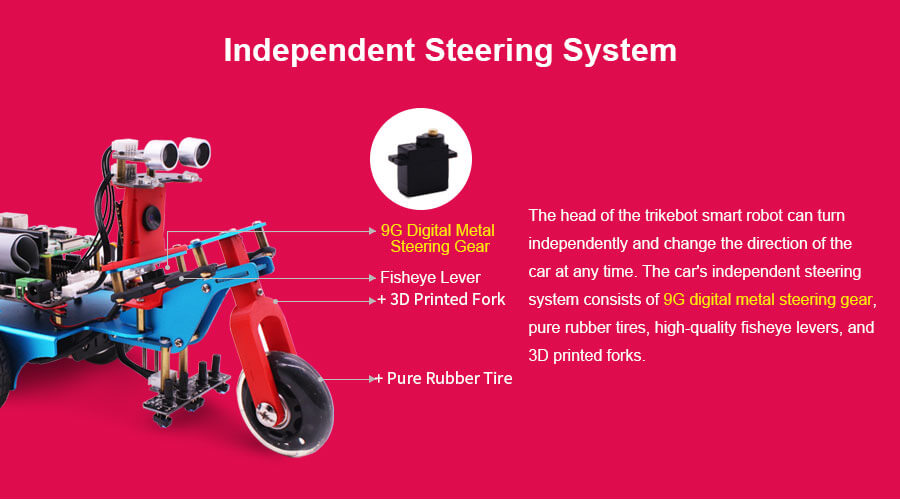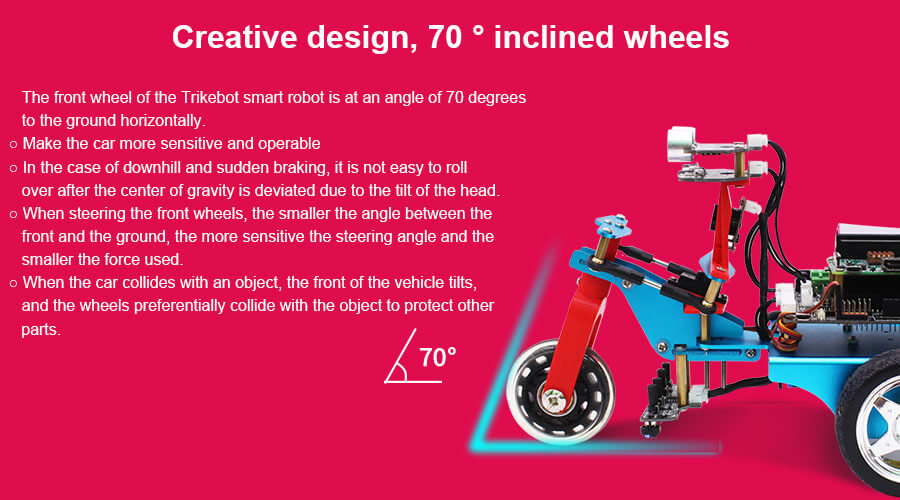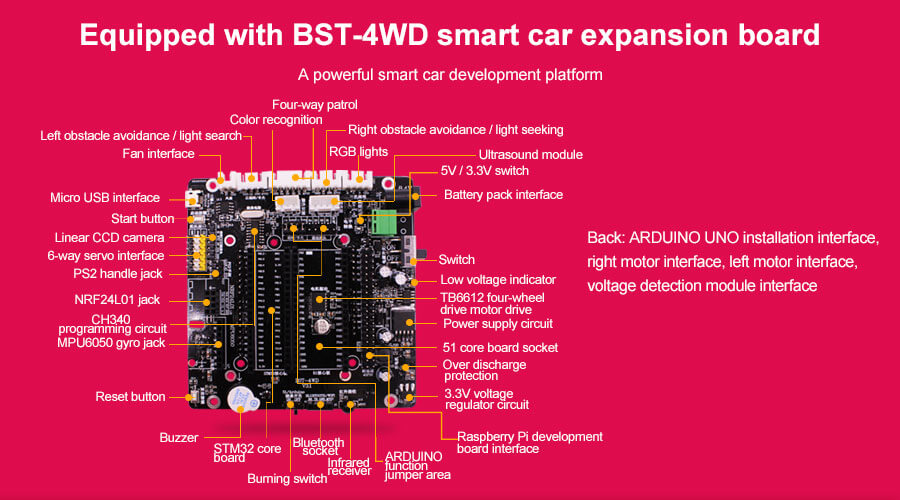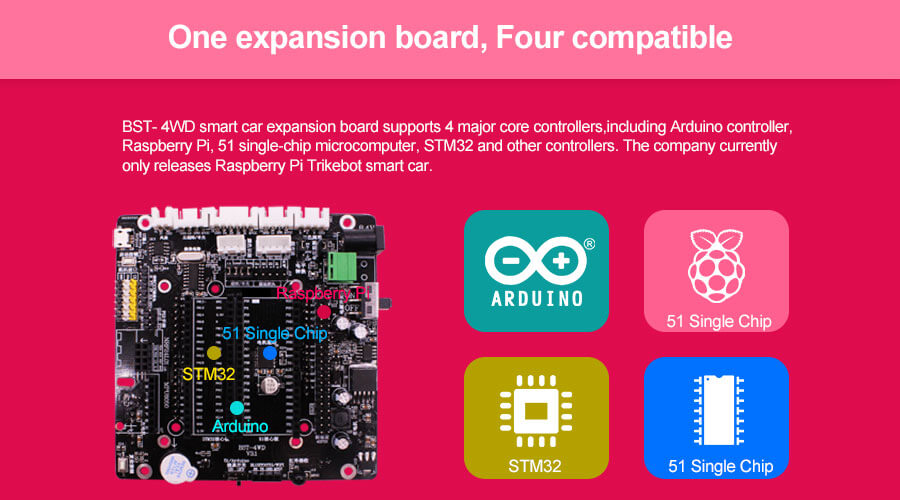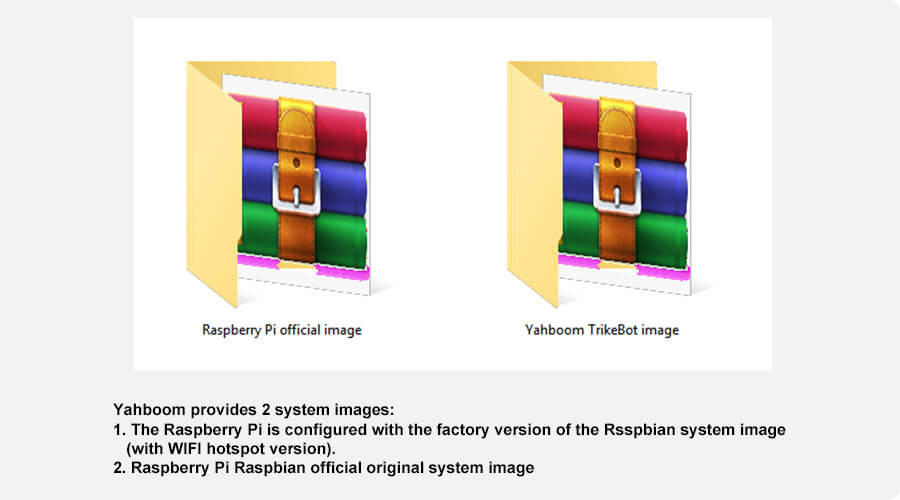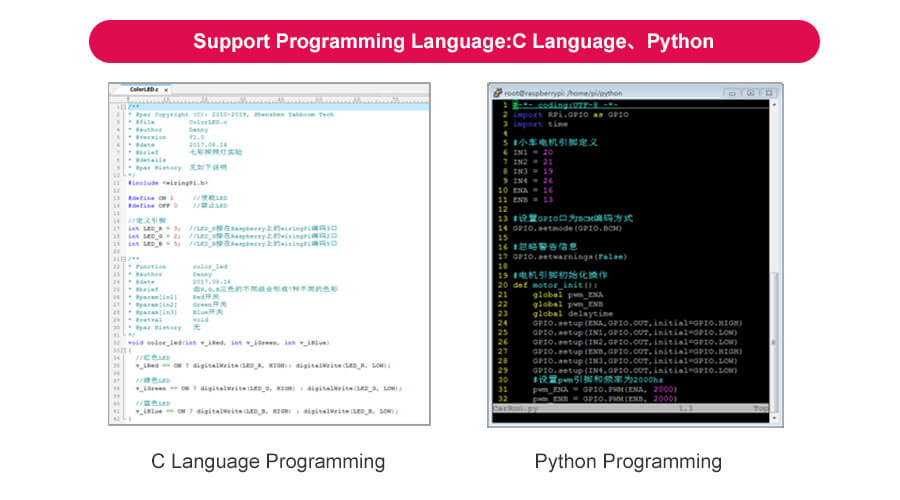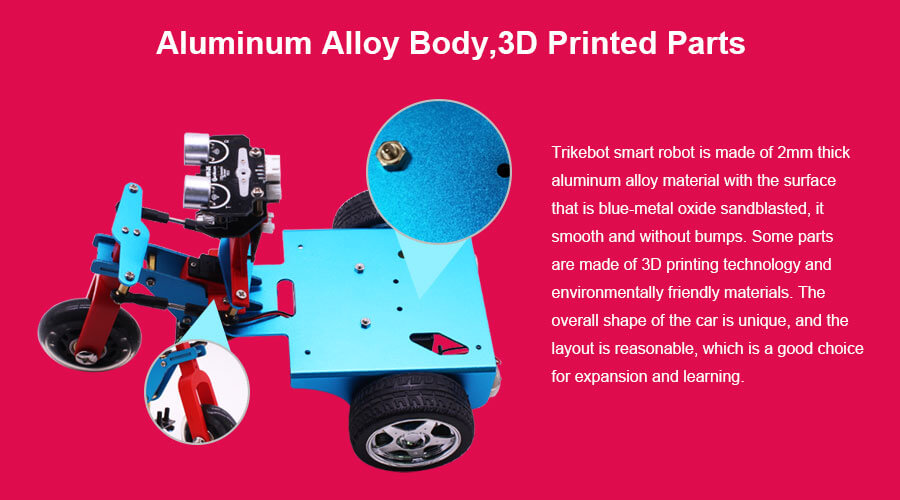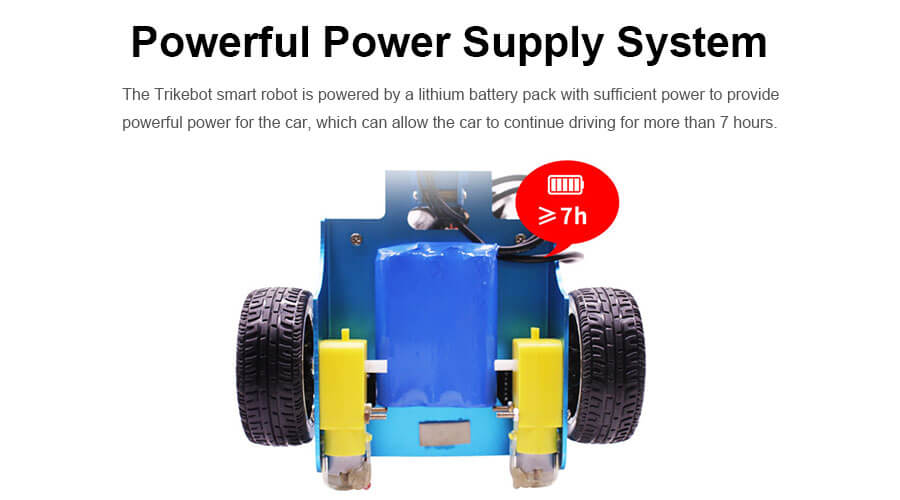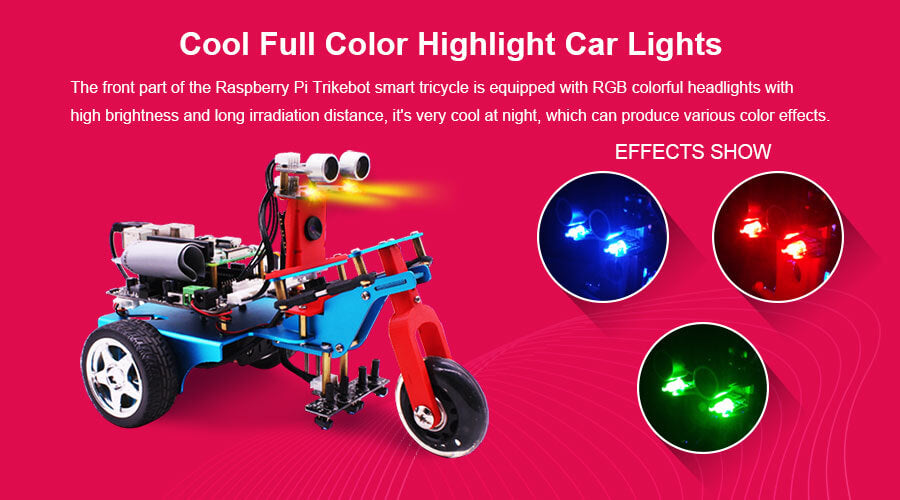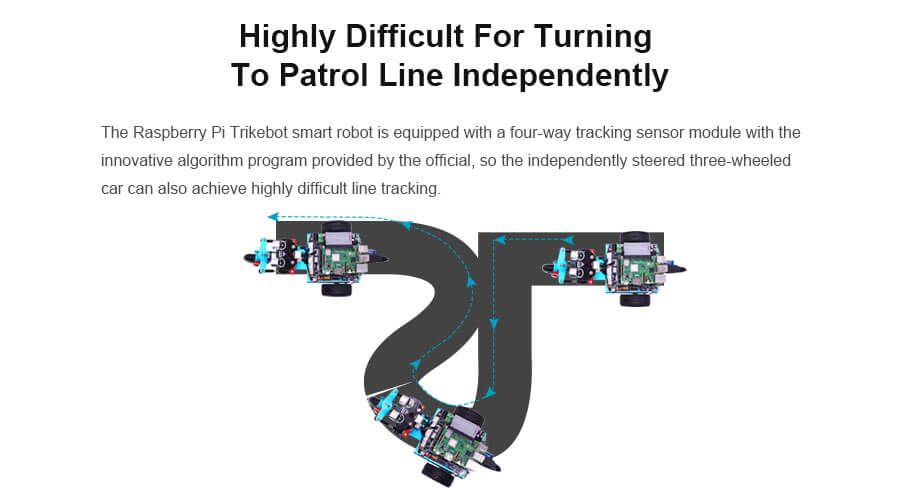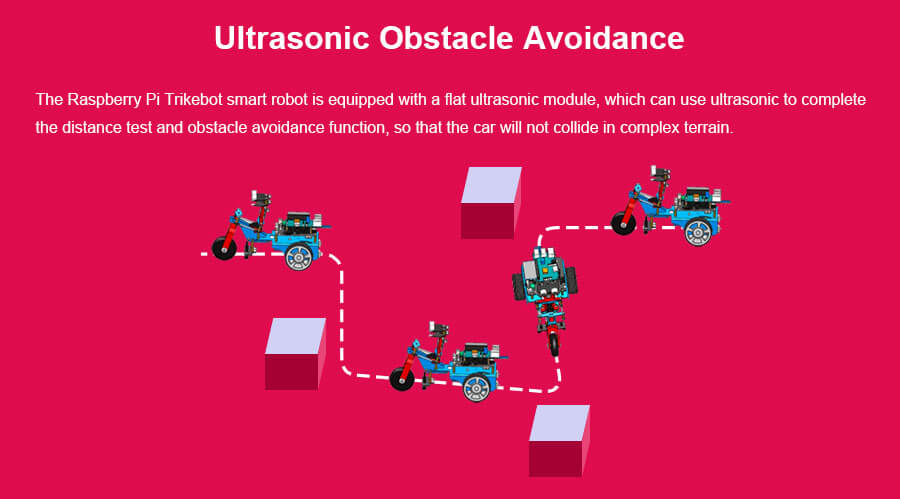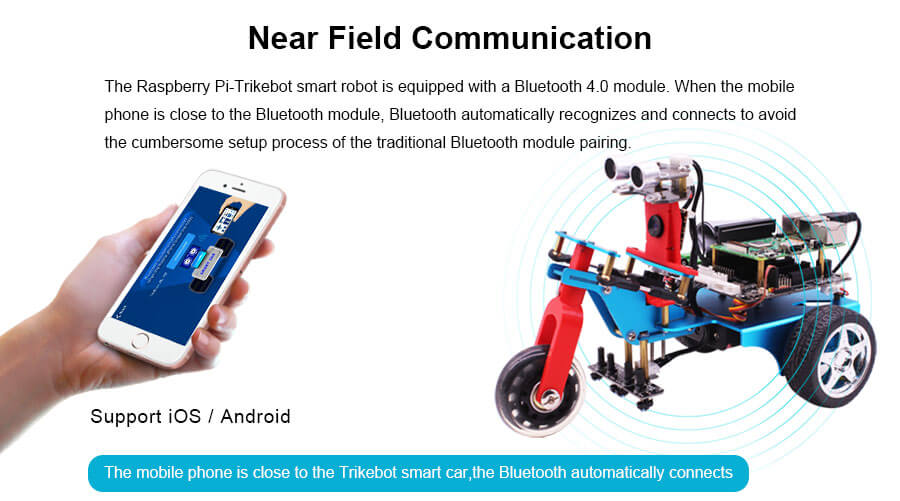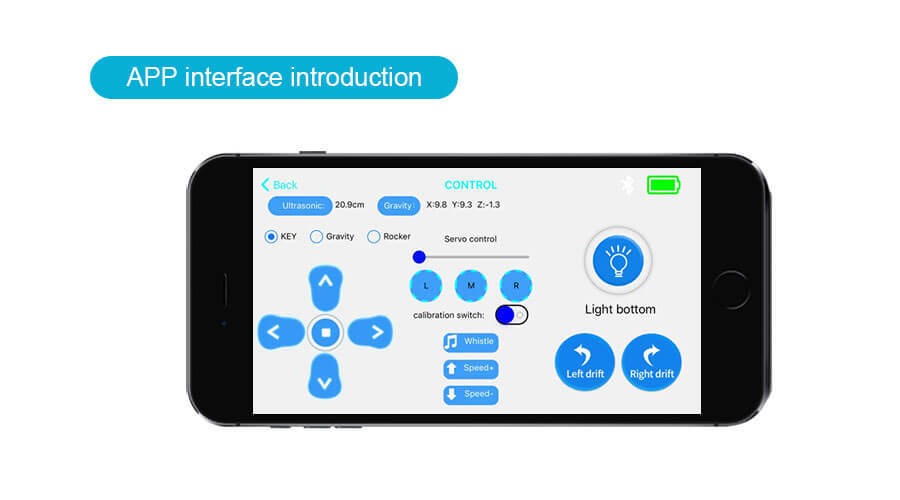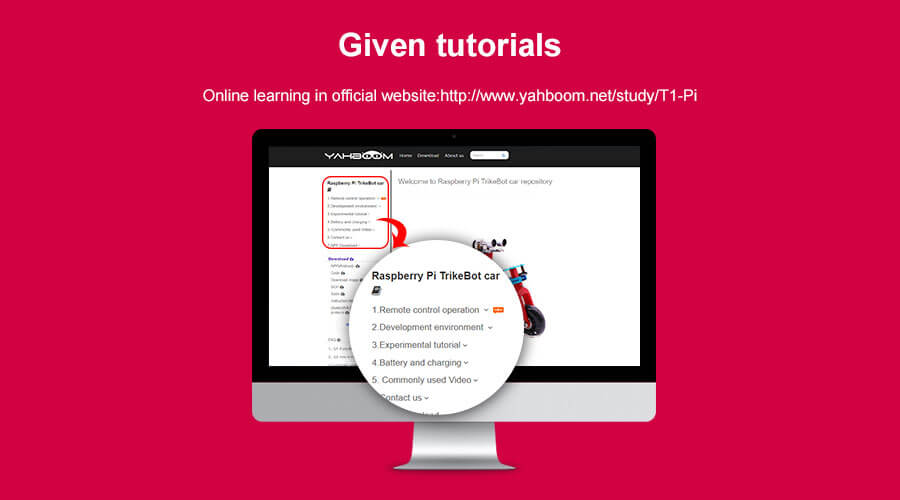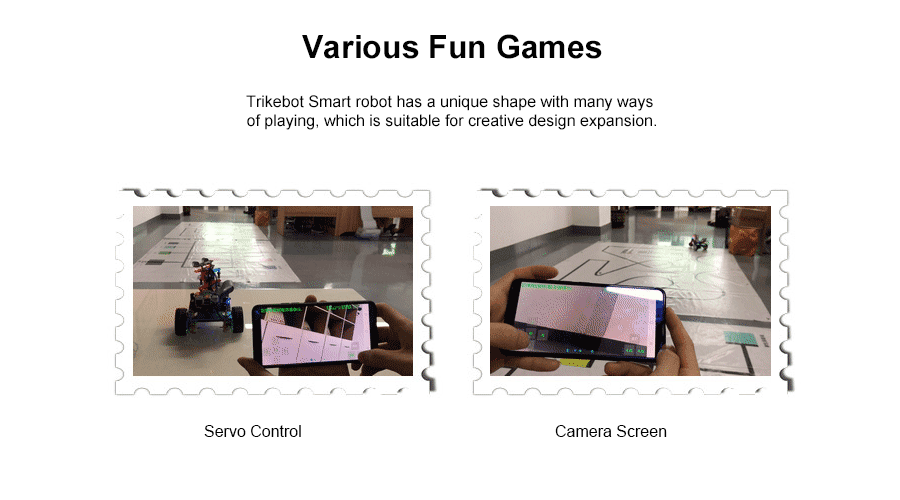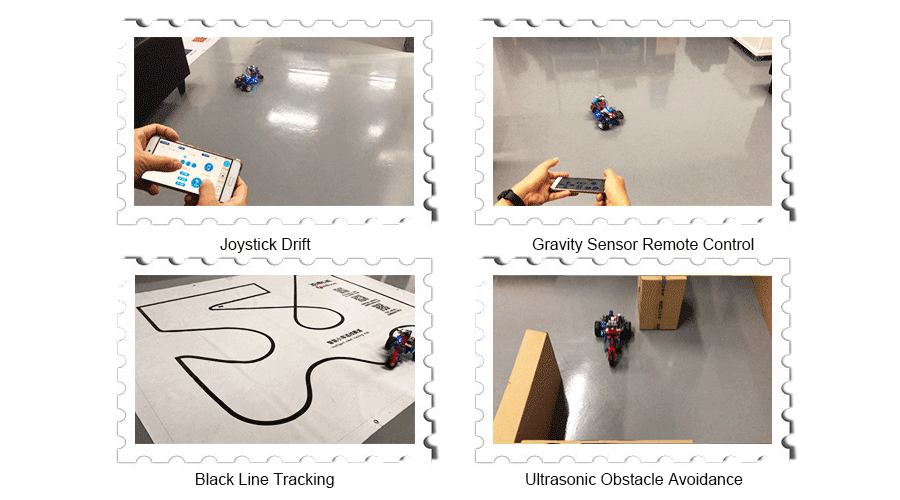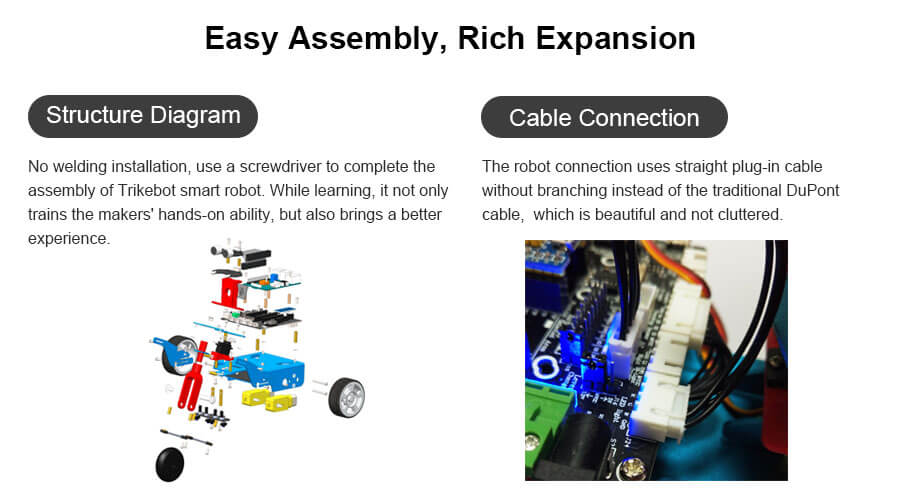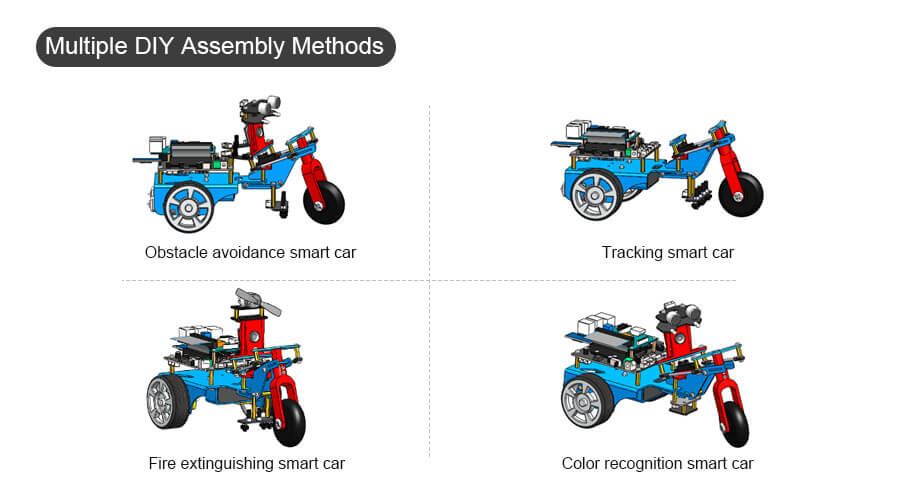 Detail
Package list
1 x HD camera
1 x USB cable
1 x ultrasonic sensor
1 x colorful searchlight 
1 x 4 channel tracking module
1 x 4WD expansion board
2 x wheel 
2 x TT motor
1 x Bluetooth 4.0 module
1 x 18650 battery box
2 x 18650 battery
1 x 6 pin cable
2 x 4 pin cable
1 x 12.6V charger
1 x 40 pin flat cable
1 x servo package
1 x copper pillar&nut&screw package
1 x pulley
2 x pull rod
2 x special screw
1 x 3D printer parts
1 x Aluminum alloy parts
1 x Aluminum alloy chassis
1 x screwdriver
1 x plastic gasket
1 x manual
If you choose Trikebot with Raspberry Pi 4B, below are included.
1 x Raspberry Pi 4B board
1 x 16G TF card
1 x heatsink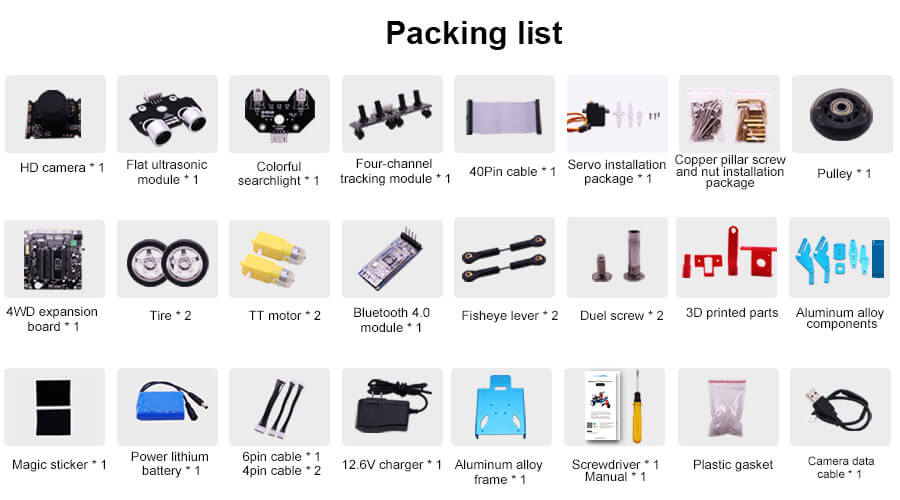 Documents
Shipping and delivery Information
Free Shipping Policy
Start Date - All Time
End Date - All Time
Order less $50 - You have to pay shipping fee, $10 by default (small package Air), or $20 by DHL.
Order over $50, less $150 - Your order could enjoy free shipping by small package Air, or $15 by DHL.
Orders over $150 - Your order will enjoy free shipping via DHL. In most cases, it takes 3-5 working days to arrive.
Exceptions - Orders from countries in Zone 9 are over $300 for free DHL shipping. To see a full list of countries in zone 9, click here.
Order less $100 - Shipping fee is $45 by DHL.
Order over $100, less $200 - Shipping fee is $35 by DHL
Order over $200, less $300 - Shipping fee is $25 by DHL
Orders over $300 - Free shipping by DHL
Some of our products come with battery and motor. If DHL is not available to your country, we will change DHL to UPS, Fedex, or special line, depending on your country.
Distributors are not eligible for free shipping.
Shipping Method
| | | | |
| --- | --- | --- | --- |
| Shipping Method | Delivery Time(business day) | Tracking No | Weight Limit |
| DHL | 5-7 | YES | No |
| UPS | 5-7 | YES | No |
| Fedex | 7-10 | YES | No |
| Special line | 10-15 | YES | No |
| Small Packets Air | 15-30 | YES | No |
After your package is sent out, you can see your tracking number on our website. We will also inform you via email about your tracking number and tracking link.
Customs, Duties and Taxes
Our term is FOB Shenzhen which doesn't include custom fee. You should expect to pay any amount charged by the government in your respective country. This includes, and is not limited to, duties, taxes and any extra fees charged by the courier company.
Payment & Security
Payment
PayPal
The main Payment method is Paypal. If you have paypal, that is great. You can simply place order and check out with few steps. If you don't have Paypal account, you can register it and pay by Credit or Debit Card.
Pay with Paypal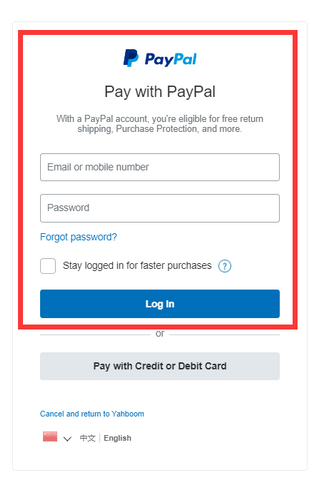 Pay with Credit or Debit Card
Your payment information is processed securely. We do not store credit card details nor have access to your credit card information.
The price of the blue tricycle is cheaper after discount
I planned to buy this car early, but the price made me hesitate for a long time. When I saw the Yahboom website again, it was running a special offer, so I bought this car.
I received the package last Friday and everything looks fine. It only took 20 minutes to complete the assembly. All the functions on the APP remote control can be implemented normally.
like it!!!
I like its shape, worth collecting!
I like programming smart cars. I have a studio of my own, and there are various smart cars on the display rack. When I saw this car for the first time last month, I bought it immediately. The three-wheel shape is so special. Until today, I have been using it for 20 days and everything is fine. There is no problem with the hardware components.
My next goal is Yahboom's Raspblock car. The omnidirectional mecanum wheel is too attractive.
Great little robot
My husband is a software developer and very keen on introducing our daughter to programming and coding. My daughter really wanted a robot for her bday. We got her one that was really basic and after she lost interest in the other one we decided to upgrade to this one. It was worth it. This is a great little machine. The things it can do will surprise you! Honestly I think my husband has been having just as much fun with it as she has. Just note - raspberry pi is not included. We already had one so it wasn't a problem.. Honestly I'll greatly recommend it for any kid interested in in robotics (or adult :)