Description
This Pi-motion AI camera is perfect for both artificial intelligence beginners and Raspberry Pi fans. It is based on the Raspberry Pi board, equipped with a profession multi-function expansion board, high-quality metal servo, and a beautiful and wear-resistant aluminum alloy shape. For this product, we use Python programming language and OpenCV face recognition visual library to realize color tracking, voice broadcast, face recognition, mailbox alarm, QR code recognition, photo storage, whistle and other functions. It supports Android/Apple mobile APP control, we also provide PC control software, which can control Pi-motion by the PC. In addition, it also supports two kinds of distribution methods: network cable insertion and wifi wireless control. We also provide more than 20 detailed courses and some control programs for reference.

Feature
Based on OpenCV,  AI Pi-motion camera platform is equipped with hardware control, voice technology, visual recognition processing and network programming. We have rich example tutorials to teach you how to build Raspberry Pi machine vision programming environment and help you develop AI in a short time.
Pi-motion Raspberry Pi AI visual platform support Android/iOS mobile control. It can finish many functions such as face recognition, color tracking, voice broadcast, facial expression recognition and so on.
The Pi-motion Visual platform is equipped with an AI expansion board designed for the Raspberry Pi. It can be directly inserted into the Raspberry Pi without cumbersome wiring, and can also externally connect speakers, motors, servos and other parts.
The Pi-motion vision platform needs to be equipped with a network for the first time. There are two ways to distribute the network: one is to plug directly into the network cable, no configuration is needed; the other is wireless control via WIFI, following the instructions for simple distribution network.
The Pi-motion visual platform is entirely made of aluminum alloy. The surface of the aluminum alloy is oxidized and blasted. In addition to the aluminum alloy, it is equipped with two metal digital steering gears, HD wide-angle camera, Raspberry Pi AI expansion board. and other external parts!
Detail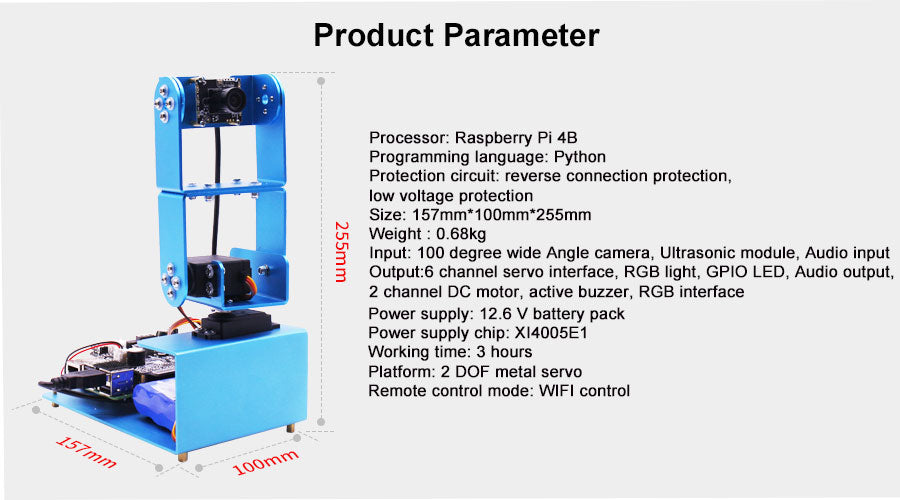 Package list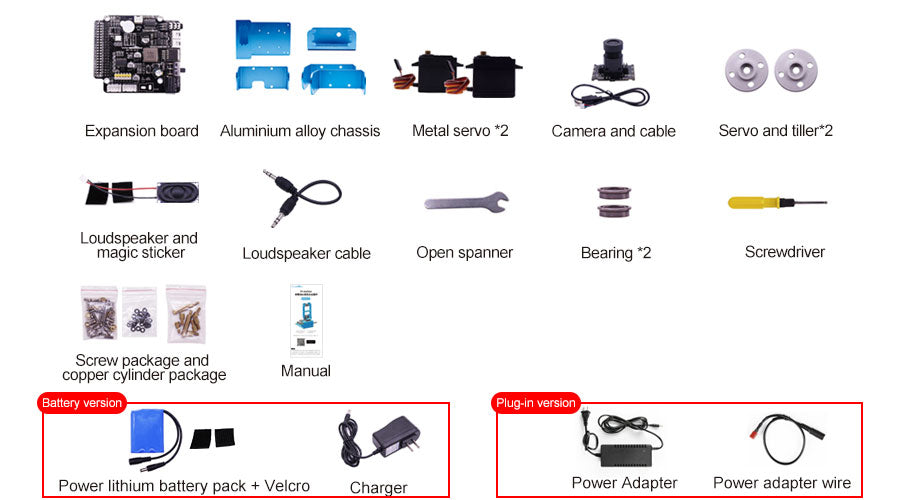 Assembly Instructions
Documents
Yahboom Raspberry Pi AI camera
Shipping and delivery Information
Free Shipping Policy
Start Date - All Time
End Date - All Time
Order less $50 - You have to pay shipping fee, $10 by default (small package Air), or $20 by DHL.
Order over $50, less $150 - Your order could enjoy free shipping by small package Air, or $15 by DHL.
Orders over $150 - Your order will enjoy free shipping via DHL. In most cases, it takes 3-5 working days to arrive.
Exceptions - Orders from countries in Zone 9 are over $300 for free DHL shipping. To see a full list of countries in zone 9, click here.
Order less $100 - Shipping fee is $45 by DHL.
Order over $100, less $200 - Shipping fee is $35 by DHL
Order over $200, less $300 - Shipping fee is $25 by DHL
Orders over $300 - Free shipping by DHL
Some of our products come with battery and motor. If DHL is not available to your country, we will change DHL to UPS, Fedex, or special line, depending on your country.
Distributors are not eligible for free shipping.
Shipping Method
| | | | |
| --- | --- | --- | --- |
| Shipping Method | Delivery Time(business day) | Tracking No | Weight Limit |
| DHL | 5-7 | YES | No |
| UPS | 5-7 | YES | No |
| Fedex | 7-10 | YES | No |
| Special line | 10-15 | YES | No |
| Small Packets Air | 15-30 | YES | No |
After your package is sent out, you can see your tracking number on our website. We will also inform you via email about your tracking number and tracking link.
Customs, Duties and Taxes
Our term is FOB Shenzhen which doesn't include custom fee. You should expect to pay any amount charged by the government in your respective country. This includes, and is not limited to, duties, taxes and any extra fees charged by the courier company.
Payment & Security
Payment
PayPal
The main Payment method is Paypal. If you have paypal, that is great. You can simply place order and check out with few steps. If you don't have Paypal account, you can register it and pay by Credit or Debit Card.
Pay with Paypal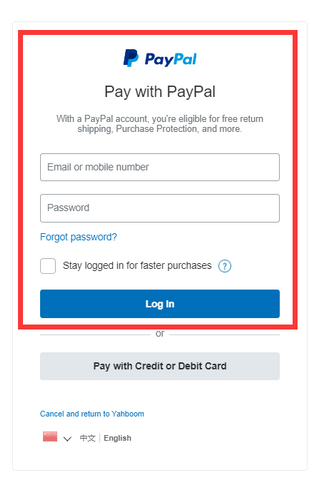 Pay with Credit or Debit Card
Your payment information is processed securely. We do not store credit card details nor have access to your credit card information.
I like the blue aluminum alloy very much, but the video transmission is a bit stuck
I bought this vision PTZ for a university project and installed my own Raspberry Pi 3B+ board. Most of the functions can be implemented normally as shown in the video. But the video transmission sometimes gets stuck, which makes me very distressed.
In the end, I passed my project seminar smoothly.
!!!!!Note, Note,Note.....
Remember to calibrate the servo before installation, otherwise you will need to re-install it because the angle of the servo is wrong.
cool Robot
The manual is very detailed, the information is also very complete. It very suitable for those who are just getting started with the Raspberry Pi ,like me. Mobile remote control APP and computer PC software experience is nice, my favorite function are mailbox alarm,QR code recognition function.
However, this Pi-motion AI Camera platform is too heavy overall, it is not convenient to carry. I think the reason is that it is made of aluminum alloy.
Great tool for learning!
Study build and great hobby kit
Cooling system
I bought this product for my master's project. Everything works well. There is no space between the driver motor board and raspberrry pi. So we cannot use fan cooling system.
Quickly Pi-moition package
Thanks Yahboom for sending out my package quickly.
Pi-motion looks great, it is my favorite blue, and I like the mailbox alarm function the most.