Yahboom programmable Omni:bit smart robot car with Mecanum Wheel based on Micro:bit V2
Description
This Omni-directional mobile smart car is made up of 146 blocks, 4 building blocks motors and 4 Omni-directional wheels. With the Super:bit expansion board with powerful motor drive capability, using MakeCode graphical and Python programming, it can easily control its 360° omnidirectional movement by dragging the building blocks. Because it is equipped with a high-quality Mecanum wheel, it can quickly advance in eight different directions: front, back, left, right, upper left, lower left, upper right, and lower right. The ability to avoid obstacles is far greater than Other smart cars. In addition, we can also control it through the Android/iOS dual system APP control or micro:bit handle to achieve other functions besides omnidirectional movements, such as: colorful lights, music playing and so on.
Assemble Video
Feature
The building blocks are well integrated with the circuit.
Mecanum wheel that can achieve faster360° omnidirectional movement, better avoiding obstacles ability.
Multi-functional and suitable for building Super:bit expansion boards for building block programming robots.
Using BBC micro:bit MakeCode graphical and Python programming, easy to use.
Two control methods: Android/iOS dual system APP, Micro: bit handle.
Detailed assembly steps and video swill be provided, it only takes you 20 minutes to assembly.
Detail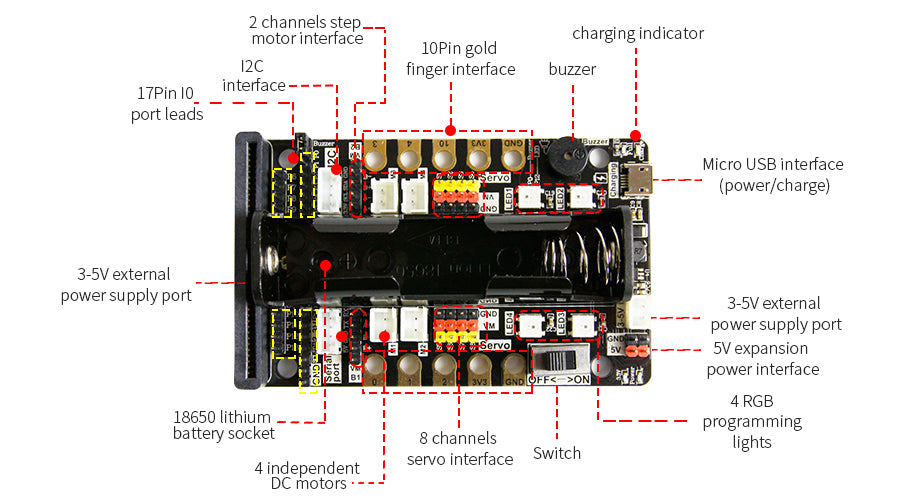 Package list
Omni:bit building block pack
Recommended reason: suitable for users who already have micro:bit and Super:bit expansion board
Building Blocks*146     
Mecanum wheel*4
Omni:bit building block pack+super:bit
Recommended reason: suitable for users who already have micro:bit
Building Blocks*146     
Mecanum wheel*4
USB Cable *1
Lithium Battery *1
Omni:bit package (with micro:bit)
Recommended reason: complete configuration to use directly
Building Blocks*146    
Mecanum wheel*4
USB Cable *1
Lithium Battery *1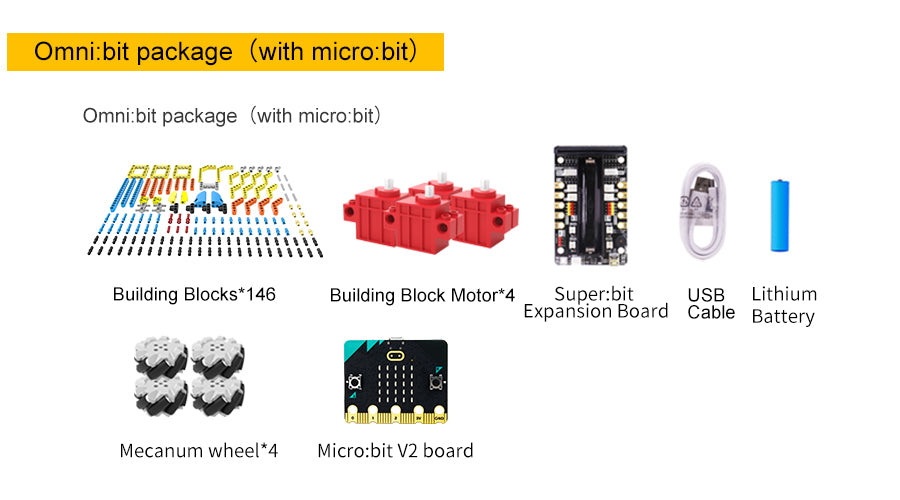 Tutorial
QUESTIONS & ANSWERS
Have a Question?
Be the first to ask a question about this.
Ask a Question
For a 7-year-old child, parents need to work together to complete the assembly.
I bought it for my son as a birthday present, but he can't assemble it by himself.
This car can only be driven on relatively flat roads, and it cannot be driven quickly.
If you want to move forward quickly, it may be better to buy other small cars.
Educational learning type building block programmable car
I bought it because I liked his Mecanum wheel. After receiving it, it surprised me too much.
The APP remote control and handle remote control functions are so interesting, now he is one of my son's favorite toys.
Yahboom programmable Omni:bit smart robot car with Mecanum Wheel
Great for experienced grown up - however much less suited for beginners
Each part individual part is very well thought out and works great. However putting it together with the remote and sensors fails to be very enjoyable.
The giant upside:
There is a well thought out course teaching how to the parts and the interconnection works - haven't used it with students yet but made me hope this could be used in an educational setting.
The car:
The motor connectors don't fit the receptacles on the board - they have bad connections nearly always and sometimes outright jump out. I would love for Yahboom to source interposers (on side fits into the motor socket, the other fits the connector from the motor) - I have not yet found a good idea what to use or what the name of the motor connector is or where to purchase them.
Three of the wheels fit snugly and securely on the motors. One is loose. I assume this is luck of the draw... If the motor axis was 3mm longer on could add a Brick (e.g. a 32123) to hold it in place.
The remote (Gamepad Joystick with software as of end of 2019):
The software offers no way to calilbrate the stick so the center value is quite offset from the center position.
Once moving the car will not come to a stop (in my case, not sure if always true).
The software is fairly slow, hard to comprehend and contains garbage code.
If Yahboom is interested I have rewritten the software to allow calibration, to display the stick position on the display and to offload the computations from the car to the controller (as a first step towards making the car more autonomous). I will gladly share with you for the benifit of others.
Omni:bit smart robot car with Mecanum Wheel
Who wouldnt love the possibilities of mecanum wheels!! I love this robot, the app and have many plans to use it in my lessons.
Only reason it wasnt 5 star was that a couple of eleven years old tried to build it for me and struggled, although i was quite happy to take it back and finish, it was quite complex to get just right