Yahboom LED:bit dot matrix module compatible with alligator clip/DuPont line/PH2.0 cable
Description
This is a module that integrates two 8x8 dot matrix screens, supporting the display of letters, expressions, patterns, and more. The 4Pin alligator clip interface is designed on the bottom of the dot matrix, the 4Pin pin header interface is designed on the back, and the 4Pin DuPont line interface is reserved on the front side (the default is not soldered). Users can use these interfaces to match the alligator clip, cable, DuPont line and other electronic Device to complete IIC communication. And it also has two building block pin holes, which can be compatible with the building blocks to match different interesting structure shapes. You can also use it with our other expansion boards to create more interesting micro:bit experiments. In addition to being used for some DIY experiments, it can also be used for robot facial expressions, car head tips, and so on.
Feature
Small size and beautiful appearance.
Integrate two 8x8 dot matrix screens for wide visual effects.
Support three kinds of IIC communication methods (alligator clip, 4 Pin cable, DuPont line).
Compatible with LEGO block.
Wide range of use (as a robot facial expression, car tip tips, DIY design and so on). Some graphical programming tutorials will be provided.
Detail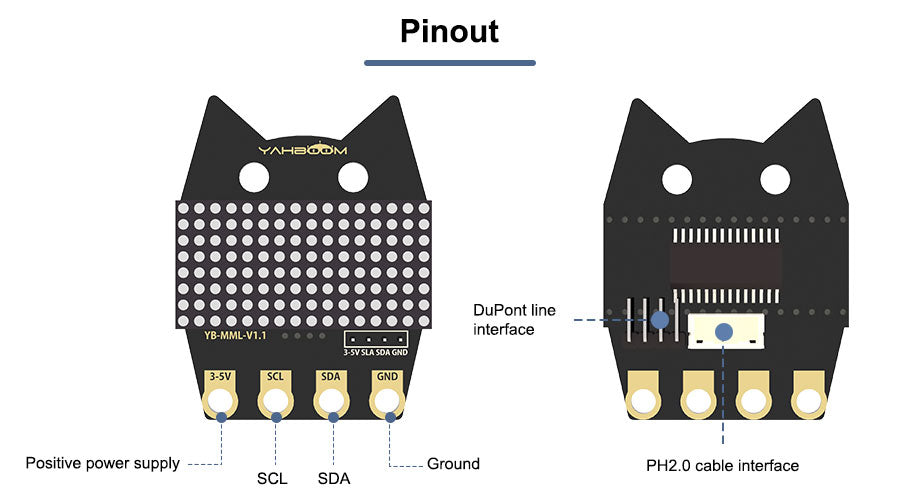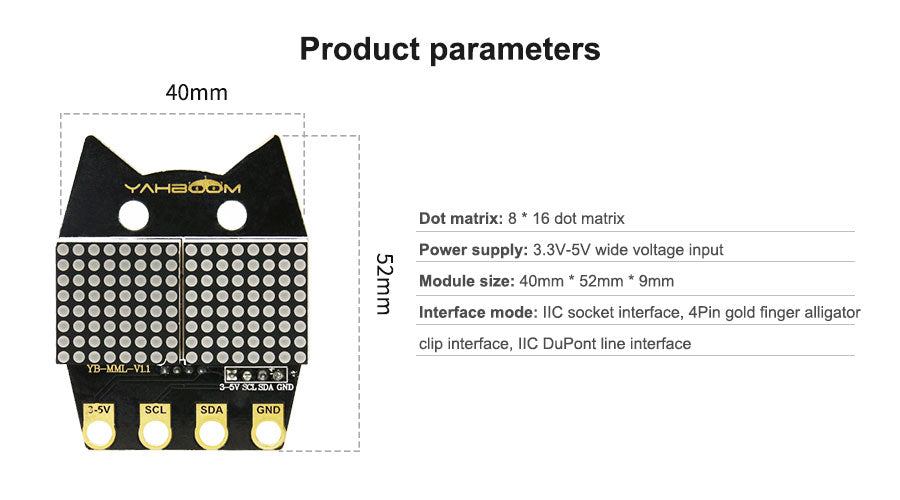 Package list
LED:Bit*1
4 pin cable*1
Alligator clip*5
Documents
QUESTIONS & ANSWERS
Have a Question?
Be the first to ask a question about this.
Ask a Question