Description
Yahboom Smartduino robot is developed with well-known Arduino UNO R3 as core controller. This car is not only a robot car based on Arduino, but it is also a standard starter kit. Using a high-quality integrated circuit board chassis, the vehicle can be flexibly expanded equipped with two breadboard platform, such as the LED, buzzer, LCD screen, and other various sensors to conduct experiments. It supports C language programming by Arduino IDE and Graphical programming by Mixly and Scratch 3.0. (with Yahboom smart robot Database), and we also provide standardized tutorials that make it easy to operate. You can use Bluetooth App by Android phone to control the robot. All the experiments are connected by breadboard, which can not only train the students' programming skills but also improve their practical ability.
Feature
Smart robot and starter kit 2in1.
No-welding installation, copper pillar structure and Socket wiring design
Supports C language programming by Arduino IDE and Graphical programming by Mixly and Scratch3.0.
Provide 20 kinds of basic entry experiments and 12 kinds of smart car functions.
Functions: Tracking, Infrared obstacle avoidance, Ultrasonic obstacle avoidance, Following, etc.
Controlled by IR remote control, and Bluetooth APP remote control by Android mobile.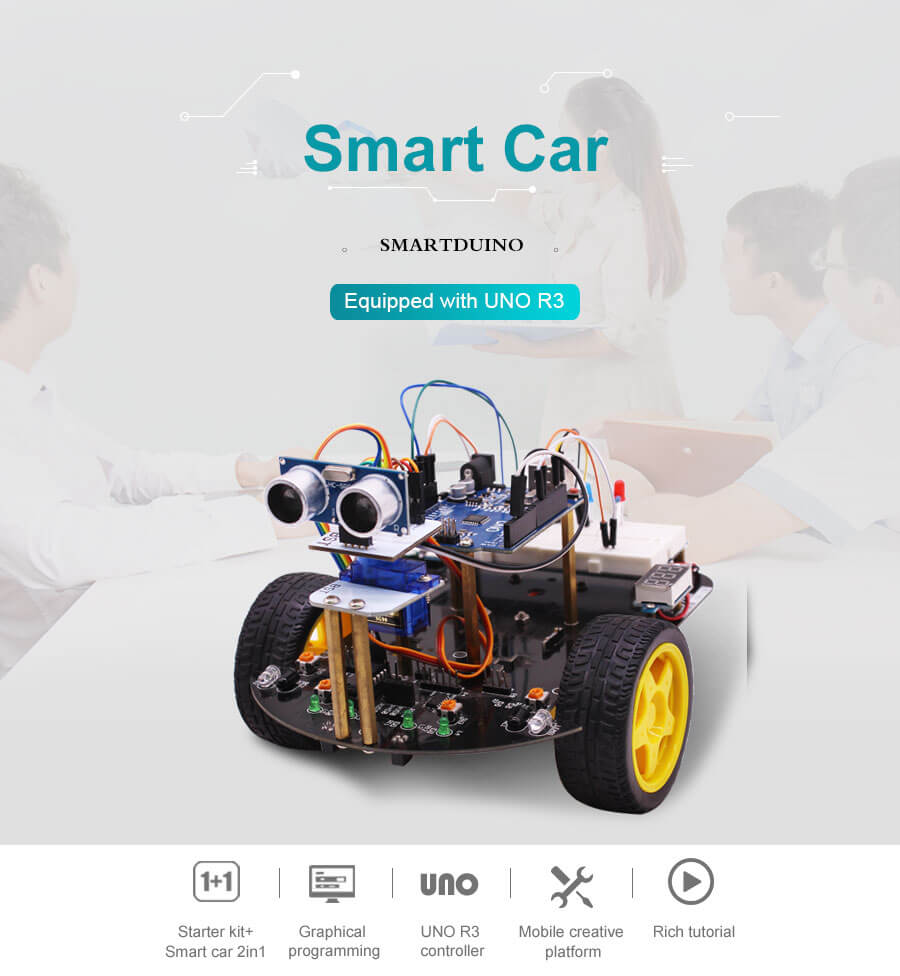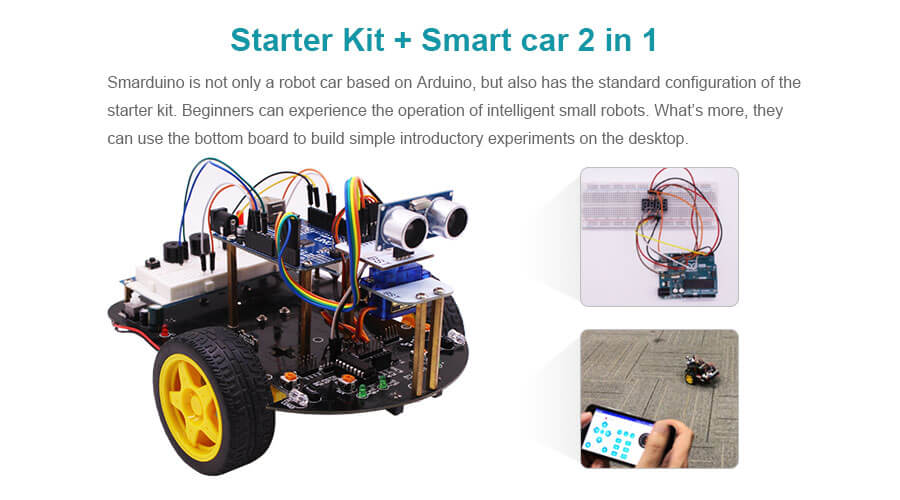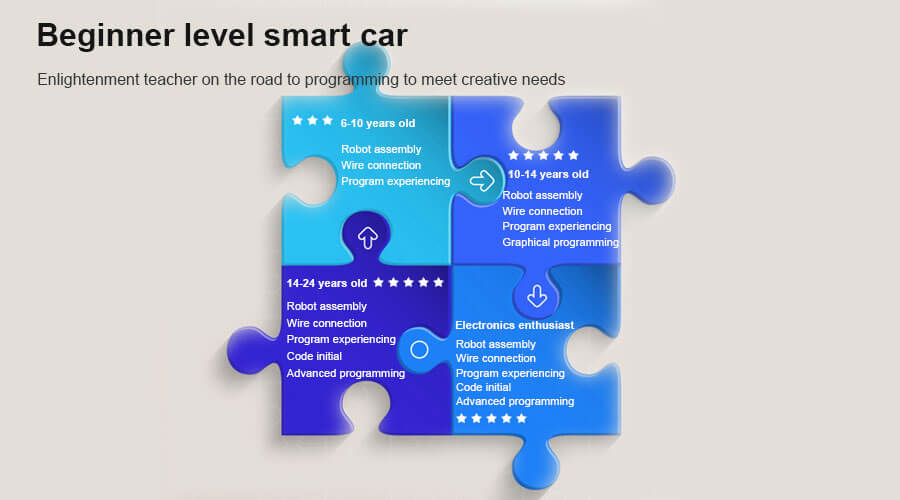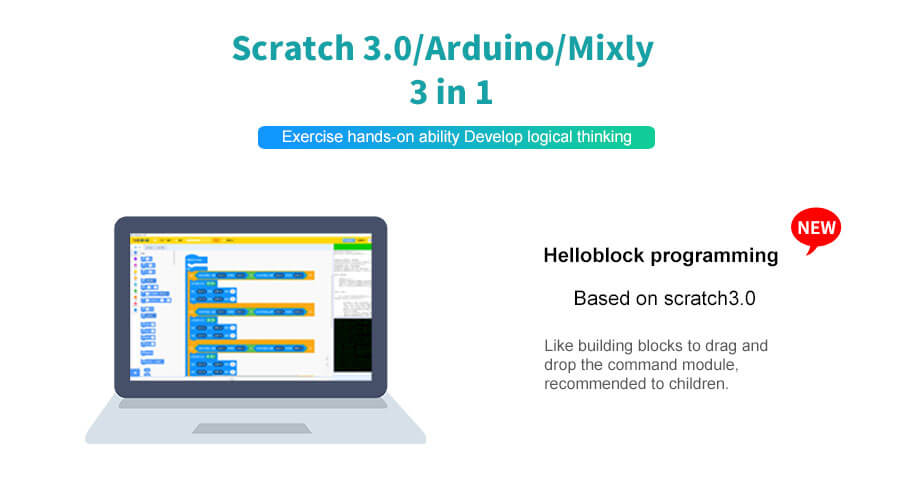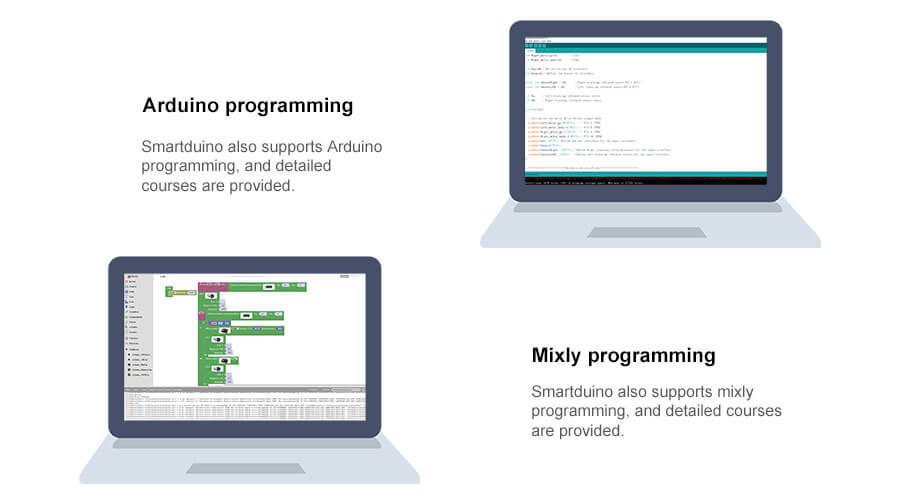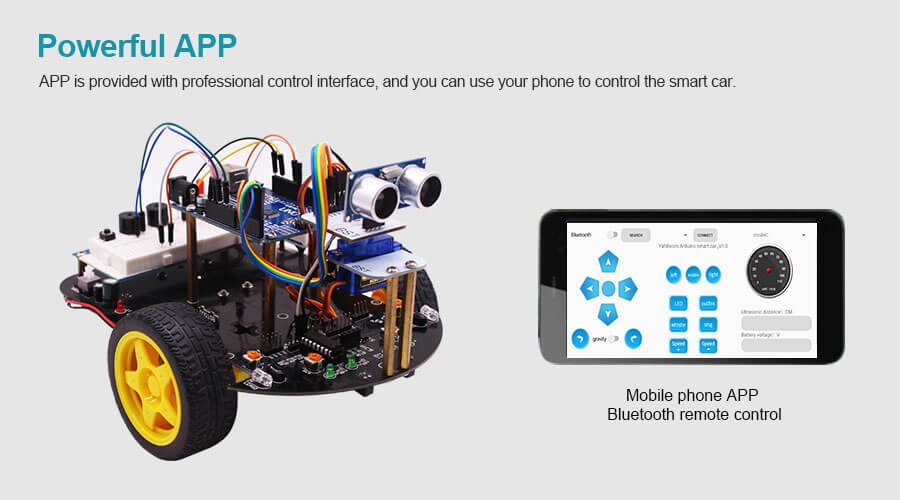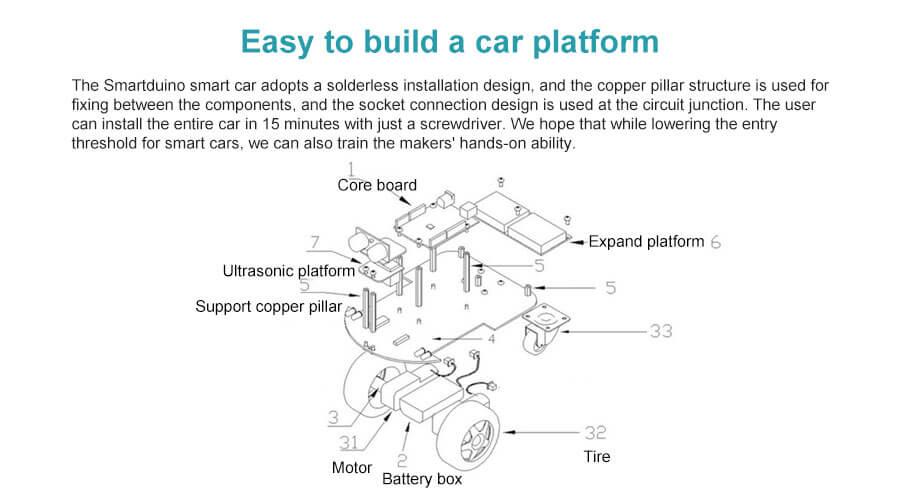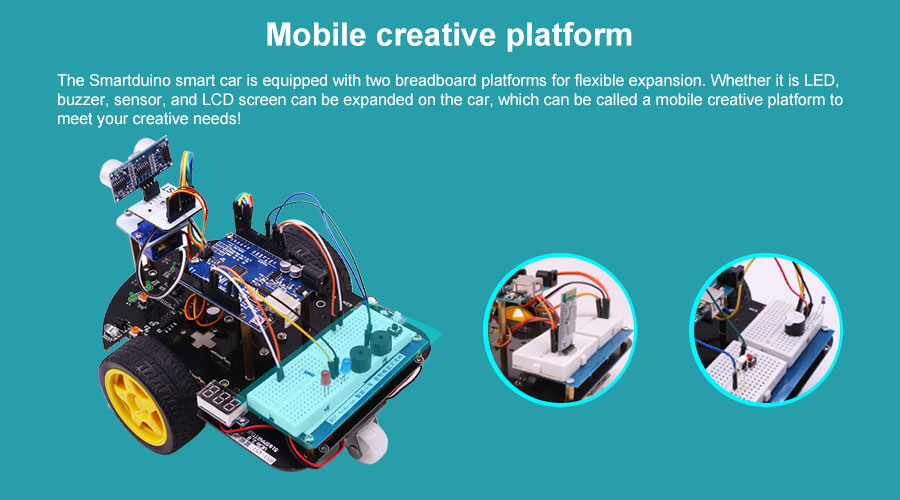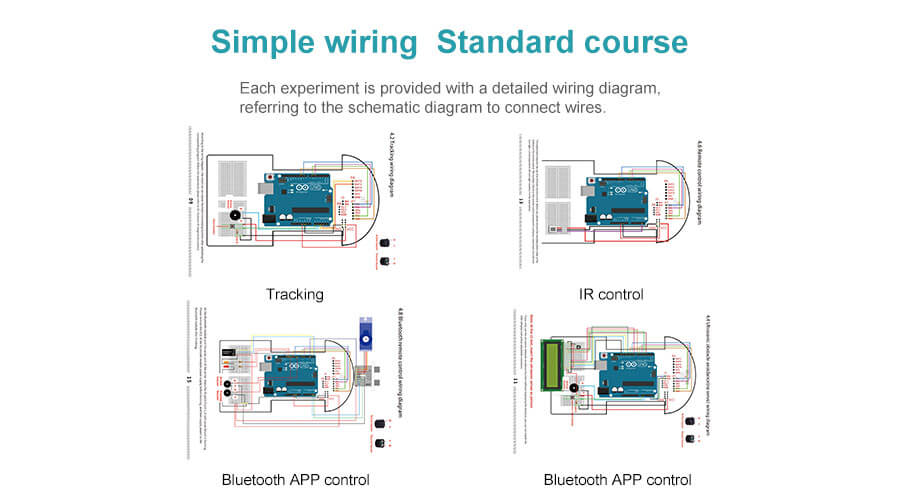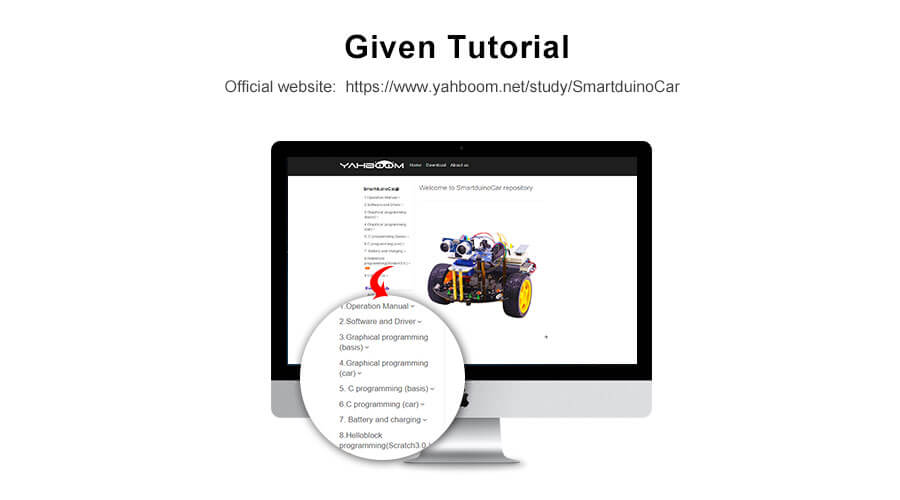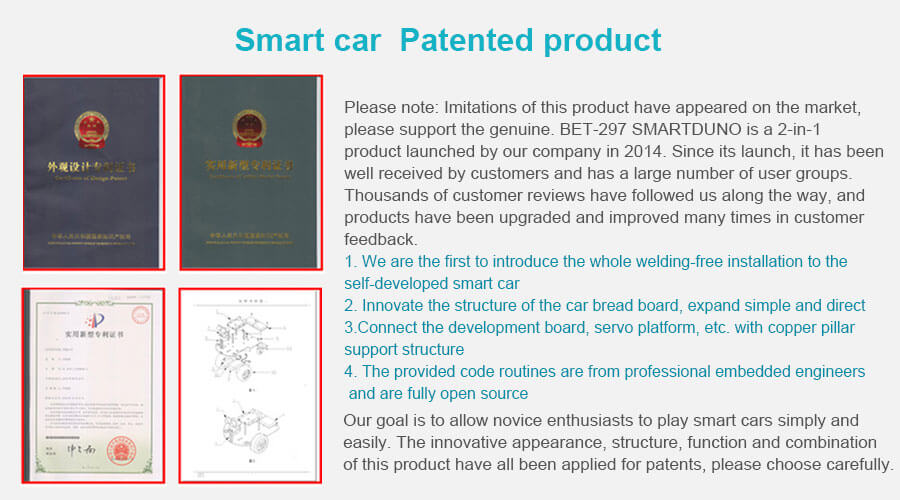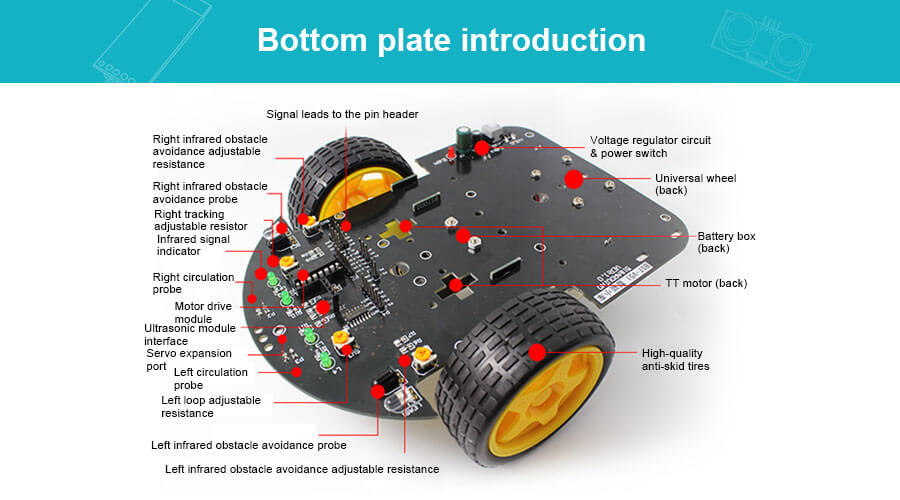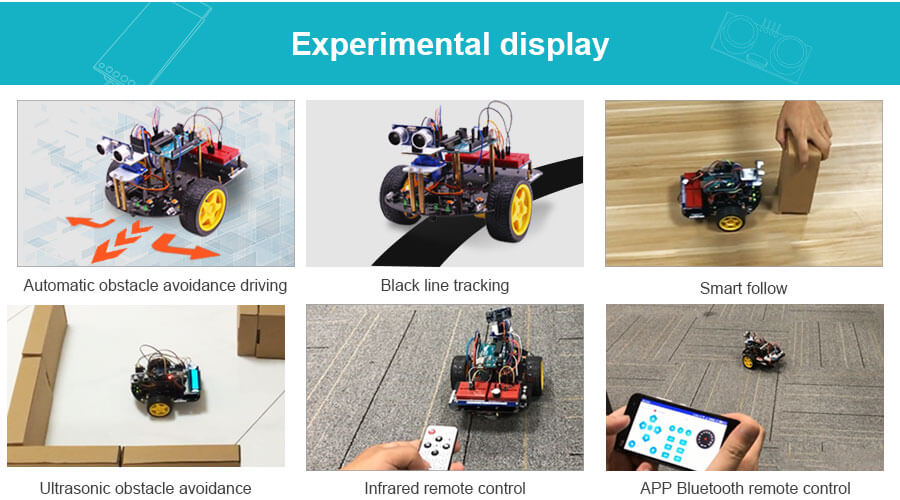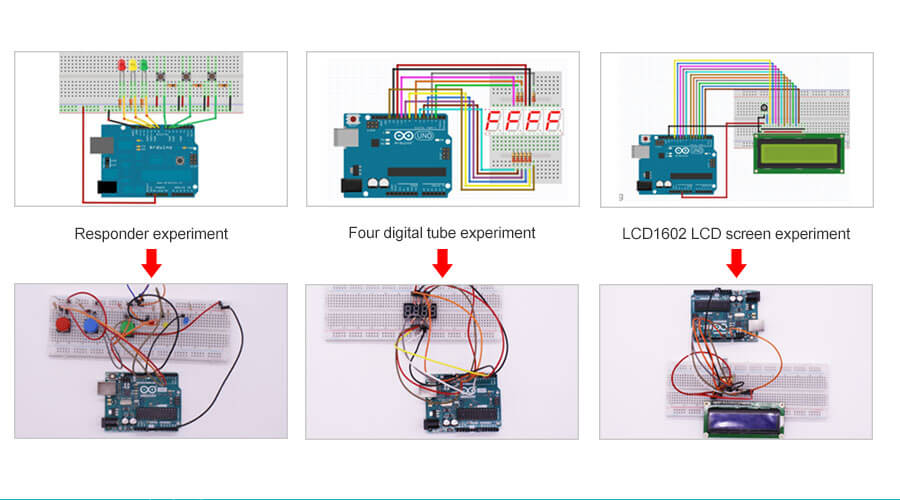 Detail
Package list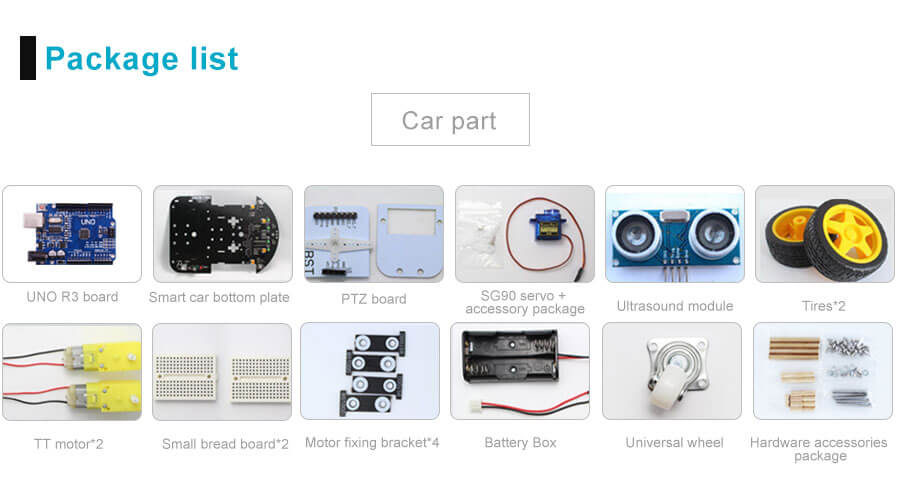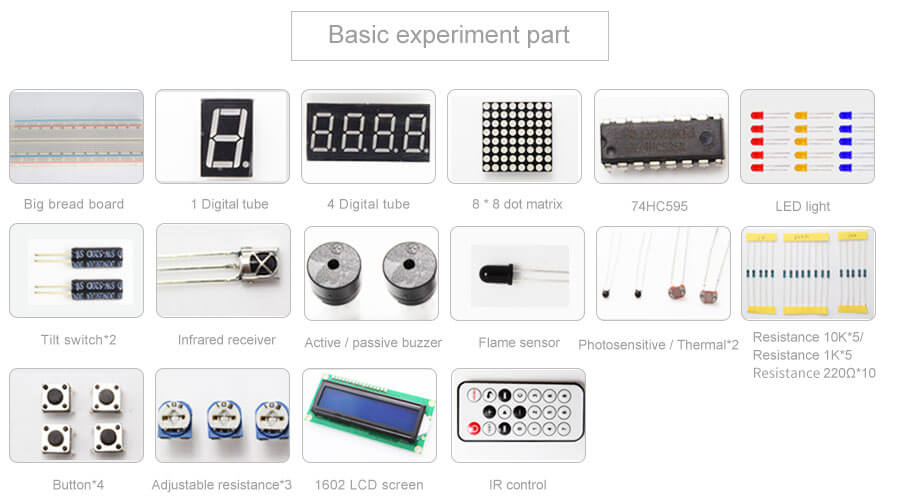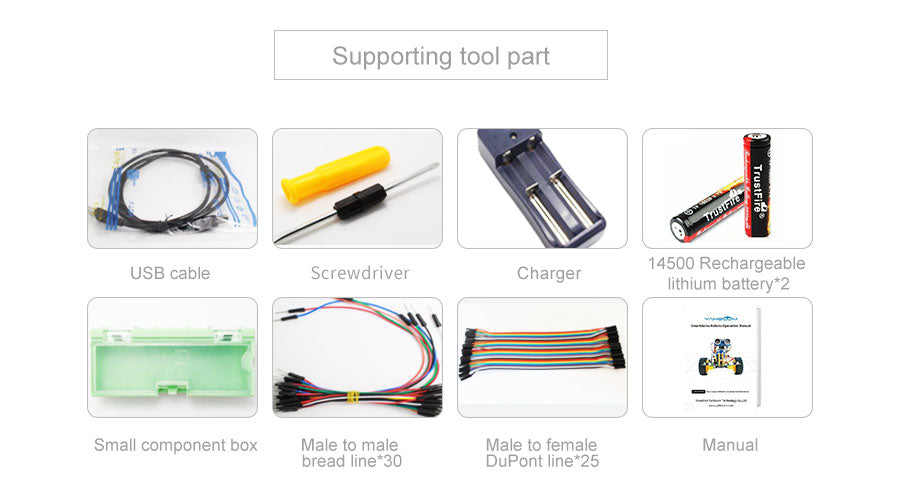 Documents
Shipping and delivery Information
Free Shipping Policy
Start Date - All Time
End Date - All Time
Order less $50 - You have to pay shipping fee, $10 by default (small package Air), or $20 by DHL.
Order over $50, less $150 - Your order could enjoy free shipping by small package Air, or $15 by DHL.
Orders over $150 - Your order will enjoy free shipping via DHL. In most cases, it takes 3-5 working days to arrive.
Exceptions - Orders from countries in Zone 9 are over $300 for free DHL shipping. To see a full list of countries in zone 9, click here.
Order less $100 - Shipping fee is $45 by DHL.
Order over $100, less $200 - Shipping fee is $35 by DHL
Order over $200, less $300 - Shipping fee is $25 by DHL
Orders over $300 - Free shipping by DHL
Some of our products come with battery and motor. If DHL is not available to your country, we will change DHL to UPS, Fedex, or special line, depending on your country.
Distributors are not eligible for free shipping.
Shipping Method
| | | | |
| --- | --- | --- | --- |
| Shipping Method | Delivery Time(business day) | Tracking No | Weight Limit |
| DHL | 5-7 | YES | No |
| UPS | 5-7 | YES | No |
| Fedex | 7-10 | YES | No |
| Special line | 10-15 | YES | No |
| Small Packets Air | 15-30 | YES | No |
After your package is sent out, you can see your tracking number on our website. We will also inform you via email about your tracking number and tracking link.
Customs, Duties and Taxes
Our term is FOB Shenzhen which doesn't include custom fee. You should expect to pay any amount charged by the government in your respective country. This includes, and is not limited to, duties, taxes and any extra fees charged by the courier company.
Payment & Security
Payment
PayPal
The main Payment method is Paypal. If you have paypal, that is great. You can simply place order and check out with few steps. If you don't have Paypal account, you can register it and pay by Credit or Debit Card.
Pay with Paypal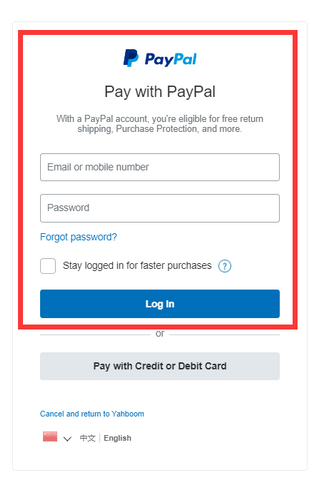 Pay with Credit or Debit Card
Your payment information is processed securely. We do not store credit card details nor have access to your credit card information.
Lots and lots of components
Great value for money. Some of the items are fiddly and tight in the breadboard however this probably indicates a good connection. I would say suitable for 12+
Made for arduino lovers
I loved this product ,I couldn't make this without the ,so I recommend this product for arduino lovers
I bought this to work on with my six-year-old son, and he loves it. He's a bit young to work on this alone, but the two of us have worked through a good deal of the projects and everything has worked and been easy to follow. We have a project in mind, and I thought this would be a good get-your-feet-wet Arduino kit. I'm quite satisfied.
Some people mentioned that the manual may be written in Chinese and converted to English. There are some minor grammatical issues in the manual, but hell, it's the schematics and code that are important. I can follow along just fine.
Great for learning electronics and UNO
This is a great starter kit for learning Arduino. I am having a grand time learning electronics with my daughter with this little kit. She wants to be an engineer and this kit is cheaper than most Lego sets. The Arduino is a micro-controller for doing simple processes with C programming language. The step by step tutorials really do foster learning the elements of using Arduino with hands-on exercises without getting overly tied down with needing a strong background in C programming. Rather, the included parts showcase what you can do with a microcontroller and serves as a great primer for getting into robotics. You will need to learn some new concepts along the way like how to use a breadboard, but that is covered in the tutorials. Having a computer with USB ports is essential to get started. You can do it!
Great starter package
I bought this to get started with Arduino and for the cost was a perfect fit. You can get started pretty quick with some real basic projects.
The only small issue was actually getting started with putting a kit together. This comes with CD with the Arduino software and some PDFs but I had to go to YouTube, google, Intructables.com and other sites to find very granular step-by-step guides for understanding how to get started... what things meant. BUT once you get into it a little everything falls together quick. Next would be to actually master the code/language which could take time.