Description
This is an AI programming educational robot based on Raspberry Pi 4B. It uses Mecanum wheels and TT motors with encoder to achieve 360°omnidirectional movement to suit more complicated routes. Equipped with all-metal 2DOF camera platform, HQ USB camera, and smooth WIFI transparent transmission, which can bring you a pleasant visual experience of FPV perspective. We also specially designed drive expansion board, which on board gyroscopes, servos, speaker and motor interface. Combined with PID, TensorFlow, KNN and other algorithms, it can realize color recognition, face detection, gesture/QRcode recognition, voice broadcast and Autopilot and other function. We also can control this robot car by APP or PS2 handle. We will provide a image with all the software and contains all the routine code. After configuring the network, you can interact with the car through the mobile phone.

Feature
Exquisite structural design in detail
Bumper strip are pasted around the outside to prevent damage to the car body.
Dust filter be installed on both sides of the internal Raspberry Pi board to prevent dust and extend the usage of the Raspberry Pi.
The bearing design of the bottom of the camera platformensures that the camera rotates stably and smoothly.
L-type camera wiring is convenient to pass through the hole on the side of the car body and plug into the USB interface of the Raspberry Pi board.
Customized driver expansion board
Integrated with MPU6050 gyroscope sensor, so that the car possess self-stabilization function.
With the voltage detection function, and the voltage data will be returned to the mobile phone APP for real-time monitoring.
Low-voltage alarm, anti-reverse connection socket, clear silk screen, prevent users from reverse connection.
Jupyter Lab tool + Python programming + OpenCV
No need to install any software, programming and debugging directly through the web browser.
Based on the popular Python programming language, cooperate with OpenCV for image processing.
Android/iOS multi-function APP
Color recognition, target tracking, face detection, gesture/QR code recognition, voice broadcast and automatic driving, etc,.
Four different modes: surround, pan, auto-stabilization, position mode.
Mecanum wheel debugging interface, which is convenient for users to learn relevant knowledge of omnidirectional movement.
Detail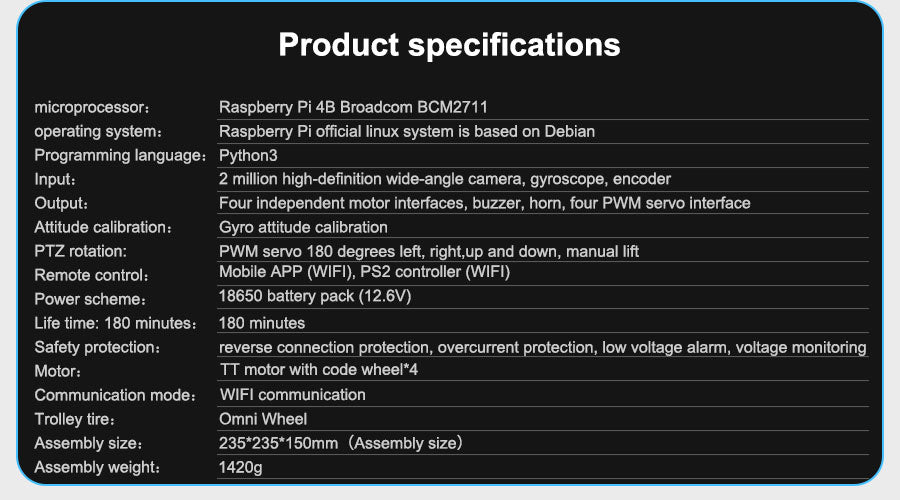 Package list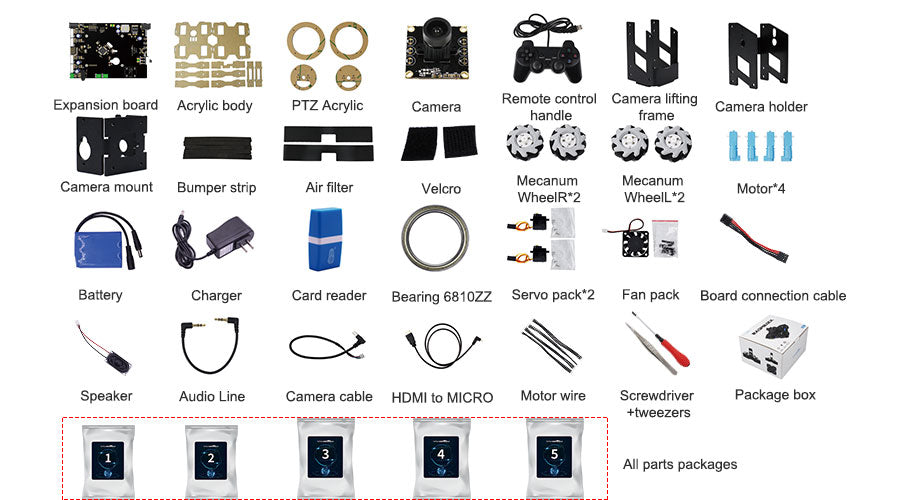 Tutorial
 Yahboom Raspblock AI smart car 
Shipping and delivery Information
Free Shipping Policy
Start Date - All Time
End Date - All Time
Order less $50 - You have to pay shipping fee, $10 by default (small package Air), or $20 by DHL.
Order over $50, less $150 - Your order could enjoy free shipping by small package Air, or $15 by DHL.
Orders over $150 - Your order will enjoy free shipping via DHL. In most cases, it takes 3-5 working days to arrive.
Exceptions - Orders from countries in Zone 9 are over $300 for free DHL shipping. To see a full list of countries in zone 9, click here.
Order less $100 - Shipping fee is $45 by DHL.
Order over $100, less $200 - Shipping fee is $35 by DHL
Order over $200, less $300 - Shipping fee is $25 by DHL
Orders over $300 - Free shipping by DHL
Some of our products come with battery and motor. If DHL is not available to your country, we will change DHL to UPS, Fedex, or special line, depending on your country.
Distributors are not eligible for free shipping.
Shipping Method
| | | | |
| --- | --- | --- | --- |
| Shipping Method | Delivery Time(business day) | Tracking No | Weight Limit |
| DHL | 5-7 | YES | No |
| UPS | 5-7 | YES | No |
| Fedex | 7-10 | YES | No |
| Special line | 10-15 | YES | No |
| Small Packets Air | 15-30 | YES | No |
After your package is sent out, you can see your tracking number on our website. We will also inform you via email about your tracking number and tracking link.
Payment & Security
Payment
PayPal
The main Payment method is Paypal. If you have paypal, that is great. You can simply place order and check out with few steps. If you don't have Paypal account, you can register it and pay by Credit or Debit Card.
Pay with Paypal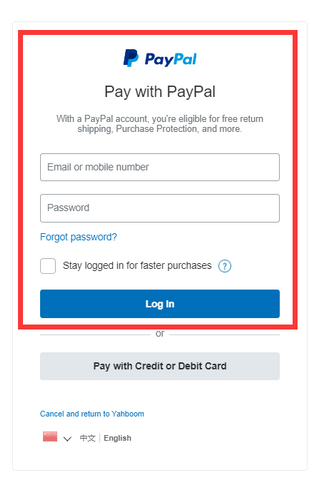 Pay with Credit or Debit Card
Your payment information is processed securely. We do not store credit card details nor have access to your credit card information.
Advantage:
--Fast logistics.
--The kit is very complete with no missing parts.
--The AI recognition function on the APP can be implemented normally.
Shortcoming:
--The Mecanum wheel cannot bear more weight, and I cannot carry more other objects.
One of the best engineered robotics kits
1. Very well packaged and engineered.
2. Quality of all components from electronics to mechanics is very very good.
3. Every step is clearly documented in the manual and the software is complete.
4. Assembly process is well-thought out with the electronics and software being tested before final assembly.
5. Excellent value for the price.
6. Everything works out of the box.
A raspberry Pi sweeping robot, but the acrylic board is easy to break.
I am a retired electronic engineer. I bought this car to pass the time with my grandchildren. All functions can be implemented well and the after-sales service attitude is also very good.
The APP remote control is great. My grandson and I both like this car, but apart from the camera bracket, the other parts are made of acrylic, which is easy to be damaged. My little grandson has smashed the upper acrylic plate of one of the trolleys through a gap.
I guess the acrylic material was used to save costs. But I think the price is not a problem, good quality deserves a higher price.
Thanks for your support to our product.
This car is mainly characterized by 360° omnidirectional movement of the Mecanum wheel, FPV AI visual recognition and automatic driving.
We have considered the fragility of acrylic, so we used two layers of acrylic on the side. If it is made of all aluminum alloy, it will increase the load on the mecanum wheel and cause the car to not walk normally. In addition, as you said, the cost of aluminum alloy material is higher, and we hope that more people can afford this car.
Exactly like a sweeping robot
I bought it last Christmas and only started using it last month. Yahboom provides good technical support.
This kit should be great for anyone who wish to get some hands-on experience with robotics or machine learning. With some additional work to connect it up with a faster computer for doing machine learning model training, it might even be a good tool for more advanced purposes.
The only shortcoming: The camera cannot be raised and lowered automatically, it can only be adjusted manually. It would be perfect if it can be raised and lowered automatically.
Advanced and awesome complete project
The kit is very well thought, good quality materials and includes everything to build the car with its parts and camera. It took me like 1 hours to build and configure the car following the manual steps. I may add some notes.
- you need the Raspberry Pi to build the car so be sure to order it when buying the kit.
- all the tools and parts are include, this car can be fully built without additional tool.
- there are also videos posted with tutorials if you get lost during any step.
- you can use and learn python coding (the real deal) but in the manual it is explained how to do it without coding skills using a visual interface.
Overall I think this is a great project to learn about robotics, programming and even electricity or servos. This is something really cool for any techie adult or even kids that want to get into this kind of challenge.
QUESTIONS & ANSWERS
Do you have open-source code for this mode? We can modify and improve on our own? Thank you!

Thanks for your question.
We will provide all control codes and communication protocols of the Raspblock car. These materials are open source, you can modify them by yourself.
We just don't provide the source code of the APP.