Description
Another version
Jetson NANO DOFBOT AI Vision Robotic Arm 
This Raspberry Pi robotic arm is mainly composed of an aluminum alloy bracket, a sturdy chassis, a multi-function expansion board, 6 bus servos and a 300,000 pixel camera. We built an operating system specifically for it based on Ubuntu20.04/ROD noetic, using Open Source CV and Python3 programming to create a series of AI vision functions. It can be controlled by APP, PC software, handle, JupyterLab. We provide detailed tutorials, open source codes and technical support services for Raspberry Pi players and AI beginners.
Features
Rich list of materials
Assembled Robotic arm.
Matching color-printed map and 4 different colors blocks.
PS2 gamepad.
32G TF card with image system.
Yahboom special cooling HAT to help heat dissipation.
User-friendly detailed design
Users can connect network by the mobile APP QR code on APP to get started quickly.
OLED displays IP address and Raspberry Pi CPU related information in real time.
12V 5A power adapter power supply, no battery life limit.
The chassis with suction cups is more stable and can be stably placed in any experimental environment at any time.
Exciting AI features
It can be controlled by Android/iOS APP, PC upper computer, handle, Jupyter Lab webpage online programming.
DOFBOT can realize Gesture recognition, color recognition, visual positioning, garbage classification, catch game, face tracking, building blocks stacking and other AI games.
User can make it learn to customize action groups, and complete the synchronous action of the dual robotic arm.
Excellent extensibility
The expansion board is compatible with Jetson NANO, Raspberry Pi, Arduino, Micro:bit four development boards.
Aluminum alloy structure is detachable, users can extend or shorten the length of the robotic arm.
We reserve 6 bus servo (DOBFOT only uses one) + 6 PWM servo, wireless controller receiver, WiFi/Bluetooth module, I2C and ultrasonic module interfaces.
Detail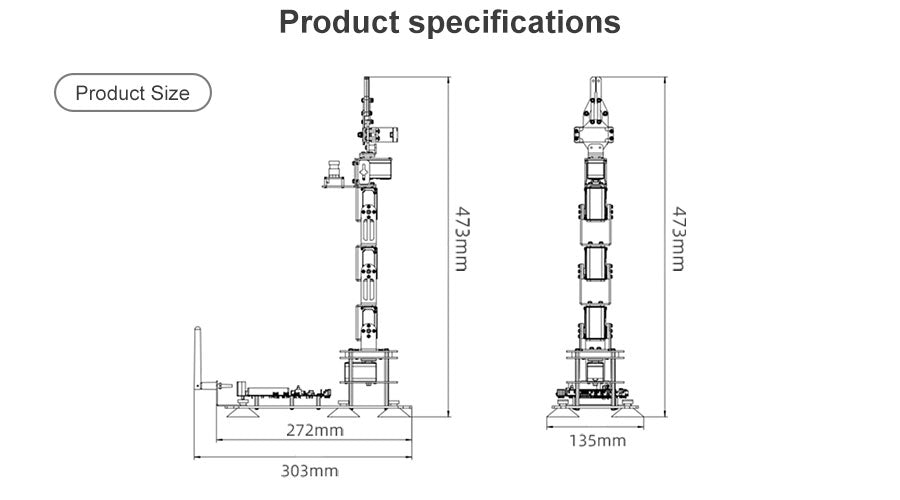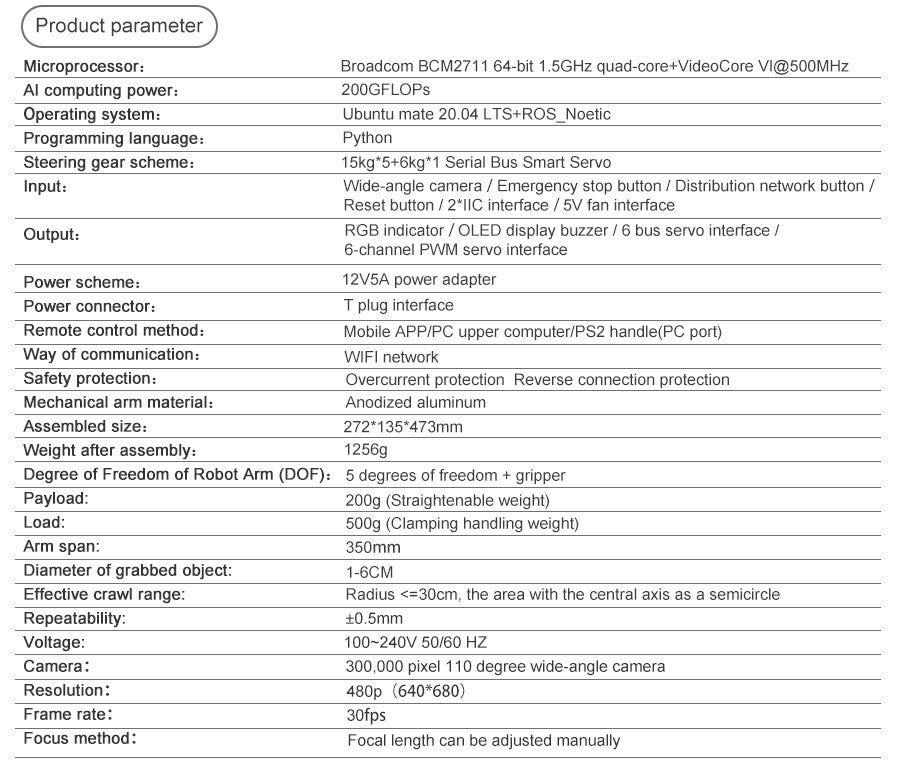 Package list
 Tutorial
Yahboom Raspberry Pi DOFBOT AI Vision Robotic Arm
Shipping and delivery Information
Free Shipping Policy
Start Date - All Time
End Date - All Time
Order less $50 - You have to pay shipping fee, $10 by default (small package Air), or $20 by DHL.
Order over $50, less $150 - Your order could enjoy free shipping by small package Air, or $15 by DHL.
Orders over $150 - Your order will enjoy free shipping via DHL. In most cases, it takes 3-5 working days to arrive.
Exceptions - Orders from countries in Zone 9 are over $300 for free DHL shipping. To see a full list of countries in zone 9, click here.
Order less $100 - Shipping fee is $45 by DHL.
Order over $100, less $200 - Shipping fee is $35 by DHL
Order over $200, less $300 - Shipping fee is $25 by DHL
Orders over $300 - Free shipping by DHL
Some of our products come with battery and motor. If DHL is not available to your country, we will change DHL to UPS, Fedex, or special line, depending on your country.
Distributors are not eligible for free shipping.
Shipping Method
| | | | |
| --- | --- | --- | --- |
| Shipping Method | Delivery Time(business day) | Tracking No | Weight Limit |
| DHL | 5-7 | YES | No |
| UPS | 5-7 | YES | No |
| Fedex | 7-10 | YES | No |
| Special line | 10-15 | YES | No |
| Small Packets Air | 15-30 | YES | No |
After your package is sent out, you can see your tracking number on our website. We will also inform you via email about your tracking number and tracking link.
Payment & Security
Payment
PayPal
The main Payment method is Paypal. If you have paypal, that is great. You can simply place order and check out with few steps. If you don't have Paypal account, you can register it and pay by Credit or Debit Card.
Pay with Paypal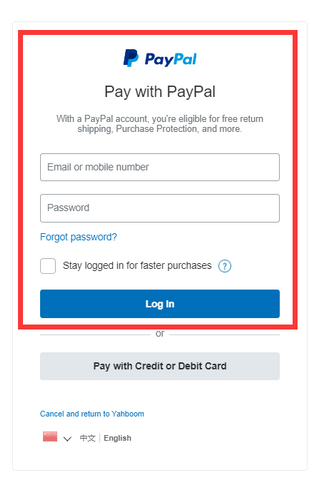 Pay with Credit or Debit Card
Your payment information is processed securely. We do not store credit card details nor have access to your credit card information.
Worked great for 2 days!
I like its metal structure!
4-star review from a Raspberry Pi fan and AI programming enthusiast for Yahboom Pi robotic arm
----The transportation and appearance of the package.
It's the first time for me to buy this kind of programming product on an unfamiliar website. At first, I was worried about whether they could ship the goods on time. Yahboom's service surprised me. I received the package from China 5 days after I paid. (Unfortunately, I can't add pictures here, otherwise I will definitely share my unboxing process) All parts are placed in the black sponge in order, so even after long-distance transportation, items did not be damaged)
---- Product itself:
The overall structure of the robotic arm is assembled (in fact, I prefer to assemble this robotic arm by myself, I really like the structure of aluminum alloy). I disassembled one of BUS servos,which inside is a metal gear, which looks good quality.
The kit contains a TF card. After inserting the TF card and connecting to the power supply, the robotic arm will start normally. (Convenient design for users)
----Its function.
As shown in the video, almost all functions on the APP can be implemented normally. The only thing that makes me feel a bit difficult is color recognition. When I used it for the first time, my robotic arm could not recognize red, only recognize green and blue. I calibrate the color according to the instructions on the APP.
But I have to say that the Raspberry Pi's computing power is limited, which leads to many complex functions that cannot be implemented perfectly, and video freezes will occur. Perhaps another Jeston version of the robotic arm will perform better, so I can only give this product a 4 star review.
Recomendable para trabajar con los pones de microbit
Buen producto. Muy interesante que tenga la opción de alimentar a 5 v.
- Excellent toy to help educate Python AI programming
I bought it to learn Python programming. There is a black sponge in the box, and each part is placed in its own position. It seems that everything is reasonable. Although there were some problems when connecting to the wireless network, the technical support responded to my email within 24 hours and helped me solve the problem.
Now more and more people around me are learning Python programming, and I would like to recommend this robotic arm to others.
The performance is nice, but the price is a bit expensive.
The performance is nice, but the price is a bit expensive. Compared with other robotic arms on the market, both in terms of structure and function, there are obvious improvements. For example, when rotating quickly, the picture does not lose frames or freezes. Object recognition and gesture recognition are also very effective.
Codes for all functions are provided for free.