Yahboom 4WD smart robot with AI vision features for Raspberry Pi 4B
Description
Yahboom Raspberry Pi 4WD Smart Robot is specially designed for educators, students, and Raspberry Pi enthusiasts. Most of the components are connected with screw, copper pillar and anti-reverse socket, which is the same as our other smart robots. The difference for our 4WD robot is that we use the latest Raspberry Pi 4B board as the core controller and HD camera with two degrees of freedom. Through the 5G WIFI network of Raspberry Pi, the real-time transmission of HD video can be realized. Coupled with the high-quality Bluetooth 4.0 module, so we can control car by Android/iOS mobile APP. In addition, we have created a series of AI visual gameplay based on OpenCV, such as face detection, color tracking, gesture recognition, object detection, etc. Users can not only learn about the robot car with our robot kit but study the Raspberry Pi 4B board included in this product separately. We can match it with a mouse and a keyboard to form a microcomputer, plus various sensor modules and communication modules so that you can create more possibilities.
Feature
This robot kit is easy to assemble and features aluminum alloy chassis, powerful four-drive motors, metal motor mount, and High-quality battery.
BST-4WD multi-functional expansion board is equipped with interfaces of various sensors and communication modules, and it is compatible with four core controllers: Arduino UNO, 51 controllers, STM32 and Raspberry Pi.
It supports multiple functions: Intelligent light-seeking, Tracking, Ultrasonic obstacle avoidance, t

urn off the fire with a fan

, etc.
It supports multiple AI functions: Face detection, color tracking, object/gesture/QR code recognition etc.
Some holes are reserved in the external structure for users to expand by themselves.
Users can use C language programming and Python programming.
This robot and camera platform can be controlled by APP remote control by Android/iOS mobile. And the Raspberry Pi comes with 5G WIFI for real-time transmission of  HD video.
Product parameter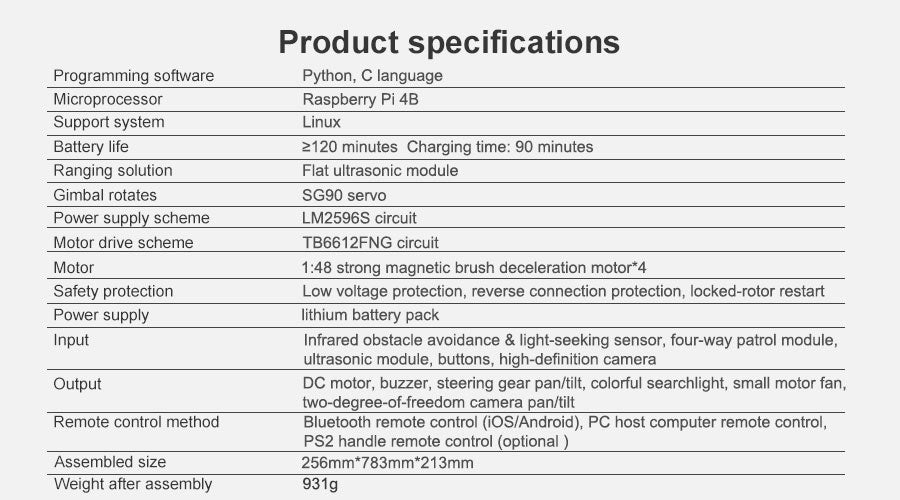 Package list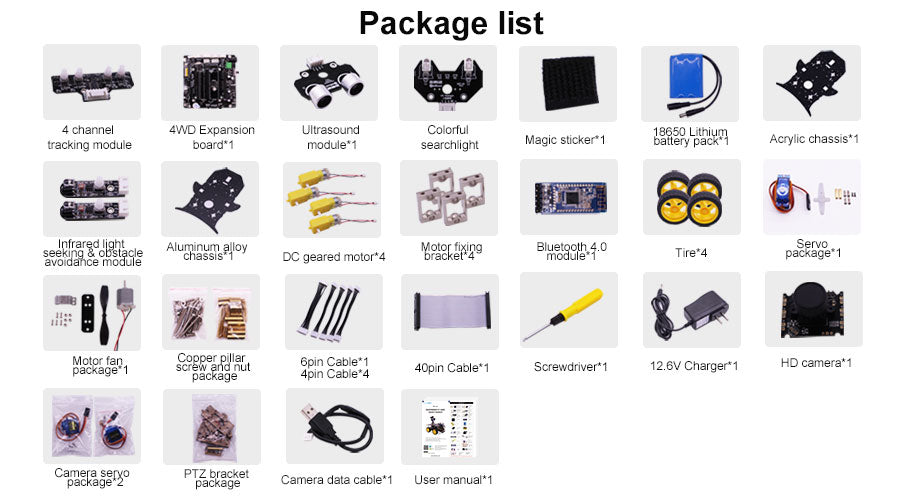 Documents
How do you know when do charge the battery pack? The Lower power indicator light on the expansion board is on when I charge it, will the light go out when the battery charge is low?

Thanks for your question.
The two indicators on the expansion board are 12.6V voltage indicator and 5V voltage indicator.
In generally, the working time for a fully charged battery is 180 minutes, you can charge the battery pack after using it for such a long time.
Please remove the battery pack from the car before charging, and then use the charger provided by us to charge the battery pack.
During charging, the charger indicator will be red and the full charge indicator will become green.

IPhone Bluetooth device not listed. What should I do?

The iOS phone see the Bluetooth module of robot car.

 

About how to connect Bluetooth, you can view this video.

 
As a Python programming beginner, raspberry fan.
I really like using this robot car, it has been with me for two years of studying.
From basic linux commands to simple Python programs; Then, some interesting functions, such as: outfire, tracking, automatic avoid, seek-light, APPcontrol, etc.. Finally, some more complex AI visual recognition function.
I learned a lot from it.
Although his appearance is not very cool, but the function is very powerful, the hardware configuration is complete, the materials and codes are also very rich.
My Yahboom Robot Saved My Sanity in 2020!
In a nutshell: Great project with wonderful tech support! Rating 4.5/5
This has been a rough year full of natural and financial disasters, divisive politics, and a pandemic that kept people confined to their homes. Medical experts have urged us to keep our distance during holiday activities, including children trick-or-treating on Halloween. That's how I came upon the Yahboom Raspberry Pi 4WD AI Robot Kit. I was looking for a sturdy little robot capable of shuffling candy to children from a distance. While I had studied programming in college over 25 years ago and dabbled with a few Linux and Raspberry Pi desktop systems, I had virtually no experience with electronics or robotics. This Yahboom kit looked to be fairly durable, strong enough to carry fun-sized candies, rather customizable, and relatively inexpensive.
The kit and a Raspberry Pi computer board arrived in early October. All the parts were included along with diagrams identifying the acrylic supports, sensors, servos and motors. There were lots of screws and support posts with lengths ranging from 8-22 mm and diameters of 2-3 mm, so a metric ruler was essential. Over the course of 4 afternoons and evenings, I studied the assembly instructions and the online construction videos and successfully put it together. Be sure to refer to both for best results.
It worked! Not at first. I failed to adequately charge the battery beforehand. The Bluetooth app didn't link as well until I moved it from my glitchy phone to a cheap tablet. (You'll also want to connect via WiFi to see the video output.) Once those issues were addressed, this robot rolled around at a brisk pace! It worked on my floor, carpet, and a gently inclined cement driveway. The app can also make it beep, change the lights, and pretends to put out fires with is front-facing fan. Once some articulated clips and Halloween decoration were added, it was ready to go, and the kids loved it! The 'Candybot' swiftly delivered their treats while safely maintaining up to a 20-foot distance. Mission accomplished!
There were a few glitches. The tracking module sits less than a cm from the ground, so when I clumsily steered it onto some little feet, the screws that held it came loose and required some adjustment. The eyes (ultrasonic modules) remained off center, likely due to impaired construction. I never got the camera or its servos to work correctly, so I detached that part for the Halloween festivities.
That led to one of the best reasons to get this product: the Yahboom tech support is fantastic! Years of unhelpful tech support elsewhere left me with low expectations when I sent my first email to support@yahboom.com one Saturday night. Surprisingly, a detailed response arrived within 30 hours with an apology for the weekend delay. Our correspondence has continued over the last few weeks as I report back on the results on their tech recommendations, sometimes hearing back within a couple hours. We've figured out that the camera was a dud and will be replaced, and some clumsiness impaired my installation of some servos. The support personnel walked me through adjustments to the C code to fix the ultrasonic module orientation. It was almost as if I had a friend across the world with a vested interest in my success with the project. Amazing!
A few bugs have yet to be resolved, which is why I'm rating it as 4.5 instead of a full 5, but I'm hopeful, and the Yahboom robot already served its purpose wonderfully. Moreover, this project provided a therapeutic distraction from all the chaotic news this year. Yahboom support also helped introduce me to the online coding repository from which users can work with more advanced features such as collision detection, light tracking, facial recognition, and gestural controls. So, the basic construction is easy enough for a motivated middle school or high school student to manage independently, but the complexity can scale with your available time and level of interest.
Potential buyers should know that most features work well with a Raspberry Pi 3, but updates made just a few weeks ago provide enhancements for those using the newer Raspberry Pi 4, including as the ability to remotely access the device's integrated Jupyterlab programming environment for adapting C or Python code for the Open Source Computer Vision Library and related AI features. (One unexpected perk: You can attach a keyboard, mouse, and monitor to the installed Raspberry Pi and have a full computer environment to directly access and compile the code, access the internet, and even dabble with its desktop environment. It's like a quirky computer case, although the cords will limit your robot's mobility.)
In summary, I am grateful to Yahboom for putting together this kit and providing fantastic tech support, as it has helped me and others in my neighborhood enjoy Halloween activities and provided a fun pastime over the past month and likely for the months to come!
Great thing. Instructions are not very clear.
want to know what GPIO Pin # control what ????
Hello, I have the Yahboom 4WD smart robot with WIFI camera for Raspberry Pi 4B/3B+
I have some questions, can someone please answer,
(1) is the Raspberry Pi PIN # 20 control the Left side front/rear motors ?
(2) is the Raspberry Pi PIN #19 control the right side front/rear motors ?
(3) what does raspberry pi Pin # 21 and 26 control ?
(4) which pin# receive the ultrasonic sensor signal ?
i need the information to program my python program
thank you very much
Brian Fu
Very good!
Bluetooth passwort is 123456 (just try 1234 - 12345678)