Yahboom Pi-motion AI camera platform for Raspberry Pi 4B
Description
This Pi-motion AI camera is perfect for both artificial intelligence beginners and Raspberry Pi fans. It is based on the Raspberry Pi board, equipped with a profession multi-function expansion board, high-quality metal servo, and a beautiful and wear-resistant aluminum alloy shape. For this product, we use Python programming language and OpenCV face recognition visual library to realize color tracking, voice broadcast, face recognition, mailbox alarm, QR code recognition, photo storage, whistle and other functions. It supports Android/Apple mobile APP control, we also provide PC control software, which can control Pi-motion by the PC. In addition, it also supports two kinds of distribution methods: network cable insertion and wifi wireless control. We also provide more than 20 detailed courses and some control programs for reference.
Feature
Based on OpenCV,  AI Pi-motion camera platform is equipped with hardware control, voice technology, visual recognition processing and network programming. We have rich example tutorials to teach you how to build Raspberry Pi machine vision programming environment and help you develop AI in a short time.
Pi-motion Raspberry Pi AI visual platform support Android/ISO mobile control. It can finish many functions such as face recognition, color tracking, voice broadcast, facial expression recognition and so on.
The Pi-motion Visual platform is equipped with an AI expansion board designed for the Raspberry Pi. It can be directly inserted into the Raspberry Pi without cumbersome wiring, and can also externally connect speakers, motors, servos and other parts.
The Pi-motion vision platform needs to be equipped with a network for the first time. There are two ways to distribute the network: one is to plug directly into the network cable, no configuration is needed; the other is wireless control via WIFI, following the instructions for simple distribution network.
The Pi-motion visual platform is entirely made of aluminum alloy. The surface of the aluminum alloy is oxidized and blasted. In addition to the aluminum alloy, it is equipped with two metal digital steering gears, HD wide-angle camera, Raspberry Pi AI expansion board. and other external parts!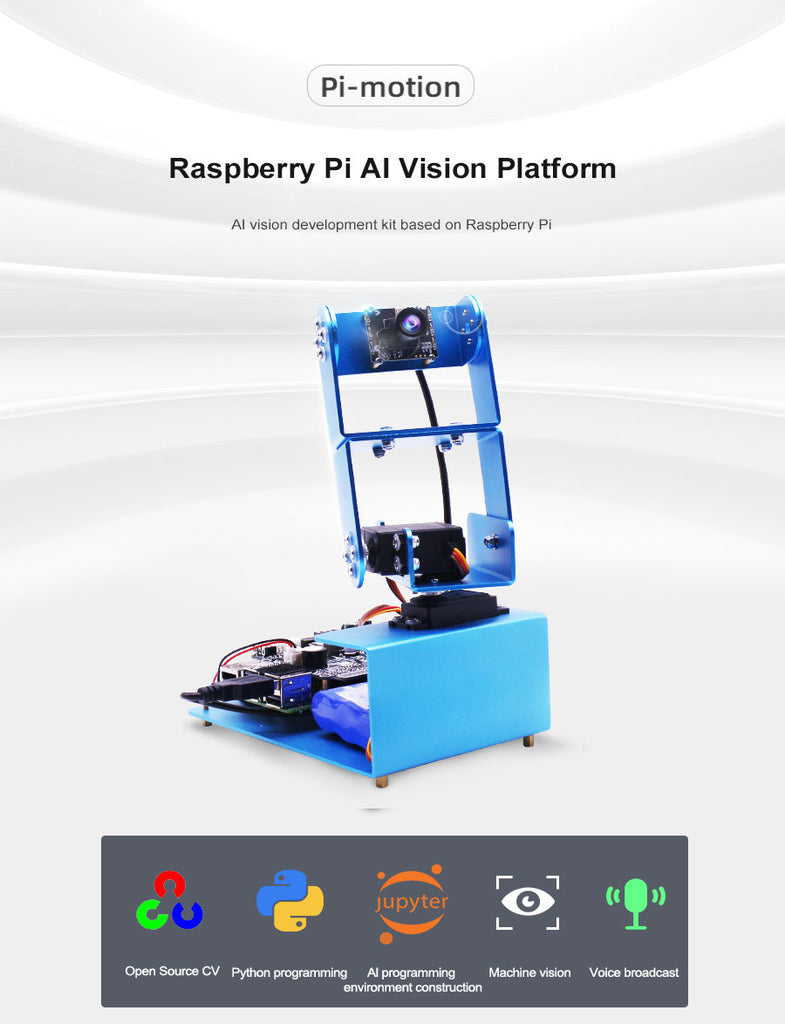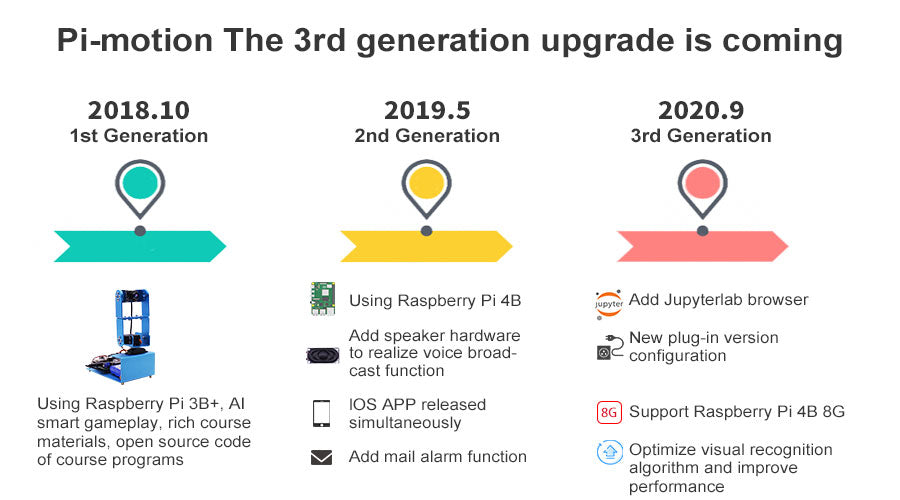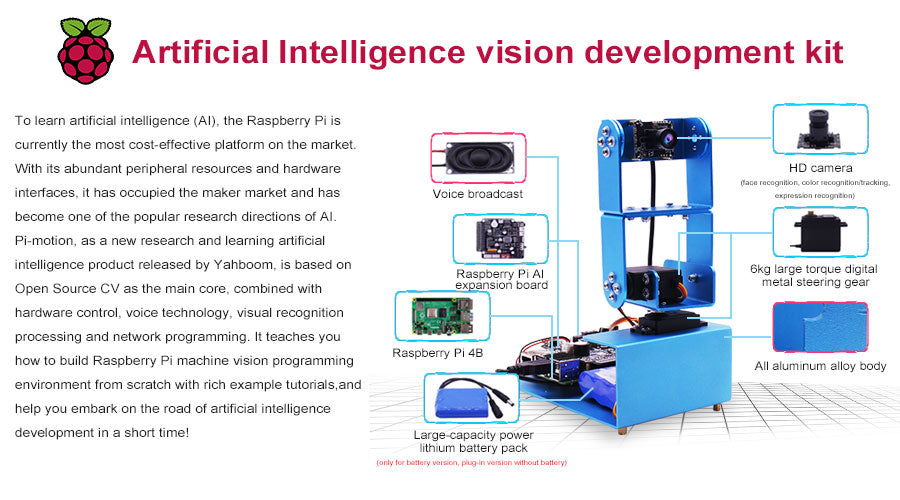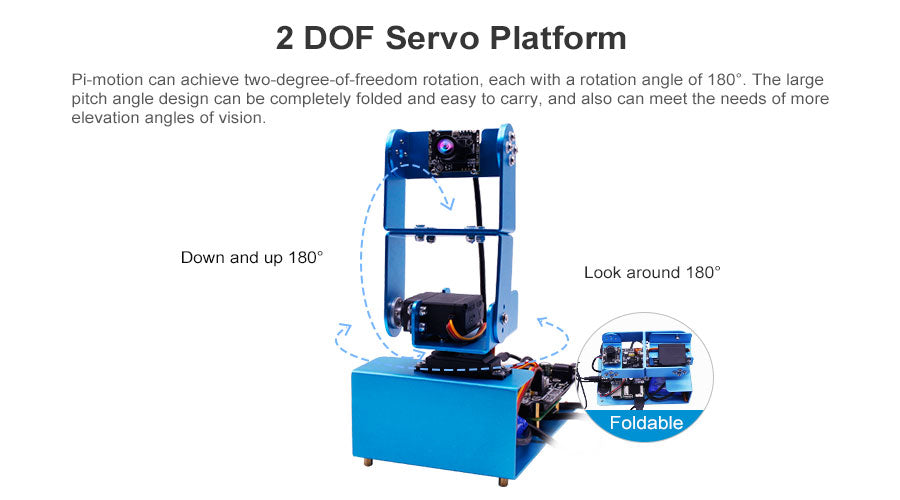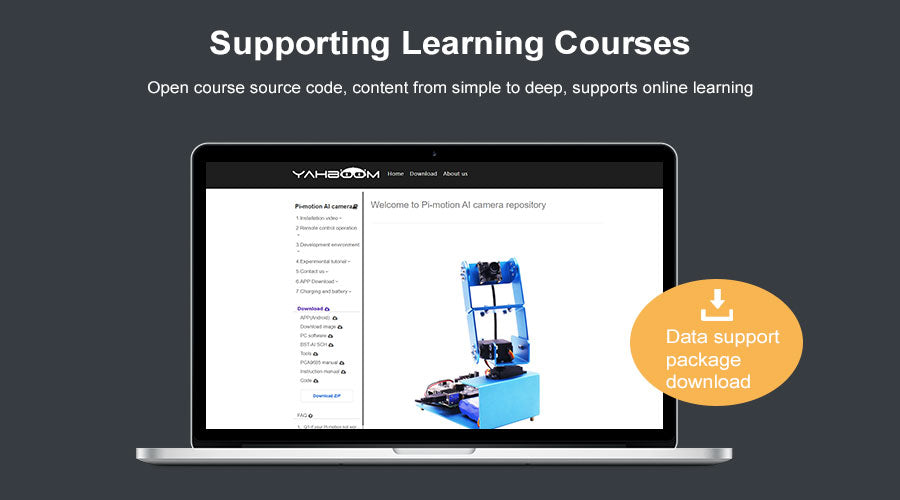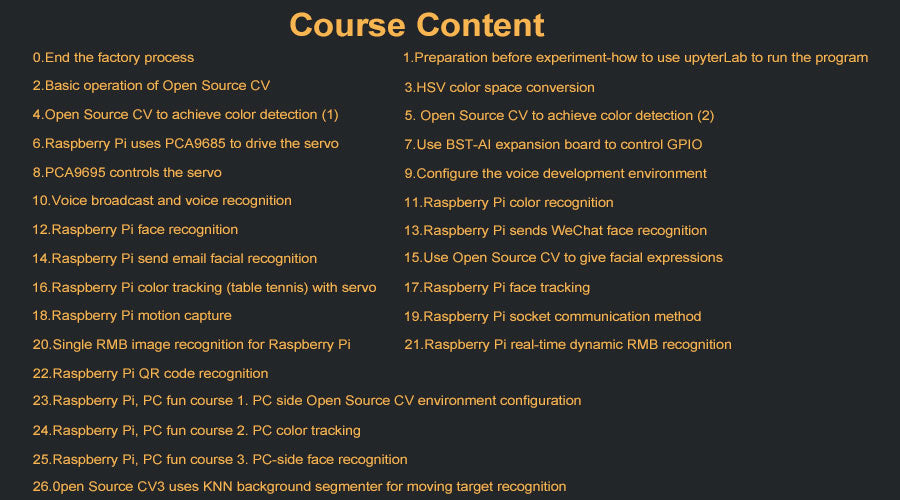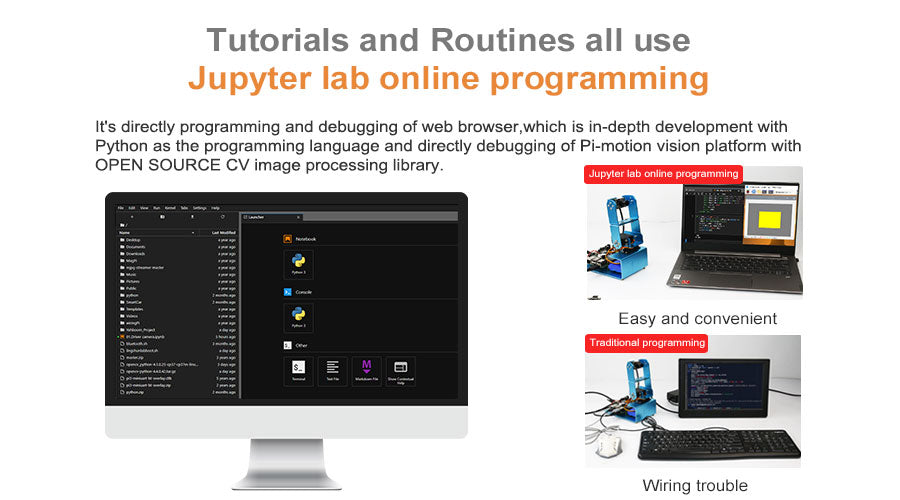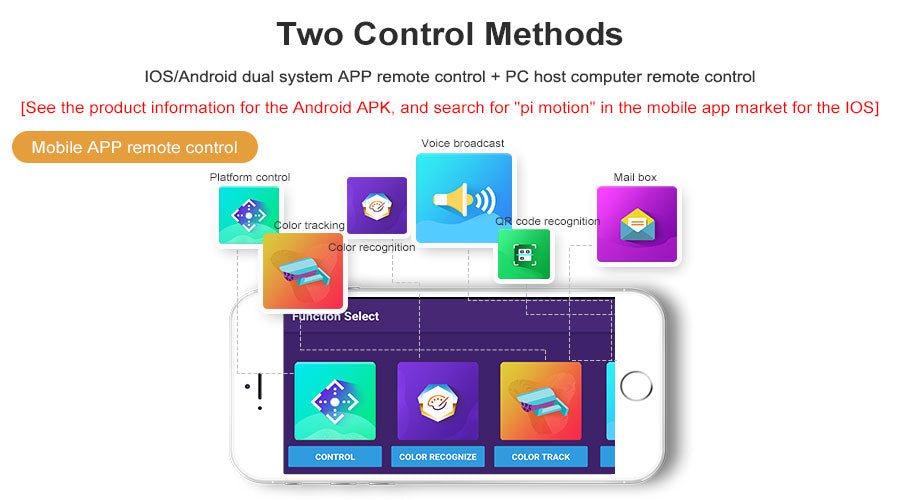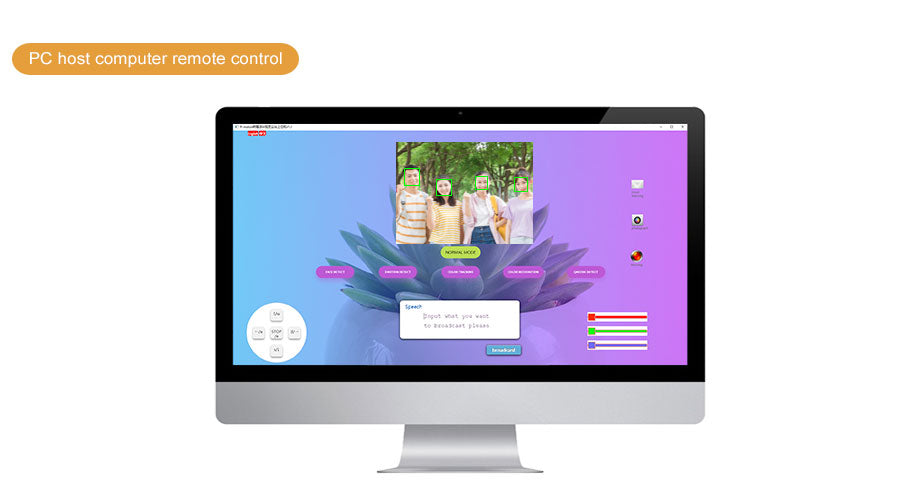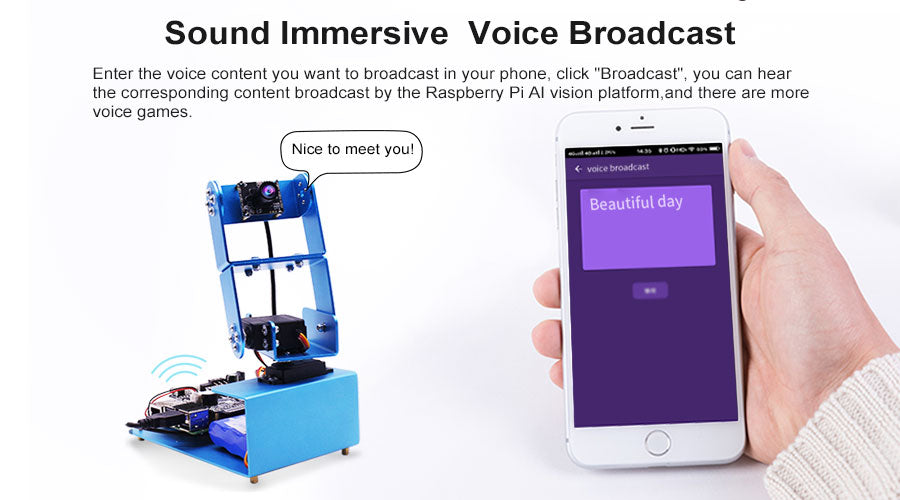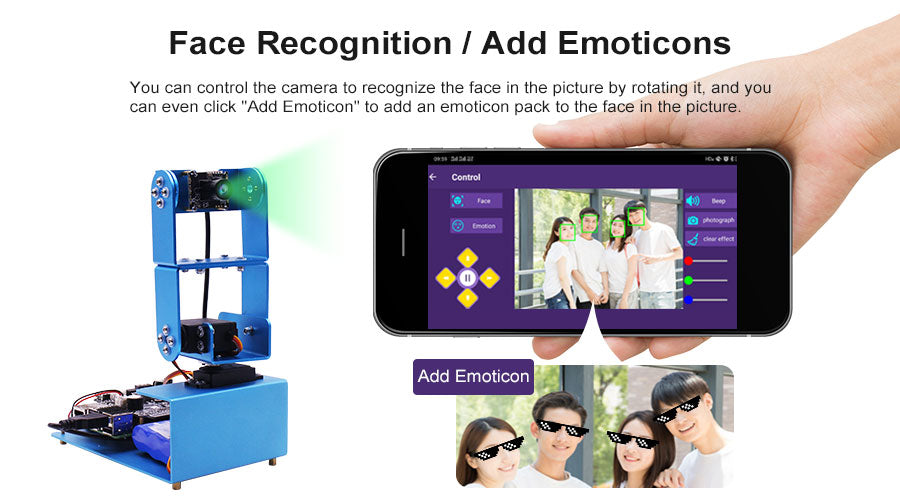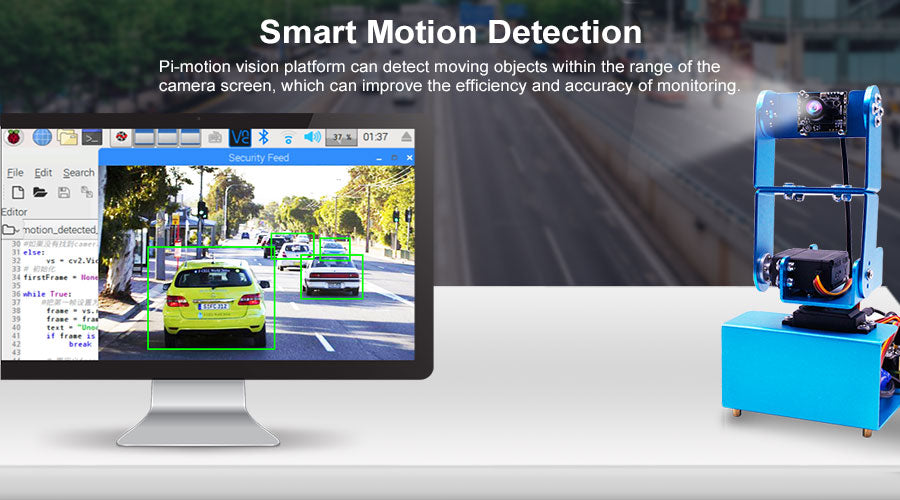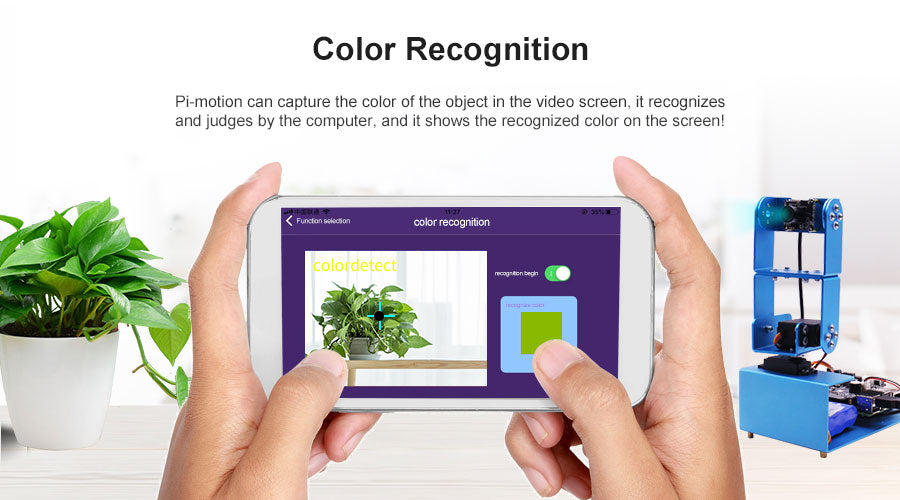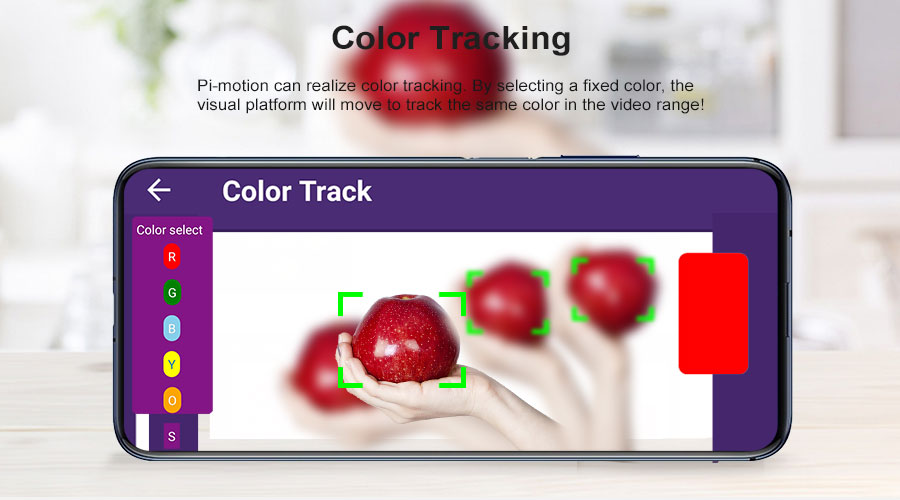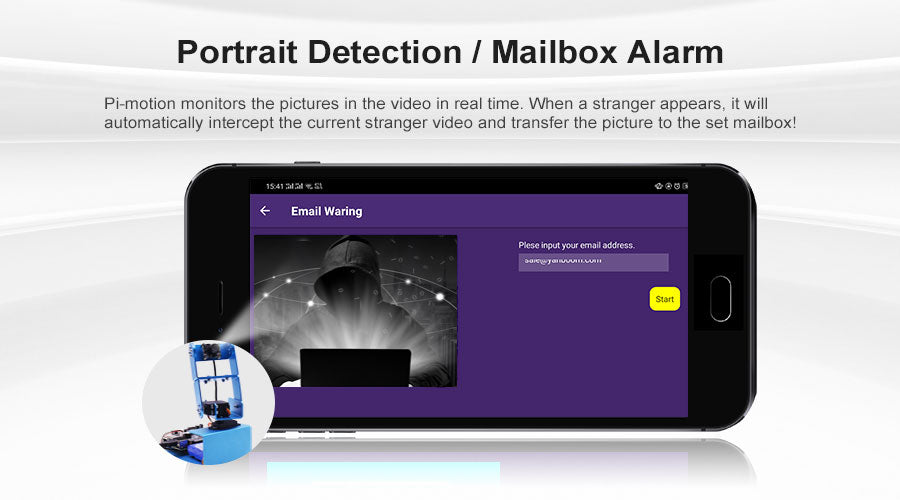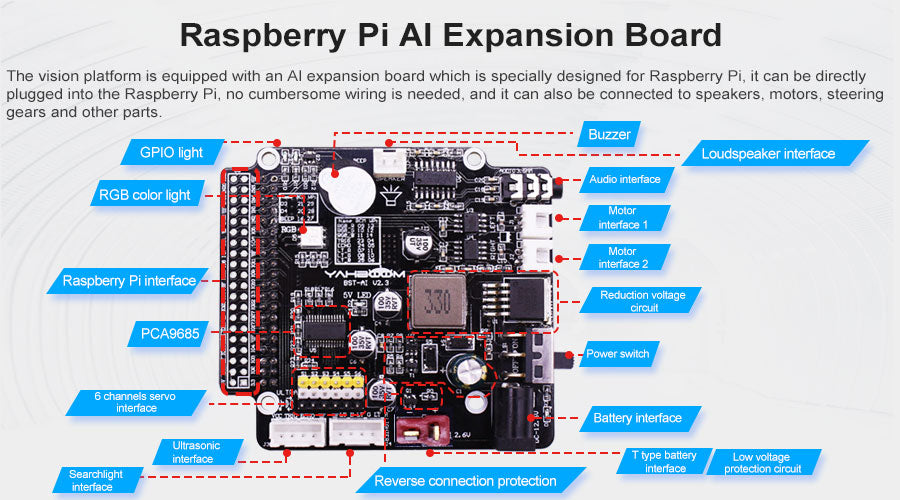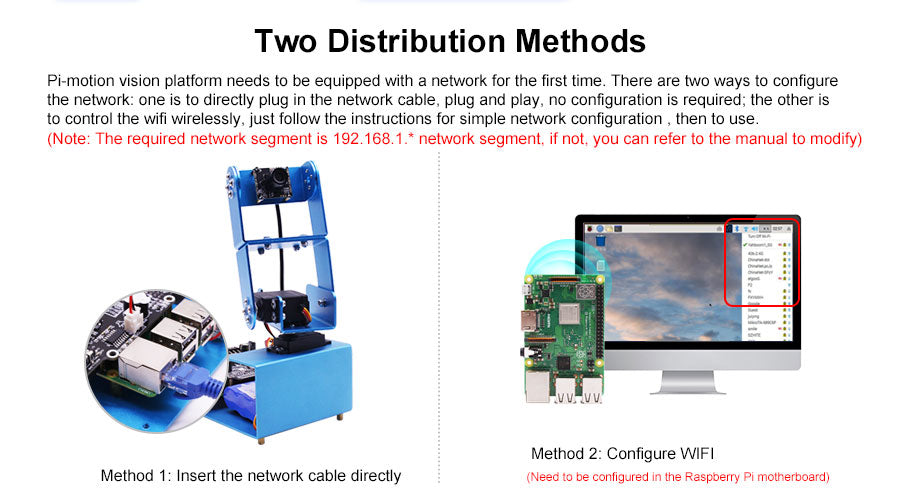 Detail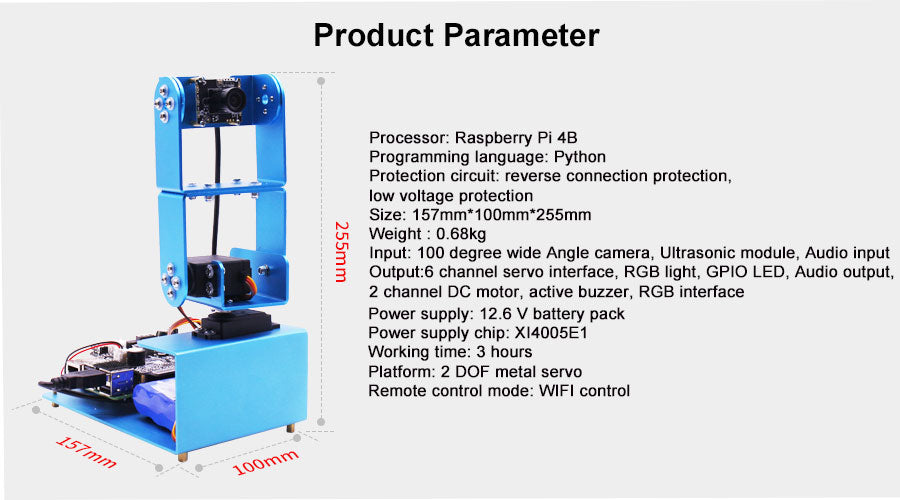 Package list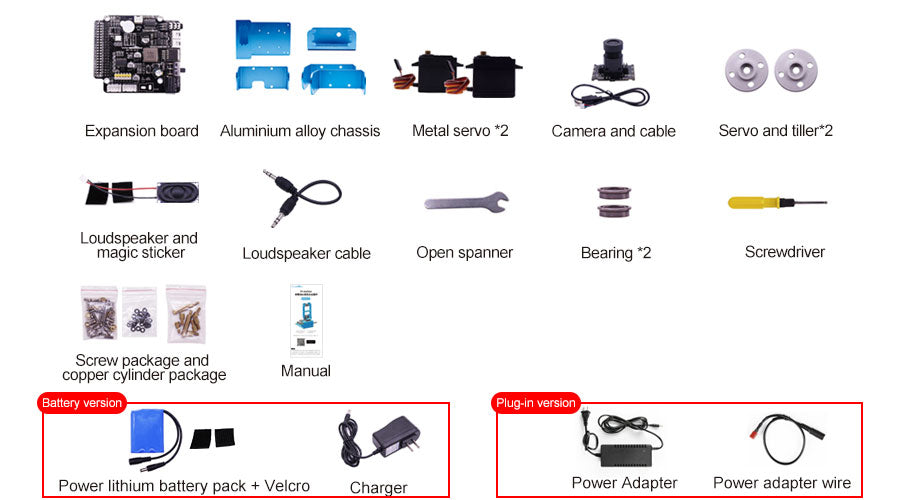 Assembly Instructions
Documents
QUESTIONS & ANSWERS
Have a Question?
Be the first to ask a question about this.
Ask a Question
AI expansion board developed by their company is very versatile.
Get very good. Especially the AI expansion board developed by their company is very versatile.
I used the ultrasonic port and RGB light module port on the expansion board to add some additional functions, and I am planning to add a USB microphone camera.
Yahboom Pi-motion AI Camera platform for Raspberry Pi 4B/3B+
Another great development platform for Raspberry Pi.
They really do make great kits for learning Raspberry Pi, robotics, and programming. This kit ups the game over all other kits by focusing on AI and camera recognition and tracking. Much like the 4wd car kit of theirs I built, this one also is a robotics platform and NOT a toy robot. You really need a base understanding of Raspberry Pi and programming to get the most out of this. A nice improvement over the previous kit are the servos being higher quality metal geared instead of the plastic ones I tend to break.
Also like the last kit I had a couple minor issues. 1 piece of hardware was mis-drilled and there were minor issues with files and documentation. But I actually look forward to talking to their tech support (if you knew how much i normally hate tech support you would be shocked at that). Every time I email them within a day I have a response of a replacement part has shipped and the website has been updated to include my suggestions. It is so nice to have a company that actually listens and respects their customers.
I look forward to buying more robotics kits from them.
review imagereview imagereview image