Yahboom Jetbot AI robot with HD camera coding with Python compatible with 4GB(A02/B01)
Description
Jetbot is a multi-functional AI smart robot car based on NVIDIA JETSON NANO 4GB(A02/B01) that responds quickly to a variety of Al visual gameplay. The vehicle is made of green aluminum alloy, coupled with a unique mechanical structure that makes it different in appearance from other cars. Equipped with 3-degrees of freedom lifting platform and 8 million HD camera, which can real-time view surrounding scenes. And it can accomplish Automatic Avoiding, Object Tracking, Color Recognition / Tracking, detecting desktop edge to anti-drop, etc. You can also train a variety of different runway models and control JetBot to complete the autopilot function. Programmable RGB strips are also designed on both sides to light up high-brightness colorful light in dark environments. Users can remotely control it by APP or Handle, and we will provide a lot of reference tutorials for users.
Feature
Based on NVIDIA JETSON NANO 4GB(A02/B01), learning AI Smart Technology in deep.
A technological outlook and unique mechanical structure that can be easily assembled.
3-degrees of freedom lifting platform and 8 million HD camera, real-time video transmission.
It can realize functions such as Autopilot, Object Tracking, Face Recognition, Color Tracking, Edge Detection and Automatic Avoiding.
High-brightness RGB light strips.
Package list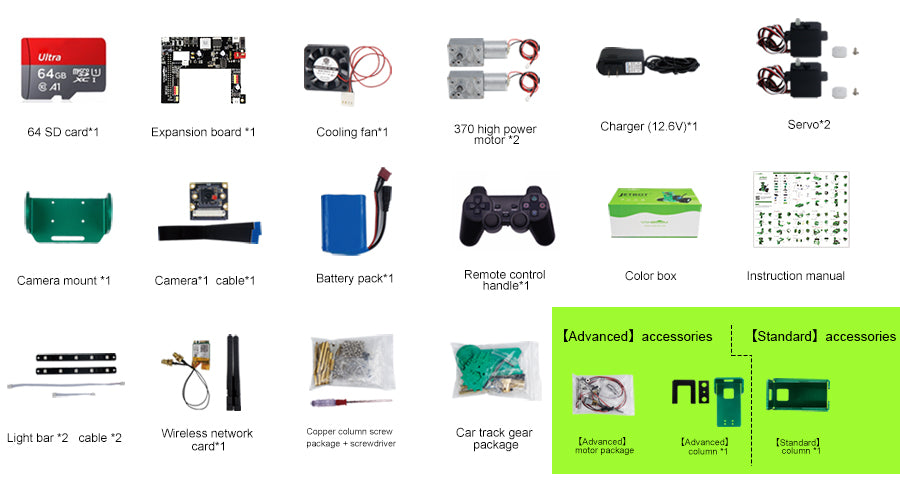 64G SD card*1
Car expansion board *1
Cooling fan*1
370 high power motor *1
Charger (12.6v)*1
Servo*2
Camera mount *1
Camera*1
Camera cable*1
Car chassis*1
Servo holder *1
Track *2
OLED display*1
RGB strip *2
RGB strip connection line *2
Wireless network card*1
Copper column screw package + screwdriver
Car track gear pack
Battery pack*1
Remote control handle*1
Packing box *1
Instruction manual *1
【Advanced version】Accessories
【Advanced version】Motor package
【Advanced version】Column *1
【Standard version】Accessories
【Standard version】Column *1
Document
Yahboom Jetbot AI robot car
If there are multiple people in front of Jetbot, which one will it choose to follow?

Jetbot will automatically select the closest person and follow him.

Can I use 2GB on JETBOT?

No, after our many tests, the CPU performance of the 2GB development board is limited and cannot handle a series of algorithms, image processing and other functions required by Jetbot.
Excellent green programming robot based on Jetson NANO board.
Background:
As a computer science student with a little hardware foundation, I searched for a long time and finally chose this car to participate in the school's robot competition. Of course, it would be more perfect if he could be cheaper.
Components:
1) The parts are complete, and some screws are left after installation. I guess it should be provided by Yahboom.
2) Different types of screws are packed in small bags with different serial numbers, which is easy to use.
3) The green aluminum alloy is of good quality, and it is easily scratched by screws during installation.
Assembly:
I just want to say one thing, if it can be assembled and sold to me, I would even spend more money. But my friend said that although the assembly process is very long (about 1 and a half hours), it is very challenging and we have a sense of accomplishment. Hahaha~
hardware:
1) The 18650 battery pack is included in the kit, which is very good, it seems safer and more durable than 3 batteries.
2) The expansion board contains some protection circuits and indicator lights of different colors. At first I didn't know what these lights were for, but Yahboom's technical support told me.
3) The motor is very large and heavy, and it looks like it can be used for a long time. Don't worry about its quality.
Function usage:
1) The RGB light bars on both sides can light up any color you want. But it is blocked by the crawler. If the light bar can be installed on both sides of the lifting platform, it will be more cool.
2) The functions of color tracking, face detection, and object following are great. Next, I plan to combine these functions to make a versatile robot. good luck.
3) The most unfortunate thing is that I can't control it outdoors, because if you want to use APP to remotely control it, you must have an internet connection. I can't think of a better way.
In generally.
If you are a Python enthusiast, or want to learn about AI recognition, or you have an idle Jetson NANO motherboard, then you can try to own this car. It will bring you some different surprises. Even if you encounter some problems, Yahboom's technical support will patiently help you solve many problems.
Very good instruction manual
The online video training is perfect and helpful.
Awesome robot and development platform
Love this set. Easy to build and very cool and the App works well.
Good quality and quick response for technical support
Yahboom Jetbot AI robot with HD Camera Coding with Python compatible with A02/B01