Description
OmniduinoIt is a mini omnidirectional robot car with ATmega328P chip as processor, which can easily realize 360° movement in any direction. 5 pairs of infrared obstacle avoidance sensors are distributed in the front, back, left and right of the sensor, which can identify obstacles in the blind area, thereby realizing comprehensive obstacle avoidance function. The onboard MPU6050 gyroscope automatically calibrates the direction of the car's movement through an algorithm. External WiFi camera PTZ, support iOS/Android mobile APP control and real-time video transmission. It also supports PS2 handle remote control, surround, translation, music lights and other funny functions. If your children, family or friends are interested in the electronic world and robots,

Features
High-quality Mecanum wheels, acrylic plates and exclusive camera mounts, combined with refined structural design, create a unique look on the market.
Rich onboard resources: 5 pairs of infrared obstacle avoidance sensors, PCA9685 driver chip, passive buzzer, high-brightness RGB lights, MPU6050, etc.
It can realize various games such as surround mode, obstacle avoidance mode, pan mode, play music, marquee, photo and video.
Two remote control methods: Android/iOS mobile APP remote control, PS2 handle remote control (optional).
Robotic kit designed for beginners and professionals to learn electronics, programming and robotics, programming, entertainment, and innovation all in one.
Detail
Packaging List
If you choose the Omniduino with PS2 controller, the following are included.
Tutorials
Shipping and delivery Information
Free Shipping Policy
Start Date - All Time
End Date - All Time
Order less $50 - You have to pay shipping fee, $10 by default (small package Air), or $20 by DHL.
Order over $50, less $150 - Your order could enjoy free shipping by small package Air, or $15 by DHL.
Orders over $150 - Your order will enjoy free shipping via DHL. In most cases, it takes 3-5 working days to arrive.
Exceptions - Orders from countries in Zone 9 are over $300 for free DHL shipping. To see a full list of countries in zone 9, click here.
Order less $100 - Shipping fee is $45 by DHL.
Order over $100, less $200 - Shipping fee is $35 by DHL
Order over $200, less $300 - Shipping fee is $25 by DHL
Orders over $300 - Free shipping by DHL
Some of our products come with battery and motor. If DHL is not available to your country, we will change DHL to UPS, Fedex, or special line, depending on your country.
Distributors are not eligible for free shipping.
Shipping Method
| | | | |
| --- | --- | --- | --- |
| Shipping Method | Delivery Time(business day) | Tracking No | Weight Limit |
| DHL | 5-7 | YES | No |
| UPS | 5-7 | YES | No |
| Fedex | 7-10 | YES | No |
| Special line | 10-15 | YES | No |
| Small Packets Air | 15-30 | YES | No |
After your package is sent out, you can see your tracking number on our website. We will also inform you via email about your tracking number and tracking link.
Customs, Duties and Taxes
Our term is FOB Shenzhen which doesn't include custom fee. You should expect to pay any amount charged by the government in your respective country. This includes, and is not limited to, duties, taxes and any extra fees charged by the courier company.
Payment & Security
Payment
PayPal
The main Payment method is Paypal. If you have paypal, that is great. You can simply place order and check out with few steps. If you don't have Paypal account, you can register it and pay by Credit or Debit Card.
Pay with Paypal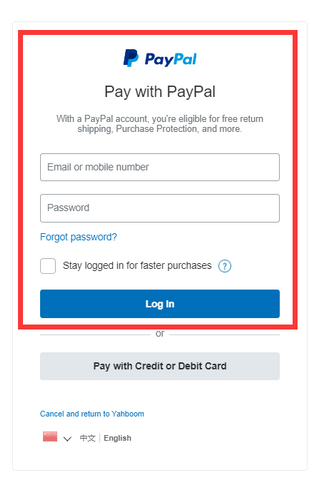 Pay with Credit or Debit Card
Your payment information is processed securely. We do not store credit card details nor have access to your credit card information.
Shape is cute, but I hate the default self-stabilization function
This is the first time I have purchased a product on Yahboom's website. It took 12 days for standard logistics to be delivered or I should choose DHL/Fedex, they usually only take 5-7 days.
The packaging box is very sturdy, even after a long period of transportation, the parts are not damaged. The assembly is very simple. It took me 15 minutes to complete the assembly. A rechargeable battery was included in the package, which surprised me. I have bought programming robots of other brands before, and they do not provide batteries, so I have to buy the batteries myself.
Obviously Yahboom provides a more complete package, the battery charger is included in it.
APP remote control is nice, but the self-stabilization mode is really annoying. I will contact technical support next week to ask how to turn off the self-stabilization mode.
It seems that this car is not as popular as other cars on this website. Because I found that compared to other cars, it has fewer reviews. I admit that before buying, I was very worried that this was a scam!!!
But I received the package on the sixth day after I made the payment. The box of the product is black, and there is a box on the outside. All parts did not suffer any damage during transportation. I take two hours to test it, all functions can be used normally as expected. Christmas is approaching, and I will take it to a small event organized by programming enthusiasts in my city.
Support for the Nephews!
I have two intensely smart Nephews are into Robotics, as is their entire school in Wenatchee, Washington!
The younger one needed to control his robot with his Arduino. I sent him the components, we will have top figure pout how to make it work.
The Older one has grown a tough disenchanted with plain robotics, he wants to branch out to other areas of Sensor Robotic Interactions. He received the sensor set, he has assured me he has a renewed interest in Robotic Science.
The by product of all this capability is they are becoming increasingly popular at school! I am happy they are turned on with their education! Every year they receive something that helps in school. My Sister, their Mother, has noticed an improvement in their grades, every time they get a boost of electronic supply. I'm the Techie, she's the Mother! This works very well!
Best of 5 programming robots i purchased.
I am a programming teacher from New Zealand, and I choose suitable programming robots for our school's programming classes. I bought 5 different brands Arduino robots, after testing them for half a month, this Omniduino car is the most satisfying.
It has a cute and simple shape, the wiring of the motor can be hidden, and it looks neat and beautiful. The small green mecanum wheel can move 360°, and the car can move to anywhere.
The Wifi camera will automatically generate a wireless network for real-time transmission of video images. (Although the video is not very high-definition, but the definition is enough for us)
Next week, my team will purchase 10 sets for the programming class from here.
Cute and fully functional small car
My son likes its shape, so I bought this.
We received the package in about 7 days. After simply assembling, we can fully charge the battery and use the APP to control it.
My son likes Scratch programming, he said: "This car is my best partner in the future".
QUESTIONS & ANSWERS
I am in trobble to get app for omniduino in english and configure the wifi

Thanks for your E-mail. Could you contact us by E-mail? support@yahboom.com We will provide professional technical support and after-sales service.

Is there any programming SDK for joystick control through WiFi, or the communication protocol including the video streaming provided?

Thanks for yoru question. You can get these materials from this link: http://www.yahboom.net/study/Omniduino

Can it follow a line?

Thanks  for your question.
This robot car can't  follow a line. If you want to tracking a line, you can choose it.
Link: https://category.yahboom.net/products/roboduino

Is it possible to access the Omniduino Robot remotely over the internet. For example can the robot connect to my house network and maybe through an open port in the router receive commands from a remote phone or computer. If not do you have tutorials how to access the robot via wifi, so that I can create my own app ? My goal is to drive these around my house and check on things when I am not home. Thank you - this is a very nice and very interesting kit. best regards -Thomas

Thanks for your question.
At present, Omniduino cannot achieve such a function. You can only remotely control it through the hotspot that comes with the WiFi camera.
But we have some other robots that can achieve this function. You can make them connect to the WiFi at home and view the pictures taken by the camera in real time and control it.
Before that, you must ensure that your device and the car are in the same local area network.
You check following robot cars.
G1 Tank car link: https://category.yahboom.net/products/g1tank
Jetbot AI robot link: https://category.yahboom.net/products/jetbot