Yahboom BAT smart robot for Arduino Uno R3 compatible with Scratch 3.0
Yahboom Arduino Bat Smart Robot is developed with well-known Arduino UNO as the core controller. Using the bat-shape integrated circuit board as chassis, the entire vehicle adopts high-quality rubber tires and an ultrasonic sensor to create a smart robot with bat-like appearance and bat-like ultrasonic positioning system. And it is controlled by an Android mobile APP remote controller connecting with Bluetooth module on the robot. We also offer some courses to help users control the robot by Graphics programming and C language programming. You could have a very good study experience while playing. Whether it is personal learning or education training, this smart robot is applicable.
Feature
Most of the parts are connected with screws and a few parts are designed with row inserting socket. Each interface corresponds to a socket, not connecting wire one by one, which makes installation simple and creates an exquisite appearance.
The robot is designed with intelligent direct charging, controlling the voltage saturation automatically. It ensures the safety and convenience of use.
It supports C language programming by Arduino IDE and Graphical programming by Mixly and

Scratch 3.0

. Whether you are beginners or enthusiasts, it is both applicable.
It supports multiple functions: Tracking, Ultrasonic obstacle avoidance, Following, etc.
It can be controlled by IR remote control and APP remote control by Android mobile. You can switch modes status at any time, such as remote control mode, obstacle avoidance mode, follow mode, and tracking mode by APP.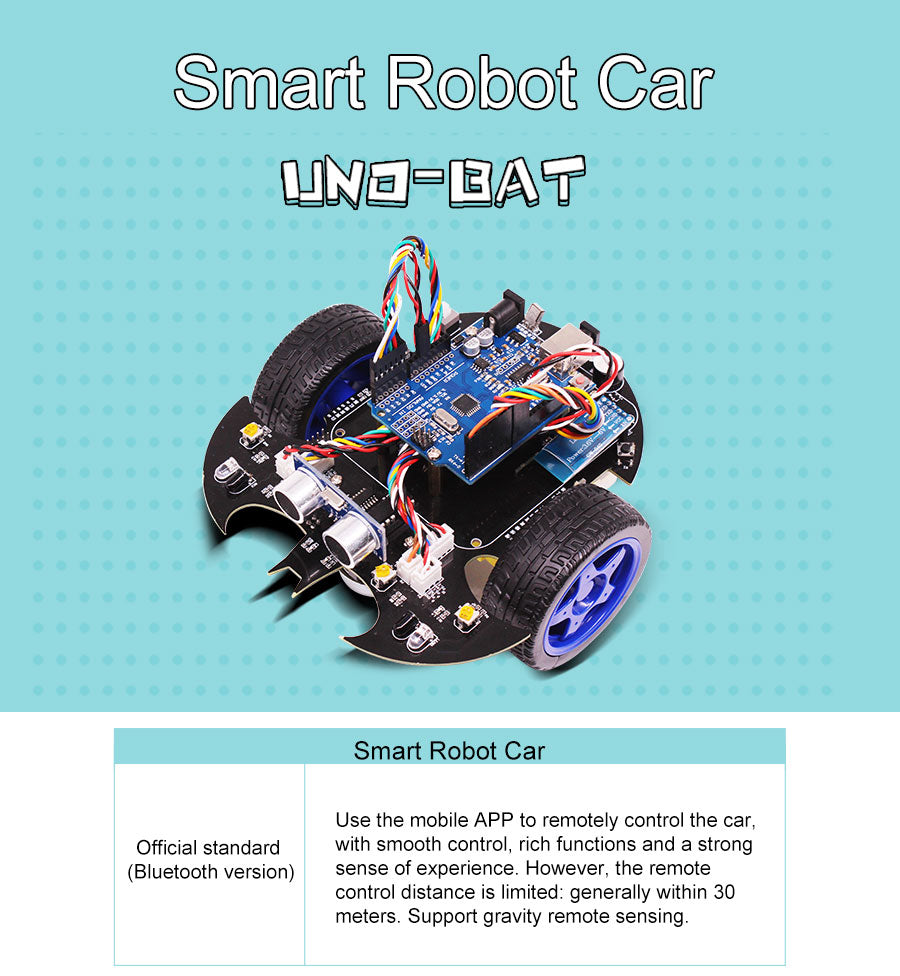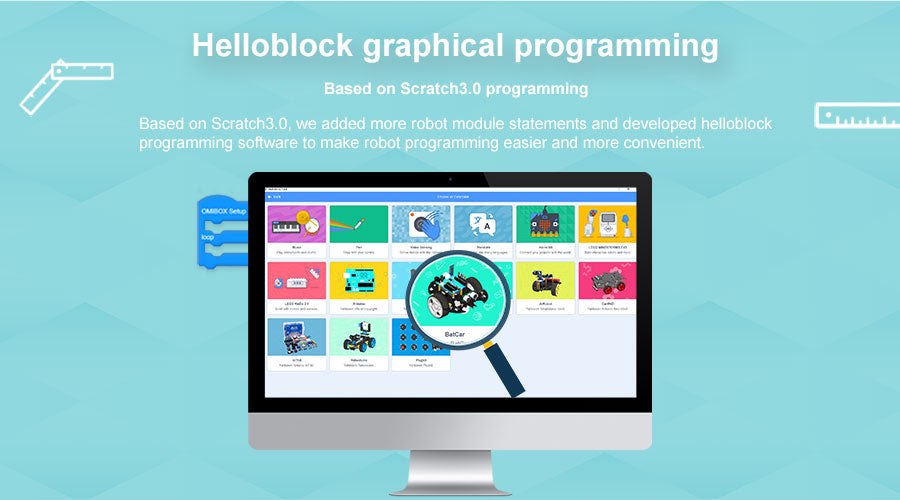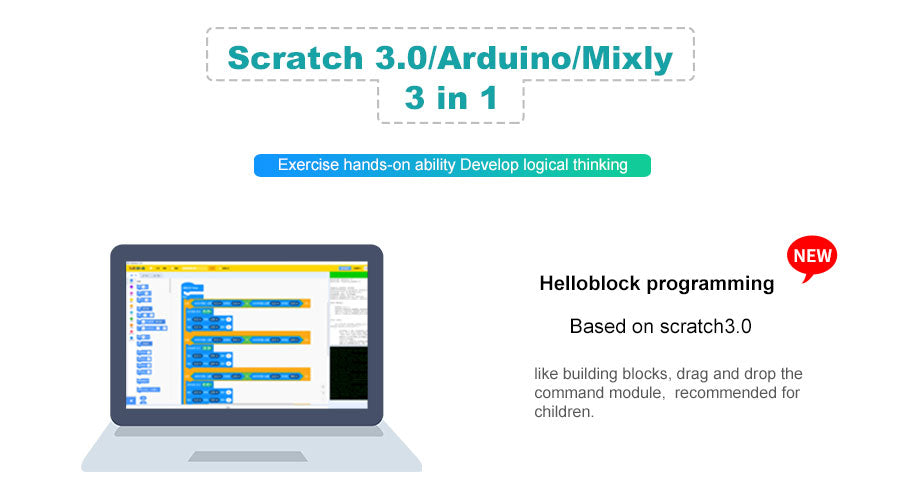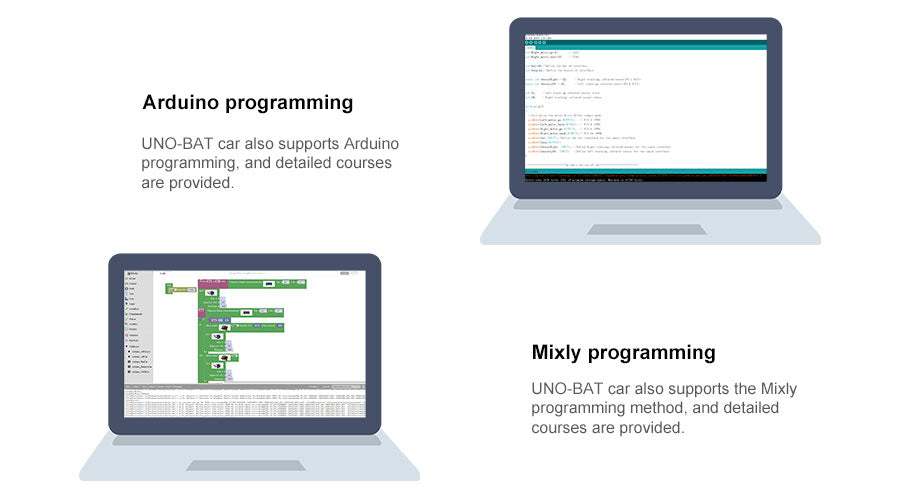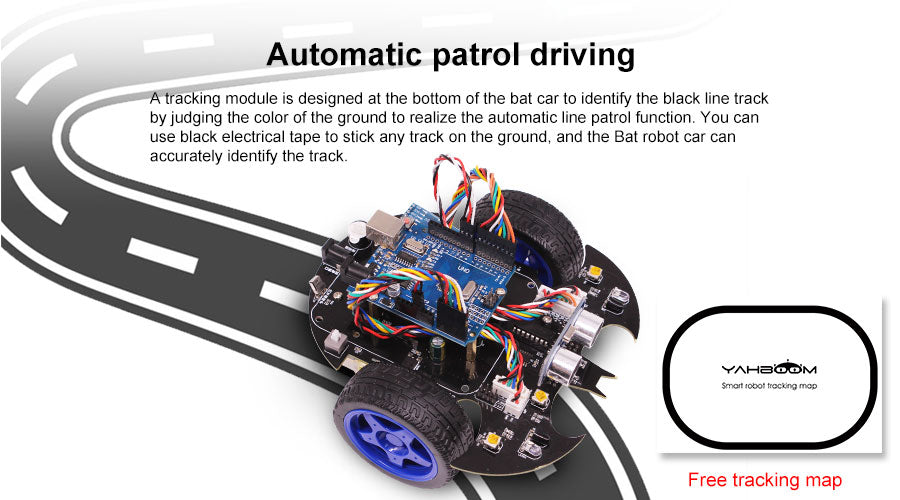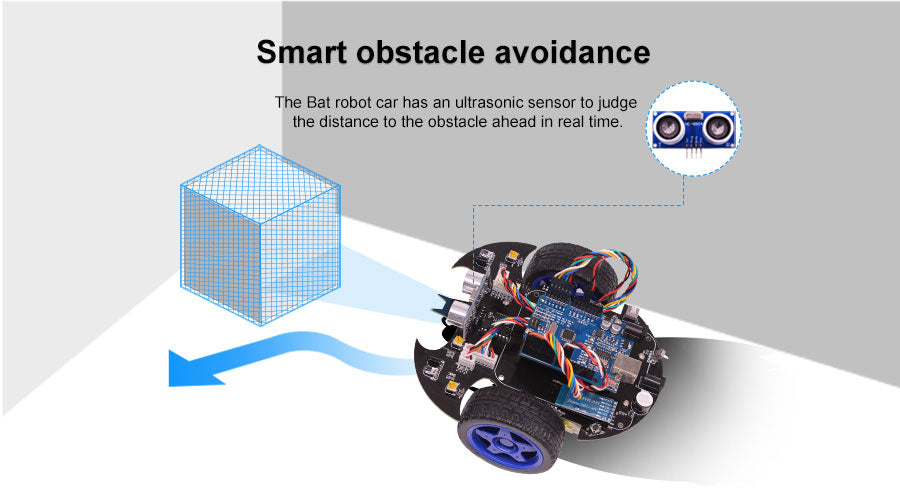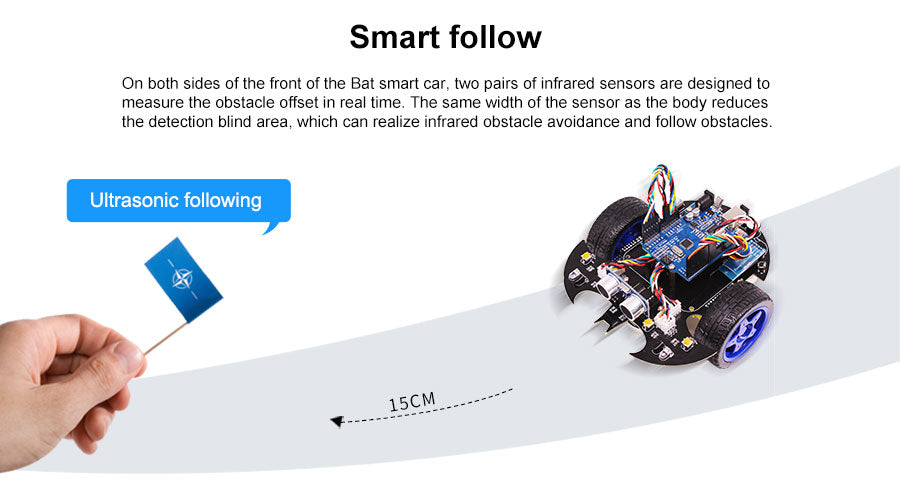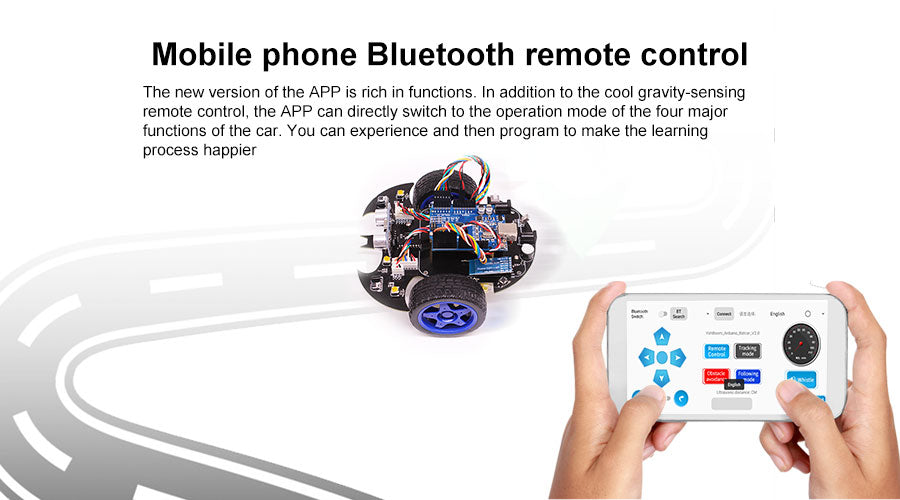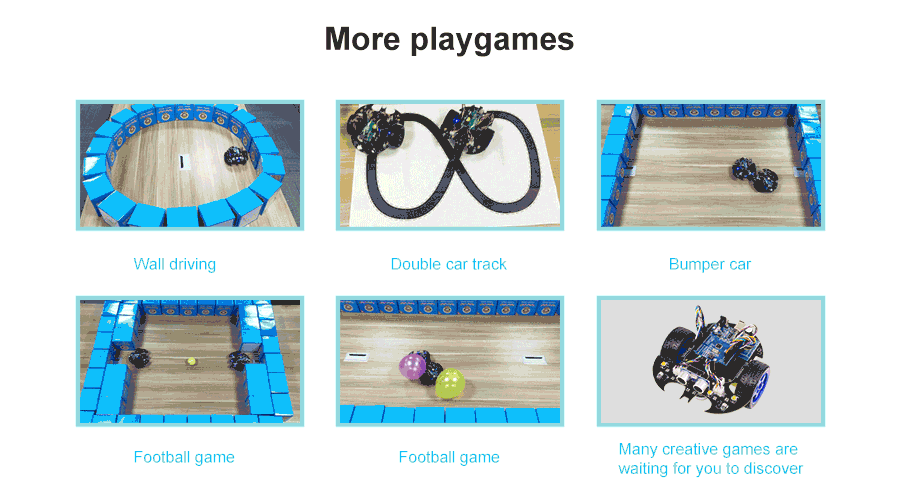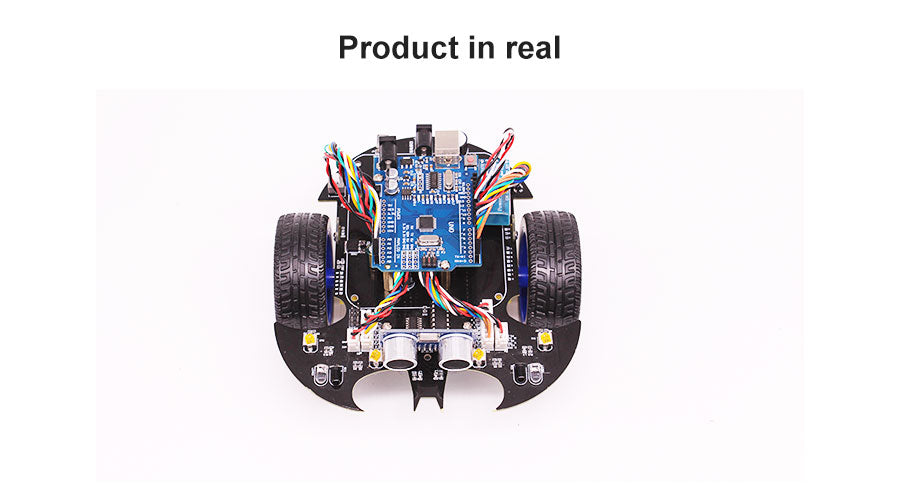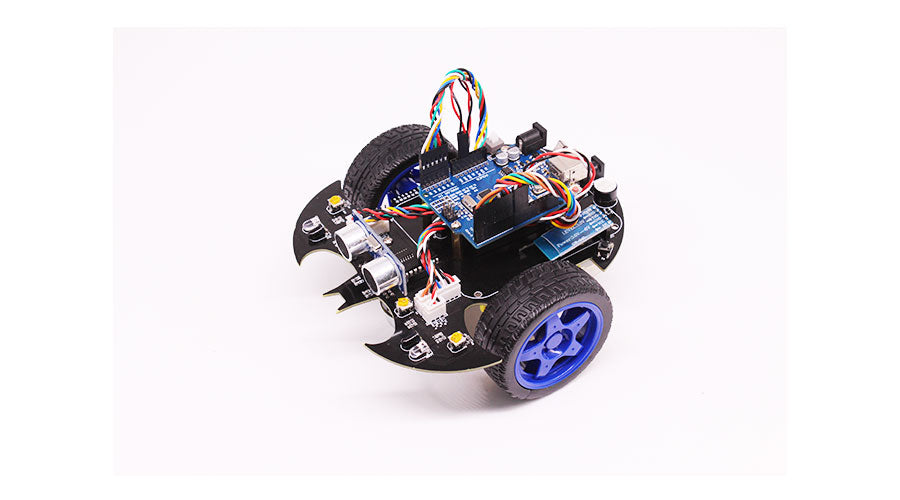 Detail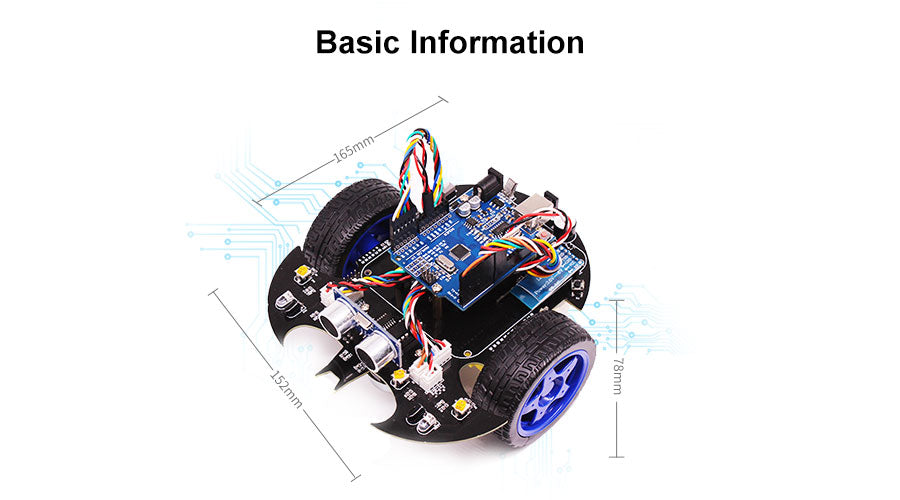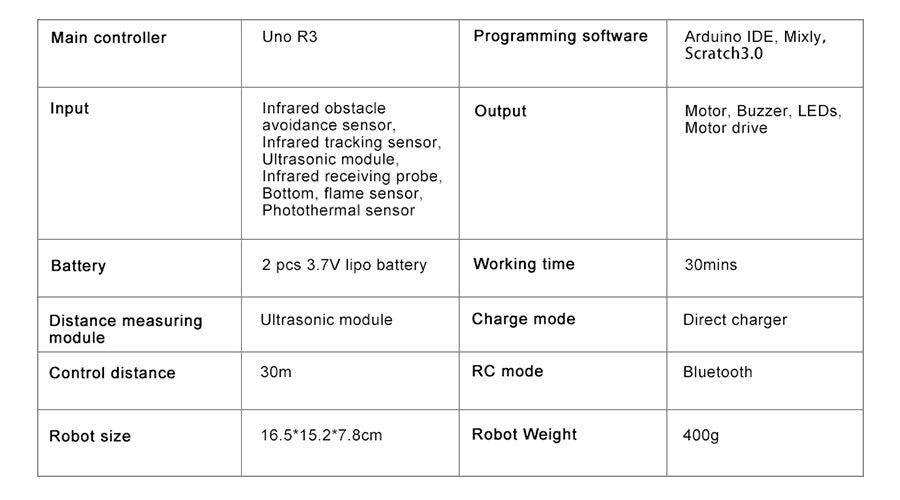 Package list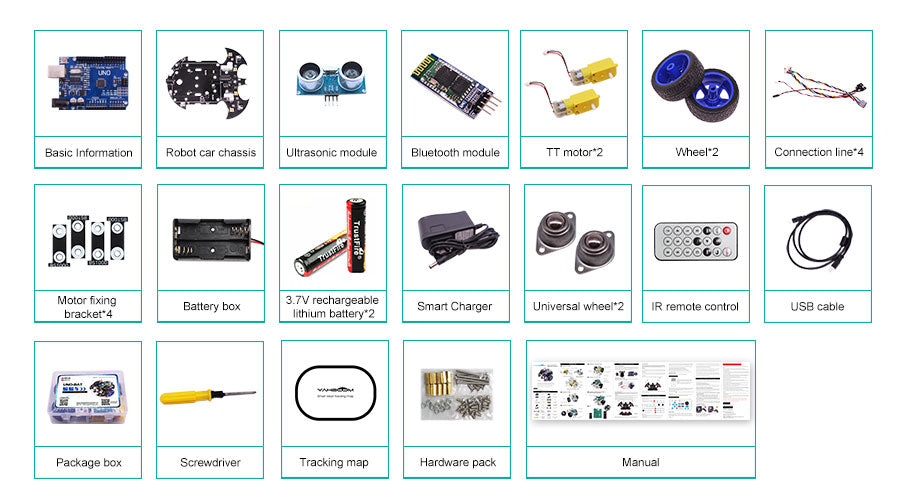 Documents
QUESTIONS & ANSWERS
Have a Question?
Be the first to ask a question about this.
Ask a Question
Needs better QA
This kit could be so much better and it's disappointing that it's not. The Smart Bat Car kit I received had two hardware failures which should have been detected if basic QA had been performed:
1. The Uno board had no solder whatsoever on the SCL pin so i2c devices, such as those on the YB-EAM board I bought with the kit, could not be detected nor communicated with. Soldered that pin and a couple of others that looked dubious and the Uno seemed fine otherwise.
2. The L293D motor driver chip was faulty, with each motor driver stuck in full-speed reverse whenever it was enabled. Thankfully this chip was socketed so it was easy to replace it with a new one from Jaycar to get the motors working correctly.
On the software front I was disappointed to see that:
1. "compatible with Scratch 3.0" actually meant "compatible with our custom Windows-only version of Scratch called Helloblock" and this unit actually has no Scratch 3.0 support at all.
2. the Arduino IDE project, Comprhensive_Experiments.ino, needed swapping of the SensorLeft and SensorRight pin assignments as Line Walking mode veered away from the black line instead of following it correctly. The ultrasonic obstacle avoidance mode also has issues that I haven't debugged yet. The code is not laid out well making it harder to follow (poor formatting, lots of spelling mistakes, related functions at opposite ends of the file, use of magic numbers everywhere instead of type-checked enums, etc.). Yahboom targets educational environments where students are trying to learn to code, this messy code isn't what we should be teaching students with.
great practice robotic building kit for kids
Great practice building kit for Robotic lover teen ages. It was a great idea for my son and his classmate's school project experiment. They also had fun to play the car they built by themselves.