Yahboom G1 AI vision smart tank robot kit with WiFi video camera for Raspberry Pi 4B
Description
Yahboom Raspberry Pi Tank Robot uses the latest Raspberry Pi 4B development board as the core controller. The vehicle adopts blue aluminum chassis, high-quality track, high-power 370 motor, and metal coupling. When the motor drives the wheel of the car to rotate rapidly, it can achieve the function of climbing up to 60 degrees under the condition of sufficient friction. For this Raspberry Pi tank, real-time video transmission is indispensable. We use a 2DOF camera pan/tilt, a HD USB camera, and the 5G WIFI network that comes with the Raspberry Pi to ensure that high-quality video can be transmitted in real time on mobile APP or PC. It can also complete some AI recognition functions through the camera. Both expansion board and frame we are providing the corresponding extended interface, users can expand and use it according to the information provided by us, so for the tank, educators, learners, and raspberry lovers will be the most suitable owners.
Feature
Compatible with the latest version of Raspberry Pi 4B board.
The entire vehicle adopts 2mm blue thickened aluminum alloy frame, installation is simple and firm.
BST-4WD multi-functional expansion board, it is equipped with some interfaces of various sensors and communication modules, and it is compatible with four core controllers: Arduino UNO, 51 microcontroller, STM32, and Raspberry Pi.
It supports multiple basic functions: high angle climbing, tracking, overing the obstacle, etc.
It supports multiple AI functions: face detection, color tracking, object/gesture/QR code recognition etc.
Users can use C language and Python programming.
The car and camera platform can be controlled by Bluetooth APP by

Android/iOS 

mobile; HD video real-time transmission can be realized by Raspberry Pi coming with 5G WIFI.
The vast amount of data and sample program for reference.
Product parameter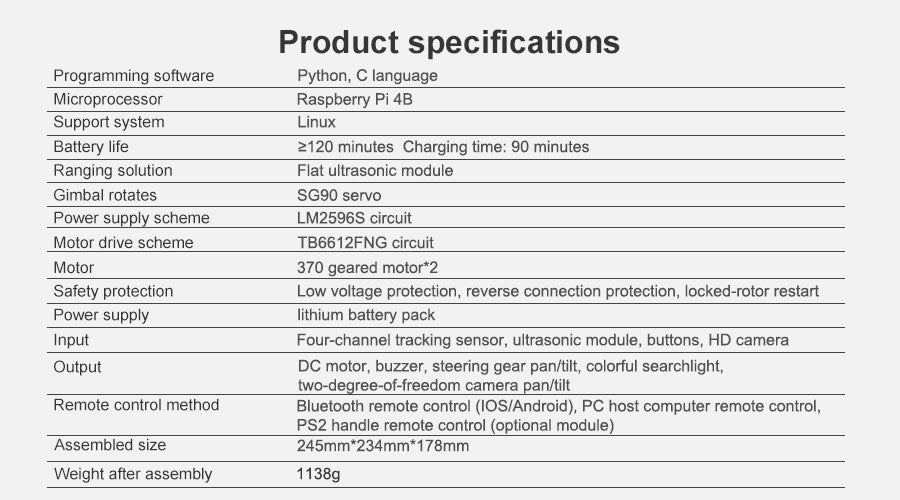 Package list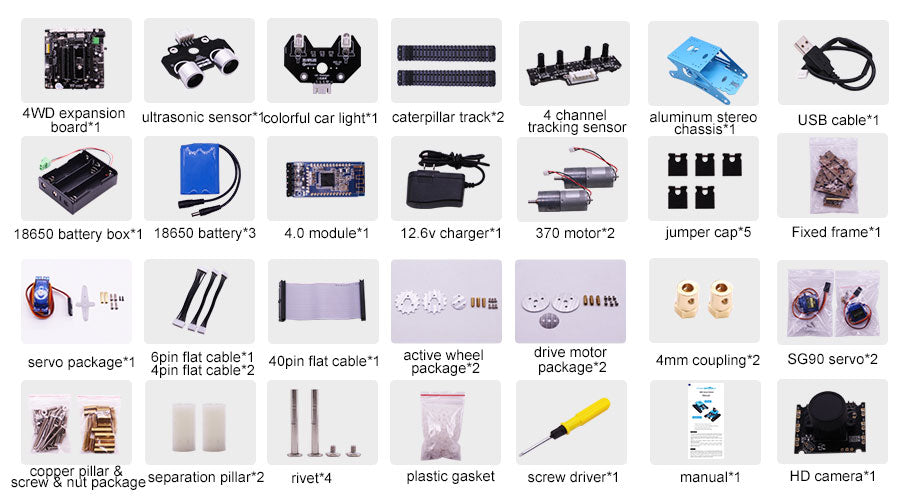 If you choose G1 tank with Raspberry Pi 4B, below are included.
1 x Raspberry Pi 4B board
1 x 16G TF card
1 x heatsink
Another version:
Documents
Hi! I lost the charger for the batteries what V & A charger should I be looking for? Thank you

The charger parameters used in our car are as follows:
OUTPUT: 8.4V 1A

HI again! I just want to know how far can it go before losing connection with the phone controller? Thanks!

I am sorry for my misunderstanding.
The APP remote control car is through Bluetooth. The effective transmission distance of Bluetooth is 5m.
The real-time video transmission is through WiFi. Wherever WiFi can cover, it can transmit video in real time.

Hi! What is the range of this tank?

There is no launch function on our tank. If you need the launch (throwing) function, you can add it by yourself.

can they send it to Mexico?

Yes, we can send the package to Mexico.
Good device.
Over all though, the car is spacious, has lots of places to mount hardware and the geared motors seem up to the challenge to carry a significant load.
Generally, I am pleased with the product and recommend it for enthusiasts.
This kit is PERFECT for high-school-age and above budding robot enthusiasts
The kit is very well thought, good quality materials and includes everything to build the car with its parts and camera. It took me like 1-2 hours to build and configure the car following the manual steps. I may add some notes.
-- you need the Raspberry Pi to build the car so be sure to order it when buying the kit.
-- all the tools and parts are include, this car can be fully built without additional tool.
-- there are also videos posted with tutorials if you get lost during any step.
-- you can use and learn python coding (the real deal)
Overall I think this is a great project to learn about robotics, programming and even electricity or servos. This is something really cool for any techie adult or even kids that want to get into this kind of challenge.
Remember to buy the option that contains the Raspberry Pi board.
Background:
I stumbled across this on sale and figured I could use yet another project. I have a good bit of experience with using Python and Pis to have some fun so this seemed to be a good fit.
IF YOU ARE CONSIDERING BUYING THIS:
Remember to buy the option that contains the Raspberry Pi board. Without the Raspberry Pi board, it will not work at all.
Assembly:
Simply put the instructions are... a bit lackluster. The videos on Yahboom's site helped but they are fast forwarded and a bit of a pain to follow. Instead I gave each 3-5 minute video a couple watches while looking over the instructions.
Very neat project with the kids. Relatively easy to assemble (not too easy, and that is ok)
We had a lot of fun assembling and using the Robot. Everything is very well packaged and labeled. The images on the instruction set could be a bit more high resolutions.
Also had a Rasberry Pi 4B. Worked first time. Cool app for the phone. I might buy other similar products in the future.
Out of the box everything looked fine. Simple assembly
Out of the box everything looked fine. Simple assembly, after it was put together it wouldn't turn or move continually, installed the mobile app same thing, in addition the app showed no activity on the ultrasonic sensor and the headlight wouldn't respond. The Seller responded promptly and was help full in providing me with a solution. Everything works great now.