Yahboom vertical ultrasonic sensor distance module avoid obstacle
Description
This ultrasonic module possesses a vertical structure and can be connected to various expansion boards by cables. Like other ultrasonic modules, this module is equipped with four pins VCC, GND, TRIG, ECHO. Its unique vertical structure is an indispensable part of the Yahboom Micro:bit smart robot. When its pins are connected to the corresponding interface of the controller, you can control it by C language programming or graphical programming to achieve ultrasonic ranging, ultrasonic obstacle avoidance and other functions.
Feature
Unique vertical structure.
Anti-reverse socket.
High compatibility.
Support cable connection or DuPont line connection.
Provide reference materials, drive source codes and graphical programming tools.
Detail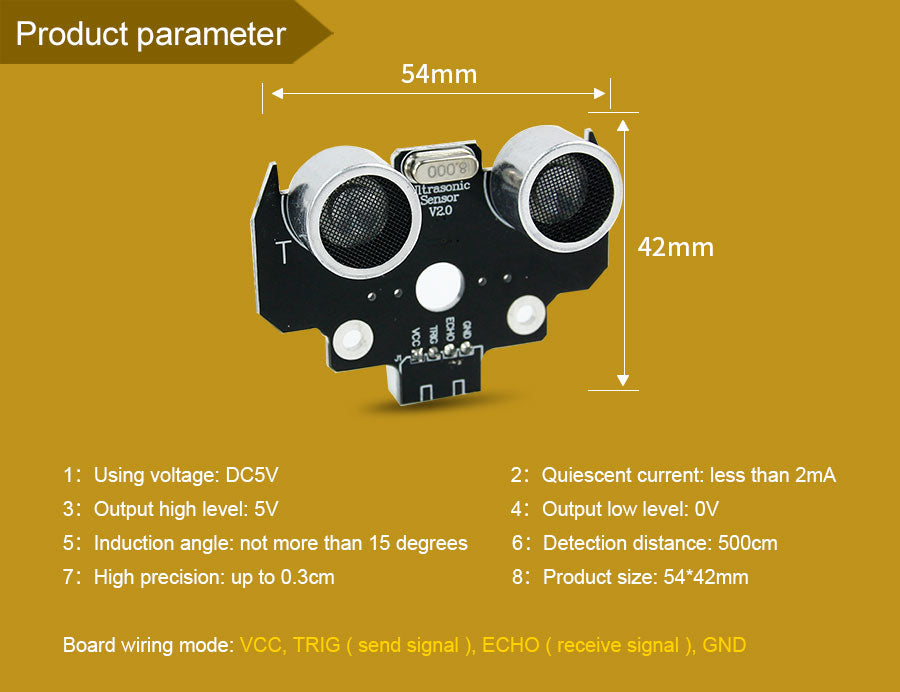 Package list
Vertical ultrasonic module*1
Documents
Yahboom Vertical ultrasonic module
QUESTIONS & ANSWERS
Have a Question?
Be the first to ask a question about this.
Ask a Question
Working as described
I received my sensors yesterday, took one out of the bag and hooked it to a Raspberry Pi 4. It's working exactly as it should and I was able to get it running easily.
Caveats on setting these up: 1) I think they use a significant amount of current, you may want to power the SR-04 separately from the Raspberry Pi power pins
2) the echo pin of the SR-04 produces a 5V pulse, so you'll need to set up a simple voltage divider to provide a 3V input to the Raspberry Pi.
3) One more reason to use Python 3 - time.perf_counter() will improve the precision of your pulse measurements!
I think you'll be happy with these, have fun!
Not so clear instruction manual
Instruction manual is not cleared and I need help from support. Can someone from Yahboom help ?